The 10 Most Amazing Abandoned Places Near Chicago
From the Damen Silos to a long-forgotten South Side shipwreck.
United Methodist Church

| Flickr/Michael Kappel
United Methodist Church

| Flickr/Michael Kappel
Considering all our fair city has been through, it's amazing that any historical structures still stand at all. Between the Great Chicago Fire some 150 years ago, rampant white flight, increased gentrification and redevelopment, and the structural racism that continues to spread urban blight throughout so many area neighborhoods, the Windy City has weathered more than its fair share of storms. That's all the more reason to honor and preserve the few holdovers still holding their own, peeking into their once-thriving interiors and celebrating them in all their eerie glory.
Here are the 10 most fascinating abandoned places throughout Chicagoland, each more haunting than the last.
South Loop
While Union Station's once-abandoned interior received a much-documented new lease on life in the past few years, the coal-fired power plant that once fueled the former transportation behemoth has sat unused and untouched since its 2011 decommissioning. Perched on the Chicago River near the Roosevelt Road Bridge, this hulking Art Moderne relic was designed by Graham, Anderson, Probst, and White back in 1931, and its soaring ash-colored smokestacks and austere cubic frame make it hard to miss. It's beloved for its striking period style, making Preservation Chicago's 7 Most Endangered list in both 2017 and 2020—emphasis on the "endangered," as Amtrak has recently discussed plans to raze it.
The Alvin
West Town
How many times can one venue get abandoned? Built in 1913 as a part of Lynch Circuit before joining the renowned Balaban & Katz theater chain, this 540-seat, single-screen movie palace operated at full capacity, screening predominantly Spanish-language features into the 1970s. After its original iteration shuttered, a dubiously named clothing company called VIP Fashions took over the Chicago Avenue space before folding soon after. In recent years, the Shapiro Ballroom set up shop inside the majestic space, transforming it into an event venue with a steady stream of weddings, quinceaneras, and other functions parading beneath the signature yellow-brick facade marked by faux-Greek flourishes. However, the business has since departed, fueled most likely by a pandemic-related drop in clientele, leaving the stately storefront vacant once again.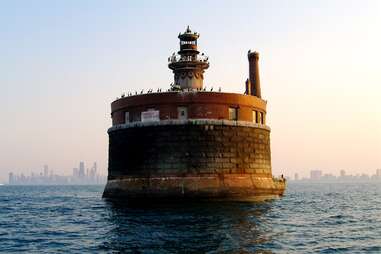 Lake Michigan
Gaze out over Lake Michigan from any number of Chicago-area beaches and you're likely to spot a few curious structures jutting up from the waves several hundred yards from shore. These are the Chicago Water Cribs, once responsible for doling out the city's water supply. While a couple are reportedly still in operation, the majority of the infrastructure mainstays sit unused, visited only by city workers for maintenance checks and facing an uncertain future. Officials have called for demolition, while preservations envision turning the behemoths into museums for public use. Either way, it's difficult to learn much about these lakefront spectacles, as they're tightly protected by Homeland Security and strictly off-limits to urban adventurers.
Kenwood
If the tide sinks low enough, you might just be able to spot the rusted metal boiler of a ship popping up out of Lake Michigan near the Morgan Shoals underwater rock formation on the South Side. This seemingly innocuous buoy is actually the only remaining sliver of the turn-of-the-century wooden steamship, the Silver Spray, currently viewable from land. What's left of the rest of the hulking people-mover—which met its fate in July, 1914 after accidentally crashing into this patch of treacherously rocky underwater terrain—is scattered deep beneath the surface, providing a popular spot for area divers to explore.
Zion Evangelical Lutheran Ghost Church
Pilsen
Those who stumble upon Pilsen's landmark Zion Evangelical Lutheran Church, with its striking 90-foot-tall belltower and weathered Chicago brick exterior, might think their eyes are playing tricks on them. Because while the facade stands as tall and as proud as the day it was erected in 1880, the rest of the church lies in sparse ruins behind it, much like the movie set version of an old Western town. The once-bustling German sanctuary went into disrepair 1956 as the neighborhood's racial and ethnic demographics were shifting, only to suffer a crippling fire in 1979 which destroyed the structure's roof and most of its interior furnishings. Then, in 1998, a windstorm flattened what was left of the church's walls, leaving just the front-facing belltower, arching doors, and a few other pieces of supporting rubble intact. Hearing of the storm, descendents of former congregation members flocked to the site, bringing with them documentation detailing the church's prominent place in local history. This was enough to sway the building's new owner, who fixed up the few features that remained, installed a new skylight in the soaring belltower, and stabilized the foundation before transforming the whole shebang into a serene garden complete with the original charred crucifix protected behind plastic casing.
Noble Square
Built in 1903 and designed by architect Henry J. Schlacks, St. Boniface Church was once home to a large German congregation. Unfortunately, the archdiocese officially closed the church in 1990, and Chicago preservationists have been fighting tooth and nail to keep it from being demolished ever since. Despite being abandoned for 30 years, the Romanesque Revival masterpiece is still jaw-dropping. And while a much-delayed interior renovation broke ground on June 15, 2021 after a local condo developer purchased the site in 2016, the powers that be have assured the community the exterior will remain untouched.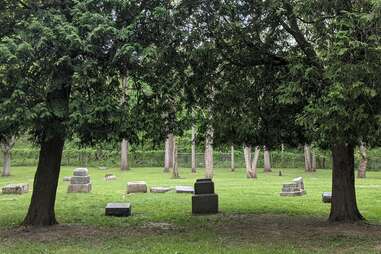 Midlothian, IL
The long-abandoned south suburban cemetery grounds have earthed reports of creepy apparitions and other paranormal activity to accompany it's pretty creepy history. During the Prohibition era, the mob allegedly used the cemetery as a "dumping ground." After the cemetery was abandoned and fell into disrepair, it is rumored to have become a hotspot for satanic rituals, some of which involved the removal of bodies.
Joliet, IL
Joliet Correctional Center may have shut its doors in 2002, but the facility—which is commonly referred to simply as Old Joliet Prison—has remained on the map for a few reasons. Not only was prison used as a filming location for a wide array of TV shows and films including Prison Break, Derailed, Let's Go to Prison, and Empire, but it's also been the temporary home of many fictional characters, with Joliet" Jake Blues—arguably the better half of the Blues Brothers—ranking among the most famous. In 2017 the city took control of the property, eventually turning it into a historical site and museum open to the public. These days, curious Illinoians can book a guided tour of the complex's spooky interior and even drop by for events like film screenings in the prison yard.
McKinley Park
Back when the fifteen story grain silos were first built, they would have been the tallest structures in the city. In fact, if you've ever wondered what the heck Carl Sandburg was talking about when he referred to Chicago as "stacker of wheat," there's your answer. After an explosion rendered them useless in 1977, the Damen Silos became a hotspot for countless graffiti artists, adventuring kids, and even a college dropout who decided to move into the silos so he could see what life would be like in a post-apocalyptic society (he probably should have just waited for 2020 to roll around). In 2014, the Damen Silos even got their very own 15 minutes of fame after portions were blown up during the filming of Transformers: Age of Extinction. Today, the silos still stand in all their creepy glory, serving as both a destination for urban explorers as well as the occasional backdrop for art programs like 2021's Chicago Architecture Biennial.
United Methodist Church
Gary, IN
In a city that's unfortunately chock-full of seedy abandoned buildings, Gary's United Methodist Church is most iconic for the simple fact that its Gothic architecture is both stunning and incredibly, undeniably eerie. Although it's been abandoned for upwards of 45 years, the church has somehow escaped demolition. In 2005, Gary's city planning director proposed a plan to rehab the space, financed primarily by the sale of limestone and decorative fixtures of one of the buildings, which was set to be demolished. Unfortunately, by the time city workers got around to stripping the building, looters had beaten them to it and there was little left of value inside the hulking structure. That hasn't stopped TV and movie scouts from knocking at the crumbling door, and over the years, the remnants have played a starring role in everything from A Nightmare on Elm Street and Transformers: Dark of the Moon to Pearl Harbor and Sense8.