Entertaining out-of-towners, particularly those relying on you to get the quintessential Chicago experience for the first time, can be unexpectedly anxiety-inducing. Sure, you know fun places to go, but you might not have the funds to cram multiple museums, a steakhouse, and fancy woodchip-smoked cocktails into one day. So we're arming you with a list of the most essential cool stuff to do when someone visits next ("take selfies with The Bean" isn't on it), all sorted by price range. That way you'll know where to take your friends on a grad school budget and where you should conveniently steer mom and dad to foot the bill.
Recommended Video
The Most Overlooked Mediterranean Paradise in Europe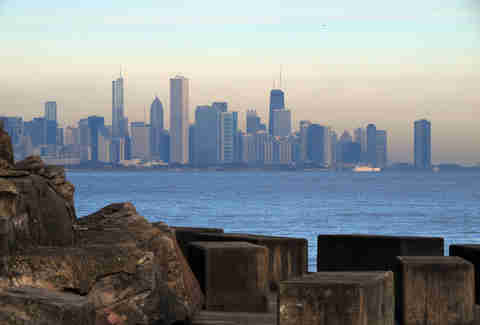 Take in the skyline from Promontory Point
Free
Hyde Park
Enjoy an incredible view of the city from the Alfred Caldwell-designed Promontory Point in Burnham Park. The south lakefront park also has beaches and bird sanctuaries to explore.
Hit up The 606 (and easily see four different neighborhoods)
Free
Bucktown/Wicker Park/Logan Square/Humboldt Park
What was once an abandoned section of rail line is now one of the city's best recreational paths for scouting out four different neighborhoods. The 606 (or Bloomingdale Trail) stretches 2.7 miles through Bucktown, Wicker Park, Logan Square, AND Humboldt Park. Pick a spot to eat/drink along the way.
Take the picnic to the stage
Free
The Loop
Expertly curated (and free!) performances and film showings at the Jay Pritzker Pavilion in Millennium Park regularly draw city-goers to The Loop during Chicago's warmer months. So it stands to reason that THE thing to do with those visiting "in season" would be to grab a blanket, bottle of wine, and some snacks, and hit the grass near the stage with all the other city dwellers.
Visit one of only seven Bahá'í Temples in the world
Free
Wilmette
You'll have to travel a little bit out of the city, but that's a small price to pay to explore one of only seven of these beautiful temples in the world.
Tour uncharted territory with an official city "greeter"
Free
Various locations
Even city residents can learn something new about the neighborhoods they may or may not have ventured to before. Take a trip through a new 'hood with one of these official city "greeters" for free.
Explore one of the most underrated museums in Chicago
Free
South Loop
The Museum of Contemporary Photography regularly collaborates with artists, photographers, communities, and institutions from around the world to bring cool exhibitions to the forefront for free. Check out this gold mine for thought-provoking photography, and also consider these other free museums in the city if your minds are hungry for more.
Discover Mexican artwork in a museum and on the streets
Free
Pilsen
Pilsen is a mecca for free art in all its various mediums, but wandering through the National Museum of Mexican Art and uncovering some of the community's street art/murals (like the nearby Damen Ave Pink Line station murals and the mural at Casa Aztlan) are just a couple of ways you can absorb the culture. Or you could explore the neighborhood's exploding art scene at Chicago Arts District 2nd Fridays Gallery Night.
Catch a free concert at America's longest-running music showcase
Free
River North
JBTV tapings are free and open to the public all year round. Make sure everyone RSVPs individually, and your friends will get a chance to be part of the LIVE STUDIO ACTION!
Grab an Italian beef sandwich and Italian ice on Taylor St
$
University Village
Visiting the OG Italian beef sandwich purveyor and following it up Italian ice from Mario's Italian Lemonade stand across the street is a no-brainer for those who want to experience classic Chicago-style food.
Tour a brewery
$
Various locations
No one's ever questioned our mighty beer offerings (that we're aware of). Whether it's one of the best or one of the newest in town, pick a brewery and hop to it.
Take on Chicago's Pedway system, bar by bar
$-$$
The Loop
Think you can maneuver your visitors around the city's pedestrian system of underground tunnels and overhead bridges linking more than 40 blocks of the Downtown business district? We dare you to try doing it under the influence.
Go on a taco crawl
$-$$
Various locations
OK, so you probably didn't know that Chicago is the best taco town in America. The city is loaded with mom-and-pop taquerias, and there's even a bucket list of the top 40 tacos you need to try right now, so... better get started.
Devour dumplings in Chinatown
$-$$
Chinatown
We're fortunate enough to have a special place we can go in the city for traditional dim sum. When we have go-to restaurants with savory offerings like the sweet and fatty steamed BBQ pork buns that frequently pass our tables on metal carts, we go to there.
Overlook Lincoln Park and Lake Michigan with rooftop drinks
$-$$
Lincoln Park
Wander through the North Pond Nature Sanctuary and Lincoln Park Zoo before heading to J. Parker, Hotel Lincoln's 13th-floor oasis, to linger over cocktails and small plates. And, by the way, this rooftop bar has a fire pit and retractable roof.
Go rock climbing or ice skating in Maggie Daley Park
$-$$
The Loop
Lace up those ice skates and jump on Maggie Daley Park's skating ribbon path, which is actually twice the length of a lap around a typical skating rink, or bring a friend for bouldering and top rope climbing on the climbing wall in the summer.
Cruise the Chicago River on an electric boat
$-$$
River North
Navigate the river waters for a couple hours with one of the vessels in Chicago Electric Boat Company's fleet. You can captain your own boat and go anywhere along the river with a party of 10-12 (and bring your own food/drinks). Pro tip: snag one of the deals usually offered in the early spring to reserve a time/date later in the summer, and splitting the cost amongst a group of 10 will typically only be $10 per person, so you can afford more snacks and booze.
Savor aerial views of the city from the Hancock Center's bar/lounge
$-$$
Streeterville
Hang in the lounge area of The Signature Room at the 95th (instead of the white-tableclothed dining space), and you'll get unbeatable, 360-degree views of the city for the price of a drink.
Settle in with your pick of wine and/or beer at a BYOB spot
$$
Various locations
With Chicago's killer assortment of BYOB establishments, we can't imagine planning a low-key dinner with a group of friends without first consulting our handy neighborhood by neighborhood guide to the best offerings.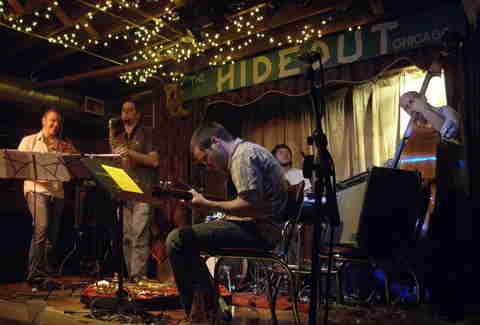 Seek refuge with a performance at The Hideout
$-$$
Noble Square, River North
On just about any given night, The Hideout's got an impressive show. This house in the middle of an industrial patch of town keeps a heavy rotation of live music, stand-up comedy, poetry readings, podcasts recordings, community talks, and more. Sure, your friends will wonder where the hell you've taken them, but they'll immediately realize you're onto something good after walking into the tucked-away dive beloved by many. Their seasonal Riverwalk outpost also occasionally hosts bands.
Experience the wonder of the Chicago Magic Lounge
$$
Uptown
Take a peek into the real world of underground magic at this weekly happening. Visitors can step back into Chicago's long lost magic-bar era through main stage acts, bar magic, and table-hopping magicians when the Uptown Underground transforms into the Chicago Magic Lounge every Thursday and Saturday night.
Bust a gut at a comedy show
$$
Various locations
Chicago has a comprehensive comedy circuit, no doubt. It's easy to believe The Second City is THE place to take out-of-towners, and you wouldn't be entirely wrong for thinking this, but there are other venues worth scoping out for cutting-edge stand-up, improv, and sketch acts, like iO Chicago, Zanies Comedy Club, pH Comedy Theater, and ComedySportz Theatre.
Uncover Chicago's history through its breathtaking backdrop
$$-$$$
The Loop
With its world-renowned architecture, Chicago's obvious go-to tour involves the stories behind its vast array of iconic buildings, and sometimes the best way to see it all is by river. If crossing intersections in the city with your slow-poke family in tow gives you hives just thinking about it, book one of the Chicago Architecture Foundation's First Lady River Cruises and pack their brains with all legendary stuff without having to wait through any traffic lights.
Pull off the Museum Campus Triple Crown
$$-$$$
South Loop
Race through three Museum Campus institutions in a day with your parents, and you'll never have to talk about why you're still single before they're back on the road to Cincinnati again.
Navigate "Restaurant Row" by your stomach
$$-$$$
West Loop
You could spend forever and a day trying to figure out which bar/restaurant to hit up within the one-and-a-half days Gina from New York is in town, but what if you just decided to kill the day/night meandering to each compelling hotspot between Halsted and Ogden Ave and enjoyed the people-watching instead? Randolph Street beckons.
Let some professional chefs guide you around town
$$$
Various locations
Real foodies can splurge on a 3.5-hour culinary adventure with Chef Driven Food Tours. Prices and amounts of food at each tasting stop vary by tour, but their "South Side Adventure" is apparently known as the "mother of all food tours," so we're guessing you're not gonna need to order a deep dish pizza later if that's your pick.
Play "Name That Skyscraper" from a helicopter
$$$-$$$$
Bridgeport
A Chicago Helicopter Experience guided tour is pretty much the ultimate way to see the city, but this'll probably be bookmarked for a somewhat special group occasion.
Sign up here for our daily Chicago email and be the first to get all the food/drink/fun in town.
Nicole Bruce is a contributing writer for Thrillist. She appreciates the fine art of mixing culture with booze, particularly when out-of-towners stay with her. Find her on Twitter at @nicoleabruce.