Here's How to Volunteer in Chicago This Earth Day and Beyond
From harvesting produce to lobbying against light pollution, here's how to spread the green gospel this month.
There are plenty of ways for citizens to help protect the environment, but supporting local parks and organizations working to preserve our planet is a great place to start. Chances to volunteer abound in Chicago, whether you're looking to pitch in at a public park, urban farm, or farmers market or combat climate change by joining forces with a sustainability-focused advocacy or educational program. We've culled a list of local organizations in need of volunteers to help you get out and give back for Earth Day and beyond. Just a little bit of your time (or even a small donation) can make all the difference.
Pro tip: This list will get your feet wet, but feel free to dive into more opportunities via
Chicago Cares
,
One Good Deed Chicago
, and
HandsOn Suburban Chicago
alongside national networks like
VolunteerMatch
.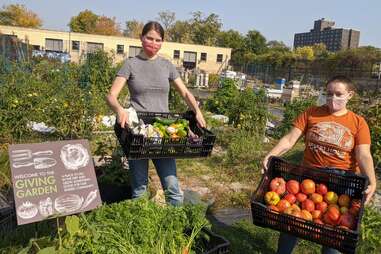 Beautify Chicago's many green spaces
Aside from enjoying the great outdoors and adopting a "leave no trace" mentality, Chicagoans can spend time in nature while promoting environmental responsibility by volunteering. Park enthusiasts can make a difference in their local communities by joining Friends of the Parks, Forest Preserves of Cook County, or any one of Chicago Park District's parks, conservatories, and greenhouses, which offer opportunities for every interest and varying levels of time commitment. Enhance the quality of life for your fellow Chicagoans whether just for a day or on a regular basis by planting gardens, mulching trees, and making other park improvements. The Lincoln Park Conservancy and Garfield Park Conservatory are also always looking for energetic, dedicated adults and families to lend a hand.
From snow shoveling to alley cleanups to urban gardening and more, My Block, My Hood, My City motivates Chicagoans to aid their neighbors in need. Volunteers can sign up for monthly public events, including one scheduled for Earth Day 2021 at Palmer Park in Roseland. They'll also be collecting air and water filters to distribute to various area communities.
Get involved with a number of projects through Openlands, an organization bringing Chicagoans and those in the surrounding region together to help with land and water protection in northeastern Illinois. Initiatives range from cleaning up the Chicago River and planting trees in local neighborhoods to building gardens with Chicago Public Schools and introducing children in nature via community-focused garden workshops.
Pledge to keep our waters clean and healthy
There are many ways to get involved with Friends of the Chicago River, an organization that helps restore and protect the Chicago River. Dedicated "Chicago River Eco-Warriors" (or CREW) remove litter, remediate gullies, and improve and monitor wildlife habitat projects in and along the Chicago River. Volunteers can also pitch in at special events like Chicago River Day as well as at the McCormick Bridgehouse and Chicago River Museum, helping to spread the word by tabling at community functions and other public happenings.
Help keep the Great Lakes in tip-top shape by volunteering with the Alliance for the Great Lakes. Through their Adopt-a-Beach program, do-gooders work together to protect the Great Lakes via organized clean-ups and other community projects. Find an event in your area or become an ambassador and preach the lake-friendly gospel.
The Wetlands Initiative
designs, restores, and creates wetlands to improve water quality, habitat for plants and wildlife, and our climate. Volunteers are essential to maintaining vital restoration projects and upcoming seasonal events include a spring garlic mustard pull, summer plug planting, and fall seed collecting. The organization also hosts an annual corporate volunteer day at Midewin National Tallgrass Prairie each summer.
Roll up your sleeves to fight hunger
Deploy your green thumb at one of the city's many community gardens and urban farms like Plant Chicago and Urban Growers Collective, where volunteers can dig their hands in the soil, learn what it takes to grow food, and give back. Depending on the season, you'll prepare beds, shift compost, plant, harvest, or clean up the space—rain or shine.
Farmers markets like
Green City Market
provide ample opportunities for everything from organizing produce and overseeing the market's single-use waste sorting stations so folks can properly compost and recycle to educating the public on GCM programming and upcoming events. Each endeavor advances their greater mission to "support small family farmers, educate consumers and the next generation of eaters, and increase access to local, healthy, sustainable food."
Immerse yourself in environmentalism
Discover a world of wonder and inspire others by sharing your talents at the Chicago Botanic Garden. Volunteers are needed for seasonal events, educational and off-site programs for all ages, garden tours, greenhouse and garden planting and monitoring, restoration projects, and more. In the meantime, you can always up your conservation game with their handy Earth Day tips.
Become a "champion of trees" at The Morton Arboretum by volunteering at the visitor center or for special seasonal events, working alongside a horticulturist in one of the collections or garden areas, preserving and studying plants from the Chicago area and elsewhere at cutting edge research labs, and keeping track of trails, plant and tree blooming stages, and migratory and native bird species. Folks interested in further expanding their knowledge can even pay it forward by becoming trained natural area conservation volunteers.
If you have a passion for nature and science, consider signing on to take care of critters, engage exhibit visitors, and preserve the historic collections at the Peggy Notebaert Nature Museum.
Combat climate change
Curb climate change locally with the youth movement Sunrise Movement Chicago or Chicago Conservation Corps (C3), a sustainability-focused program through the Chicago Academy of Sciences/Peggy Notebaert Nature Museum that recruits and trains volunteers to lead and participate in various environmental service projects.
The Sierra Club's Illinois Chapter tackles climate change by protecting the wild parts of Illinois and keeping our lakes and rivers clean. Help protect our beautiful state's diverse natural resources by working on conservation campaigns as a digital action, media, or lobbying team volunteer.
Expand access to sustainability solutions by getting involved with the Illinois Green Alliance. Volunteers help schools implement no- to low-cost sustainability efforts while training to become energy efficiency and healthy living experts and sharing their expertise with local green building initiatives and like-minded community organizations.
Boasting more than 600 local chapters across the United States, including several in Chicagoland, Citizens' Climate Lobby is committed to building Congressional support by working across the political spectrum to find common ground on climate change solutions. Find a local chapter near you to join up and start taking action.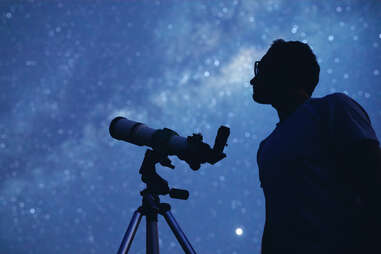 Help the night sky enchant generations to come
There are a number of ways people who appreciate dark star-filled skies can get involved in the
International Dark-Sky Association
, an organization dedicated to preserving and protecting the natural nighttime environment. Join a
local chapter
and meet other night owls via the
advocate network
, a global community focused on educating their communities about light pollution and advocating for lighting ordinances on a municipal level. Additionally, planning a trip to a nearby
International Dark Sky Place
like
Homer Glen
and
Middle Fork River Forest Preserve
can help sustain and protect areas with exceptionally dark skies as well as the local efforts that keep them that way.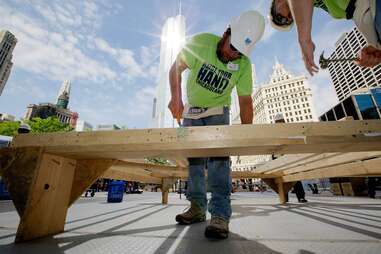 Reduce, reuse, and recycle
Team up with organizations like Digs with Dignity and Humble Design Chicago to sort and organize gently-used donations, refurbish older furniture, and package items for individuals and families emerging from homelessness. An added bonus? You're saving these otherwise good items from an eternity spent in overcrowded landfills.
Chicagoland Habitat for Humanity is building a better Chicago, literally. Volunteers construct homes, complete repair projects, assist at job sites, and work with dedicated employees in Habitat ReStores, where used home goods, appliances, and furniture are sold to help give back to the community.
FreeGeek Chicago
turns old computers and parts into working systems to help give economically disadvantaged Chicagoans access to technology and IT training. Volunteers spend time dismantling and testing donated equipment, which is then either reused in refurbished devices or recycled, while also brushing up on the environmental impact of e-waste. While the volunteer program is closed until further notice due to COVID-19, you can still donate your old devices to the cause (they'll even use military standard software to securely wipe your device).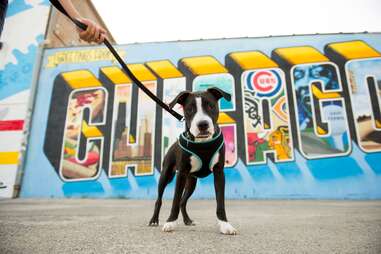 Show our four-legged friends some love
While we're busy bettering the world for humans and wildlife, why not also make it a nicer place for canines and felines in dire need of homes. Plus, let's face it, we could probably all use a little pet therapy right now and Chicago lays claim to plenty of great organizations offering opportunities for animal lovers of all ages. Check out the volunteer boards at PAWS Chicago, One Tail At A Time Dog Rescue, Chicago Canine Rescue, and Chicago Pet Rescue and get ready to cuddle something cute.
While it might not be an option for you to foster a friendly furball, even an hour of your time creating pet profiles, posting on social media, or walking, bathing, and interacting with rescue dogs and cats can help the shelters and adoption centers fulfill their mission of finding these lovable pals a permanent, loving home.
Still searching for a worthy cause?
Volunteering Untapped Chicago partners with a different nonprofit each month, so volunteers can help various local organizations throughout the year and get a feel for what causes might be most important to them. While many opportunities have gone virtual these days, individual volunteers can still sign on to clean local parks before kicking back with their fellow do-gooders at a socially-distanced outdoor picnic or online happy hour, depending on the month.
Nicole Bruce is a Chicago-based writer covering travel, food, entertainment, technology, and more. Tell her what you're doing to make a difference in Chicago on Twitter @nicoleabruce.