The holiday season is upon us, and while our own wish lists and shopping to-dos are mounting, so are the needs of our fine city. From seasonal storytelling to toy drive gift wrapping, here are the best ways to give back now—and feel really dang good about it in the process.
Join Chicago Cares and Roseland Hospital to help wrap gifts for their Holiday Toy Drive. Meet fellow volunteers (or bring your own crew) to help box and wrap donations that will then be given to families throughout Roseland's community. Added bonus? It's a great excuse to fine-tune your tape and paper techniques for your own at-home present pile.
Serve a meal to hungry families
There are several ways to serve those in need of wholesome, nourishing meals this season—and one of them is by teaming up with the Greater Chicago Food Depository, an organization that is actively seeking volunteers to pack food in response to the pandemic. Visit their website to learn more about ways to help out in their warehouse, or check out Lakeview Pantry for opportunities to serve meals directly to members of the community.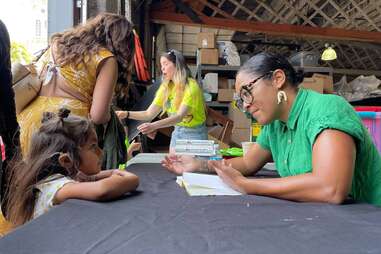 Embrace the power of storytelling this season with Open Books, an organization that seeks to provide literacy experiences and resources to Chicago's underserved communities. Hop on their holiday programming and help read stories, facilitate activities, and build crafts. The best part? Tacky holiday sweaters are definitely encouraged.
Founded in 2003, this organization's goal is to preserve families at risk of facing the foster care system by providing resources and support. There are multiple opportunities to get involved, ranging from becoming a Host Family or Individual by offering childcare to socially isolated families to becoming a Family Friend, Family Coach, or Resource Friend. Click the link to learn more about the biggest needs of the organization this season, and ways you can help right now.
Spread holiday cheer throughout Chicago's Lawndale neighborhood this season by signing up for the chance to brighten the area via tree decorations and light displays along Douglas Boulevard. Bundle up, bring some friends, and bedeck this community in dazzling displays sure to spread joy.
Do your part virtually
The holidays may be fast approaching, but you can still make a significant difference in the lives of others this season from afar—all with the click of a button. Prison Fellowship holds its Angel Tree programming every year, providing gifts to children with incarcerated parents, while Be A Santa To a Senior affords the opportunity to give back to the older and wiser ones in our world. Focus your efforts on a specific Chicagoland community with Tinley Wish, an organization started by local first responders who wanted to bring a little holiday cheer to their neighbors. And support the critical dental and healthcare needs of those with developmental and intellectual disabilities by giving back to the Susan Schnitzler Healthcare and Happy Faces Fund. The initiative is part of Chicago-based Doors Open Dishes, an organization that partners with the restaurant community to raise funds and awareness for those with special needs and the essential programs they rely upon.
Sick of all those LED Christmas lights obstructing your stargazing? There are a number of ways people who appreciate dark star-filled skies can get involved with the International Dark-Sky Association, an organization dedicated to preserving and protecting the natural nighttime environment. Join a local chapter and meet other eco-minded night owls via the advocate network, a global network focused on educating communities about light pollution and advocating for lighting ordinances on a municipal level. Additionally, planning a trip to a nearby International Dark Sky Place like Homer Glen and Middle Fork River Forest Preserve can help sustain and protect areas with exceptionally dark skies as well as the local efforts that keep them that way.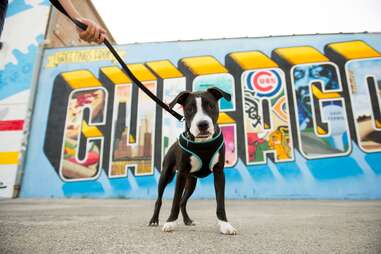 Show our four-legged friends some love
While we're busy bettering the world for humans, why not also make it a nicer place for canines and felines in dire need of homes. Plus, let's face it—we could probably all use a little pet therapy right now. Thankfully, Chicago lays claim to plenty of great organizations offering opportunities for animal lovers of all ages. Check out the volunteer boards at PAWS Chicago, One Tail At A Time Dog Rescue, Chicago Canine Rescue, and Chicago Pet Rescue and get ready to cuddle something cute.
While it might not be an option for you to foster a friendly furball, even an hour of your time spent creating pet profiles, posting on social media, or walking, bathing, and interacting with rescue dogs and cats can help the shelters and adoption centers fulfill their mission of finding these lovable pals a permanent, loving home.
Nicole Bruce is a Chicago-based writer covering travel, food, entertainment, technology, and more. Tell her what you're doing to make a difference in Chicago on Twitter @nicoleabruce.