You don't need us to tell you that the world can be a scary place. We are, however, taking this opportunity to remind you that you can use what time and privilege you have to make our city a little less harsh for those most vulnerable. There's a lot of work to be done, and we've listed some of our best to ways to make a positive impact below, broken up by interest. In addition to those, check out other volunteer matching programs in the city like Chicago Cares, One Good Deed Chicago, HandsOn Suburban Chicago, and the national network VolunteerMatch.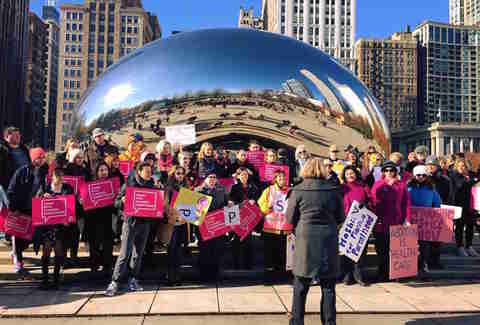 For folks who want to help in the healthcare field
We'd be remiss if we didn't mention Planned Parenthood here. It's a popular charity for a reason, offering family planning, cancer screenings, and other important health services all over the city. There are also a few less-well-known and more Chicago-specific healthcare organizations that could use your help. Howard Brown Health Center has locations all around Chicago, and these are some of the only spots around the city where folks who are uninsured or under-insured can get quality healthcare that is actually affordable. More than that, HBHC operates some of the only clinics in the city that specialize in care for queer and trans folks. It's an accepting and non-judgmental environment, which can be rare in the health industry. JourneyCare is currently taking volunteers to assist in the hospice care and counseling services they provide, as well, for folks who are comfortable with helping people through some incredibly hard times. The University Of Chicago takes volunteer medical staff, as does CommunityHealth, an organization that provides low-cost medical care to underserved communities.
For those who want to fight for justice in Chicago's legal system
You know what else is really expensive? Legal help. Unethical policing practices mean that there are multitudes of folks who have been charged with a crime or are facing deportation that cannot afford good legal help to ensure a fair trial both in criminal cases, and crucially, in civil cases like evictions where defendants are not guaranteed access to a public defender. Legal Aid Chicago is an organization that offers volunteer opportunities all across the city (and openings for remote work!) for law students, practicing lawyers, and attorneys, and even folks who didn't go to law school in an effort to help people without a lot of money stand a chance in our city's legal system. The Transgender Law Center also provides volunteer opportunities for attorneys and non-attorneys to help the transgender community get the legal support they need and are often denied. For people who are already on track to becoming an attorney, however, Chicago Volunteer Legal Services and the Chicago Legal Clinic are always looking for volunteers to help with their pro bono work as well.
For bookworms
If you're passionate about reading and want to share that love with others, you'll be happy to know that Chicago is actually home to a ton of reading-focused charities. Chicago Books to Women in Prison is a favorite of Women and Children First, the feminist bookstore in Andersonville, and for good reason. The charity allows incarcerated folks to request books they can't find in barren or non-existent prison libraries, with a focus on reading as a tool for rehabilitation that can help break the prison cycle. 826CHI and Open Books are also great charities, though they focus on child literacy. Both organizations offer multiple ways to get involved, from something as simple as donating or packing books to leading reading and writing workshops.
For people passionate about helping people with disabilities
Anixter Chicago provides a variety of essential services to folks with a wide range of disabilities, from day education services to community re-integration services and employment services as well. Chicago Lighthouse offers a similarly expansive range of services, but with an added focus on aiding the visually impaired and blind community. For folks more passionate about working with younger individuals, KEEN Chicago is a great organization that uses exercise as a means of empowerment, holding physical education classes for children who are disabled.
For people who want to help victims of abuse
There are a lot of Chicago-based organizations that offer vital services to victims of abuse. House of the Good Shepherd Chicago, Sarah's Inn, and Family Rescue all need volunteers in a variety of different fields, from staffing a domestic violence crisis call center to aiding in the care of an abused child. For folks who want to help with rape and sexual assault survivors, Resilience is taking volunteers as well, from being with survivors in medical settings to ensure they are treated with respect and dignity during a horrific time in their lives, to helping educate folks about sexual violence in public programs. Apna Ghar bears special mention because they focus on the immigrant communities in Chicago, helping victims of abuse who might have otherwise faced cultural or language barriers in getting help.
For artsy folks
If you're musically inclined, both the Old Town School of Folk Music and the Chicago West Community Music Center take volunteers to help with their various classes as part of their overarching goal of bringing music education to a wider audience. If the art of cooking is more your speed, Kitchen Possible is looking for volunteers to help with their cooking classes that use the culinary arts to help teach life lessons to underprivileged youths. The Bridge to Success could also appreciate your eye for fashion, as they're currently seeking volunteers to help at-risk individuals who need a little bit of help looking professional for job interviews.
For people who are passionate about ending gun violence
Gun violence is, tragically, a constant in today's America, but that doesn't mean there aren't ways to help fight against it and prevent future tragedies from happening. The Illinois Council Against Handgun Violence is a great place to start here -- they're a group that seeks to push for common-sense gun legislation at local and national levels, as well as a group that tries to educate the public on how serious of an issue handgun violence actually is. Everytown for Gun Safety is -- as the name implies -- a national group, but they do have a local Chicago chapter that is taking volunteers as well in order to push for federal gun control.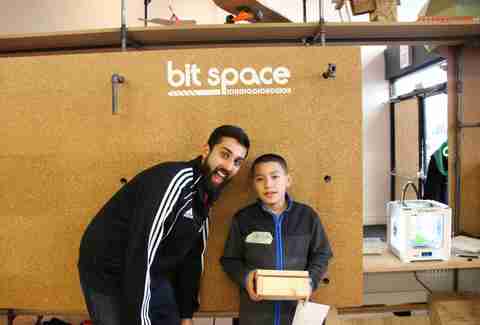 For folks interested in mentorship and education
Chicago HOPES for Kids is a wonderful organization that is always looking for volunteers to aid in their efforts to assist in the education of children who are living in homeless shelters. Volunteers there can help staff a variety of different programs, from after-school tutoring to literacy workshops. For those more interested in all-around mentorship, there's Big Brothers Big Sisters of Metropolitan Chicago, but the city is also home to smaller, local groups like BUILD Chicago. BUILD, in particular, uses counseling and mentorship alongside other programs like after-school groups as a tool to help students stay in school and avoid gang recruitment.
For folks who want to help people struggling with mental illness or contemplating self-harm or suicide
The Depression and Bipolar Support Alliance operates a support center for folks at risk of suicide that is unique in that it is staffed largely by those who have gone through their own recovery. If that is something you're interested in, their Peer Specialist Training Program is currently taking volunteers. Hope For The Day also bears mentioning, because although isn't a crisis hotline or a community center, it's doing a lot of great work in helping to eradicate the stigmas that accompany suicidal thoughts through education.
For folks who want to help the LGBTQIA+ community
Many of the charities and organizations on this list have LGBTQIA+ advocacy in their DNA, but there are a few organizations in that field that deserve special mention. Chicago House provides housing, health, and employment support to folks in the community, with a special focus on folks who are HIV/AIDS positive. The Center on Halsted is also worthy of your time, it's a huge community center with a ton of resources for the LGBTQIA+ community, and as an added bonus, the space is home to a lot of other smaller nonprofits as well!
Sign up here for our daily Chicago email and be the first to get all the food/drink/fun in town.