9 Suburbs Near Chicago You Should Absolutely Visit
You could use a little space.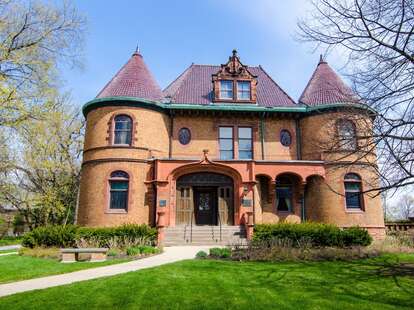 Nothing like a pandemic to make you appreciate a little open space. If you're feeling a bit claustrophobic in the city and are looking to get out to stretch your legs a bit, Chicago's surrounding suburbs can make an excellent day trip alternative to the standard road trip destinations of Lake Geneva and Galena. So the next time you're looking to escape Chicago without boarding a plane or taking a long road trip, consider pointing the GPS towards these suburbs and spending the day exploring a new town. The best part? You get to come back to the city when you're done.
Kane County
How to get there: Metra UP-W line from Ogilvie Station, 1 hour 7 minutes
Why you should visit: With close proximity to Chicago mixed with its own charming small-town aesthetic that feels a world away, Geneva has a little bit of everything—from a ridiculously cute Downtown dotted with tree-lined bars and restaurants to a wealth of nature at nearby parks and the Fox River, which runs through town. A leisurely stroll down Third Street's intimate bar and restaurant scene is a near-perfect way to spend an afternoon, as is taking in a minor league baseball game at the Kane County Cougars stadium (aka Northwestern Medicine Field) here in the summer.
While you're here: A side trip to the equally cool but slightly larger adjacent riverside town of St. Charles is a must, where you can sip drinks at bars along the river or take in a show (when it reopens) at the historic Arcada Theatre.
McHenry County
How to get there: Metra UP-NW line, 1 hour, 31 minutes
Why you should visit: As the town where much of the Bill Murray classic Groundhog Day was filmed, Woodstock is instantly recognized by iconic film locations such as the Woodstock Opera House. (The town even goes as far to host a "Groundhog Days" festival every February with film screenings, beer tastings, and something called "groundhog bowling.") But scratch beneath the surface and you'll find a cool little town with a surprisingly decent music scene, yours to enjoy at popular local watering holes like Liquid Blues.
While you're here: Ten minutes down the road (and also accessible via Metra), the pretty little town of Crystal Lake makes a worthy diversion with a historic downtown and 40+ parks, not to mention its picturesque namesake lake.
Cook County
How to get there: Just 7 miles west of Downtown and bordering the city's West Side, Oak Park is accessible via multiple public transit options including the CTA Blue and Green lines, Metra, CTA bus, and Pace bus.
Why you should visit: Arguably Chicago's coolest suburb, Oak Park is famous as the hometown of Ernest Hemingway as well as the town where Frank Lloyd Wright spent much of his early career. In addition to a Hemingway museum and architecture tours visiting the world's largest collection of Wright-designed buildings, Oak Park is an artsy bike-friendly town as well as a culinary hub with 150+ eateries including a Michelin Bib Gourmand restaurant (Sen Sushi Bar).
While you're here: Freddy's Pizza in nearby Cicero is a local institution. Do yourself a favor. Go there. Now.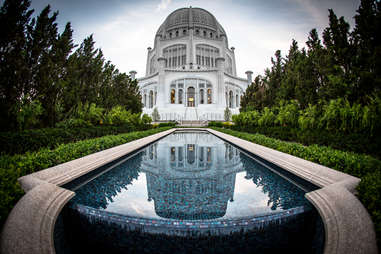 Cook County
How to get there: 12 miles north of and bordering Chicago, Evanston is accessible by the CTA Purple line, Metra, CTA bus, and Pace bus.
Why you should visit: Evanston may be suburban, but it doesn't always feel like it, with a wealth of city-quality bars and restaurants including Found Kitchen and Ward Eight. Meanwhile the town's lakeside location offers plenty of enviable views at local parks and beaches while brimming with Big 10 college life at Northwestern University's Ryan Field on a crisp fall Saturday. You can also catch a concert at the excellent but underrated music venue SPACE (which also hosts outdoor concerts around town during covid) while diving into some of the finest classic Chicago food in all of Chicagoland at casual eatery joints like Edzo's and Chicken Shack.
While you're here: Go just across Evanston's northern border to the neighboring town of Wilmette to check out the stunning Taj Mahal-style Baha'i Temple, one of only eight such temples in the world and the only one in the US.
Cook County
How to get there: Metra BNSF line from Union Station, 19 minutes
Why you should visit: With the majority of this sleepy village designated a National Historic Landmark, greenery is king in this town designed by famed architect/Central Park designer Frederick Law Olmsted in 1869 as one of the oldest planned communities in America. The town is free of traffic lights, with gas lamps lighting the routes along winding streets that follow the Des Plaines River beside ample green space that creates a park-like vibe. There hasn't historically been a ton to do here outside of high school house parties, but that is starting to change with the opening of a few new bars and restaurants in recent years including La Barra and Mollie's Public House.
While you're here: A trip to the world-famous Brookfield Zoo in the neighboring town of Brookfield is a must, followed by a night of inebriation at infamous local watering hole Irish Times.
Cook County
How to get there: Metra ME line from Millennium Station, 45 minutes
Why you should visit: Is it wrong to make a trip to the suburbs strictly to visit a brewery? Not when the suburb is Flossmoor and the brewery is the legendary Flossmoor Station, built into a historic former train station and now serving award-winning brews in one of the finest settings in all of Chicago (they've even got a caboose out back, so you know it's legit). Surrounded by green space, the town is also a haven for golf lovers and is just a short ride from Hollywood Casino Amphitheatre (where you totally saw your first Mötley Crüe concert with your parents... or wanted to).
While you're here: Hit the Holy Trinity of South Suburban beer with side trips from Flossmoor Station to Blue Island's Rock Island Public House and Tinley Park's Soundgrowler, both within a 20-minute drive (or, better yet, Uber ride).
Lake County
How to get there: Metra UP-N line from Ogilvie Station, 51 minutes
Why you should visit: With former resident Michael Jordan and current resident Billy Corgan (who operates a tea shop/art studio in town called Madame ZuZu's), Highland Park is packed with beautiful lakeside homes and filming locations that have made their way into many classic '80s films from Ferris Bueller's Day Off to Sixteen Candles to Risky Business. These days the town offers a lively Downtown scene, two beaches, several golf courses, and plenty of bars in nearby Highwood. But one of the best things to do here is take a leisurely drive down scenic Sheridan Rd (which winds through several posh North Shore suburbs) before stopping off for an outdoor summer concert at iconic venue Ravinia (which promises it is returning in 2021).
While you're here: Just across the border from Highland Park is the town of Glencoe, home to the utterly beautiful, date-worthy, and, somehow, free) Chicago Botanic Garden. (Preregister for timed entry.)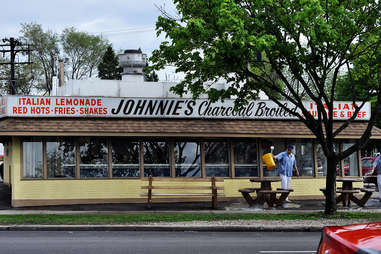 Cook County
How to get there: CTA Green line or Metra UP-W line to Forest Park; 10-25 minutes drive/bus north on Harlem to Elmwood Park
Why you should visit: While it may not be super-pretty to look at from the outside, Elmwood Park is a Chicago food lover's dream—home to the original old-school locations of Johnnie's Beef, Old World Pizza, and Armand's, not to mention Russell's Barbecue and Alpine Subs. A trip to the Bourdain-approved Johnnie's is reason enough for a visit, but stick around and explore this historically Italian community to discover your new favorite. Either way, you aren't going home hungry.
While you're here: A drive past the beautiful homes of neighboring River Forest leads you to the notorious row of Irish bars along Madison St in Forest Park, where you can cap off your night of heavy boozing with even more heavy delights in the form of Chicago hot dog icons Portillo's and Parky's.
DuPage/Will County
How to get there: Amtrak Illinois Zephyr from Union Station, 35 minutes
Why you should visit: There's a difference between living in and visiting a place, and there are certainly worse places to visit than Illinois' fifth-largest city. The highlight would have to be exploring the bars and restaurants along the pretty brick paths and covered bridges of the Naperville Riverwalk, in addition to a respectable area craft beer scene led by Solemn Oath Brewery alongside Two Brothers Tap House in nearby Warrenville and Hopvine in neighboring Aurora.
While you're here: With 16 miles of hiking trails and 4,000+ species of trees, nearby Morton Arboretum is Chicago's closest thing to a national park. And Naperville Ribfest (still being planned in a downsized format for 2021) is quite probably the best Fourth of July party in the suburbs.
Sign up here for our daily Chicago email and be the first to get all the food/drink/fun in town.
Jay Gentile is an award-winning freelance journalist specializing in travel, food & drink, culture, events and entertainment stories. In addition to Thrillist, you can find his work in The Washington Post, The Guardian, CNN Travel, Chicago Tribune, Lonely Planet, VICE, Outside Magazine and more. Follow @thejaygentile.