Everyone can use some form of self-improvement, and that doesn't just have to mean hitting the gym or cutting carbs. You can always pick up a new skill in a really fun way -- maybe with some whiskey, comedy, circus arts, cooking, or swordplay involved. Those are just some of the incentives to get you back into the classroom, and Chicago's got plenty of awesome courses to shake up your tired old routines, and maybe teach you how to garden or make an old-timey cocktail. (They're also great for couples looking for fun date ideas come Valentine's Day.) Here are the best classes the city has to offer.
Master your kitchen with cooking classes
Lincoln Square, Merchandise Mart
Cooking classes at The Chopping Block cover everything from knife skills to wine pairings. The Cooking Lab Series will turn you into a more experimental chef, ready to create your own recipes, while immersive boot camps on grilling or pastry-making will help you master some specific new skills.
Cost: Between $40-$75, but prices vary based on the schedule
Learn something at a boozy lecture
Avondale
Expand your horizons at Sleeping Village's "Drunk Education" sessions. The long-awaited bar and music venue recently launched by the team behind The Whistler will be hosting the monthly talks in the new space soon. The series (previously known as "Drunk TED Talks" until founder Eric Thurm received a cease-and-desist letter from the real TED organization) features cocktail-fueled "experts" -- writers, artists, comedians, and other impassioned performers -- covering hot topics for Chicagoans like dating in the city, Billy Corgan, and Mike Ditka, complete with PowerPoint presentations.
Cost: TBA, but check Sleeping Village for updates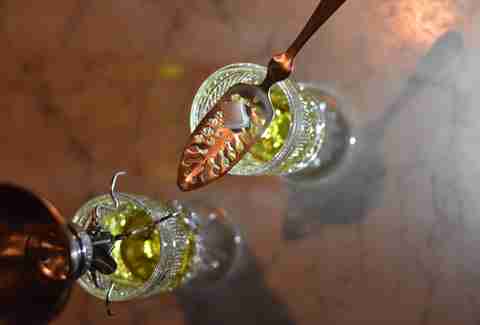 Elevate your mixology game with cocktail classes
Various locations
Shake things up at one of the city's primo mixology classes. The experts behind Wicker Park speakeasy The Violet Hour spill their secrets through basic and advanced courses where you'll learn how to whip up some of their custom house drinks. Ravenswood's KOVAL Distillery covers the mixing techniques behind classic cocktails, with a bit of Chicago history, using house organic liquors, and also features courses to learn about specific spirits. And La Mez Agave Lounge, located downstairs at Mercadito, also hosts a Mixology Academy where you'll mix cocktails at a bar that features a rotating list of more than 75 mezcals. Call 312-329-9555 to book a class.
Cost: KOVAL's classes are $30; La Mez's classes are $45; Violet Hour's public classes are currently booked but they're offering a specially tailored Valentine's Day class ($115 for singles; $200 for couples)
Craft a beer with brewing classes
Irving Park
At Brew and Grow, you'll learn all about making a pale ale or brown malt at home in their basic brewing class. Eliminate the guesswork of brewing a batch of extract beer through the hands-on class, which covers ingredients, equipment, and techniques. Once you've mastered the basic concepts, move on to crafting your own all-grain brews from scratch in advanced homebrewing.
Cost: $20 for beginner homebrewing; $30 for the advanced course
Uncork your cultural side at a wine tasting class
Lakeview
Export: A Port 101 Class, French Wine 101, Sake 101, and "Talk Nerdy To Me" are just a few of the classes for vino lovers at wineHouse. The neighborhood shop regularly hosts free beer and wine tastings, but educational classes offer a deeper dive into wine-producing regions, grape varietals, the art of winemaking, food pairings, and more. Find the perfect to-go bottle from the shop's shelves, which feature handwritten cards describing each wine's unique flavor.
Cost: Classes like "Talk Nerdy to Me" are $10 per person or $5 for wineClub members ($30 monthly membership), but we'd advise trying the free tastings and events first.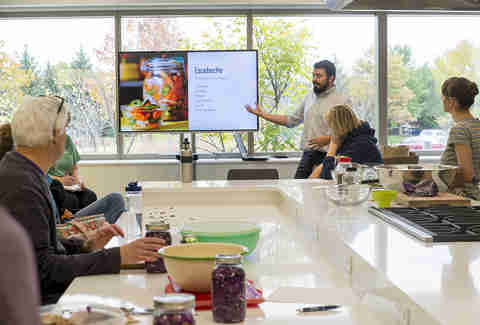 Go green with classes in nature
Glencoe
The Chicago Botanic Garden hosts a range of nature-related classes like horticulture, garden design, cooking, and even travel and landscape photography. Learn how to grow organic salad greens or start up a small space food garden in your own tiny apartment with the help of the manager of celebrity chef and restaurateur Rick Bayless' urban gardens.
Cost: Prices and length of course vary, but there are lots of options
Learn how to grow shrooms with the experts
Back of the Yards
Most of the workshops at The Plant, an urban farm in an old meatpacking warehouse, focus on ways to cultivate your own produce, while some explore foraging and pickling. Fellow community organization Rebuilding Exchange can also teach you how to build everything from simple planter boxes to aquaponic systems, which involve raising plants and fish in the same environment. The fish supply the fertilizer, the plants purify the water and provide nutrients, and you get some sustainable decorations and/or meals.
Cost: One-off workshops like the Make It Take It bench-making class start at $100 (or $140 for couples to make one product); they also do beer events and other workshops
 
Get funnier -- onstage and off -- in an improv class
Old Town
While the Second City Training Center has a smorgasbord of classes, none of them matter if you can't overcome your stage fright. The legendary institution's Improv for Anxiety and Stand Up to Anxiety help people face their issues head-on by writing, workshopping, and ultimately performing original material alone onstage. For the more comfortable aspiring comedians, the three-hour So You Want to Try Stand-Up will help you come up with a routine for your first open mic performance.
Cost: $310 for Improv Level A beginners course, but the multi-week classes vary a lot pricing-wise, so do your research; So You Want to Try Stand-Up is a $70 one-day class
Write your own movie in a screenwriting class
Andersonville
Think you've got what it takes to write a killer screenplay? Bring your ideas closer to the big screen in an intensive eight-week screenwriting course. Chicago Filmmakers covers the nuts and bolts of penning a feature-length script for novice scribes, with screenings, readings, critiques, and advice on what to do once you feel like you have a finished product.
Cost: $395 for non-members for the eight-week class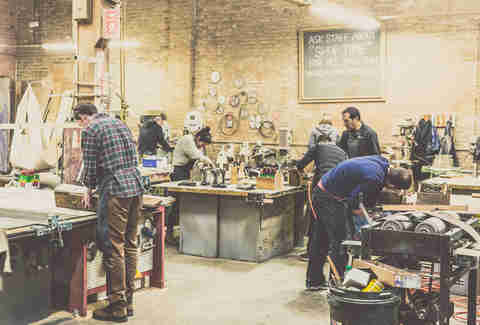 Build some furniture in Woodworking 101
Bucktown
Non-profit salvage shop Rebuilding Exchange runs several great woodworking events, some of which are BYOB (after the power tools are put away, of course). Even if you've never touched a chop saw or drill press, you'll learn to make reclaimed wood benches, chairs, shelves, hanging herb gardens, or wine racks in Basic Woodworking 101. You can also use the workspace tools and materials during the three-hour Open Shop sessions, which are supervised by instructors to help you along with whatever project you dream up.
Cost: Basic Woodworking 101 is $290 for the four-week class ($340 for couples)
Use a creative writing class to finally tackle your novel
North Center
No matter what kind of story you want to tell, the writing classes at StoryStudio Chicago will get your ideas flowing and honed. The eight-week Creative Writing Essentials series is a good place to start if you're into fiction, but they also have shorter courses and one-off workshops for memoirists, journalists, poets, and other authors.
Cost: $420 for Creative Writing Essentials, but it offers plenty of other options and prices
Indulge your inner artist with easy workshops
Ravenswood
LillStreet Art Center's regular offerings include five-week classes designed specifically for first-time artists in mediums such as screen printing and pottery. Then there are various one-day workshops like Drink & Draw, which lets you bring your own booze to imbibe while you sketch a live model.
Cost: $50-$115 depending on the class
Liven up your Instagram with pro photography lessons
Lakeview
You can learn the basics of using a DSLR or an old-school film camera at the Chicago Photography Academy. And then once you develop your skills, you can move on to upping your game in editing, portraiture, flash techniques, and much more.
Cost: Digital photography classes for beginners start at $195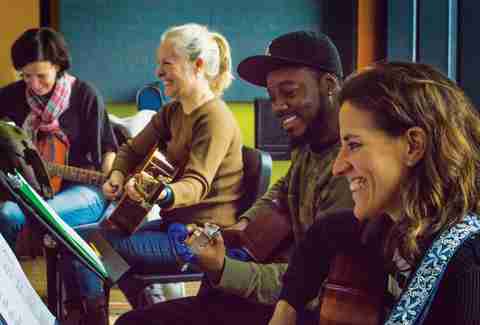 Play a new tune in music lessons and free jams
Lincoln Square, Lincoln Park
There are a ton of different options at Old Town School of Folk Music, starting with entry-level music lessons to joining larger ensemble groups. It also hosts free, drop-in jam circles that you can join even if you're not a student and one-off workshops like "Harmony Singing" for budding singers and "Dance Basics for Couples" so you can work on your moves.
Cost: $202 for 8-week core guitar (or other instrument) class; $0-$45 depending on the workshop
Grab a partner and learn to swing dance
West Loop
Hit up Big City Swing every month for the studio's First Friday events (and bring cash, because they don't take cards). It's a laid-back way for beginners, with or without a partner, to ease into the swing scene, and each night starts with a brief lesson before the floor opens up to everyone of all skill levels. Switching partners throughout the evening is encouraged, and it's BYOB, so you can always opt to just watch the better dancers while sipping your beverage of choice.
Cost: $10 for First Fridays; $67 for a four-week class
Become a gymnast in eight weeks
Logan Square
Aloft Loft gives adults a chance to play like kids again, providing lessons in everything from juggling to tightwire walking inside a 109-year-old former church. There are eight-week conditioning courses for the fitness-oriented as well as Saturday "taster classes" that let you try out the trapeze and trampoline without making any commitments.
Cost: $10 for a Saturday taster class (trampoline or trapeze); $28 for drop-in classes; $240 for eight-week courses
Synchronize your swimming like a mermaid
University Village
Thanks to AquaMermaid Chicago, you can splash about in an hour-long synchronized swim and underwater ballet class for adults. You'll learn how to swim in a monofin and perform all kinds of water tricks, like backflips and mermaid tail high-fives, to make you feel like the beautiful sea creature you were meant to be.
Cost: $60 for one adult class; $300 for a group bachelorette party class (7 participants included in this base price); $225 for a three-month class
Learn the ropes of rock climbing
Avondale, Humboldt Park, Uptown (and coming soon to The Loop)
You'll find instructional classes for all levels of climbers at First Ascent's multiple locations. Novices can take Bouldering 101, and learn about all the knots, hardware, and procedures for scaling the walls. Then you can move up to more advanced one-on-one classes or work with others to simulate an outdoor group climb.
Cost: Starts at $29 for an intro to bouldering
Unleash your inner Robin Hood
Humboldt Park
The 90-minute intro clinics at Archery Bow Range Chicago will give you a great start at learning how to wield a bow and arrow. Cross "hit a bullseye" off your bucket list, or at least get closer, with a group session designed to teach you the focus, control, and precision needed to hit your mark.
Cost: $25
Wield a big ol' sword
Avondale
RedStar Fencing Club's $20 introductory class runs two and a half hours, and you'll learn about proper footwork, lunge attacks, and much more. You won't be Jon Snow by the end of it, but at least you'll have fun and get a great workout. En garde!
Cost: $20
Sign up here for our daily Chicago email and be the first to get all the food/drink/fun in town.