While the pandemic has clearly been an unmitigated disaster for many industries around the world, the weed business in Illinois continues to boom—in fact, the state topped $1 billion in weed sales in 2020. And with continued strong interest and a city slowly emerging from lockdown this spring, it seems that nothing can stop the green gravy train from rolling full steam ahead. In addition to being the home of many of America's largest weed corporations, Chicago has also added two new dispensaries to its fleet this year (in addition to the five we got in 2020), bringing its current total to 17 shops in the city plus another 46 in the surrounding suburbs (view the full list of Illinois' 100+ facilities here).
Here's our guide to every recreational dispensary in the city where you can snag the natural cure to what ails you, from stress mitigation to simple boredom relief. Order ahead for timed pickup if you can to minimize contact and keep up on buying limits and other important details here. Per state law, masks are required inside all Illinois dispensary facilities.
River North
River North recently welcomed its newest marijuana dispensary when this neighborhood outpost opened its doors this spring. It marks Chicago-based parent company PharmaCann's third entry into Illinois since 2020, joining additional locations in Rosemont and Galena. Get "veri excited" (as they so hilariously put it) for this tidy shop's 211-product-strong inventory of gummies, resin cartridges, popcorn, and more.
Nearby natural high: Close out your shopping experience on a classy note with an al fresco feast and some panoramic riverfront views at RPM Seafood.
Rogers Park
This longtime medicinal dispensary has recently been given the greenlight to service recreational customers as well, which means their 317 products are now available for everyday stoners to enjoy. The company prides itself on customer care and offers a full suite of items from the state's leading cannabis companies including corporate weed titans Verano and Cresco Labs alongside family-owned farms like Nature's Grace & Wellness.
Nearby natural high: If sunny skies and sandy shores are your thing, tote your wares over to Jarvis Beach and lose yourself in the crashing waves (figuratively, of course).
Lakeview & River North
Sunnyside is the retail arm of Cresco Labs, the largest marijuana operator in Illinois and one of the biggest cannabis companies in the entire US. Two of their nine Illinois locations call Chicago home, including the original orange-and-white walled Lakeview location sitting just steps from Wrigley Field. In 2020, the company brought weed to River North when they opened a second Sunnyside in the upscale neighborhood. Peddling one of the largest selections on the market fueled by premium grow facilities, consider this one-stop-shopping for all things cannabis.
Nearby natural high: I mean, Wrigley Field? Metro? Uncommon Ground? No matter how you're feeling, quality entertainment lies at your fingertips.
Chicago's first cannabis operator is also one of the city's most beloved. The smartly-designed Uptown location showcases welcoming touches like a soothing nature motif complemented by tasteful sketch art. And their love for the good green is clearly evident—Chicago's "most passionate" dispensary (their words), they've gained legions of loyal fans since opening as a medical facility way back in 2015. Ah, remember those days? Light one up and reminisce. Getting in on the action closer to downtown, Dispensary 33 also operates a second spot in trendy Fulton Market.
Nearby natural high: If Hopleaf's newly-reopened beer garden doesn't strike your fancy, see what's popping over at the ever-eventful Chicago Magic Lounge.
Logan Square & River North
Operated by the owners of the local Emporium arcade bar chain, this cool, loft-style Logan Square hotspot is known (during normal times) for its educational events, cannabis markets, and other community-focused offerings. MOCA is also behind a second location in the buzzy River North market—the lively and colorful space is not only stocked with top-quality product, it also stands proud as Chicago's largest recreational dispensary.
Nearby natural high: Between Slippery Slope and Emporium Logan Square, the potential for a full night of Skee-ball-fueled fun is off the charts.
Brighton Park
While there aren't quite as many flights taking off from Midway these days, traffic still continues to flow to this Southwest Side gem located less than three miles from the airport and equipped with a lobby large enough to accommodate a decent number of people in the social-distancing age. Maribis is known to regularly post deals and specials on Leafly and the company also operates a second location in Springfield, so make sure to stop by after your next class field trip.
Nearby natural high: After picking up your stash, round out the experience with a visit to next-door Leon's Barbeque.
Jefferson Park
With 37 facilities spanning 12 states plus Washington DC, Columbia Care is a large-scale international operator known for introducing the country's first legal credit card for cannabis purchases. Located in Jefferson Park near the Jefferson Park Blue Line, take a second to admire the store's sleek black and white minimalist design while you browse recreational delights like face mints, gelatos, CBD drops, and pre-rolled dogwalkers. They're also behind a suburban outpost in Villa Park.
Nearby natural high: Gale Street Inn, with its stately design and killer burger, has your back when it comes to post-perusing carry-out options.
South Chicago
If you're chilling on the Southeast Side and have a penchant for marijuana, you're probably already well acquainted with Mission South Chicago. Located just over the border from Indiana, the shop brings in plenty of out-of-staters as well as devoted locals stocking up on everything from tablets and tonics to water pipes and suppositories in a clean judgment-free space. Mission operates five dispensaries throughout three states, with a second Illinois location stashed in nearby Calumet City.
Nearby natural high: There's no shortage of South Side spots worthy of a lengthy layover. Check out our expert picks here.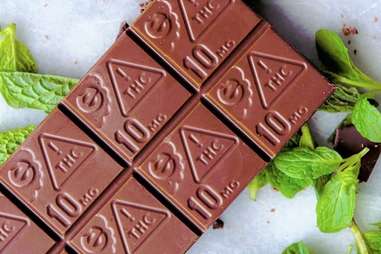 University Village
Featuring one of the largest and most diverse product selections in the state, Chicago's top-rated dispensary is known for taking good care of its customers in a welcoming, relaxing space outfitted with cozy sofas and splashy wall art. Pre-order online or stop in to rifle through their roster of edibles, vapes, extracts, pre-rolls, tinctures, and more. And just in case you were wondering, the company was recently purchased by Chicago weed giant Verano Holdings and is now housed under its Zen Leaf brand.
Nearby natural high: The dispensary is also helpfully located near one of Chicago's best restaurants, EL Ideas, so make it a date night quarantine two-fer with dinner and weed to-go.
Garfield Ridge
If this dispensary were any closer to Midway Airport, it would be parked in the gift shop next to Hudson News. Located just three blocks north of the airport, this Garfield Ridge dispensary offers a massive inventory of disposable vapes and cartridges plus gummies, drinks, and other enticing edibles. Midway started as one of Chicago's first medical dispensaries in 2016 before expanding to recreational in late 2019. Just don't try bringing any on the plane, okay?
Nearby natural high: When you're in the area, hitting up old-school pie stalwart Villa Rosa Pizza is never, we repeat never, a bad move.
Norwood Park
Tucked away in residential, family-friendly Norwood Park, this straightforward dispensary is the perfect place to nerd out on the details of your flower strain's cannabinoid and terpenes profiles or cop potent extracts like crumble cronuts. Consume also operates a second Chicago-area location (one of four in the state) in the far west suburb of Oakbrook Terrace.
Nearby natural high: Consume: Chicago also just so happens to be located down the road from Chicago's iconic old-school hot dog purveyors Superdawg. Grab some weed, grab a Chicago dog, and disappear into the Caldwell Woods Forest Preserve across the street. There are worse ways to spend a Sunday (or any other day).
Goose Island
This cheekily-named dispensary holds court on Chicago's Weed Street, because of course it does. Fortuitous monikers aside, the centrally-located shop is one of six Chicagoland Windy City Cannabis Club operations and was recently acquired by publicly traded cannabis big Curaleaf. Shop online and enroll in CanPay for contactless transactions during your assigned pick-up window.
Nearby natural high: Area attractions include Joe's on Weed, a strip club, and an Apple store, so that pretty much covers all your bases.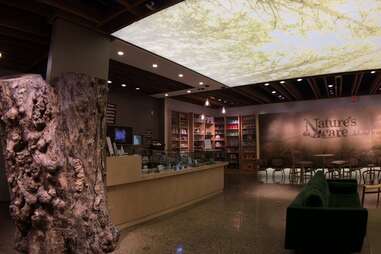 West Loop
This small hideaway features quite a bounty for a store of its size, stocking everything from chocolate flights and hash cookies to their in-house brand Innocent and, believe it or not, some pretty sweet fanny packs just in case you want to display your stash in the dorkiest way imaginable. Nature's Care's other (and original) location can be found in Rolling Meadows.
Nearby natural high: Should the munchies arise, rest assured this shop is nicely placed in walking distance of Lone Wolf and Little Goat Diner as well as the rest of the West Loop's Restaurant Row heavy-hitters.
Clybourn Corridor
Formerly known as NuMed, this company defines itself as promoting "a new era of cannabis" that is "safer, higher quality, and available in more product variety than ever before." Can't really argue with that, now can you? They also run two downstate locations in Urbana and East Peoria.
Nearby natural high: This no-frills dispensary stands across the street from Chicago's legendary late-night punk bar/den of bad decisions Exit and not far from other beloved area haunts like The Hideout and Ada Street. Do as you wish with that information.
Sign up here for our daily Chicago email and be the first to get all the food/drink/fun in town.
Jay Gentile is an award-winning freelance journalist specializing in travel, food & drink, culture, events and entertainment stories. In addition to Thrillist, you can find his work in
The Washington Post
,
The Guardian
,
CNN Travel
,
Chicago Tribune
,
Lonely Planet
,
VICE
,
Outside Magazine
and more. Follow @thejaygentile.