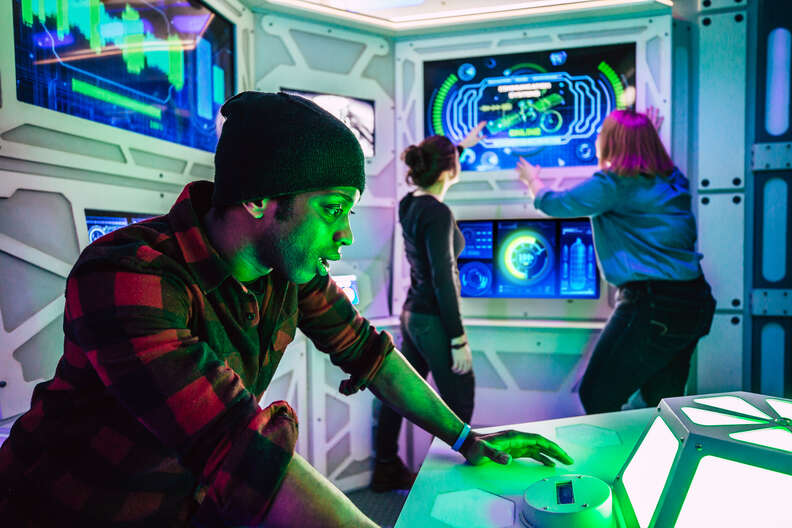 Don't be fooled. Escape rooms aren't just for cheesy team-building retreats hosted by trendy internet start-ups. For video game lovers, puzzle solvers, lateral thinkers, and folks that find it just-so-satisfying to hear the tumblers click into place as a safe unlocks, escape rooms are one of the most fun things to do in Chicago. Luckily, the escape room boom hit our city hard, and there are plenty of great, unique spots to choose from. These are the best.
Wicker Park
Finagle your escapes through different periods of history
Escape Artistry is a Chicago escape-room mainstay, for good reason. Their "Railcar" escape room is not just impeccably designed with amazing puzzles, but features an honestly great story to boot. Our favorite attraction is the Time Gallery, a collection of five distinct escape rooms, each taking place in a different era of American history. Save the world from nuclear destruction in 1954, take down John Dillinger in 1934, or escape ruthless turn-of-the-century Lake Michigan pirates in 1908. Just be sure to have an array of time puns at the ready when the hosts tell you how long you have left to solve the puzzles.

Cost: $99 for a group of three
Fulton Market
Will the virus kill you and your team?
PanIQ Escape Room features three different experiences, but we're partial to The Infection, where you and your group are infected with a hyper-powerful weaponized virus in a super-secret government lab, and have only one hour to find the antidote and cure your entire team before you succumb to the disease -- so, you know, no pressure.

Cost: $28/person for public play, $30/person for a private experience.
The Loop
Act out your Ocean's Eleven fantasy
Though Fox in a Box has three other rooms -- The Zodiac, The Prison, and The Bunker (what is with the obsession these companies seem to have with nuclear war?) -- our favorite is The Bank, a high-octane experience that sees you and your group breaking into a safe full of diamonds. And as an added bonus, Fox in a Box will book rooms for individual groups, so you will never be matched up with strangers!

Cost: $105 for a group of three, with capacity for up to six at an additional cost
Lisle, Illinois
Trek out of the city and do your best Indiana Jones impersonation
Though Escape Story Chicago also features a Sherlock Holmes-themed room, we're bigger fans of their Indiana Jones escape room. The theming is spot-on, the puzzles are tough-but-not-unfair, and perhaps most importantly, per reviews, the folks that run Escape Story are personable, friendly, and take the time to teach newcomers the ins and outs of escape room strategy.

Cost: $28/person
Magnificent Mile
Dive into next-level rooms designed by an in-house game team
The Escape Game Chicago may be the city's single best escape room business. They have an entire imagineer-like cadre of in-house designers that work around the clock to create amazing room escape experiences with incredible attention to detail. They're proud of it too, detailing the insane process of designing these rooms both on their website and on their YouTube channel. Our favorite room they have now is Mission: Mars, a hyper-futuristic, puzzle-solving experience that -- uniquely for escape rooms -- does not feature a single locked door, box, or cabinet.

Cost: $35-39.99 per person
Lakeview East
Newer spot with movie-themed rooms
The Quandary is one of Chicago's newer escape room experiences, and definitely one of its most easily accessible, right at the corner of Clark and Belmont by the El stop. That's not all it has going for it, however, as it boasts three rooms, one '90s-themed room, one loosely based on Jurassic Park, and a third one entitled "Left at Home," where you play as Cal McKevinister, setting up traps for would-be-bandits as they try to break into your mansion after your parents leave for their vacation without you. Now where have I heard that plot before...

Cost: $34.50/person
Millennium Park
Dodge zombies while you solve the puzzles
Room Escape Adventures struck a chord with puzzle-solving Chicagoans when they introduced Trapped in a Room With a Zombie, a Walking Dead-esque twist on the escape room genre that adds some horror to the mix. Every five minutes, a chained-up zombie's leash is extended by a certain distance, so be sure to use your brain! If you don't, the zombie in the room will have it for dinner.

Cost: $28 per person
Magnificent Mile
Role-play as an international super spy
EscapeHouse Chicago has a Save the White House escape room, but luckily for those of us who may not be feeling particularly inclined to join the Secret Service these days, its other room is tons of fun, too. Escape the Safe House is a tougher spy-themed adventure that will certainly scratch your James Bond, Get Smart, Man From U.N.C.L.E., and quite possibly even Secret Squirrel itches.

Cost: $35 per person
Sign up here for our daily Chicago email and be the first to get all the food/drink/fun in town.
Sam Greszes is a Chicago-based writer who contributes to
Kill Screen Magazine
, GameSkinny, and
ION Magazine
.