Did you hear the news? It's fall, aka your last chance to take your sweet-ass Dodge Neon on the road before it begins its annual winter hibernation beneath lake effect snow. Here are nine great Midwest road trips that will have you capturing the essence of fall (or something like that).
Drink whiskey and tour the vineyards off the Red Arrow Highway
Sawyer/Three Oaks, Michigan
Distance from Chicago: 80 miles east, 1.5-hour drive
Why it made our list: The tree-lined, two-lane Red Arrow Highway is easily one of the best scenic drives in the Midwest, and fall is the perfect time to visit. Cruise through its eight beachfront towns during off-peak season and take in endless galleries, wineries, and distilleries. Must-hit spots include Greenbush Brewing and Journeyman Distillery, two of the best drinking pilgrimages in the Midwest.
Side trip: Warren Dunes State Park is right there, as is Birds of a Feather Lodge, one of the finest places to cabin your ass off in the Midwest.
Retrace Bill Murray's steps in Woodstock
Woodstock, Illinois
Distance from Chicago: 50 miles northwest, 1.5-hour drive (or Metra train ride)
Why it made our list: Groundhog Day may not be until February, but Woodstock is beautiful in the fall and now that you've finally mastered your Bill Murray-from-Caddyshack impression, it's time to unleash your inner Bill Murray from Groundhog Day. Stroll the compact cobblestone streets of the historic Downtown to check out the movie theater, opera house, and restaurant from the film before partying with locals at Liquid Blues, one of the best bars in the state.
Side trip: The peaceful escape of Moraine Hills State Park is just a short drive away, or just wander outside the city and get lost in the farmland.
Go chasing waterfalls (and bars) around Starved Rock State Park
Oglesby, Illinois
Distance from Chicago: 95 miles southwest, two-hour drive
Why it made our list: Few places in the Midwest are more beautiful in fall than Starved Rock and the area surrounding it, which also includes the equally worthy but oft-overlooked Buffalo Rock State Park and Matthiessen State Park. The tall bluffs and canyon waterfalls pair great with fall foliage, and the heavy concentration of bars in the hard-drinking area towns ensures your glass will never be half empty.
Side trip: Take a fall foliage tour along the Celebration Belle riverboat or just drive along the river from Ottawa to Peru and revel in small-town bar culture at local joints like Duffy's Tavern in North Utica.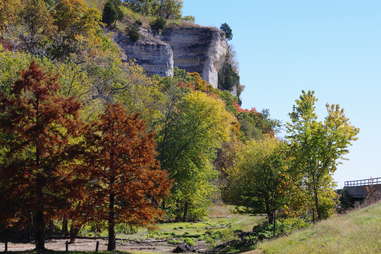 Drive the Great River Road and stop in Galena
Galena, Illinois
Distance from Chicago: 170 miles west, three-hour drive
Why it made our list: If you're really hardcore, you can drive 3,000 miles along the entire length of the Mississippi River from northern Minnesota to the Gulf of Mexico. But the 100-mile stretch of the Great River Road from Dubuque to Davenport, Iowa, is about as good as it gets, with uninterrupted views of the river dumping you off in the endlessly charming town of Galena, one of the best road trip spots in the Midwest.
Side trip: The nearby Apple River Canyon State Park is quiet, secluded, and overflowing with fall color. Fish on the river or just check out the wildlife from its serene bluffs and woodlands.
Drink allll the beers in Michigan on a Grand Rapids beer tour
Grand Rapids, Michigan
Distance from Chicago: 178 miles northeast, three-hour drive
Why it made our list: Not only is Michigan the number one state in the Union, it's the number four state for beer thanks in large part to its second-largest city Grand Rapids, the number eight beer city in America. Founders is of course the stuff of beer nerd legend, but a ridiculous number of up-and-comers including Brewery Vivant (located in a former chapel), Mitten, and Harmony as well as friendly local brewpubs like HopCat will keep both your belly and your growler full for the duration of your trip.
Side trip: On the way back (or the way there), take a 90-minute detour south of town to hit up Bell's in Kalamazoo before crushing the fall beer lineup at Dark Horse Brewing in Marshall.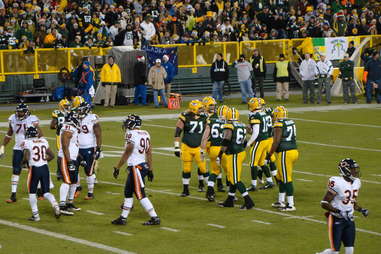 Spend Thanksgiving brawling Packers fans at Lambeau Field
Green Bay, Wisconsin
Distance from Chicago: 211 miles north, 3.5-hour drive
Why it made our list: Not only do you get to bail out on awkward conversations with your awkward uncle, you get to spend Thanksgiving watching the Bears decimate the Packers on their home soil. In the highly likely event that the Bears don't win, you'll still have a great time heckling Packers fans in one of the best places in the world to see football (whether you want to admit it to yourself or not...)
Side trip: In case the Cheeseheads run you out of town on a rail for suggesting that Aaron Rodgers is not in fact the son of God, hit up the friendly nearby lakeside town of Two Rivers where you can stay in a Frank Lloyd Wright house and stroll through aspens while watching migrating raptors over the lakeshore.
Spend a Saturday afternoon screaming like a lunatic in America's biggest football stadium
Ann Arbor, Michigan
Distance from Chicago: 241 miles east, 3.5-hour drive
Why it made our list: Fall in Big 10 country is synonymous with college football. And while Madison, Columbus, Lincoln, East Lansing, and South Bend (and pretty much any Big 10 campus) are all awesome places to catch a game, if you had to pick one you might as well go with the biggest football stadium in America (and that counts the pros). And the University of Michigan's Big House is sure to be rockin' in full effect when the defending national champs from Ohio State come to town November 28 for the last game of the year.
Side trip: Ann Arbor also happens to be the best college town in America. Get out and explore a little, toss a disc at The Arb, grab a Reuben at Zingerman's. It's all good, bro.
Drink bourbon, watch hoops, and bet on the ponies in Kentucky
Lexington, Kentucky
Distance from Chicago: 373 miles southeast, six-hour drive
Why it made our list: An epic trinity of southern delights awaits starting at Rupp Arena, which explodes in a sea of loud blue madness most Saturdays in the fall as the Kentucky Wildcats make yet another bid for a national title. Another high point is the Kentucky Bourbon Trail, where you can watch bottles being dipped in red wax at the Maker's Mark Distillery (and, of course, sample them in the tasting room). But no trip would be complete without a visit to the legendary Churchill Downs, where racing season runs through November 29.
Side trip: On the way there (or back), stop by the equally cool town of Louisville, which is overflowing with cool places to eat and drink. Handily, the Kentucky Bourbon Trail takes you right there.
Get lost in America's Great White North in Michigan's Keweenaw Peninsula
Houghton, Michigan
Distance from Chicago: 416 miles north, seven-hour drive
Why it made our list: Fall is your last chance to get outdoors sans snowsuit, and there's no better place to take advantage of that fact than in the wild nature of Michigan's UP. There's miles of coastline, stunning fall color, and killer views everywhere you look. The best part? You probably won't see another human being for miles.
Side trip: If you feel like getting really remote, Isle Royale National Park is just 48 miles north and is the least-visited national park in the lower 48 states. So yeah, pretty goddamn remote.
Sign up here for our daily Chicago email and be the first to get all the food/drink/fun in town.
Jay Gentile is a Thrillist contributor who has plenty of room in his 1997 Nissan for you on his next road trip. Follow him: @innerviewmag.