The Freshest Farmers Markets in Chicago
Indulge in grass-fed lamb, artisanal cheese, and freshly baked breads at Chicago's local farmers markets.
The birds are chirping, Wrigley Field is back in action, road trips beckon, and rooftop bars have emerged from their winter slumber. It's spring in Chicago, a season of change and rebirth. And nothing showcases just how lovely warm weather in Chicago is like an outdoor good farmers market. Across the city, farmers markets bloom with seasonal splendors like ramps, fiddleheads, rhubarb, and asparagus. Some markets even offer an expansive array of provisions and activities, making them apt one-stop shops for dinner goods, flower arrangements, and even meditation. Ready to freshen up your shopping routine? Shop locally at these farmers markets in Chicago.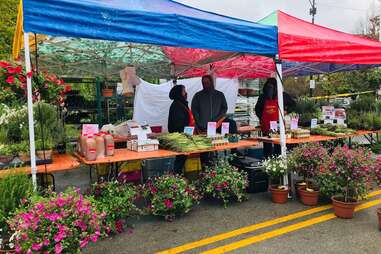 Logan Square
One of the largest farmers markets in town is also the coolest, with a see-and-be-seen vibe that feels more Portlandia than Chicago. Logan Square Farmers Market opens May 14 and runs every Sunday through October from 9 am until 3 pm, spanning a few blocks of Logan Boulevard right off the neighborhood's central square at the corner of Milwaukee Avenue. Arrive early to avoid the crowds, which include everyone from stroller-toting families, couples walking hand-in-hand couples, gal pals, and residents walking their pet pigs. In addition to a plethora of Midwest produce and dairy, look for live music, breads, sweets, coffee and prepared foods like arancini.
Lincoln Park
A veritable Lollapalooza of farmers markets, Green City Market reigns when it comes to top-tier, in-season produce, meat, cheese, bread, and all things fresh from the farm. A long-standing icon on the local market scene, now with offshoot locations in the West Loop and Avondale, the original Lincoln Park location is still the largest and most popular in Chicago, commanding hungry crowds twice a week from 7 am until 1 pm. Saturday markets run through November, while Wednesday markets run May through October, and both outings offer a smorgasbord of ever-changing goods, like heirloom tomatoes, raclette cheese, and maple syrup, plus chef demonstrations and a youth program called Club Sprouts. New vendors this year include Windy City Mushroom and Flock and Forge, offering charcuterie cones.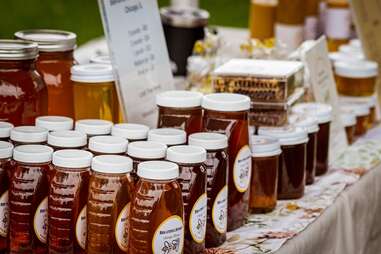 Wicker Park
It's pickles and honey with a side of meditation and yoga at the always-hoppin' Wicker Park Farmers Market, where upwards of 50 vendors convene at the heart of the park to sling their wares every Sunday from May through October. This crowd-pleaser pairs vendors like Oscar Villa Honey, 2Twenty Bakery, and Bennetts Farm with free programming like yoga, meditation, and children's storytime. It's conveniently accessible from the Damen Blue Line stop mere steps away.
Lakeview
Shopping for eggs and microgreens under some train tracks may not sound like the most obvious location for a farmers market, but that's the special appeal of the singular Low-Line Market. Held under a section of the Brown Line tracks along the Southport Corridor, the boutique market features a couple dozen vendors on Tuesdays from 3 to 7 pm from June through October, offering everything from cinnamon rolls and focaccia from Banter, to flowers from Flying Penguin Farm, and herbs from Kaleido Greens. There's also plenty of prepared snacks, teas, skincare products, olive oil, honey, and more.
Andersonville
It doesn't get more charming than the Andersonville Farmers Market, a spree of some 30 vendors dispersed along Clark Street through the heart of the charming north side neighborhood. Running on Wednesdays from 3 to 7 pm from May 10 through October 18, the market is fully stocked with a smattering of unique vendors and artisans—this year's roster runs the gamut and includes Filipino street food from Pecking Order, gooey butter cake from Crumb What May, tofu from Phoenix Bean, potato donuts from Downstate Donuts, and grass-fed lamb from Green Fire Farm.
Pilsen
After a winter season held indoors at Honky Tonk BBQ, it's back outside to Plaza Tenochtitlan for this neighborhood stalwart, where everything from salsa and natural soap to herbal teas and fresh strawberries are on hand. Pilsen Community Market has it all, plus the added bonuses of live music, pupusas, and even tarot card readings so you can shop for the week's groceries while finding out how the week will go. The market runs on Sundays from 9 am to 3 pm from May 22 until October 30.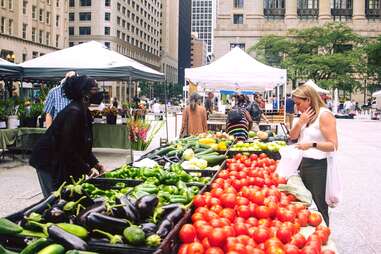 Hyde Park
The 61st Street Farmers Market has been holding it down on the border of Hyde Park and Woodlawn, a stone's throw from the tranquility of Midway Plaisance and the Japanese gardens, since 2008. Nestled on a pastoral stretch of South Blackstone Avenue, the weekly market is held every Saturday from 9 am to 2 pm from May 13 to October 28, with a selective offering of farm-fresh meats, produce, cheeses, eggs, and prepared foods. Vendors include Pleasant House Bakery, The Urban Canopy, Mint Creek Farm, Faith's Farm, and vegan and gluten-free Bot Bakery.
Daley Plaza Farmers Market
Loop
It's impossible to miss this pint-sized farmers market in the middle of the Loop. Just follow the crowds of hungry office workers and power-lunchers, or find the 50-foot-tall Picasso sculpture. More of a place to shop for a healthier snack or picnic downtown (as opposed to all the ingredient shopping for the week), the Daley Plaza Farmers Market features an array of local farms and artisans slinging fruits, veggies, and prepared eats. The market is held Thursday from 7 am to 2 pm from May 11 to October 26.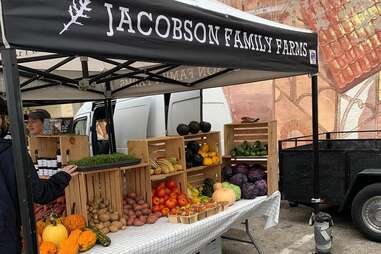 Lincoln Square
It's double the fun—and double the opportunities to stock up on German cookies—at the Lincoln Square Farmers Market, held twice each week in a spacious municipal parking lot by the Western Brown Line stop in one of the north side's more charming neighborhoods. Organized by the Lincoln Square Ravenswood Chamber of Commerce, more than 40 vendors flock from throughout surrounding states to sell their sundries on Tuesday mornings from 7 am to noon, and Thursday afternoons from 3 pm to 7 pm. Find flowers, produce, herbs, honey, cheese, and cookies, plus chef demonstrations from The Chopping Block. The Tuesday market runs from May 2 through November 21, and Thursday market runs from May 4 to October 26.
Beverly
Likely the most eclectic farmers market in Chicago, the 95th Street Farmers Market is a handy go-to for everything from dog treats and barbecue to dips, jams, berries, sweet corn, and chocolate. Posted up at the commuter lot at the corner of 95th and Longwood Drive, and held every Sunday from 8 am to 1 pm from May 7 to October 29, the buzzy market is a full-blown family outing in its own right, with entertainment like live music and face painting, along with a community tent that centers on environmental education.
Matt Kirouac is a travel writer with a passion for national parks, Disney, and food. He's the co-founder and co-host of Hello Ranger, a national parks community blog, podcast, and app. Follow him on Instagram.