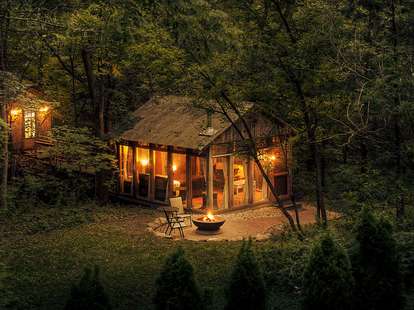 Courtesy of Candlewood Cabins
Courtesy of Candlewood Cabins
So you're looking to spice things up in the road trip romance department without having to resort to cheesy hotel packages or grandmotherly B&Bs? Well, you'll be glad to know that there are in fact a wealth of unique and interesting getaway options from Chicago for adventurous couples. Granted, only if you're willing to peel yourselves off the couch, turn off reruns of Storage Wars, and explore a few off-the-beaten-path locales. From romantic stays in a former brewery/tree house to a weekend retreat in a train caboose with an outdoor hot tub, these 10 Midwest destinations offer way more romance than another night of GrubHub and rosé.
Glenmont, OH
A quaint 1800s-style red barn with stained glass windows welcomes you inside this former brewery/tasting room tree house accessible via a 30ft suspension bridge in the woods near Mohican State Park. About halfway between Cleveland and Columbus, you'll wake up gazing out at nature through the colorful glass panels in the bedroom loft's queen-sized bed and then hit the outdoor shower before eating breakfast on a kitchen table set atop wooden kegs surrounded by brewery equipment. Spend the day touring the nearby Malabar Farm State Park and grab dinner at the date-approved Malabar Farm Restaurant.
De Soto, WI
What? You've never stayed in an original 1954 railroad caboose with outdoor hot tub located on five remote acres surrounded by lush greenery? Well, now's your chance to book a romantic weekend getaway in a rural caboose home hidden in the backwoods of southwest Wisconsin near the Mississippi River. After cruising the ridiculously scenic Great River Road, relax by watching wildlife on the caboose's back patio or take a stroll to the nearby trout stream to lose yourself in the solitude of its calming waters. Later you can mingle with locals at the Great River Roadhouse or, depending on your energy level, go caving, kayaking, or ice climbing.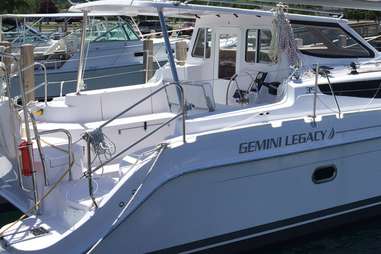 Traverse City, MI
Instead of crashing amidst the empty Miller Lite cans strewn about your buddy's houseboat or packing yourself into some stupid tourist cruise liner, create your own adventure by choosing from the fleet of options at Traverse City's Great Lakes Sailing Company. Our pick is the luxurious three-room, 35ft Gemini Legacy Catamaran, perfect for exploring the nearby remote islands of Beaver Island, Les Cheneaux, and Manitou. You can either hire a captain, an instructor, or do it yourself on charters lasting from a day to a week.
Up your glamping game in a stunning glass-walled campsite
Richland Center, WI
There is something undeniably romantic about sleeping under the stars. Until the crawling bugs and morning breath rear their ugly heads, that is. Avoid both at the stunning glass-enclosed "campsite" at Candlewood Cabins, surrounded by nature about 90 minutes west of Madison, complete with massage chair, outdoor fire pit, and romantic wood stone fireplace. You can get out and explore the beautiful rolling hills of the surrounding Richland County if you want, but you probably aren't leaving the bedroom.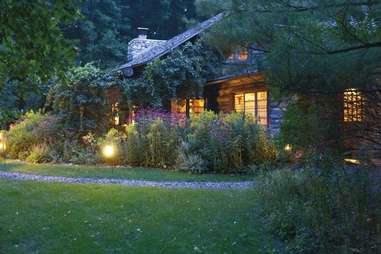 Kohler, WI
If you're looking for a more upscale experience but still determined to get out of the city, the American Club -- an elegant Tudor-style building that once housed immigrant workers and a bowling alley in the early 1900s -- is calling your name. The ultra-posh five-star, five-diamond resort is home to one of only 47 five-star spas in the world, four championship-level golf courses, and the River Wildlife nature preserve featuring a high-end dining club located inside a rustic wooded cabin. For extra privacy, you can also stay offsite at high-end cabins like Sandhill, nestled on 350 acres of wilderness in nearby Mosel.
Willoughby, OH
Regardless of how many times you've taken the goddamn Frank Lloyd Wright home tour, they've never let you stay in one. Until now. Situated on 30 woodland acres with northern Ohio's peaceful Chagrin River running right through the property, the three-bedroom Frank Lloyd Wright-designed Louis Penfield House is all yours for the taking. One of only about 60 "Usonian" middle-income homes built by the famed architect, the home stays in tune with the surrounding nature with the help of noteworthy features such as massive floor-to-ceiling glass windows and a floating staircase supported by ceiling beams.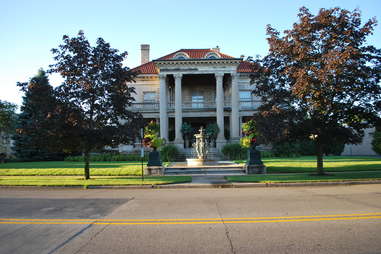 Mishawaka, IN
Whether you're heading to South Bend for a football game this fall or not, a more romantic excursion than mingling with screaming Golden Domers at Notre Dame Stadium can be found in nearby Mishawaka at the historic Beiger Mansion. Awash in lavish opulence from head to toe with a grand staircase, outdoor pool, state dining room, and art-packed library, it's hard to believe this building was once slated for demolition to make way for a used car lot. The local historical society banded together to get it listed on the National Register of Historic Places, so be sure to thank them next time you're sipping Champagne in the hot tub.
Ellison Bay, WI
Door County is awash in romantic lodging opportunities, but for our money none of them match the vibe of the so-under-the-radar-they-don't-even-have-a-freaking-website Newport Suite, an out-of-the-way restored farmstead home located down the road from the quiet beachside oasis of Newport State Park. After exploring the park, take a short drive up to Gills Rock (one of the Midwest's most underrated towns) and take a ferry ride to explore the romantic fishing village of Washington Island (and its world-class Schoolhouse Beach) or hold hands hiking around Rock Island State Park, an entire island that's a state park.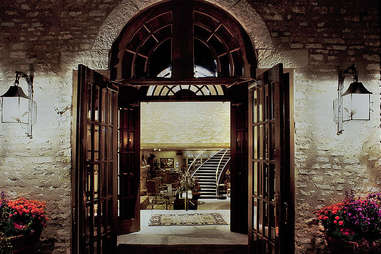 Geneva, IL
One of the easiest romantic escapes from Chicago lies just 40 miles west of the city in the charming Fox River town of Geneva, accessible via a painless one-hour Metra ride. Amidst its more romantic offerings are the well-appointed riverside rooms of the Herrington Inn, featuring milk and cookies turndown service and a serene outdoor patio perfect for sipping mojitos over the water at sunset. Plus, a stroll through Geneva's historic downtown and bustling Third Street restaurant scene (did someone say Fiora's?) is about as romantic a destination as you will find without having to get into your goddamn car.
Cobden, IL
With 12 family-owned wineries tucked away within southern Illinois' beautiful and criminally underrated Shawnee National Forest, the Shawnee Hills Wine Trail is one of the most pleasant surprises in state (the grapevines have to be masked by cornfields, right?). Rustle Hill Winery removes the concern of post-wine tasting driving from the equation as you'll be kicking back in romantic cabins tucked away in scenic hills after watching live bands perform on the winery's legit outdoor amphitheater. Come here in fall and the foliage ups the romance by a factor of ten.
Sign up here for our daily Chicago email and be the first to get all the food/drink/fun in town.
Jay Gentile is a Thrillist contributor and he wishes he had a brewery tree house in his backyard, if he had a backyard. Follow @innerviewmag