It's never the wrong time to refresh your wardrobe. Sure, there are the standard resale shops like Ragstock, Buffalo Exchange, and Goodwill, but Chicago has plenty of truly special spots—from small, one-of-a-kind local shops to interesting larger chains—that deserve your attention. Whether you're looking for the perfect crop top for hanging out by the lake, a marshmallow-puffy jacket to fight back against the wind, or a pair of ultra-wide-leg, mid-aughts jeans for everyday wear, Chicago has plenty of thrift, vintage, and resale shops for all budgets and styles. Here are the top spots to help resurrect a decade or find a good deal on something otherwise out of reach.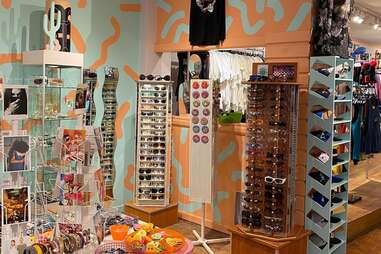 Wicker Park
Let's get this out of the way at the jump—Kokorokoko is definitely more of a vintage shop than a thrift store, but if you're looking for nostalgic '90s and Y2K 'fits, there's really no better spot in the city to find them. From Hypercolor windbreakers to vintage sports jerseys to low-rise, flared jeans, Kokorokoko will have that special something. It's open every day of the week.
Multiple Locations
This national chain with three Chicagoland locations is a local go-to for a reason. Although Crossroads doesn't specialize in a certain era or specific style, it makes up for it in sheer scale, variety, and selection. Find everything from trendy sneakers, flowy sundresses, bomber jackets, and much more from a collection that's always seasonally appropriate at a reasonable price.
Roscoe Village
Shangri-La is the best place in Chicago to grab loud, outlandish, wonderful pieces of '70s fashion. Locals know, however, that beneath the frilly poet shirts and dangerously wide lapels, there are some really, really special items here. Find vintage, high-quality Pendleton wool shirts, rare Starter sports gear, caftans, and gorgeous deadstock dresses—and for much cheaper than you'll get 'em on Depop or eBay. If you know, you know.
Multiple Locations
If you have an upcoming capital E kind of event calling for something slightly fancier than jeans and a t-shirt, make Elliott Consignment your first stop. Both locations brim with evergreen, classy, designer fashions that have never (and will never) go out of style. That's not to say that the selection is one-note or frumpy: Jaw-dropping dresses from designers like Ralph Lauren and Balenciaga are often in stock. Swing through before your next rooftop bar outing with friends, and watch their minds explode.
Multiple Locations
Some may know Brown Elephant as the best spot to furnish an empty, overpriced Lakeview studio apartment, and they are correct. It is also, however, a wonderful place to pick up a decent dress shirt, pair of jeans, or jacket. Like Crossroads, the vibe here is very much dive-in-and-see-what-you-can-find, though the pieces are carefully selected and seasonally appropriate. Best of all, store proceeds and donations help support Howard Brown Health's mission of funding LGBTQIA+ healthcare for the city's un- and under-insured. Brown Elephant also offers free STI/HIV screenings.
Multiple Locations
As traditional as a thrift store can get, Village Discount Outlet's packed aisles burst with t-shirts, coats, jeans, dresses, tops, ties, swimsuits, hats, belts, and plenty of diamonds in the rough. In addition to clothes, shoppers can unearth things like retro video game consoles and controllers, musical instruments, VHS tapes, and kitchenware. With a little time spent sorting through, you'll leave with something you love—high praise for a thrift store.
Boystown
Established in 1990 to help raise funds and awareness for AIDS Healthcare Foundation, Out of the Closet backs up its community-focused bonafides with a wonderful selection of seasonally-appropriate clothing. Better yet, 96 cents of every dollar made still goes to HIV prevention and treatment services, so you're making a difference even while you're updating your wardrobe.
Sam Greszes is a Chicago-based writer who contributes to
Kill Screen Magazine
, GameSkinny, and
ION Magazine
.