The Brianna and Jaelin Walking Tour of Chicago Was Everything I Wanted It to Be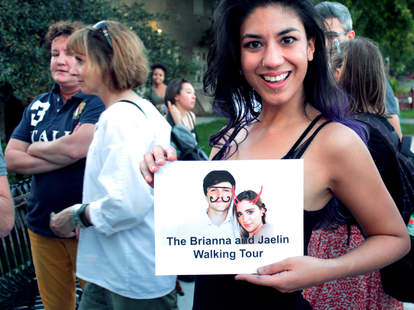 Chicago has a strongly enforced "respect the city or GTFO" policy when it comes to interlopers, one that's been employed on the likes of A.J. Pierzynski and Donald Trump. The latest outsiders to incur the wrath of Chicagoans: Brianna and Jaelin White, authors of the Youtube video "The Reason We're Homeless Right Now (No Clickbait) Storytime" (which has since wisely been renamed "Our Chicago Story") who moved to Edgewater this summer, only to flee the city less than 24 hours later.
It's a tale as old as time -- an 18-year-old married couple from Arizona heads to the big city to make it, takes cover from a "sketchy" guy inside of a Subway, the husband gets punched in the face, loses a shoe, and they run back home to mom and dad having learned a hard lesson in both street smarts and internet public relations. On Tuesday night, the Whites' saga was commemorated with a snark-filled Brianna and Jaelin Walking Tour and, for fear of missing out, I slid on my finest fake polo shirt and headed to be in the middle of the action.
If you're unfamiliar with the local viral sensations and wish to shorten your lifespan by 16 minutes, the sordid tale is all outlined here. If you'd prefer not to watch/re-watch the video, thereby mitigating the flow of YouTube ad revenue, then the outline goes roughly as follows. Doe-eyed Jaelin and Brianna excitedly departed from their families in Phoenix, AZ to Edgewater only to turn around and flee home without spending a single night in their new apartment after a man who they described as "not homeless" bothered them from outside a sandwich shop and "punched" Jaelin in the face. Like any exemplary millennial, the couple took to vlogging a recap of the harrowing experience -- complete with feigned smiles and laughter -- from the safety of their uncle's marble counter-topped house back home.
Sure, street harassment is an issue, no one wants to be bothered waiting for the Red Line, but is Edgewater really all that bad a neighborhood? I've lived in Chicago a decade now, so maybe I'm jaded to the events of their story. Or is it that I'm just smart enough not to actively confront someone who's followed me around all night? Or maybe I just can't take seriously a pair of teenagers laughing off a "tragic" event on the internet like they're retelling another story about the time their server spilled a tray of pop and breadsticks at Olive Garden.
I'm not alone. It seems Chicagoans from every corner of the city have united in their disdain for the young couple. The curiosity and fascination behind the privileged Whites' story was a common theme amongst attendees of the walking tour.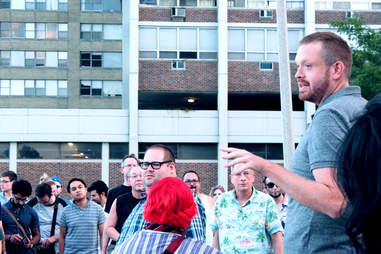 Zack Shornick/Thrillist
I arrived at the benches of Berger Park overlooking the lake at 6:45pm. It was a sticky 91 degrees and the sun was setting. I only saw a few people gathered around, each of them looking at their phones. It wasn't clear if they were certifying the meeting place on Facebook or playing Pokémon Go, but I recognized our host, three-month Edgewater resident Kevin Fergus, standing amongst a friendly group of "tour guides" and knew I was in the right spot.
We all mused on haunted dolls and high school yearbooks as more people trickled in; Kevin's infectious laugh squealing with delight. A crowd gathered and someone shouted "It's real!" "It's happening," replied recent West Town transplant Martin Ryder, "but I don't know if it's real."
Ryder, who moved in November from Washington Heights in New York City couldn't believe the White's video. "I've lived in food deserts. This place is beautiful," he said.
Zack Shornick/Thrillist
Also among the crowd were AJ Nichols and Minchah Chevalier, a couple living in Roscoe Village and the only pair to come dressed in "Jael-anna" cosplay. They'd gone out to thrift stores to purchase clothes detailed by Brianna in the White's video. "We just came out for some good laughs," said Minchah. "I got one and a half minutes into the video and almost cried. I was hyper-ventilating." She'd also gotten half-way through Brianna and Jaelin's wedding video just to see what kind of people they were. More bravery than I could muster.
AJ, who is in real estate like Jaelinn, was just happy that there was a charitable aspect to the walking tour, saying "even if we can raise $200 for charity -- it's more than the Whites would've done."
Eventually Kevin and his team split the crowd into groups for the tour. As he and Nikki Loehr took my group to the first proper stop on the tour, we passed the Berger Park Coach House where Jaelin "committed all his murders," a mid-rise apartment building full of Time Lords, and the haunted convent which is now also Sacred Heart School. Meanwhile, the crowd was on a tour of their own making -- pointing out various dangerous landmarks to each other. Everyone knew the video inside-out and we were all ready to share it with each other. This whole night was a joke we were all in on.
We finally reached the first official stop on the tour: the Granville Redline Platform. We stayed at ground level, though, because no one wanted to cough up $5 for a ticket to ride. And just below sat the Loyola Campus Police equipped with real live security officers. We stared in delight -- some of us livestreaming the event -- as the first of many "Is that their Uber?" jokes was vocalized.
Next came the actual Subway restaurant where the Phoenicians hid from their nameless foe. While no one will ever know what sandwich Brianna ordered and almost threw up that fateful night -- the only detail she left out of her endless story -- we did learn what kind of shoe was almost lost. A great question from a man in a Sox tee, Kevin slyly answered "probably boat shoes" to a gleeful response.
Then a VW Jetta passed by. "That's their car," someone erupted. "See, you can't even fit a bed in there," retorted our guides.
As we headed onward to our next stop, a quiet voice behind me revealed she "didn't know how much danger could happen in a single block. It's scary." The crack came from Alicia O'Dell, a young woman visiting from Boston for the week, "but I won't be coming back. You can quote me on that." The fear was palpable.
We made our way to the CVS to where Brianna and Jaelin had fled and then across the street to 1210 W Granville -- the supposed apartment building in question which had a "For Rent" sign posted above the door. We bowed our heads in a moment of silence for the homeless young couple, but it wasn't much time before a car sped past, the driver shouting "Do you guys need an Uber?!"
The tour ended here and our guide was delighted with the warm turnout. Originally from Des Plains, Kevin Fergus was happy to have such a great response and raise some money for Care for Real -- a local neighborhood charity providing food, clothing, and counseling services to those in need.
Smiling and spent, Kevin and Nikki said goodbye to the crowd and fearlessly walked home. His only advice for the rest of us: "Just don't repeatedly confront people who weird you out!"
Jaelin and Brianna did not have any direct comments for me regarding the event. I must confess, however, I didn't actually reach out to them. But who knows what would've happened if these fragile two had stayed in our fair city? What if they wandered into Wrigleyville after a Cubs game? Or perhaps they'd find themselves caught in the middle of River North's recent gelato fiasco. My greatest wonder, though, is what would've happened had they come just a year earlier and wandered into the now-defunct Ed Debevic's?
Zack Shornick/Thrillist
It was a beautiful night seeing people of all ages and backgrounds come together in true Chicago fashion. The tour was over, but I was not done. First I stopped at Revival Social Club for their appropriately titled one-night-only specials, "The Punch" and "The White Whine Spritz." A few other tour-goers joined me, seeking refuge from the White's yet-to-be-caught attacker.
I didn't stay long, though. It was getting late and I made it my mission to finish what the young couple had started: get Chipotle and go to sleep in my own Ikea bed.
And I did, too. Without getting myself punched in the face.
Sign up here for our daily Chicago email and be the first to get all the food/drink/fun in town.
Zack Shornick is a Thrillist contributor who's never been punched, but now fears his next visit to Ann Sather's and Metropolis Coffee. Follow him @zackshornick.