Now that we're into the second half of the MLB season, it's time to take stock in Chicago's baseball landscape. With such big shakeups in the fan psyche of Cubs and Sox lately, it's worth addressing how these fanbases are dealing with their respective success and mediocrity, especially since the conversation around both teams this time of year was, "Wow, we're both out of it ALREADY?"
What if this is the year for the Cubs? What if the Sox get hot again like they did to kick off the season? What if you don't have a strong enough Kyle Hendricks take to offer at the office cooler? Let's analyze the modern fan of both clubs in 2016 and offer some dos and don'ts.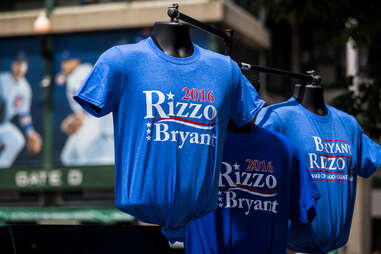 Cubs fans
State of the fanbase: Speaking frankly, Cubs fans are like that small dog your aunt had growing up: equal parts aggressive, excited, and terrified of every little noise. Forever waiting for the other shoe to drop, the modern Cubs fan -- and not the Blackhawks fan disguised as Cubs loyalists until hockey starts back -- is cautiously optimistic, never once wanting to actually say "this is the year" because of a deep-seated mystical power that apparently causes the Cubs to lose if anyone says anything remotely positive (Can you imagine? "Wow, Heyward is hitting today... SWEET JAMMING JESUS, they're losing now, NOOOO!).
Side note: Cubs fans are worse than Sox fans in that they'd REALLY like you to know that they've been fans their entire lives.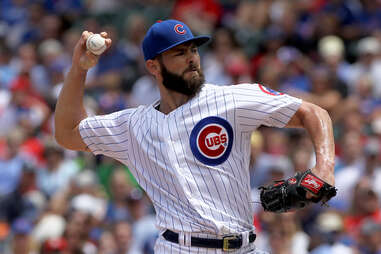 How to root for the Cubs now that anything short of a World Series is a disappointment
Do: Properly recognize the greatness of Jake Arrieta.
Coming off one of the best seasons in history, #49 is following up with another no-hitter and a double-digit wins. All's well and good, but then dude had to go ahead and pose butt nekkid in this year's ESPN the Magazine's Body issue. Killer on the mound AND comfortable posing only in his bat and balls? That's a guy right there.
Don't: Ignore what's happening off the diamond.
Yes, it's a big honor that every Cubs player/ballboy/DJ who plays the walkup music made the All-Star team this year, but this team is the first that I can recall since the Sammy Sosa era that's actually... cool? Be it Joe Maddon's away game "dress code," the "Try Not To Suck" motto (and the T-shirts that benefit charity), and even the fact that Jorge Soler's walk-up music is Future's "Wicked" all make this team one to get behind.
Do: Pick a favorite infielder.
Treat it like a boy band. You've got the frontman Anthony Rizzo, the baby-faced Addison Russell, Javy "the mysterious one" Baez, and Ben "I'm the Joey Fatone in this scenario, aren't I?" Zobrist. Hell, why stop there? Jason Heyward? Dexter Fowler? "The San Diego Delight" Kris Bryant? You can't really lose here.
Don't: Forget to talk smack to Cardinals fans.
This isn't anything new, but I can't stress its importance enough. Hating the Cardinals is as integral to the Cubs experience as singing "Go Cubs Go" after a win or buying a racially insensitive T-shirt from a vendor in front of Wrigley. (Stay classy, guy who still owns that "Pujols mows my lawn" shirt!) If you're going to fake being a Cubs lifer, you need to HATE St. Louis. We give Nelly his props, but that's where it stops.
Do: Enjoy the ride.
The Cubs are playing historic-levels of ball right now, with all facets of the game firing on all cylinders. It can be very easy to want to get nostalgic about how this team stacks up to Cubs teams of the past, but...
Don't: Forget to stay in the moment.
While the ineptitude of the Cubs organization is long and consistent, I truly believe that right now is currently the best time to be a fan of the North Side ever. Don't believe me? Ask the diehards if the following names ring a bell: Rod Beck. Antonio Alfonseca. Todd Hollandsworth. LaTroy Hawkins. Milton Bradley. They're crying, aren't they? HOPE YOU'RE HAPPY, YOU JERK.
For the bandwagoners out there, yes, this year is different. No, the whole Marty McFly thing didn't work out. But outside of the the usual "loveable loser gets good" narrative, this team is the best roster the Cubs have had in decades, and all signs point to the NL pennant win at absolute worst-case scenario and the end of the longest drought in MLB postseason history as the best-case. The time is now. That sound you just heard was every Cubs fan reading this knocking on wood all at once.
White Sox fans
State of the fanbase: If you ask any long-term Sox fan what they expected from this season, you'd get an equal mix of disappointment and mediocrity. Then the team started playing lights out and everyone started walking around like Ric Flair was batting in the four hole. After a bunch of C-student personnel moves, some triple plays, and a string of losses, everything is back to normal at the Cell. The name of the game: managing your expectations. Firing White Sox manager Robin Ventura seems to be the go-to solution to anything. Bullpen blows a lead? Fire Ventura. Nachos got too much sour cream? Fire Ventura. Your girl calling you Kelly when your name is Tommy? FIRE VENTURA.
Side note: You will never see more questionable tattoos in your life than at a Sox game. I once saw a guy who had "Return of the Mack" tattooed on his bicep in Olde English. This was in 2015.
How to root for the White Sox without wanting to tear your hair out
Do: Your research.
Short of the big names like Jose Abreu, you should be able to crack wise about the other names on the roster in order to sound like a legit supporter. Todd Frazier: his name sounds like an '80s boxer, and he hits as hard as one. James Shields has finally started to um... not be as terrible?
Don't: Assume anything about the AL Central yet.
The division the Sox play in is an absolute crapshoot at this point, with every team (that does not reside in Minneapolis) within seven games of the top spot. In the past, the Central has gone down to the wire aka the very last day of the season. Sox fans know better than anyone: it ain't over until it's over.
Do: Enjoy the seats.
OK, so it's not a real secret that tickets for Sox games aren't hard to come by. Who cares? The food is delicious, the sun is shining, and the beer is cold.
Don't: Argue Chris Sale over Jake Arrieta every chance you get.
Is there some "dominant Chicago pitchers must wear #49" rule on the books somewhere? Sale is doing it big this season with more wins than Jake Arrieta and an All-Star starting nod. He could be in line for his first Cy Young nod this season if he keeps up the pace.
Do: Start paying attention to Tim Anderson.
The young shortstop is the newest name to know on the South Side. Keep an eye on him. If he wins the AL Rookie of the year nod, he'll be the third player in a row to win the award from a Chicago baseball team (Jose Abreu in 2014 and Kris Bryant last year).
Don't: Worry about what the Cubs are doing.
There's a long-standing narrative that Sox fans are more concerned about the Cubs futility than their own Sox-cess. It's true. The Cubs are always going to be the Peyton to the Sox's Eli, and who cares? As a matter of fact, here are three things that are infinitely better about being a Sox fan than a Cubs fan.
You've seen a White Sox World Series win in your lifetime
2005.
Did I mention that World Series win?

It's the ultimate argument-killer. Major League Baseball's ultimate prize hasn't been seen on the North Side since the invention of the bra (No, seriously!), and Sox fans would do themselves a service to remember that and be content to support their own team without worrying what the Cubs are up to. (It also makes the Sox's playoff drought since 2008 easier to stomach... right? No?)
Regardless of what side you find yourself on, realize that the state of Chicago baseball is better than a lot of other markets could even dream of. (I have a friend who's a longtime Atlanta Braves fan and he looks like he could snap at any minute, #PrayForBarvesFans) Whether you're a longtime fan of the Sox or Cubs, remember: just a month or two until the Bears break our collective hearts again!
Sign up here for our daily Chicago email and be the first to get all the food/drink/fun in town.
Ernest Wilkins is a writer living in Chicago. He's written for Gawker, Complex, Pitchfork, Noisey, GQ, Rolling Stone, RedEye, and the Chicago Tribune. He's 5'11" on a good day, and is also on Twitter @ernestwilkins.