Those familiar with Chicago winters know that it can be tempting to hop a flight to Cancun on Thanksgiving and come back on St. Patrick's Day. But would you really want to miss out on all this action? There's underwear races, pajama bar crawls, cool indie music festivals (including a new one in an art museum), and insane costumed shopping cart races -- not to mention a fine assortment of winter sustenance from donuts and chocolate to beer and more beer. Suddenly winter doesn't look so bad, now does it?
(Note: For holiday-specific fun, don't sleep on our full Chicago holiday guide, either.)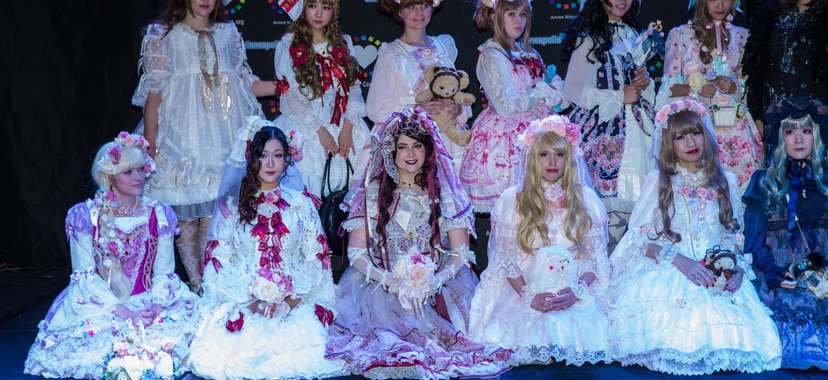 December 14-16
Hyatt Regency O'Hare
This celebration of Japanese animation and nerd culture includes cosplay, arcade gaming machines, voice actors, video game consoles, autographs, and anime screenings.
Cost: $50-$125
December 24
Joy District
Chicago's only Christmas Eve gala features two levels of mingling and dancing with private hosted cocktail reception, light appetizers, and afterparty at LIQR Box.
Cost: $10-$20
December 31
Under the Gun Theater
Sure, you could spend New Year's Eve at one of those massive hotel parties at the Hilton, Congress, or The Drake. Or you could choose this event with two hours of comedy, burlesque, magic, and other assorted weirdness. Your call.
Cost: $60-$100
January 4-6
Subterranean & Chop Shop
This annual underground extravaganza takes place at Subterranean and Chop Shop over the first weekend of 2019 with 35+ indie bands including Elephant Gun, Meat Wave, Bobby Conn, and many more.
Cost: $40 for weekend pass
January 10-20
Stage 773
There's nothing sketchy about this annual winter tradition featuring over 180 sketch comedy groups making up the world's largest festival of its kind taking over each of Stage 773's four performance spaces over 10 days.
Cost: TBA
January 12-13
Donald E. Stephens Convention Center
Mid-January seems about the right time to get the hell out of Dodge. Solicit the help of travel experts like Rick Steves and Pauline Frommer at this travel expo which includes speakers, destination theater, scuba diving, camel rides, and wine tastings.
Cost: $11-$22
January 16-20
Various locations
Chicago's annual mini-SXSW hosts cooler-than-you indie acts like Cave, S. Carey, and Varsity plus live comedy around town at venues including Schubas, Lincoln Hall, Metro, The Hideout, and (new this year) Sleeping Village.
Cost: 5-day pass $100
January 18-20
Sheraton Chicago
Get up and close with Cubs players and pepper team management with all your Bryce Harper questions at this annual 3-day fanboy extravaganza.
Cost: Sold out, $135+ on Stub Hub
January 18-February 2
Lifeline Theatre & Heartland Event Space
Check out the 22nd annual edition of this live storytelling festival featuring more than 95 solo and group performers in a range of genres from comedy to drama to everything in between.
Cost: $10 per show or $50 for festival pass
January 18-February 24
Prop Thtr
Chicago's longest-running multi-arts fringe theater festival features works in DIY theater and performance from local and national acts guaranteed to spice up your mid-winter rut.
Cost: TBA
January 20
Joe's
This beer-soaked, carnival-themed fundraiser includes a beer pong tourney, competitive flip cup, and carnival games with prizes, plus an afterparty at Sully's House.
Cost: $35
January 25-February 7
Various locations
This year's slightly misnamed two-week affair will be the biggest ever, with more than 390 local restaurants (including more than 100 first-time participants) showcasing specialty prix fixe brunch, lunch, and dinner menus.
Cost: $24+ per brunch/lunch; $36-$48 per dinner
Advertisement
Between the holidays and finishing out the year at work, your calendar can fill up fast in the colder months. But whether your winter plans involve heading out to a new bar opening, onto the open road, or to the office, Wrangler has new styles and comfortable fits made for wherever life takes you -- so you won't have to think twice about what to wear.
January 27
Chop Shop
It's donut fest. You don't need any more convincing.
Cost: TBA
January 31-February 3
Woodstock, IL
A road trip (or Metra ride) to Woodstock is in order for the town's annual Groundhog Days festival, which tours several Woodstock filming sites from the 1993 Bill Murray classic Groundhog Day along with special events like movie-themed trivia, bowling, bingo, a pub crawl, and chili cook-off.
Cost: Prices vary; many events free
February 3
Lacuna Artist Lofts
The winter edition of this bi-annual beer fest features 150+ American craft brews (with a strong focus on winter seasonals) plus food trucks, a beer bike, an "infusion tent", and live music.
Cost: TBA
February 7-17
Various locations
This is like Chicago Restaurant Week. Only for theatre. The benefits include special prices and a wide variety of shows to choose from -- more than 100 total. The masterminds behind it are League of Chicago Theatres and Choose Chicago, and it's been going strong for seven years.
Cost: $15-$30
February 9
Navy Pier
The Midwest's largest cider festival returns to Navy Pier's Aon Grand Ballroom with over 150 ciders, cider cocktails, and apple spirits.
Cost: $35-$50
February 9
Various Wrigleyville Bars
For those who have always wanted run around in pajamas while hitting a ton of bars in the shadow of Wrigley Field, this is your shot.
Cost: $20
February 9-18
McCormick Place
This annual exhibition of car porn features everything from futuristic new concept vehicles to boring old minivans at the nation's largest auto show, with the annual First Look for Charity preview event always one of the fanciest nights of the year.
Cost: $13
February 15-17
Art Institute of Chicago
New this year, this Pitchfork-sponsored mid-winter music festival features live indie bands including Slowdive, Deerhunter, and Kamasi Washington performing in various spaces throughout the Art Institute plus a pre-event dinner, Pitchfork Radio broadcast, and original music inspired by museum art.
Cost: $50+
February 16
Slugger's
Believe it or not, this is another event in which you run through the streets in your underwear. Only this one is Valentine's Day-themed!
Cost: $30-$50
February 23
Various Wrigleyville locations
It's a Mardi Gras bar crawl hosted by the folks behind TBOX, the world's largest and longest-running pub crawl. In other words, expect total madness here.
Cost: $4
March 2
Hubbard & Wolcott
Teams of costumed freaks race decked-out shopping carts through the streets at this Iditarod-inspired annual mobile food drive/scavenger hunt causing delightfully unclassifiable chaos through Chicago neighborhoods late every winter.
Cost: TBA
March 3
North Avenue Beach
Plunge into the icy waters of Lake Michigan in your favorite Speedo or costume at this annual "winter swimming" event raising money for Special Olympics of Illinois.
Cost: TBA
March 9-10
Plumbers Hall
Chocolate, wine, and spirits haven't paired this well since, well…last year's festival! The event includes chocolatiers, chefs, demos, tastings, meet and greets, and more.
Cost: TBA
March 16
Columbus from Balbo to Monroe
Whether you're Ferris Bueller singing on a float or Dr. Richard Kimble being chased through the streets, the 64rd annual St. Patrick's Day Parade and river dyeing is a Chicago classic without equal. Then rest up to hit the South Side Irish Parade the next day.
Cost: Free

Sign up here for our daily Chicago email and be the first to get all the food/drink/fun in town.