Summer in Chicago may get all the attention and accolades, but if we had to pick one season, fall in the city certainly gives summer a serious run for its money. There's football, crisp fall air, and a serious arsenal of events that will keep your social calendar (as well as your stomach and beer mug) plenty full well into December. Here's everything you need to do in Chicago this fall.
Recommended Video
Spinach and Artichoke Dip Pizza, the Ultimate Party Appetizer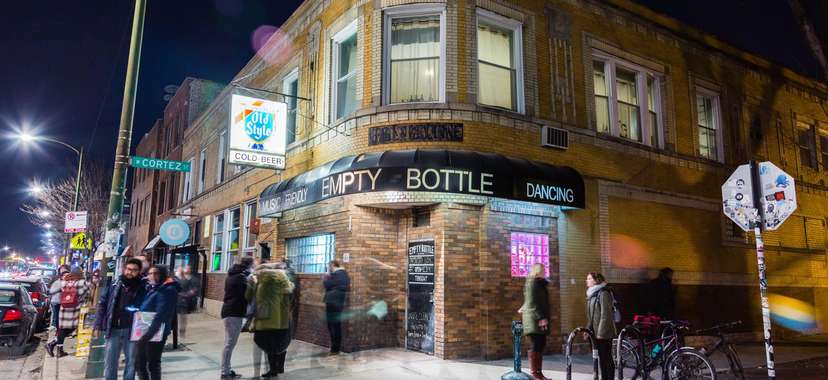 September 20-23
Various locations
Empty Bottle, Metro, and Smart Bar play host to this ultra-cool underground music fest featuring OGHR, Meatbeat Manifesto, and Frontline Assembly as the headliners. There will also be a Wax Trax! pop-up shop, food trucks, raffles, silent auction, and plenty of weird dancing.
Cost: $15-$45 per show
September 22
Vertiport Chicago
The granddaddy of Chicago beer fests is back with more than 150 craft beers, local food trucks, a homebrew competition, beer bike, DJ, photo booth, and more.
Cost: $49-$99
September 22-23
Goose Island Fulton Street Brewery
The Goose Island block party is back with an A-list musical lineup including TV on the Radio, Drive-By Truckers, and The Hold Steady, plus over 20 Goose Island beers, local food trucks, and an aftershow at the Empty Bottle.
Cost: $10 donation to local charities; aftershow sold out
September 26-30
Millennium Park
World-famous Chicago chefs including Rick Bayless, Stephanie Izard, and Graham Elliot join forces with sommeliers, mixologists, and speakers at the culinary event of the year. Satellite events include an Italian feast on the Symphony Center stage, Grand Cru wine tasting, and yoga brunch with cocktails.
Cost: $195 per day or $310 for weekend pass; Grand Cru $205 per day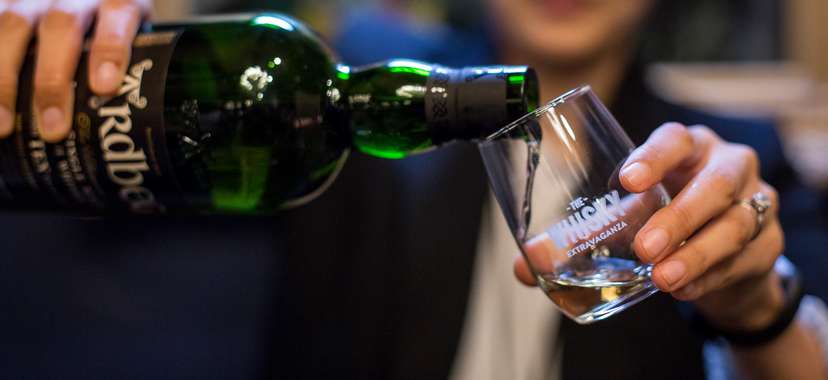 September 27
Union League Club
Enjoy whiskey tastings, culinary pairings, a seminar on single malt whiskies, and master classes from whiskey experts, plus a cigar tasting in the fancy environs of the Union League Club.
Cost: $135-$175
September 28-29
Reggie's
One of the coolest events of the season pairs live art, body painting, and live performances with booze and free pancakes. It's also cheap as hell. What's not to love?
Cost: $10-$15
September 28-30
St. Alphonsus Church
Beer, brats, bands, and all things Bavarian take over the streets outside St. Alphonsus Church, with nightly craft beer tastings held inside the church's very own beer hall. Yes, you heard that right.
Cost: $50
September 30
City Winery
Yes, 2,500 pounds of heritage pork will be yours for the taking as highly acclaimed chefs from across North America serve whole hog dishes with a "dirty steaks" tasting and cheese bar plus artisan wines, boutique spirits, and handcrafted cocktails. The winner will be crowned "King or Queen of Porc."
Cost: $150-$225
October 5-6
Noble & Chicago Avenue
Devour a smattering of local food trucks (lineup TBA) at this event held in conjunction with the West Town Art Walk, a public art walking tour featuring live art making, chalk drawing, music, and fashion.
Cost: $20 for sampler ticket; art walk free
October 14
Concord FiftyFive
This year's lineup is still TBA, but expect a fine assortment of cheese-infused bites plus craft cocktails and beers. Past samples include bacon mac and cheese, Philly cheesesteaks, Eli's Cheesecake, and more. Yum.
Cost: $25-$75
October 14
Theater on the Lake
Some of the fanciest and most ridiculous Bloody Marys made from local Chicago establishments face off to see who makes the best bloody in town as you sip yours lakeside paired with brunch bites, brunch-themed cocktails, craft beer, live music, lawn games, and an artisan market.
Cost: TBA
October 19-20
Revel Fulton Market
Sample hundreds of new wines with experts on hand offering crash courses on vino alongside interactive booths, a temporary tattoo station, photo booth, and bubbly bar.
Cost: $65 per session
October 20
Venue West
The chef famous for the acclaimed restaurant Noma is now promoting his new book The Noma Guide to Fermentation and will give a talk about the state of food and what fermentation can bring to dishes. The event will also include and interactive presentation and a tasting session with Redzepi and his co-author David Zilber, the mind behind Noma's fermentation lab. 
Cost: Tickets start at $44
October 20
Columbus Drive between Balbo and Monroe
Giant puppets, bizarre floats, live music, and crazy costumes are the order of the day at this artist-curated Halloween parade that needs to be seen to be believed.
Cost: Free
October 27
Moonlight Studios
It's hard to describe the most unique Halloween party of the year, where you'll party in an interactive playground of light with costumes, cocktails, live performances, and more. Let's just say you won't be bored.
Cost: $75-$175
October 27
Congress Plaza Hotel
This massive Halloween throwdown turns the reportedly haunted Congress Hotel into a haunted house with DJs, costume contest, vampire bellmen, zombie cocktail servers dressed as French maids, and theatrical performances by costumed go-go dancers.
Cost: $20
October 31
Aragon Ballroom
Dress up as the golden eel as Dean and Gene Ween bring home the weirdness for a Halloween you won't soon forget. Or remember, depending on how hard you party.
Cost: $50-$60
October 31
Halsted Street between Belmont and Cornelia
A Michael Jackson flash mob kicks off this costumed parade that brings the mayhem through Boystown, where an esteemed panel of drag queens will select the winners in the post-parade costume contest.
Cost: Free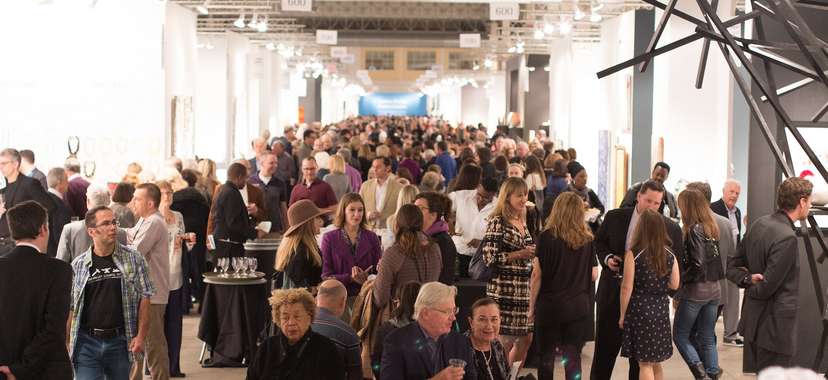 November 1-4
Navy Pier
An estimated $15-$20 million will be spent at this high-end gallery-presented art fair dedicated to 3D art and design. Lectures and artist demos will also be held.
Cost: $35-$155
November 9-11
The New 400 Theater
Film festivals don't have to be stuffy, serious affairs. They can be all about the comedy and the laughs. Like this film festival, for instance.
Cost: $20-$25
November 15
Zhou B Art Center
This authentic French culinary and lifestyle event organized by the French-American Chamber of Commerce features French-inspired eats from local restos served alongside pastries, wines, and spirits in a cool Bridgeport art gallery.
Cost: $85-$175
November 16-17
UIC Forum
The world's largest festival dedicated to barrel-aged beer features over 200 craft breweries from across the country showcasing rare, innovative wood and barrel-aged beers as they compete for your approval.
Cost: $85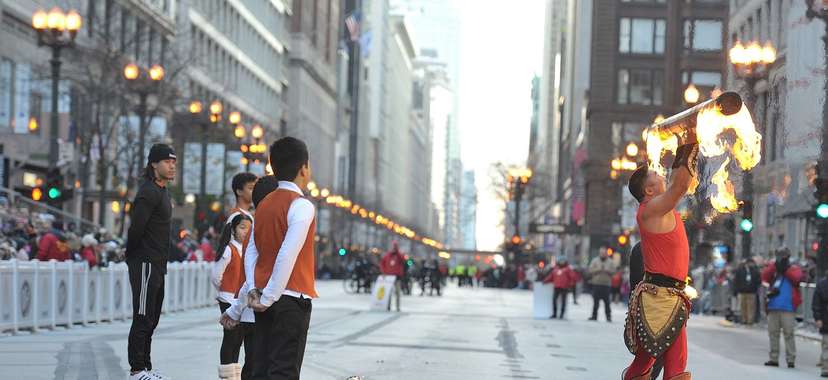 November 22
State Street from Congress to Randolph
Some of the best marching bands from across the country descend on downtown with giant inflatable balloons, a variety of performers, and a designated VIP seating area of bleachers near the TV cameras.
Cost: Free; $60 for VIP area
December 1-2
Various locations
As soon as the calendar strikes December, it's time to break out the Santa suit and crawl to downtown bars with a raucous mob of boozed-up Santas. This year's bar crawl route is TBA as of press time.
Price: TBA
December 1-2
Bridgeport Art Center
Shop where the cool kids shop at this indie maker's paradise with hipster-approved handmade goods, local DJs, workshops, food trucks, and booze.
Cost: TBA
December 8
Various Wrigleyville bars
The most notorious bar crawl of the year is back with early morning beer cereal and ridiculous costumes at an event that claims to be the "world's largest and longest-running bar crawl."
Cost: $21-$40

Sign up here for our daily Chicago email and be the first to get all the food/drink/fun in town.