Congratulations fellow citizens, you made it to Chicago summer. That's certainly cause for celebration, but when a city as big as ours tries to pack a year's worth of outdoor activities into three months, you have what some might describe as festival overload (especially when you take into account all the other fun stuff there is to do in Chicago). To help you make sense of it all, we've compiled a comprehensive list of the events you must attend in order to make the most of party season 2019. Good luck out there friends -- you're gonna need it.
Thursday, June 20 - Sunday, August 11
Temperance Beer Co. + Canal Shores Golf Course
Evanston music venue SPACE hosts this annual out-of-venue two-event throwdown at a local brewery and golf course. The June event features Yo La Tengo, Liz Phair, and Digable Planets at Temperance Beer Co., and the August event features Jeff Tweedy, Cake, and Bruce Hornsby at Canal Shores Golf Club.
Cost: Prices vary per show
Friday, June 21 - Sunday, June 23
Huntington Bank Pavilion
Chicago may be known for blues, but this massive country fest (formerly known as Windy City Lake Shake) more than holds its own with a packed lineup of shimmering country stars including Keith Urban, Luke Bryan, and Miranda Lambert.
Cost: $100-$300
Friday, June 28 - Sunday, June 30
Kedzie, Logan & Milwaukee
The 10th edition of this annual fest on Logan Square is like a miniature Pitchfork Fest with 20+ indie acts including Speedy Ortiz and Mykele Deville plus visual/performance art and food/drink.
Cost: $5 suggested donation
Saturday, June 29
Grant Park
This special Chicago Pride event sets up in Grant Park for a 50-year-anniversary festival headlined by Iggy Azalea and Steve Aoki with a fireworks show and food from local restos. Pride Fest runs June 22-23, and the Pride Parade is on June 30.
Cost: $50-$100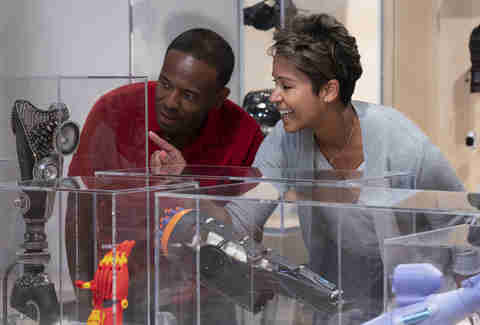 Experience wearable technology of the future
Put exploring 'Wired to Wear' at the Museum of Science and Industry on your to-do list ASAP. Showcasing more than 100 clothing and device inventions designed to extend the human body's capabilities, it's the first-ever exhibition dedicated to wearable technology. Get your tickets now. Just don't expect to bring the spacesuit built for Mars home with you.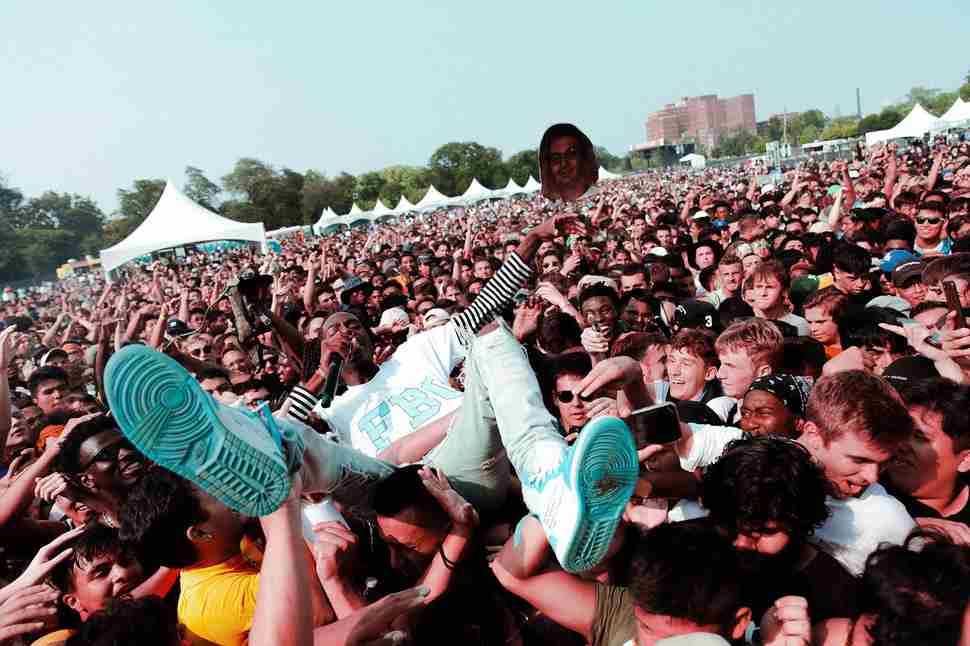 Saturday, June 29 - Sunday, June 30
Douglas Park
After a hugely successful debut last year, Chicago's premier hip-hop festival is expanding to two days over a much larger footprint to accommodate a lineup of artists including Playboi Carti, Lil Yachty, and Juice WRLD.
Cost: $150-$215 for 2-day pass
Saturday, June 29 - Sunday, June 30
SeatGeek Stadium
This sophomore year event features 40+ of the country's top hot sauce slingers paired with live music and wrestling, extreme eating challenges, a cocktail competition, and yes, even a chihuahua beauty competition.
Cost: $7-$75
Wednesday, July 3 - Sunday, July 6
FitzGerald's
This neighborly 4th of July tradition unfurls four friendly days of Americana/roots music glory on multiple stages plus standout BBQ and New Orleans-style fare inside and outside iconic Berwyn club FitzGerald's.
Cost: $50 per day or $150 for four-day pass
Saturday, July 6
Jackson Park
One of the world's longest-running house music festivals brings together icons of the genre in Jackson Park to eat, drink, and dance for 12 straight hours of music at this family reunion-styled event.
Cost: Packages range from $125-$450
Wednesday, July 10 - Sunday, July 14
Grant Park
Billing itself as "the world's largest food festival," the Taste returns this year with live acts including Courtney Barnett, De La Soul, and India.Arie, served alongside a gargantuan assemblage of Chicago eats to keep you stuffed like a turkey until Thanksgiving.
Cost: Free
Friday, July 12 - Sunday, July 14
Lincoln Avenue between Montrose and Wilson
Lincoln Square's biggest bash of the year offers 60+ musical acts including Son Volt, Cracker, and Camper Van Beethoven, along with a 25th anniversary celebration for local label Bloodshot Records, an "instrument petting zoo," food from local vendors, and a serious craft beer lineup.
Cost: $10 suggested donation
Friday, July 12 - Sunday, July 14
United Center parking lot
Live acts including Chris Young and Cole Swindell soundtrack a delicious slathering of smoked meats from some of the world's finest pitmasters, paired with a mini craft beer festival plus events including a tequila mixology class and a BBQ brunch.
Cost: $40-$125
Saturday, July 13 - Sunday, July 14
Kayak Morris Campground
Get out of the city and road trip about 60 miles southwest to Morris, Illinois, where you can camp along the Illinois River with live bands, drum/fire circles, a potluck dinner, and a movie under the stars, plus an optional guided kayak tour.
Cost: $35-$69
Saturday, July 13 - Sunday, July 14
Belmont & Damen
Sink your teeth into some of the most inventive burger offerings of the year from top vendors including Billy Goat Tavern, Reggie's, and Fatso's Last Stand served alongside live music and art.
Cost: $10 suggested donation
Friday, July 19 - Sunday, July 21
Union Park
This year's lineup includes headliners HAIM, Robyn, and The Isley Brothers, plus plenty of new discoveries ripe for sprucing up your playlist, in addition to an on-site record fair, live broadcast of Pitchfork Radio, a book fort, and an indie craft/poster fair.
Cost: $75-$375
Saturday, July 20
North Avenue Beach
Chicago's only EDM festival on North Avenue Beach offers eight hours of music with DJs, food/drink, and VIP cabanas. Pack sunscreen. And maybe some smelling salts.
Cost: $25-$1,500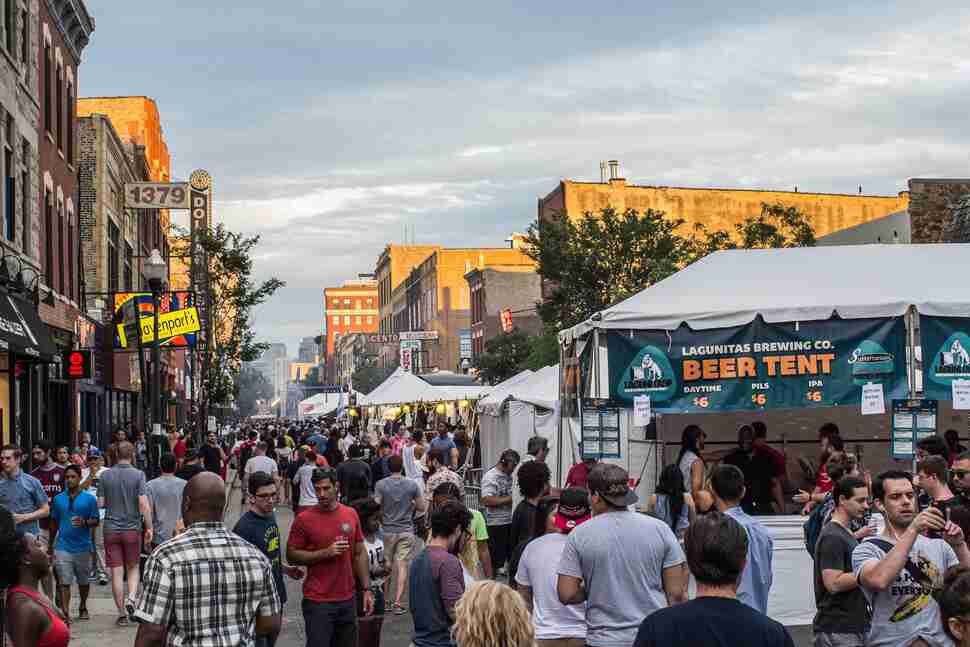 Friday, July 26 - Sunday, July 28
Milwaukee Avenue from North to Paulina
Wicker Park Fest can always be counted on for a fine assortment of acts (this year that means 40+ bands across four stages) at one of the best neighborhood street festivals of the summer. 2019 acts include Wavves, Murder By Death, and Screaming Females.
Cost: $10 donation
Saturday, July 27
Lake Michigan Playpen
The biggest floating party on Lake Michigan sets up an island of EDM bros and bikinis as 500+ boats tie up in the Playpen for this annual spring break-style bacchanal at sea.
Cost: Free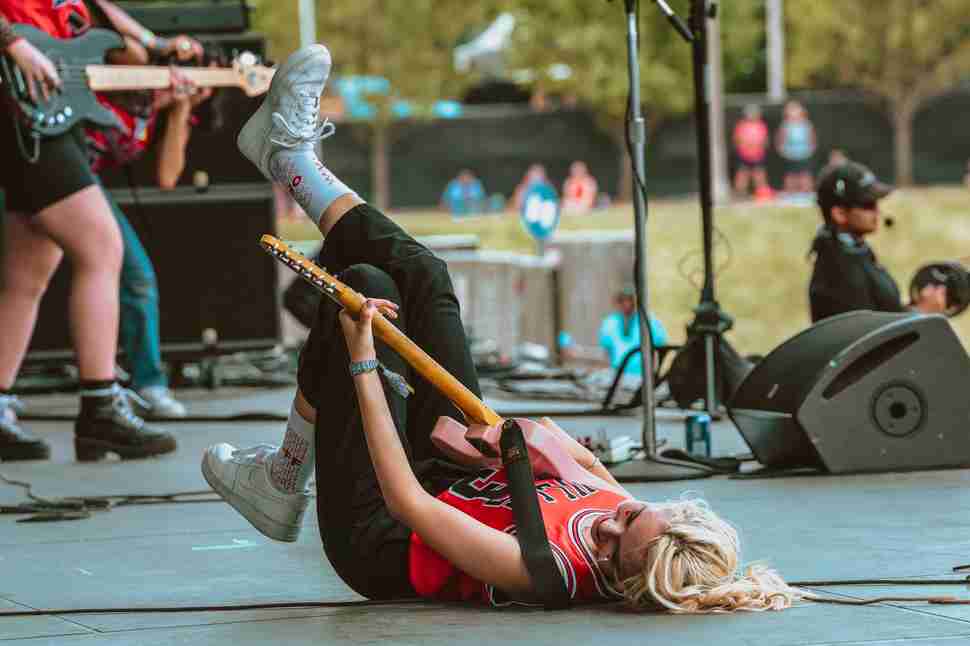 Thursday, August 1 - Sunday, August 4
Grant Park
This year's edition of North America's largest music festival features The Strokes, Childish Gambino, Ariana Grande, and Twenty One Pilots, plus a stacked lineup of aftershows across the city that turn Chicago into a mini-SXSW for the week.
Cost: $130+ per day or $340+ for a 4-day pass
Friday, August 9 - Sunday, August 11
Chicago History Museum
Indulge Chicago's ongoing love affair with the hot dog at this family-fun festival outside the Chicago History Museum with live music, games, and a variety of inventive hot dogs prepared in various regional and ethnic styles.
Cost: $25-$100
Saturday, August 17 - Sunday, August 18
North Avenue Beach
Watch Top Gun-style fighter jets and daredevil parachute teams perform stunts at the largest free show of its kind in the US, which can be viewed along the lakefront from Fullerton to Oak Street. Or, better yet, from your buddy's boat on the lake.
Cost: Free
Friday, August 23 - Sunday, August 25
Tinley Park Convention Center
A standout assortment of punk bands including Naked Raygun and Mighty Mighty Bosstones headline this annual beer-soaked party with an "acoustic anarchy" brunch from the folks at south suburban brewer 350 Brewing Company.
Cost: Tickets $35-$300; brunch $20
Saturday, August 24
Douglas Park
Pair Lagunitas beer and food trucks with 100+ eye-popping performers including burlesque, sideshow, aerialists, live bands, and face painters, with a costume contest and roving marching band. So yeah, it might be fun.
Cost: $40
Friday, August 30 - Saturday, August 31
Huntington Bank Pavilion
Despite paring down from three days to two and moving to a new downtown location this year, this annual Labor Day tradition is still plenty worth your while for those inclined to dance with headliners Bassnectar and Major Lazer.
Cost: $45-$199
Saturday, September 7 - Sunday, September 8
Division Street between Damen & Ashland
The Renegade Craft Fair pops up in its original Wicker Park location for two days of artisan shopping galore with 400+ makers and designers plus DJs, food trucks, booze, workshops, and art installations.
Cost: Free
Friday, September 13 - Sunday, September 15
Douglas Park
Cap off your summer at Chicago's premier music fest and punk rock carnival, this year celebrating 15 years of madness with an appropriately crazy lineup including Blink-182, Slayer, The Flaming Lips, Ween, Patti Smith, Violent Femmes, and… The Village People?
Cost: $115-$1,500
Sign up here for our daily Chicago email and be the first to get all the food/drink/fun in town.