With the dinosaur bones and mummies on display at Chicago's Field Museum, it's easy to overlook the many other fascinating treasures housed in the halls of the sprawling lakefront institution. The following strange, macabre, and beautiful artifacts in the permanent collection might not be as well-known as Sue the T. Rex and the Tsavo man-eating lions, but they're more than well worth seeking out during your next visit. Seriously, who doesn't want to see forks made for cannibals?
Recommended Video
Art of the Meal: Chloe Rose Makes Super Mario Bros Art With Hot Sauces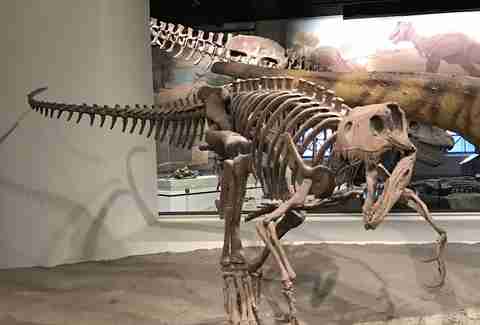 The "Devil's Corkscrew"
Evolving Planet exhibition
This strange piece in the museum's exhibition looks like a thick, headless snake, but it's actually a fossilized burrow dug millions of years ago by a prehistoric beaver called a palaeocastor. "When these fossils were first found in the 19th century, no one could figure out what they were," says Kate Golembiewski, the Field's science communication specialist. "We don't just learn about extinct animals from their own fossil remains -- we can also learn about them from their impacts on the places where they lived." It wasn't until the discovery of a fossilized beaver inside one of these holes that the mystery was solved. Turns out, they used their teeth instead of claws to make these strange dens.
The cannibal forks
The Regenstein Halls of the Pacific
These macabre implements from 19th-century Fiji can be found in a case at the western end of the hall. Considered among the most sacred relics of Fijian tribes, the forks were used to consume cooked members of enemy tribes, a ritual common in the territory for hundreds of years, right up until the second half of the 19th century. According to the museum's display, "Chiefs and priests in Fiji used these forks only for eating human flesh. The forks, and those who handled them, were tapu, or spiritually dangerous." You might recognize that term by its modern, Anglicized spelling -- taboo.
The animal mummies
Inside Ancient Egypt exhibition
While visitors are understandably enthralled by the 23 human mummies in this massive area, the 31 mummified animals that are also on display give us additional insight into the civilization's religious practices. The ancient Egyptians believed that their gods and goddesses could take animal as well as human form, which is why these particular creatures -- cats, falcons, gazelles, a baby alligator -- were painstakingly preserved for the afterlife. "These animals were used as religious offerings," Golembiewski explains. "For instance, mummified cats were offered to the goddesses Bastet and Sekhmet, and mummified falcons were offered to the god Horus." Some scholars, meanwhile, believe that the critters were mummified for both heartwarming and less-than-charming reasons: to become the beloved eternal pets of their owners, or serve as food for the dead.
The Blaschkas' glass sea creatures
What Is an Animal exhibition
Found on the museum's main level, these gorgeous glass sculptures of bioluminescent invertebrate sea creatures were created in the late 19th century by the father-and-son team of Leopold and Rudolf Blaschka for the 1893 World's Fair. "Soft-bodied animals don't always preserve well," says Golembiewski, "so these glass models offer a great example of what these animals would look like in life. Another cool thing about the models is that nobody really knows how the Blaschkas created them. Their methods included using thin wires and painted paper, and coloring with a mixture of paint and glue, but the secret of exactly how they did it died with them."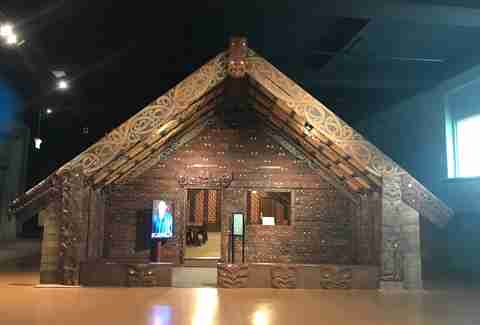 The giant armadillo
World of Mammals exhibition
This massive armadillo specimen looks like it should be included with the prehistoric animals in the Evolving Planet area. Also known as Priodontes maximus, these creatures still exist in South America. "We often think of them as small animals, maybe the size of a large housecat," says Golembiewski. "But these armadillos, weighing in at 110lbs, are huge. It's really cool to see what these bizarre animals look like up close."
The Maori Meeting House
Traveling the Pacific exhibition
One of only three such structures located outside of New Zealand, this ornately decorated meeting house was originally built in Tokomaru Bay in 1881. No two of the hundreds of faces carved on the walls of the building are identical -- each is said to symbolize a specific ancestor of the Maori people. "The Maori Meeting House isn't just a beautiful piece of art, it's an important part of a vibrant community," says Golembiewski. "The Field Museum hosts cultural events here with the Maori community, and it's powerful to see them gathered here, celebrating their heritage." When you visit, note the face at the apex of the roof -- that's Ruatepupuke, who according to Maori legend, introduced woodcarving to the world.
The opal plesiosaur
Grainger Hall of Gems
This strangely alluring artifact looks like the vertebrae of a plesiosaur, the marine reptile that swam in the world's oceans as far back as 203 million years ago. But the real reason for its odd coloring is that it's made entirely of opal. Slowly dissolved by acidic groundwater, the original plesiosaur bone left a mold that was filled over time with silica-rich gel, which eventually hardened into this unique treasure. "It's cool to see how geological processes transformed fossil bones into a beautiful gem," says Golembiewski.
The Tiffany window
Grainger Hall of Gems
Perhaps the most breathtaking item in this hall isn't a gem at all, but rather the stained-glass image of a mermaid and fish that hangs above the hall. An oceanic fantasy created in the late 19th century by famed artist and glassmaker Louis Comfort Tiffany -- you might have heard of his family's business, Tiffany & Co. -- the enchanting window was installed here in 1941, eight years after he died. "Tiffany loved it so much that he kept it in his own office, rather than selling it," Golembiewski explains. "We were very lucky to get it after his death. It shows incredible technical skill and artistry."
The nanodiamonds
Grainger Hall of Gems
In the meteorite exhibit, there's a vial full of quadrillions of nanodiamonds extracted from a meteorite -- not that you'd know from looking at them, because they're all less than 0.000039 inches wide. "By studying them, scientists are able to learn what the universe was like before the sun formed," says Golembiewski. "It's amazing that big questions can be answered with such tiny things."
The Benld meteorite
Upper level
Speaking of meteorites, don't miss this quaint yet captivating display case on the museum's upper level. Not only does it contain the 4 pound meteorite that came crashing through an Illinois family's garage in 1938, but it also includes the seat, muffler, and other parts of the 1928 Pontiac Coupe that was damaged by the impact. "It's such a funny, strange piece of Americana," says Field PR intern Eileen Cartter. "There's even an old photo of the patriarch pointing to the Pontiac's punctured roof. Not only is this meteorite cool in its own way -- it's the second-known meteorite to fall in Illinois, and one of the first known to have damaged manmade property -- but the display itself looks like something out of a Wes Anderson set."
Sign up here for our daily Chicago email and be the first to get all the food/drink/fun in town.