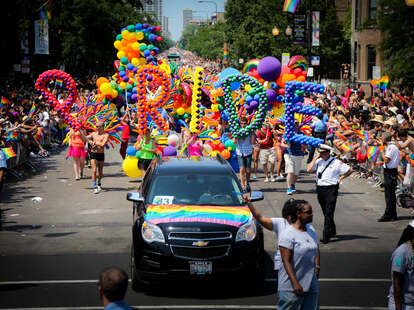 Cafebeanz Company/Shutterstock
Cafebeanz Company/Shutterstock
The whole month of June is filled with amazing LGBTQ benefit events, concerts, brunches, DJ nights, comedy shows, festivals, and more, all leading up to the annual Pride Parade on June 25. Get out there and be loud and proud!
This annual bowling tournament named in honor of local activist Dick Uyvari benefits
The Chicago LGBT Hall of Fame
and includes a continental breakfast before you hit the lanes.
From 11am to 3pm, Angelina's $23 Champagne deal is a weekly tradition known as "Gay Church Brunch," with a colorful cast of servers there to entertain you. Enjoy mimosas, eggs Benedict, frittatas, French toast, and more at this raucous spot, and remember to hit up the ATM beforehand because it's cash-only.
DJ Teen Witch Fan Club, drag king Tenderoni, "bearded beauty" Lucy Stoole, and many other local nightlife celebrities will be at Boiler Room for an afternoon featuring liquor-infused desserts and "Adult PB&J," an $8.50 combo of a PBR tall boy, shot of Jameson, and slice of pizza. Get ready to dance your brunch calories away.
Scarlet gives a nod to the 1920s practice of Chicago LGBTQ residents wearing the color to subtly signify that they were part of the community. Every Sunday, resident DJs Bryce and AJ host "The Takeover," an evening dedicated to playing the hits of a single artist. The first one of Pride month is dedicated to Beyoncé (June 11 is Britney), and every edition has $3 well drinks, Coors, and Millers.
Head over to the Center on Halsted, the Midwest's largest LGBTQ community outreach center, every other Monday night to watch a film that deals with bisexuality in some way. It's always a great evening of cinema and discussion.
OUTspoken! features six storytellers sharing their experiences, from the funny to the serious, at Sidetrack. There's no cover, and the performers generally mingle with the audience after, so it's the perfect place to meet some new people and hear more great tales.
OUTspoken! features six storytellers sharing their experiences, from the funny to the serious, at Sidetrack. There's no cover, and the performers generally mingle with the audience after, so it's the perfect place to meet some new people and hear more great tales.
Scarlet also hosts a weekly "Frat Night" every Thursday starting at 9pm, with a rotating cast of DJs and guest hosts. On top of the dancing and entertainment, you'll find $5 Long Island Iced Teas, 40oz Miller Lites, and 24oz Coronas in an atmosphere that's a bit less bro-centric than most college parties.
Enjoy some brews, barbecue, and video games at this Flag Day fiesta hosted by the Chicago chapter of the American Veterans for Equal Rights.
On the one-year anniversary of the Pulse nightclub tragedy, the Center on Halsted pays tribute to the victims with a panel of activist and academic speakers and a performance by the Windy City Gay Chorus and Windy City Treble Quire.
The six-member
Wig Bullies
is Chicago's self-proclaimed "darkest, weirdest, and most diverse LGBT sketch comedy troupe." This month, it's putting on a two-night Pride revue called "Resist, GRIND, Repeat" about being gay in the world today. Tickets are $13 for the general public and discounted for Second City students.
This three-hour seminar provides an overview of physical, verbal, and mental self-defense techniques designed specifically to help LGBTQ adults and teens feel safer and stronger. The basic tenets are the "
Five Fingers of Self-Defense: Think-Yell-Run-Fight-Tell
," which teach people how to diffuse hostile situations, deal with them accordingly, and promote discussion with victims, aggressors, and the community at large.
This is the ultimate pre-game party before the parade. Over the course of two days, musicians and DJs from around the globe, including Taylor Dayne, Thelma Houston, the Chicago Gay Men's Chorus, and an ABBA tribute band, will perform, and there's also a pet parade, a Pride Pageant, and plenty of food and drink from local vendors.
The second annual celebration of the local trans community takes place on the Center's rooftop with free treats and soda provided by local favorite
Jeni's Splendid Ice Cream
.
From 11pm to 4am, get down to beats with DJ X-Tasy and moves by the sexy Urbano XXX dancers. Hip-hop, reggaeton, and dancehall will fill your ears all night long as you support the black and latino gay communities.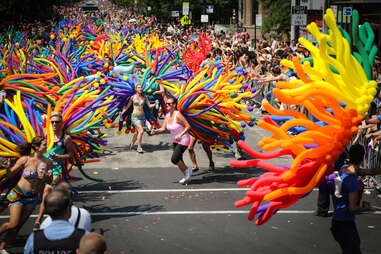 GayCo Productions
, another great local LGBTQ sketch comedy group, presents "
Gaywatch: Searching for Pride
." The improvisors and storytellers will bring the beach to the stage in the most scandalous of swimming outfits, and it'll be way funnier than the new
Baywatch
reboot. As an added bonus, the event is BYOB, so don't forget to pick up some booze on the way.
On Friday, the lady-centric festival hosts a "Wine, Whiskey, and Women" tasting event at
Reza's
, while Saturday and Sunday are dedicated to outdoor festivities featuring performances by Dev, Catfith, JD Samson, and many more.
Here's a great way to support the LGBTQ community and get fitter while doing it. Founded in 1982, Proud to Run is an annual 10K run and 5K run/walk along the lakefront, and the money raised goes to nonprofits such as the Center on Halsted and
Team to End Aids
. Registration is $45 until June 18, then goes up to $50.
If you're looking for a parade with more activism and less alcohol, the Dyke March is the one to see. The annual event is put on by an all-volunteer staff, so consider donating to this organization, which also promotes many other community efforts across all gender identities, races, and socio-economic classes.
It's the big day -- tons of gorgeous costumes, 200 or so floats, plenty of dancing, and hundreds of thousands of smiling spectators. The parade kicks off at noon at Montrose and Broadway and ends at Diversey and Sheridan, and you should get there early for a good spot on the sidewalk. Or, you can always head to
Cesar's on Broadway
to sit in the bleachers, sip margaritas, and have access to the bathrooms.
Orange Is the New Black's
Lea DeLaria (aka Big Boo) is the Grand Marshall this year, with the rest of the lineup to be announced soon.
The weekend after the parade, the LGBTQ black community and its allies will be dancing all over the city. The kick-off, dubbed the "Elation" 1500 Men Mega Party, promises finger foods, DJ sets, and a celebrity guest TBA. For anyone who didn't get their Pride fill in June, the parties
run through July 3
at various venues.
Sign up here for our daily Chicago email and be the first to get all the food/drink/fun in town.
Jamie Rothberg is an aspiring novelist, a lover of all things doggos, and a maker of questionable life choices. Read her sarcastic wit at JamieRothberg.com and find her on Instagram @doseofsassy.