Moving to Chicago can be an eye-opening experience -- particularly if you've never lived in a city with a population of millions. Even if you arrived here filled with bro-tastic dreams and Carrie Bradshaw wishes, you'll undoubtedly transform into a battle-tested pragmatist (hardened by wind chills and red light cameras) if you stick around this city long enough. These are various phases of culture shock that will settle in for predictable transplants who choose Chicago as their stomping grounds.
Stage one: "I'M IN THE BIG CITY!" phase
Where you're living: Wrigleyville.
Where you're going out: Clark St, duh.
Your mantra: "Here's to the nights we don't remember and the friends we won't forget."
Go-to activity: Day-drinking, night-drinking, this girl sums it up pretty accurately.
Much like the Lee Brice song you shoehorn into Instagram hashtags, your first year in Chicago probably will be a blur. Given the amount of times you've wound up crying on the curb, that's actually a blessing. You're, like, totally aware that there's more to the city than Lakeview, but the closest you've gotten to any other neighborhood is passing through while taking the Brown Line, River North counts as branching out, right? Thanks to your penchant for squealing at 4am for no apparent reason and/or fighting with your bros, your neighbors have begun to loathe your existence.
Stage two: The full-fledged Trixie/Chad phase
Where you're living: Lakeview East
Where you're going out: River North
Your mantra: "The summers here totally make winter worth it!"
Go-to activity: Desperately trying to befriend someone with a boat.
Now that you've been in the city for a bit, you're finally ready to move into a "grown up" apartment. Lakeview East does the trick, as it's close enough for you to meander home after the bars, but still far enough away to seem a little more mature. If you're female, you've begun shopping at Lululemon even if you don't actually do yoga (you really just wanted a Lululemon bag to carry your lunch in). Men: you've finally invested in your very first blue gingham J. Crew shirt paired with a North Face jacket, of course. While you still hit up Clark St, you've started exploring new bars... like the Moe's Cantina and Barleycorn. Of course, once it's summer, you spent all of your free time playing bags at various street festivals, when you're not at North Ave beach, of course.
Stage three: The "I'm totally a Chicagoan" phase
Where you're living: Wicker Park
Where you're going out: Anywhere but Wrigleyville
Your mantra: "Ugh, suburbanites."
Go-to activity:  Improv classes at Second City
After several years in the city, you're feeling firmly ensconced in the local culture, despite the fact that you still haven't worked up the courage to take the bus. In an attempt to prove your innate Chicago-ness, you now roll your eyes at the mere mention of Wrigleyville and take every opportunity to make snide remarks about suburbanites, transplants, and tourists. Of course, you've deleted all photographic evidence of having ever been one of them. You get your first tattoo -- a Chicago flag, natch. You didn't realize until a snarky native quizzed you on its meaning that there actually was a meaning.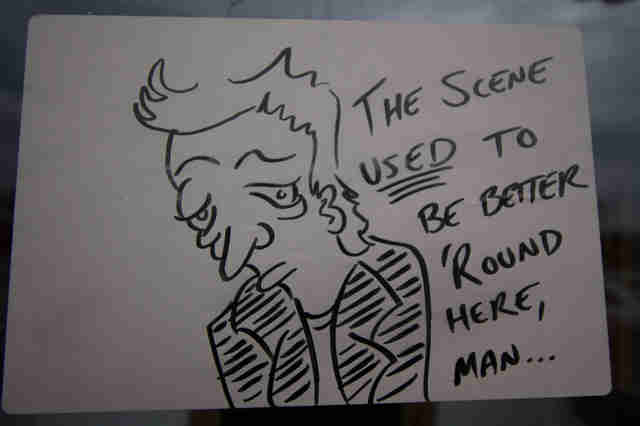 Stage four: The "this city is losing its luster" phase
Where you're living: Ukrainian Village
Where you're going out: The cool new bar/restaurant de jour, according to Instagram
Your mantra: "Remember when Wicker Park was actually cool?"
Go-to activity: Celebrating Taco Tuesday and Wine Wednesday
After having to move out of Wicker Park because you can no longer afford it, you move to the next best thing: Ukrainian Village (aka Wicker Park pre-2010). Unfortunately, you start to feel like you don't actually fit in, as you are neither a hipster nor a local, and there are like, no Starbucks near your apartment. Subsequently, you spend all of your free time in Wicker Park, all while bemoaning how "mainstream" the area has become.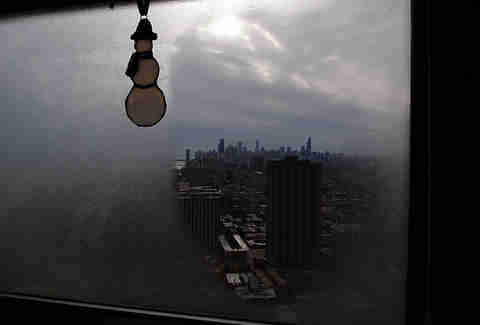 Stage five: The "slowly becoming disengaged" phase
Where you're living: Rogers Park
Where you're going out: River North, solely due to its proximity to your office
Your mantra: "I'd love to come, but I already have plans!" (Binge-watching Netflix counts as plans, right??)  
Go-to activity: Drinks after work, because you're too tired for anything else
In a bid to save money in order to buy a place sometime before you're 50, you relocate to Rogers Park. You secretly hate the area, yet regale your friends with tales of your proximity to beautiful beaches whenever you see them at happy hour, which is now the only time people will agree to meet up. Anyway, whatever -- you're too preoccupied with training for your first half marathon. In a bid to make yourself feel better, you sign up for Tinder and go on an exorbitant amount of terrible first dates.
Stage six: The "cynical Chicagoan" phase
Where you're living: Rogers Park. (And no, you still haven't started to save money as planned.)
Where you're going out: Slashies -- the more divey, the better.
Your mantra: "Will it ever be summer again?"
Go-to activity:  Shots of Malort with people even more nihilistic than you are
After living the better part of a decade in Chicago, you suddenly realize that half of your fellow transplants have fled the city. Your best friend got married and moved to Naperville, which he swears has everything that Chicago has without the hassle (what a liar). A few others moved to places like Dallas, citing affordability (Texas? REALLY??). You come to realize that annoying Lee Brice song you insisted upon quoting when you were 22 was total BS, as you only see your old friends once a year, usually when you're forced to attend someone's wedding. At some point, you start to daydream about moving somewhere warm like LA, until you remember that you hate everyone in that city.
Stage seven: Acceptance
Where you're living: Lincoln Square
Where you're going out: Anywhere that's not filled with people going through Stages One through Five
Your mantra: "Why won't those obnoxious girls across the street stop shrieking?!"
Go-to activity: Complaining about everything from local politics to weather to your favorite local team.
If you've survived this long, you've officially earned the right to call yourself a Chicagoan. While you still appreciate the trendier parts of the city, anytime you actually venture into one of them, you're quickly reminded why you moved to a "normal" neighborhood. Sure, the winters are horrid, the city is corrupt, and the tax rates are exorbitant, but Chicago has officially become home, and there's nowhere else you'd rather be.
Sign up here for our daily Chicago email and be the first to get all the food/drink/fun in town.
Lisa Chatroop is a native Chicagoan who has lived around wayyy too many shrieking "Stage One" transplants. Say hi on Twitter: @Chicagoista or DailyUrbanista.com.