After the unceasing stress of holiday shopping, you'd think you could finally take some time to enjoy yourself. But don't be fooled. Sneaking up on the horizon is a more sinister source of holiday stress: the pain of planning New Year's Eve. Luckily for you, we've curated a long list of events for every kind of Chicagoan -- introverts who hate the crowded club scene, those who are into that kind of thing, and the 94% of the folks reading this who just want a relatively inexpensive place to get blasted on mediocre champagne and dance until their legs stop working. The only question is: What kind of Chicagoan are you?
Recommended Video
Thrillist's Best (and the Rest): What You Actually Need to Know About Natural Wine
For those looking for a romantic New Year's…
Downtown
For New Year's Eve, Eataly is reserving its entire second floor for a New Year's Eve party that is one of the city's few truly all-inclusive events. That means you get unlimited pasta, and that means that you can re-enact the scene from Lady and the Tramp as many times as you want. The $150 ticket is expensive, yes, but it includes everything you'll do there, from ordering house-brewed beer, to sampling some of the finest wines of Italy, to slamming back as many handcrafted arancini bites as you can.
Cost: $150
Navy Pier
Offshore Chicago is a newcomer to the hyper-popular, hyper-competitive tourist trap that is Navy Pier. But don't let that scare you off. After a quick walk down the pier, you'll duck into an elevator that will take you away from the confused tourists and their chocolate-milk-scented children and into a spacious, open, and beautiful bar and restaurant. Spending your New Year's Eve at the largest rooftop bar in the world will be pricey at $150 per ticket, but that ticket includes a five-hour open bar, hors d'oeuvres, and chef stations, with the Chicago skyline providing the backdrop. If the craft cocktails aren't enough to entice you, consider that this is, bar none, the best view of the city you can get that's not from, like, a boat or a Ferris wheel.
Cost: $150
Ravenswood
Granted, on its face, the Brew Years Eve event at Architectural Artifacts doesn't sound super romantic. But if you've ever been to this probably-haunted, painfully beautiful antique shop, you'll know that there's no better place to spend a special moment with a loved one. As an added bonus, this event will feature 25 craft brews from local Chicago breweries, as well as a wine and cocktail bar and plenty of hors d'oeuvres.
Cost: $149
Downtown
If money isn't an object and you're really looking to impress, make sure to get tickets to ROOF on theWit's ultra-classy Monte Carlo New Year's Eve party. They're bringing the French Riviera here to Chicago, complete with chef-crafted food, gaming tables for craps, poker, and blackjack, and a small army of acrobats that will be providing high-flying live entertainment the whole night. The evening will culminate in a G.H. Mumm champagne toast that will allow you, at least for one night, to pretend as if you can afford the Monte Carlo lifestyle. 
Cost: $185
For those who want to get weird...
Untitled Supper Club is one of the city's most unique venues, navigating a fine line between sexy, weird, and classy. It's perfect. And if you can afford the price of admission, they're going all out for New Year's Eve. The Bootlegger's Ball includes food and (of course) an open bar, featuring selections from an enormous library of whiskeys from around the world, but also includes entertainment by 40(!) burlesque dancers, aerialists, contortionists, magicians, and other variety performers. You won't want to miss it.
Cost: $150
Pilsen
Yes, really. DJ Van Paugam is going to be taking over Punch House on New Year's Eve, spinning Japanese funk, disco, and city pop from the '70s and '80s all night. Given the meteoric rise of artists like Yung Bae, this genre is set to explode in popularity in 2020,  If immersing yourself in the music borne from the Japanese financial boom of the early '80s wasn't enough for you, Punch House is also offering table reservations that include a premium champagne punch that includes Hennessy cognac, Jamaican rum, curacao, rare black tea, orange and aromatic bitters, lemon, and (of course) Moët Impérial champagne. That $225 might seem a bit steep, but the punch serves seven, so if you do the math, it's about $32 per person, making this one of the more inexpensive options on our list.
Cost: $0/$225 for champagne punch and table reservation
Magnificent Mile
The $75 ticket for the secret agent-themed Bond Ball at Safehouse Chicago includes both an open bar and a late-night food buffet, as well as entertainment courtesy of a live DJ, and a magician performing sleights of hand all night long. They're also giving out cash prizes for the best-dressed folks there, so if the $75 entry fee is too rich for your blood, make sure to put your Good Shoes on and try to win up to $150 towards your next visit.
Cost: $75
Downtown
The Drifter might be one of the only speakeasies left in Chicago that can still claim to have a sexy, undiscovered, and intimate vibe. And though we do run the risk of ruining that by including them on this list, we couldn't in good conscience not recommend their Roaring '20s New Year's Eve party. The Drifter is putting on a full speakeasy cabaret all night, featuring acts every hour. The best part? It's relatively inexpensive. They're offering $75 reservation minimums which will be applied towards the cost of your food and drink, a VIP $125 package that includes an open bar and snacks, and a walk in rate of $20 (assuming there's room to seat you!)
Cost: $75/$125/$20  
For those who really don't want to make too much of an effort...
Your house
Don't worry, we're not making you go out. For those of you who prefer cozy house parties where you know everyone to gigantic loud bashes where you'll have someone's bony elbow in your ribs all night, Honey Butter Fried Chicken is here for you. They've created a $95 "Fancy Pack" that serves four, chock full of delights including herbs de Provence fried chicken served with honey butter, truffle Boursin mac and cheese with a fontina topping, roasted vegetables with a port reduction, and a show-stopping marshmallow, Carmelia pearl, chocolate, and mandarin dessert inspired by champagne and pearls. It's perfect for cuddling up in your pajamas as you watch the ball drop with your closest friends. The packs will be available for pickup at Honey Butter Fried Chicken between 6 and 9pm on the 31st, but we'd recommend calling a day or two ahead of time to get your order in.
Cost: $95
Lincoln Park
Just $10 gets you entry to the zoo which, crucially, has closed its doors to children for the night so that they can set up cash bars, animal enrichment experiences, and interactive games all across the grounds. The zoo lights will be up as well, and most of the exhibits will be open, so even if certain areas are packed, you're bound to find some room where you and your buddies can have a more chilled out night, full of all the New Year's Eve magic you'll want.
Cost: $10 for early bird, $20 full price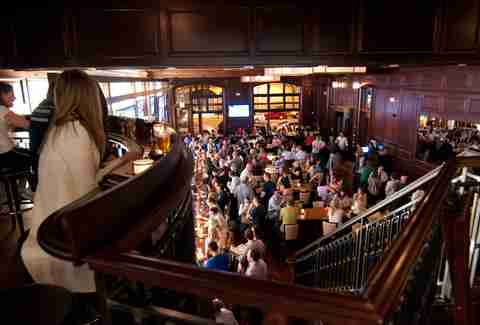 For those hammering Ctrl-F for "open bar" and "complimentary appetizers"
Get bubbly with Old Town Pour House Old Town
Old Town Pour House may not include an open bar in their price of admission, but they're offering bottles of champagne for $20.20. Plus there are passed appetizers, a photo booth, and entertainment provided by a live DJ and a gigantic video board. 
Cost: $45 early bird/$50 full price
North Center
For those of you who are looking for the total package, you'd better reserve your ticket for Rocks Northcenter's New Year's Eve party now. You'd think that for just $35 you wouldn't get an open bar, but you do. Your ticket includes a champagne toast at midnight, house wine, domestic bottles, and even well drinks -- and that's not even including the live DJ entertainment and the breakfast buffet they'll be rolling out late at night. The only downside is that finding the tickets online is a little tricky. Once you follow the link, make sure you select tickets to the late-night party, since they have more family-friendly New Year's events going on during the day.
Cost: $35
Sign up here for our daily Chicago email and be the first to get all the food/drink/fun in town.