Everyone knows Chicago is a city of neighborhoods, but narrowing down options comes down to more than just a choice between another night out at the trendy spot in Wicker Park or the newer trendy spot in Logan Square. One of the greatest qualities about the city is its ability to constantly generate new experiences... if you're willing to go a bit out of your way. So travel outside of your comfort zone and into one of these eight underrated neighborhoods.
Bronzeville
Having bloomed from Chicago's post-Depression migration and subsequent Renaissance, Bronzeville was, and still is, deeply rooted in cultural aesthetics and quality comfort food, not to mention comedy and culture, if you're into those sorts of things.
The food
Bronzeville standby Pearl's Place packs in the Grandmamas for after-Sunday-church breakfast, which makes it all the more surprising that the soul food actually packs some heat, with hot-hot-hot jerk chicken and some kick to sides like greens and cabbage. There's no heat in the desserts like peach cobbler and sweet potato pie though -- just love. A proper Bronzeville food tour should also lead you to Truth Italian restaurant, founded by African-American Peytyn Willborn, in part, to change the perception that all pasta should be made by your typical mustachioed Luigi type.
The jokes
In a comedy town dominated by well-established improv outposts like Second City and iO, some of the best jokes on the South Side go down at Jokes and Notes, a 150-seat club well known to locals but unheard of to pretty much everyone north of Roosevelt. So if you're looking for laughs without the accompanying hordes of out-of-towners, welcome to your new favorite go-to.
The culture
While Harold Washington Cultural Center on 47th and King Drive is a more than worthwhile destination, for our money Gallery Guichard is where you want to scratch that occasional gallery-peeping itch. Specializing in art of the African diaspora, the gallery features revolving artists every few weeks and is also a main stop on the current traveling Louis Armstrong Festival.
Rogers Park
Rogers Park is often touted as "the next big" hood. Whether or not that is true, Rogers Park residents don't seem to care. They live in one of the most diverse hoods in the city mixing in Loyola students, aging hippies, Caribbean immigrants and blue-collar workers with lakefront access and plenty of cool, under-the-radar hotspots.
The food
A buzzing new pop-up coffee and pastry spot, Smack Dab can be found hosted at the Red Line Tap. If you're into artsy locales, this place roughly a block from the Morse Red Line stop, is for you. Serving only drip coffee, exquisite gluten-free donuts and probably the best cheesy and flaky biscuits in the city, it's great for grabbing a quick breakfast on the way to work or a lazy bite on weekends.
If wine is your thing, check out Taste Food & Wine on Jarvis Ave -- they host tastings on Monday and Friday each week and a vast, affordable selection to choose from. And if you're in search of authentic Haitian cuisine, look no further than Kizin Creole (formerly Chez Violette) for amazing jerk chicken and other delicious things you have no idea how to pronounce.
The theater
Glenwood Avenue Arts District is one of the more underrated theater districts in the city, with cobblestone streets perfect for exploring the funky storefront theatre at places like BoHo Theatre and Lifeline Theatre, whose Fillet of Solo Fest is one of those things you pretty much had to do in January. So, hopefully, you did it.
The music
Besides theatre, Rogers Park is also a thriving live music community thanks to places like Mayne Stage (formerly Morse Theatre) and Red Line Tap, one of Chicago's best live music dives. Order a Raspberry Queef (actual drink name) or head next door to the iconic Heartland Café to discuss the insurgent Sanders campaign with aging hippies.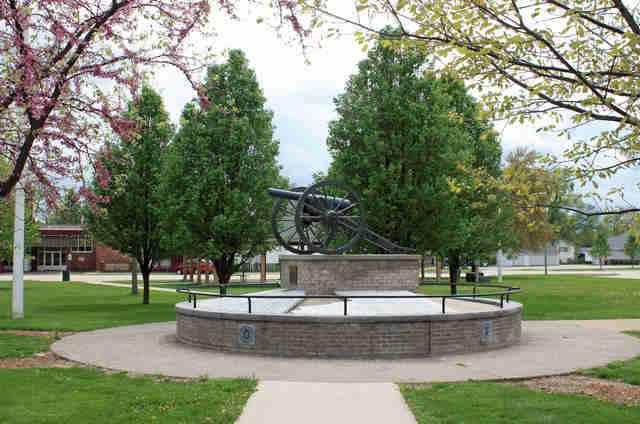 Chatham
Aside from being Chance The Rapper's stomping grounds, Chatham is also home to a roller rink and yes, more rooted iconic food. Check it out.
The food
Some may argue Uncle John's BBQ between 82nd and 83rd St in no way compares to its original, which closed in 2013 and was located on 69th, but it's still pretty great BBQ when you get that craving. The hot links are the best option and if you're into spicy BBQ sauce, this is your spot. And for the late night munchers, they're open 24 hours.
Meanwhile, the nicest ladies in town run the soul food cafeteria line at St. Rest No. 2 Country Kitchen, which is attached to a church on the far South Side. They've got good fried chicken and smothered pork chops, very good greens and yams, and remarkably-good-for-something-that-looks-so-plain lemon pound cake.
The rink
While a stroll down 79th St's local businesses and shops is a pretty good way to soak in the local flavor, so is lacing up a pair of skates and joining the action at The Rink. They offer classes if you want to learn and, if you feel like pretending you're 12 again, why not throw your birthday party there? Hell, maybe Chance will come MC.
Little Village
If you are so "over" Pilsen and looking for an authentic Mexican experience without the hipster influx, Little Village is calling your name. Yes, there are tacos. And awesome murals. But also so much more.
The food
A great taco can easily make you evaluate your life choices. Little Village is the go-to spot for these wonderful buildable offerings, specifically, the steak taco at El Milagro Tortilleria. In the heart of the neighborhood on 26th St, the restaurant is cafeteria-style, which may not be appealing to some, but the steak tacos are all the rage because of their smoky flavor and packed with meat. If you go for lunch, get in early to beat the rush.
Pop quiz time: where is Chicago's real "Little Italy" located? If you answered Taylor St, you need to take a trip just over Little Village's Western Ave border to discover the city's original Little Italy, where old-school restos like Bruna's have been serving up house-made pastas and ultra-tender veal limone since 1933, and it shows. So old school it hurts.
The art
Like art? Swing by the Toman Branch Library on Pulaski (yes, libraries still exist) to peruse artwork from Chicago artist Juan Angel Chavez. Chavez is known for creating mixed media installations and larger-than-life sculptures; his work has been displayed at Museum of Contemporary Art, The Mexican Fine Art Center Museum and the Hyde Park Art Center.
Portage Park
Yes, technically Portage Park is part of the city. Yet its suburban feel (as in room to breathe, not as in vapid cultural wasteland) in this case is a plus, with an embarrassment of riches lurking just beneath its misleading vanilla surface.
The food
Community Tavern is one of the best steakhouses in the city with modest pricing. Housed on Milwaukee Ave and recently voted one of the best new restaurants in the city, Community Tavern offers filling appetizers (so pace yourself) and for fans of brown liquor, quite a few dark cocktail options. Classic and elegant without being pretentious, the tavern is a great addition to an area still developing its dining offerings.
The theatre
After your meal, catch an indie flick at the historic Patio Theater. Completely restored, the single screen theater on Irving Park is the largest of its kind in the city. The simulated blue sky, moving clouds and flickering stars inside are a nice touch, too.
The booze
That's all well and good, but the best thing about the hood? Fischman Liquors. At least according to people like us.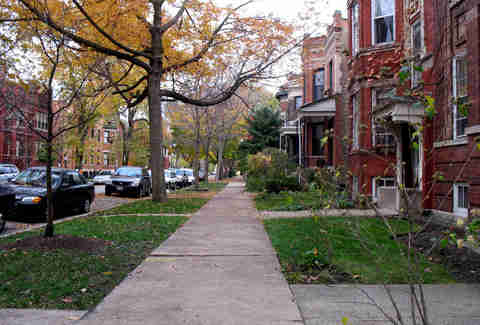 Ukrainian Village
Despite recently being named the country's "Hottest Neighborhood" by the folks at Redfin, Ukrainian Village still largely plays second fiddle to Wicker Park... despite the fact that most of the things that make Wicker Park cool are actually located in Ukrainian Village.
The food
Over on Chicago Ave is Roots Pizza, started by business partners Greg Mohr and Scott Weiner who met while working management at Joe's. Roots is one of the only pizza parlors to offer malt in their pizza crust -- yep, like the malt in your favorite beer. This addition makes the pizza crust quite chewy, so you won't get a headache while trying to enjoy arguably, the best part of the pizza. Not in the mood for pizza? No problem -- try the mozzarella sticks; they're completely made from scratch with fresh mozzarella and garlic-herbed breadcrumbs.
Wait a minute, what the hell is that delicious smell wafting in from Chicago Ave? It's Mr. Brown's Lounge, where authentic Jamaican jerk chicken is smoked in-house daily in the back. Should you want to further explore the menu while still getting your jerk chicken fix, may we suggest the best wings in town?
The bars
Did you know that many of Wicker Park's coolest bars are actually located in Ukrainian Village? Happy Village, Innertown Pub, Empty Bottle, Bar DeVille, Tuman's... the list goes on and on. So whether you're looking for some of Chicago's best dive bars, hipster bars or live music bars that AREN'T in Logan Square, you know where to point the GPS.
The culture
Looking for culture? Ukrainian Village has got you covered there too. It's called Shit Fountain. Go pay it a visit, but be sure to bring your doggy poop bag.
Avondale
Much as Ukrainian Village lives in the shadow of its big brother Wicker Park, so is the reputation of Avondale inexorably tied to its relationships with next-door neighbor Logan Square. But a quick look around the oft-overlooked hood shows this up-and-comer might not be playing the part of the redheaded stepchild much longer.
The food
Honey Butter Fried Chicken serves one of the finest fried chicken sandwiches in America. This is a fact. Also a fact? It's in Avondale, not Logan Square. As is SmallBar (one of Chicago's top beer bars), Yusho (one of Chicago's top cocktail bars), and Parachute, one of Chicago's best restaurants right now. Oh, and if you haven't experienced the pork buns at Joong Boo Market, you need to reevaluate your priorities.
The comedy
But what really helps push Avondale over the top is its thriving underground arts scene at places like Prop Thtr, one of the most underrated things in all of Chicago. Most known for past shows like Hizzoner and Point Break Live!, you never know what to expect at this nondescript little theatre off Elston. You'll feel like you're in on a neighborhood secret as you check out left-field acts from one of the city's finest spots for fringe theater.
The karaoke
No Avondale roundup is complete without mention of Alice's Lounge, where karaoke goes down until 4am and where you need to drink before you die. So hurry up already, clock's ticking kid.
Edgewater
While nearby Andersonville (recently named the 7th hottest 'hood in America) gets all the attention, Edgewater quietly maintains its lakefront location featuring Chicago's most underrated beach, affordable rents, great Ethiopian food, and cool local spots like Ollie's Lounge and Moody's Pub. Bonus: unlike Logan Square, you don't need a handlebar mustache to be admitted.
The food
Edgewater is packed with Ethiopian food options but the best of the bunch is Demera, a laid-back yet white-tableclothed emporium for all things Ethiopian. To the uninitiated, the empanada-style beef sambusas are clearly the way to go. Pair yours with honey wine, Ethiopian beer or whatever the hell you want to BYOB, and now you can say you've eaten Ethiopian food.
The games
For something different that's not a bar arcade, Chicagoland Games Dice Dojo features a demo library with more than 1,000 games spaced out amidst 2,000sqft of open play area. It's the perfect place to nerd out while waiting for a show at the nearby Aragon, impress your date with your vast geek knowledge, or just chill out and relax after way too much Ethiopian food.
The bars
Moody's Pub is where you would drink if you were a knight. The Edgewater pub basically feels like a castle's basement, assuming you know of a castle basement that also does excellent burgers (take in its half-pound, charcoal-grilled Moodyburger, which can be topped with blue cheese, bacon, sautéed mushrooms, and pimento olives) and pitchers of sangria alongside a sweet-ass fireplace. Meanwhile, Ollie's Lounge is a laid-back dive where you can sip frosty mugs of Old Style served by a nice little old lady named Miss Ollie.
Sign up here for our daily Chicago email and be the first to get all the food/drink/fun in town.
Jay Gentile is a Thrillist contributor and he's asking nicely for you to save him a spot at Mr. Brown's Lounge. Follow @innerviewmag