<strong>Trixie Sparxs |</strong>&nbsp;<a href="https://flic.kr/p/7Txqfs" target="_blank">Flickr/Rosalyn davis</a><br /> &nbsp;
Yes, you could go to a strip club; that's certainly one way to spend an evening. But if you'd rather not surround yourself with annoying DJs and questionable upholstery, burlesque is a great alternative to see some skin in a fun, low-pressure environment that you could actually bring a date to (not that we don't know people who take first dates to strip clubs). Little known fact: Chicago is a huge burlesque town, and it's only getting bigger. Here's how to get in on the action.
<em>Bucktown</em><br />
<strong>When:</strong> Fridays at 10:30pm, and Saturdays at 9pm and 10:30pm<br />
<br />
Gorilla Tango has been a crucial engine driving the massive growth of the Chicago burlesque scene in recent years, with an ever-expanding roster of deliciously naughty film- and TV-spoofing shows ranging from <em>Game of Thongs: A</em> Game of Thrones<em> Burlesque</em> and <em>A Nude Hope: A </em>Star Wars<em> Burlesque</em> to <em>Ghostbusty: A </em>Ghostbusters<em> Burlesque</em> and <em>Holy Bouncing Boobies! A </em>Batman<em> Burlesque</em>. GT is known for its humor and commitment to characters which, when you're spoofing sci-fi, is as essential as taking your clothes off.<br />
<br />
<!-- single line template -->
<em>West Town</em><br />
<strong>When:</strong> Fridays at 9pm(?)<br />
<br />
The plush, red-velvet environs of <a href="https://www.thrillist.com/drink/chicago/how-to-get-into-secret-bars-in-…; target="_blank">Wicker Park's secret speakeasy</a> above Black Bull are tailor-made for burlesque, and every Friday things get weird when Vaudeville rolls in with a rotating cast of burlesque dancers, magicians, and palm/tarot readers. Peep tight bodies in tight leather outfits as they pop champagne bottles and twirl tassels, in between swallowing swords and piercing their breasts with needles. There are also fire eaters and <em>Eyes Wide Shut </em>masks, and, if you feel yourself getting a little faint, you can always order food from Black Bull's menu (served late).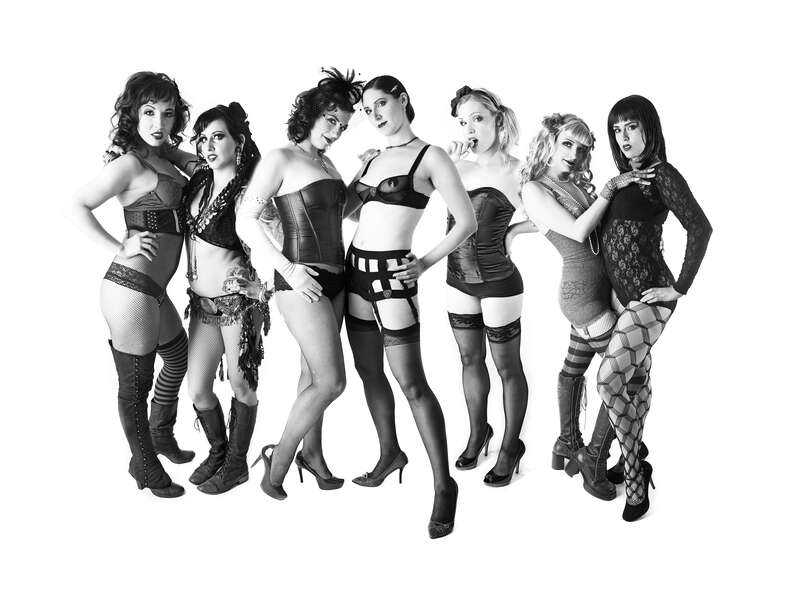 <em>Uptown</em><br />
<strong>When:</strong> Every Wednesday at 8pm, and Friday/Saturday at 10pm<br />
<br />
<em>Kiss Kiss Cabaret</em> dedicates itself to the art of the old-school burlesque show, titillating its audience with more than just the tease by throwing in a range of cabaret acts, from wisecracking hosts and bowling pin jugglers to musicians and balloon animal swallowers. The burlesque is classic yet hot, but don't be surprised to see a dude with a pet monkey on his shoulder. Hey, it happens.<br />
<br />
<!-- single line template -->
<em>River North</em><br />
<strong>When:</strong> Whenever the hell they feel like it<br />
<br />
As soon as you enter the tiny space of authentic Chicago speakeasy The Drifter, you know you've walked in on an intimate secret. With space for 37 souls and drinks on tarot cards in a throwback den below the Green Door Tavern (which was an actual speakeasy during Prohibition), the burlesque goes down quick and dirty with no announcement and no advance warning, on a small stage that makes it feel like the show is just for you. Members of the Chicago Starlets shake their stuff in between musicians and variety acts amidst vintage décor that will have you longing for the good old days of Prohibition. Almost.
<em>Lakeview</em><br />
<strong>When:</strong> Saturdays (and sometimes Fridays) at 10:30pm<br />
<br />
Red Hot Annie and her crew at <em>Vaudezilla!</em> seek to create an all-encompassing burlesque experience with fresh shows that change casts every week and new themes monthly. Accepting of all kinds and body types, Vaudezilla also helps ladies explore their sexuality at their studio with burlesque instruction courses ranging from "Nude Attitude" to "Boa Dancing." The show is available for hire as well, so you can make your boss super uncomfortable at the next corporate retreat with a glorious rendition of the popular revue <em>Rollin' Outta Here Naked: A </em>Big Lebowski<em> Burlesque</em>.<br />
<br />
<!-- single line template -->
<em>River North</em><br />
<strong>When:</strong> Thursdays 10pm<br />
<br />
It's no secret that international burlesque star (and self-styled "Most Naked Woman") Michelle L'amour has one of the coolest jobs in Chicago. But when you combine that with one of Chicago's <a href="https://www.thrillist.com/drink/chicago/chicago-s-10-best-whiskey-bars-…; target="_blank">top whiskey bars</a>, and the <a href="https://www.thrillist.com/drink/chicago/the-best-bars-with-live-music-i…; target="_blank">best bar for live music in River North</a>, you've got a serious party on your hands. And, unlike most burlesque shows around town, admission here is totally free. L'amour calls the weekly show <em>Spectacle,</em>&nbsp;which, naturally, means power sanders, freaky face paint, insane acrobats, etc. You've gotta see it for yourself.
<em>Wicker Park</em><br />
<strong>When: </strong>Wednesdays at 10pm<br />
<br />
Your Wednesday nights will never be the same after experiencing this long-running hump day extravaganza, heating up Wicker Park's preeminent hipster dance club as burlesque dancers with names like Dizzy Lizzy find inventive new ways to work power sanders while slowly disrobing in the dark basement den of Debonair Social Club, which is revamped weekly to make it look like a French noir flophouse. It's sort of like that movie <em>Showgirls</em>. Except instead of being "so bad it's good," it's just straight-up good.<br />
<br />
<!-- single line template -->
<em>Gold Coast</em><br />
<strong>When:</strong> Every Saturday (and sometimes Friday) at 8pm<br />
<br />
Burlesque ain't just for the ladies, ladies. Dudes can get in on the act, too, as evidenced by Chicago's only male burlesque and variety show. While featuring acts with awesome porn names like Bazuka Joe and Tommy Gunn, the show is less <em>Magic Mike</em> pelvic thrusts and more flirtatious teasing with dirty Sinatra-esque Emcee Rob Racine working the crowd alongside fire dancers, contortionists, classically trained dancers, and "pole artists." Get in the mood with a game of tipsy Jenga or psychic session before the show.<br />
<br />
<!-- single line template -->
<em>Lakeview</em><br />
<strong>When:</strong> Second Friday of the month at 9:30pm, 10:30pm, and 11:30 pm<br />
<br />
Recently celebrating its third anniversary, this retro burlesque act gets back to the basics with classic showgirl promenades, high kicks, and the whipping of audience members with a feather fan. Local comic Adam Burke keeps the vibe light and inviting in a laid-back scene featuring some of the most well known dancers in local burlesque including Stella Cheeks and Donna Touch. Three shows a night means the drinks keeps flowing and the crowds stay rowdy.
<em>Pilsen</em><br />
<strong>When:</strong> Fourth Saturday of the month at 10pm<br />
<br />
First, Honky Tonk BBQ infiltrated the Pilsen hipster scene with live country bands and standout brisket and mac &amp; cheese. Now they've carved a place for themselves in the local burlesque arena with an eye-pleasing act of traditional burlesque soundtracked by ear-pleasing live music from Grit &amp; the Double Knit. Expect a blues-heavy, sultry evening of hip swaying naughtiness punctuated by the risque knife play of "The World's Most Dangerous Comic" Mark the Knife, with plenty of sauciness both onstage and off.<br />
<br />
<!-- single line template -->
<em>River North</em><br />
<strong>When:</strong> Saturdays at 11pm<br />
<br />
Michelle L'amour continues her domination of the Chicago burlesque scene with this late-night cabaret show at Downtown's only comedy club where comedy, burlesque, vaudeville, and music collide alongside a rotating cast of more than 50 performers. Located above Gino's East, the place can get a little touristy but more than makes up for it with a fun, lighthearted show where portions of your ticket price go to fight Alzheimer's. Turns out looking at boobies is the newest form of philanthropy!<br />
<br />
<em><a class="vortex-open" data-campaign="2830" href="https://signup.thrillist.com/&quot; target="_blank">Sign up here</a> for our daily Chicago email and be the first to get all the food/drink/fun in town.</em><br />
<br />
<em>Jay Gentile is a Thrillist contributor and he is a little nervous to see the Stay Puft Marshmallow Man take it all off during </em>Ghostbusters<em> burlesque. Calm his nightmares <a href="https://twitter.com/innerviewmag&quot; target="_blank">@innerviewmag</a></em>