Pot smokers rejoice! Legal cannabis sales have made visible progress in Illinois. With a handful of dispensaries now open, including the first one in Chicago, the time is coming to discontinue those awkward conversations with your pot dealer and pay a visit to a professional budtender to heal what ails you.
However, our state isn't the stoner paradise of Colorado or Washington just yet. There is still a serious application process you need to navigate first. So we thought we'd put that information together for you in this handy guide to scoring legal green in the Windy City.

Step 1: Figure out if you qualify
You can't just show up to a dispensary in your Wiz Khalifa T-shirt and say you like to party. There are currently 39 approved chronic debilitating illnesses that qualify you to apply for a medical marijuana card, and they are no joke. Conditions include cancer, AIDS, lupus, MS, Parkinson's, glaucoma, epilepsy, and Tourette syndrome. However, eight additional conditions are expected for approval from the state soon, that would cover various pains, post-traumatic stress, and irritable bowel syndrome. So if you suffer from one of these conditions, move on to step two.
Recommended Video
Get Fit and Look Like A Badass
Step 2: Apply for a medical marijuana card
Now comes the hard part. First, you must be an Illinois resident who has not been convicted of a felony drug offense or violent crime. You must complete a six-page application with the Illinois Department of Public Health that includes proof of residency, age, and written certification from your physician. Your doctor must also submit a separate form directly to the state on your behalf. You also must agree to a background check and submit a fingerprint after getting one from a licensed Live Scan fingerprint vendor. You then need to select your cannabis dispensary district, answer some more questions, and send in a $100 application fee along with photo ID. While some dispensaries can give advice to help guide you through the process, you can also hire a company like Good Intentions in Wicker Park to do all the legwork for you.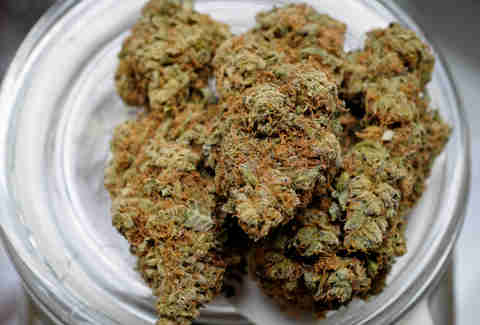 Step 3: Wait for approval
So far, 3,300 qualifying patients have been approved in Illinois for medical marijuana cards. Will you be next? Expect to hear back in 30-45 days after you've submitted your application. If you are approved, you then have to select which dispensary you will be receiving your cannabis from for the entire year, as they cannot sell to you until you have completed this step. You can also elect to have a caregiver pick up your weed on your behalf (which requires additional hoops to jump through). If approved, you are able to purchase up to 2.5oz every two weeks, at an average price of $16 per gram.
Step 4: Visit a dispensary
While it is expected that there could eventually be up to 60 dispensaries across the state at the end of the four-year pilot program, there are currently only 11 dispensaries in Illinois fully up and running -- seven in the Chicago area. So far there is only one location selling legal medical cannabis in the city proper, Andersonville's Dispensary 33, with Modern Cannabis -- from the owners of Emporium Arcade Bar -- expected to open up shop in Logan Square in early January (weed followed by video games? That's preposterous). The next-closest location is PharmaCannis Dispensary in Evanston, with downstate locations also open for business in Ottawa, Canton, Quincy, and Marion. Here is the complete list of Chicago-area dispensaries as of the end of December:

Chicago: Dispensary 33, 5001 N. Clark St, 312.620.3333
Evanston: PharmaCannis Dispensary, 1804 Maple Ave, 847.424.0140
Schaumburg: PharmaCannis Dispensary, 1135 Tower Rd, 847.755.2992
Mundelein: The Clinic Mundelein Dispensary, 1325 Armour Blvd, 847.616.8966
Addison: EarthMed Dispensary, 852 Westgate Dr, 630.607.0796
North Aurora: PharmaCannis Dispensary, 161 S. Lincolnway, Suite 301, 630.264.0890
Joliet: 3C, 1627 Rock Creek Blvd

Coming in January:
Chicago: Modern Cannabis Logan Square, 2847 W. Fullerton
Naperville: 3C Naperville, 1700 Quincy Ave, Unit 103
Step 5: Buy weed
While every dispensary is different, a peek into Chicago's Dispensary 33 reveals a sleek design similar to an Apple store for weed complete with wood paneling and leafy mural art, books, high-end glassware, vintage rolling papers and, of course, various strains of marijuana to choose from upon consultation with a budtender (although they are not called that here). Some of the more popular strains include Strawberry Headband and Holy Grail Kush, which staff help match up to your condition, as well as vaporizers for those who prefer not to smoke. Store owners plan to expand to concentrates and edibles early next year, as most of the weed currently available on the Illinois market is strictly in smokable "bud" form.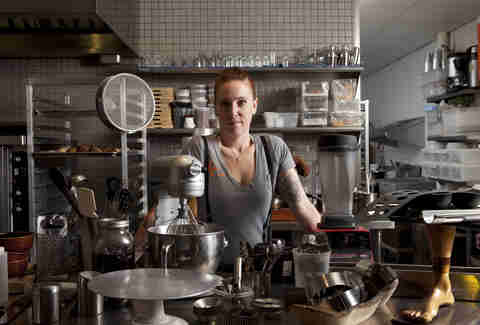 Bonus Future Step: Buy amazing edibles
Making progress on the edibles front, James Beard Award-winning chef Mindy Segal of Mindy's Hot Chocolate has announced that she will be launching a line of pot-infused products for medical marijuana patients including chocolate brittle bars and granola bites plus "an infused chocolate drink that is intended to be warmed to enhance the soothing effects," as well as a "ready-made mix with do-it-yourself instructions" expected to become available in late February. Segal is partnering with Cresco Labs, Illinois' largest cannabis cultivator, to produce the edibles. Whatever you do, don't call 'em pot brownies.
Sign up here for our daily Chicago email and be the first to get all the food/drink/fun in town.

Jay Gentile is a Thrillist contributor and he has a pretty good idea what Santa can get him for Christmas this year. Follow @innerviewmag.