I
I

n order to appreciate what Lollapalooza perfected, it's important to know all the ways previous festivals sputtered. Woodstock is remembered as "magical" because people repressed the memory that there was an 8,000-to-1 ratio of people to toilets. In 1982, Steve Jobs was flush with new Apple money and held the "Us" Festival. He tried to make it the social/musical/technological event of a lifetime, but instead he lost $12 million -- twice. And super-charity concerts like Live Aid and Farm Aid were fantastic ways for artists to support great causes -- but that meant that the telethon-style requests came first, and music always came second.
But 25 years ago, when Nielsen's Soundscan's "automated sales numbers" replaced the old "slightly biased sales clerks" indicator, heavy metal's castrato grip on the music industry was loosened and the charts were up for grabs. Suddenly all sorts of new genres got noticed, got airtime, and seemed ripe for something big. That bigness came when Perry Farrell and Jane's Addiction thought it was perfectly (un)natural to add a rainbow of genres to their own farewell tour. Now, a quarter-century later, the idea is still so good that you've bought a ticket and are getting ready to enjoy it yourself. Lucky you!
First things first: Preparation.
Ticket Info
Sold out, every day! That's pretty dang popular. Just in case you were thinking of swapping with a bud, borrowing their wristband for a day, or seeing what the online/out-front scalping situation is like: don't! They're pretty clear on the fact, they will be checking for tampered wristbands, and yes -- people have been caught stealin'.
What you can bring
Not to harsh anyone's mellow, but there are rules here. No professional audio, video, or photographic equipment is allowed! This includes tripods, lenses, and any video recordings, so easy with the periscope, bud. Glass and metal containers are also out, as well as any outside food or liquids except for two factory-sealed bottles of water -- but they can be as big as a liter each, so choose wisely. You can refill for free at stations around the park (and also recharge your phone for free!).
The best advice in Chicago: wear sunscreen
Chicago is not known for its dry heat -- and there's just a small chance that you might be bumping up against some people throughout the day in this quaint little fest. So bring the good stuff, and rub it in hard (aerosol sunscreen isn't even permitted anyways). Don't take our word for it -- Chicago's own Mary Schmich made her famous case for sunscreen -- now immortalized in song form forever.
On-site bodegas will sell you the essentials
The festival has thought of everything for the forgetful -- this year sees the introduction of two "bodegas" on Columbus Avenue at the Jackson and Balbo intersections. Ponchos, lip balm, the aforementioned sunscreen -- buy them all here so you can remember Burns as a band who played here, and not a series of things you'll be putting aloe on for weeks after.
Flushapalooza
There are no fewer than 11 restroom areas throughout the festival, with ADA access bathrooms throughout the park as well. So the next time your parents talk about how Woodstock was everything, man, remind them that the line for the toilet was 8,000 people long. And that's the secret history behind the brown acid warning.
Don't forget to call mom
Yeah, that phone's probably going to die by the end of the night, isn't it? Fight the good fight by bringing a charging case, turning your phone to airplane mode if you're only using it as a camera, or turn the thing off and just enjoy yourself off the grid. If that idea makes you deeply unsettled, don't worry -- Lolla will keep you glowing late into the night.
There are at least three official spots to charge your phone, including the Samsung VR-Palooza, where you can get into some Virtual Reality mind-bending in the midst of a once-in-a-lifetime, IRL musical gathering. That's like eating a steak in The Matrix while back on the Nebuchadnezzar your body is getting a massage.
After the party (before the hotel lobby)
It took a quarter of a century and a fourth night added to the mix, but now, we can literally say there are hundreds of afterparties at Lollapalooza. Start from the heart -- whom do you really want to see? If you don't have a bucket list band to cozy up to at any of the many official afterparties, take a look at this handy map and just throw a dart to start the party. Downtown spot Primary Night Club and West Loop mainstay The Mid are solid choices to just lose yourself in the music, or get some proper rock licks inside Reggie's or the Bottom Lounge.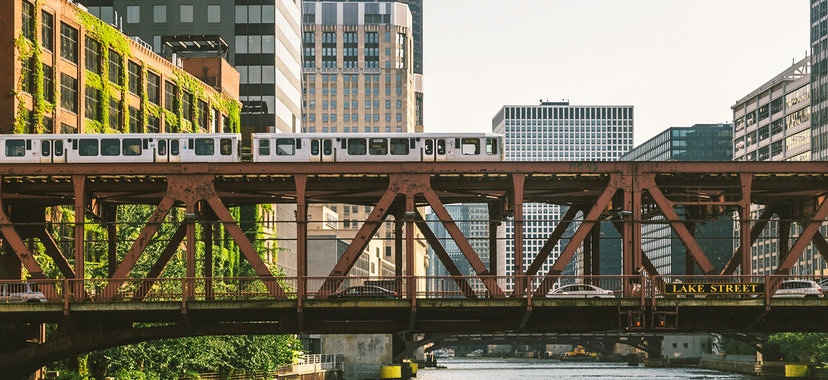 Lollapalooza is held in Grant Park, the site of Chicago's best property fight 130 years ago. Montgomery Ward wanted a shack removed from his lakefront view, had a really aggressive promise for eternal lakefront views for his land, and the ensuing legal battles accidentally made nearly everything along Chicago's lakefront into pure public property. This includes an 18-mile lakefront bike trail that will let you walk, run, or bike damn near into another state in both directions.
Cycle therapy
Got enough gas in the tank to cycle the shore after a rigorous day of lightly headbanging in place? Rent a bike from the city's extensive Diivy program to pick up and drop off at stations located throughout the city. Bike paths are a great way to avoid crossing Lake Shore Drive in a mass lemming herd (or worse, trying to hail a taxi on it).
Get in the Loop
If the fest drained you a little too much for pedaling your sore butt around, It can't hurt to sink some dollars into a transit card. The "El" has stops near the park at Jackson, Harold Washington/Library, and Harrison -- smart riders might walk even further south to the Roosevelt station to beat the northbound crowd, or up to Lake Street's station for the opposite trek.
Let someone else brave the traffic
If you must, taxis, Uber and Lyft are at your disposal as well, but traffic is not kind to the Loop. If you want to make the best of both worlds, bike taxis make for some of the best conversations in the city. But just remember that no matter how fun it sounds, everyone looks like an idiot on a Segway tour.
Advertisement
You've gorged, you've guzzled, you've sunscreened. You've put god knows what else into or onto your body. You've seen the scene, sworn off ketchup for life, and possibly voted in a Chicago mayoral election. You are now ready to Lollapalooza.
Map your vibe
And here's the treasure map -- find your spots, plan your attack, and if the urban legends are true, maybe even dig up some hidden treasure (although presumably festival security is going to consider liquor gardening "so last year"). With eight stages, you can't win 'em all -- be prepared to make some tough choices, or be forced to wander the disinterested no-man's-land where crowds fade and enjoy your own mashup of two beloved artists! (Do not intentionally try this, it sounds nothing like Girl Talk).
Fall out of line
Bags are great for your poncho, blanket, sealed water bottle must-haves -- but they will cause you to be searched every time. If you're freewheeling it without one this year, there is a bonus -- the express lane should get you past the gates in no time. And If you are taking some breaks from the fest into the outside world, remember that you can only re-enter three times a day!
What not to bring
Strollers are allowed at the festival! Wagons are not -- so don't get any ideas about junior riding around in a Red Flyer and doubling as your cooler. Also be warned that tents, hammocks, walkie-talkies, and that sweet drone you were hoping to bring are all also forbidden on the grounds (Sorry, drone). Selfie sticks are also forbidden.
DO bring some ear plugs for baby. Your kid's hearing is better than yours and he doesn't deserve tinnitus just because you want him to understand the subtle nuance of G-Eazy's "Fried Rice."
Know thy selfie
Since you probably scrolled right over it before: selfie sticks are not permitted, as should be the case everywhere. Make long-armed friends.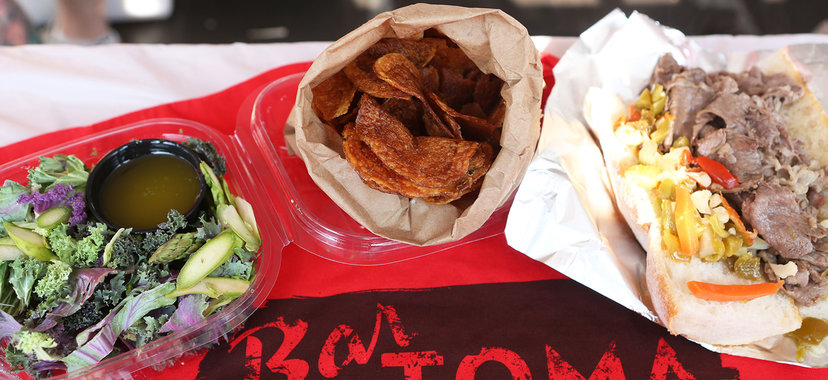 Eating at Lolla 25: welcome to the Seconds City
If you come to Chicago and just eat the first deep dish and hot dog you see, you've failed yourself and this city. Step out of the parody and enjoy Chicago's far-flung delicacies, all kindly provided within the festival grounds! This year marks the arrival of David Chang's Momofuku, selling the very appropriately named "Crack Bar" amongst other delicacies.
Fellow new kids Pork and Mindy's have been the hot little sandwich du jour of Bucktown, and are now available at the festival to cram in your maw two at a time. And of course, a slice of Lou Malnati's deep dish is the only acceptable deep dish in town (although you might learn a slice of stuffed pizza or pan pizza is more of your thing, you pizza-ignorant ingrate.) Southsiders (and pretty much anyone who knows what's up) will also save room for the fabulous treat known as a Rainbow Cone.
Greener living
On the healthier side, we're hoping to stop by the farmer's market yet again -- a real live apple turns out to be a lifesaver amidst the caloric catastrophes that can occur otherwise.
Pitch in at Lolla Cares
The spirit of Lollapalooza has always been one reminding us of better things. Lolla Cares pauses the rock and roll debauchery for a moment to consider volunteer opportunities, voter registration, and donating to worthy causes around the world. Take a moment from the madness to do something good for the world, and then head back into the mosh pit with a clean conscience.
Support the arts... even more
Local artisans, printmakers, henna artists, and more add an opportunity to see and buy some of that non-performance art the kids are so into these days. Did seeing Third Eye Blind get you so pumped that you tore your shirt off Hulk Hogan style? Pick up a stylish shirt from Futuregarb. Did your mohawk get droopy in the midday sun and you need to keep the pomade from dripping down your face? Maybe a headband from Souldier is just the remedy! Swag? Swag! Specifically, Black Black Moon's precious stone Swag.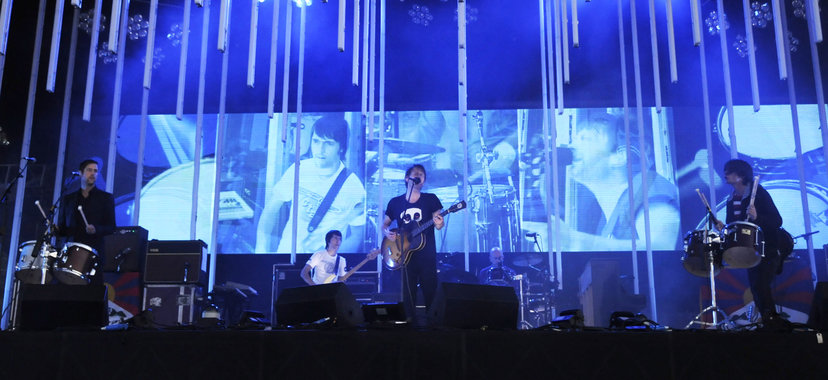 But of course, we came here to rock. So who's it gonna be? Or maybe you're feeling nostalgic and came here to hear "How's It Gonna Be?"
Eight stages of madness. Half-hour to two-and-a-half hour sets, overlapping left and right. If you're a little OCD about your festival going, we strongly suggest writing yourself a game plan ahead of time, or else find yourself pinballing between stages, dehydrated and confused and maybe not as happy with your ticket investment as your ADD self could have been.
Choose and choose boldly! Thousands of other people are just as on the musical fence as you are -- but if you don't act decisively, you'll literally be watching from the fence. Get in there, champ!
The final word in songs
What will be the song of the summer? What better venue to cement a year's "anthem" than one of the biggest music festivals in the world? If you're not scared of electropop/tropical house (or googling those words right now), consider MØ's tender "Final Song" as a sleeper candidate for the title. Grimes isn't going anywhere (in fact, she's here at the festival!), but MØ is a lovely progression of a similar chord.
RADIO FREAKING HEAD!
They got more tweets than you'll ever receive in your lifetime by deleting their Twitter. They play even less frequently than Derrick Rose. In short, everyone and their mother will be continuously creeping (sorry!) forward throughout the entire show, which might sound thematically appropriate but will likely end as a battle of the pushiest. Think very carefully how much you actually love and worship this very good British band, and how much it might also be just fine to twerk your brains out to Major Lazer across the way.
Boi, oh boy!
Lest your eyes scan over the name and not put two and two together, That is most certainly Daddy Fat Sax Himself, Big Boi, one half of that little thing called Outkast. He's performing here in his collaborative supergroup Big Grams, joined by the hypnotic Phantogram in a genre-bending effort quite in tune with the Lolla canon.
Local acts you should check out
Lest you ever forget to listen to every word he says, Kanye calls Chicago his ancestral home. As such, he's been able to highlight some of his local friends like Vic Mensa to a very worthy national spotlight -- check him out if you're not up for peeping the Peppers yet again.
Flosstradamus, no strangers to Mr. Ye either, have come a long way from rocking dance nights in 150-person venues around the city -- catch them at the Aragon Ballroom Saturday night if you want a second helping after the fest. And Chance The Rapper's "Angels" flew up the charts with some fine assistance from Saba's hooks on the chorus -- don't miss his own sultry flow tying together trap and soul.
Shake your hips to Snakehips...if you can
Snakehips are playing Saturday's aftershow at Primary Night Club, which is very sold out. But then again, since they've done a collaboration with label-less local juggernaut Chance the Rapper, you might want to ask a friend who knows a friend who knows a friend.
Red Hot Top Spot Chili Peppers
Perry Farrell has every right to pencil himself into the top spot of his own damn festival. Why didn't he? Maybe he's rusty, maybe he's modest, maybe Anthony Kiedis beat Dave Navarro in an arm-wrestling contest that you won't hear about for years -- who knows. The plus side of this is that if you want to really dig into a good spot at the Samsung stage early in the evening, you can have the '90s indulgence of a lifetime.
LCD Soundsystem Reunites
LCD Soundsystem famously went out with a bang four years ago, touring a victory lap around the country, making a live film of their last show, and then managing to stay retired at least one year longer than Jay-Z before announcing a set of festival returns, including Lolla. While the dancing peaks will be top notch for a Sunday, a performance of "All My Friends" should make for several thousand singalong hugs, teary-eyed selfies, and other slightly more dignified memorable moments that just might make all the madness of this weekend worth it.
Tromp over to some tromp l'oeil
Once you've found your preferred transportation of choice, the best news is that the lakefront holds plenty of other entertainment. The Art Institute of Chicago has been named the best museum in the world as recently as 2014 (falling to a respectable 3rd last year). If you think that Nighthawks, American Gothic, and The Old Guitarist are performers this weekend, well, maybe next year. But the Modern Wing alone is worth a dozen sincere "Oooh"s from any stripe of visitor.
Embrace your inner tourist
Behind that is Grant Park's slightly touristy sibling, Millennium Park. Its most famous attraction is Cloud Gate, a large mirrored bean designed to enhance your selfies. On the other hand, the legitimately great Jay Pritzker Pavilion is a constant draw for film screenings, orchestra performances, and weekday concerts of all genres. (How great would it be if Xzibit were playing, so you could enjoy a concert while you're attending a concert? Or is that what the VR station is for?)
Something for the kids to do
If you take the long, serpentine bridge across the highway, you'll find yourself back against the lakefront trail inside the recently opened Maggie Daley Park. A climbing wall of decently varied difficulty and size, a children's maze and huge play area, and a mini golf course make for a very family-friendly experience -- or just a nice set of scenery to take in while strolling.
Make towards the Midway
If you head south instead, the Museum of Science and Industry is a longer journey, but a great ode to the city's substantial industrial roots -- and one of the last two buildings from the "White City" built for the World's Fair. If you've got your head in the clouds, stroll a much shorter stroll to the Adler Planetarium. The latter is just a mile and a half away from Grant Park, so provided you still know where your wallet, shoes, and top are, educational entertainment awaits!
A walk in the park
If you need a little quiet of nature to offset several feet of amps assaulting you throughout the day, a stroll can be had on quaint Northerly Island just south of the Planetarium. Now, ninety acres of unspoiled land seems like a miracle in the same city where a guy once overturned and sunk a boat, declared it his own country, and illegally sold its property stakes while bootlegging beer, to boot. Of course, this nature preserve has its own special history -- it used to be Meigs Field, the city's first airstrip. In the midst of a fight over turning the airstrip into a park, Former Mayor Richard M. Daley simply bulldozed Xs into the airstrips, winning the fight in the most "Chicago Way" possible.
Why not a riverfront, too?
The city is now entering summer #2 of the revamped Riverwalk, which added a slew of boat and kayak rentals, food and beverage options, and even a little live music here and there.Take the party to the water on the aptly named Island Party Boat. Dock your yacht at City Winery's riverwalk outpost and enjoy a glass of Chicago-made vino. You can also stroll in if you're not one of the yacht-set.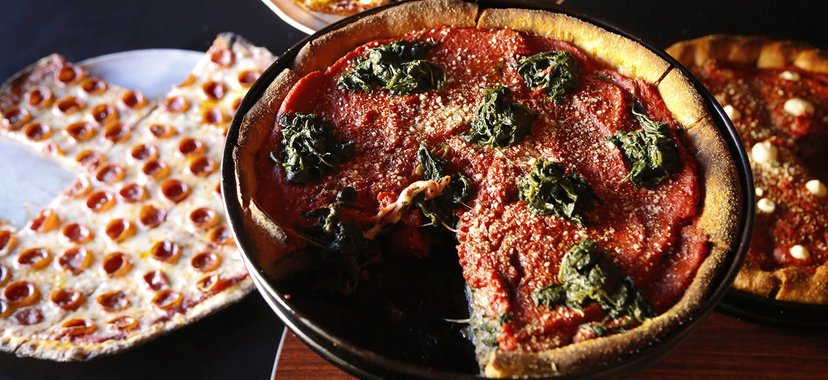 Grab some grub in the city! And yes, you have to drink a shot of Malort. You're not welcome.
Nice ingredients you got there: