What a difference a year makes. Pride 2020 saw the cancelation of the parade, Pride Fest, and a host of other events that so many of us Chicagoans have come to expect each June. But that didn't stop the community—and the city—from showing up and showing our pride in myriad ways. 2019's celebration marked the 50th anniversary of the Stonewall uprising and with George Floyd's murder in Minneapolis sparking social protests around the world, Pride 2020 took on new meaning that echoed the movement's original ethos. Now, in 2021, with so many Chicagoans getting vaccinated, there's even more reason to get down while also remembering why we started marching in the first place.
Chicago's annual Pride parade has been moved back to Oct. 3—yes, you can storm the streets in person this year—but June remains national LGBTQ+ Pride month nonetheless. Here are a few stellar ways to pay your dues to the amazing community we know and love all summer long.
As the saying goes, no one is free until we are all free. And in light of last year's rebellion in response to nationwide police brutality, there's obviously still plenty of work to be done. Many organizations and individuals remain committed to supporting and uplifting queer Chicagoans of color and there are plenty of ways to get involved, from simply grabbing some tasty grub a Black-owned restaurant to getting outside and spreading love at a community event. Keep an eye on Do312 for a running list of upcoming demonstrations, food drives, and other forms of collective action.
In addition to strapping on a mask (hey, it pays to be safe) and hitting the streets to join an inclusive event, consider throwing a few extra bucks or some volunteer time at one the city's many BIPOC-focused coalitions. Brave Space Alliance, the "first Black-led, trans-led LGBTQ Center located on the South Side of Chicago," is a fantastic place to start. They provide a slew of services to their clients, from health and wellness programs to career assistance, financial resources, and combating food insecurity. Over in Washington Park, Assata's Daughters is working to address anti-Blackness, prison abolition, and immigration reform, among other valiant efforts, as it pertains to Black women, femmes, and gender non-conforming folks. The 25-year-old Affinity Community Services, also on the South Side, aims to bridge health disparities for Black women and LGBTQ+ youth as well as tackle racism with the queer community. And that's barely scratching the surface. Learn more about local BIPOC-oriented advocacy groups and other ways to show support in Chicago by browsing Queery's handy online directory.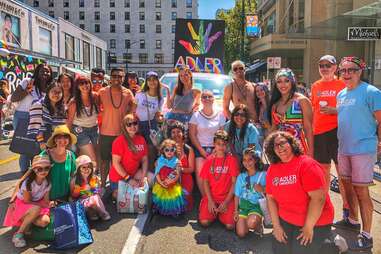 Pitch in at other hard-working LGBTQ+ organizations
Whether you're currently in need of help or looking to give the community a much-needed hand, Queery, mentioned above, is a great launch pad for digging into Chicagoland's vast network of LGBTQ+ resources. Here are a few standouts to get you started.
The Center on Halsted describes itself as "committed to reflecting the diversity of the LGBTQ community." They're pros at connecting Chicagoland queers and allies to just about anything they need including healthcare, social and wellness groups, educational classes, sports, and mental health facilitators. Chicago House is another key player in the LGBTQ+ non-profit game here in the Windy City. It helps folks impacted by HIV/AIDS as well as the greater LGBTQ+ community stay healthy and secure housing and work.
The Transformative Justice Law Project of Illinois is a prominent legal advocacy group with serious stakes in prison abolition, gender self-determination, and other crucial progressive causes that affect the LGBTQ+ population. And Howard Brown Health is a long-revered fixture in Chicago's queer and allied landscape. The multifaceted clinic and resource center covers all aspects of healthcare regardless of the patient's ability to pay.
Tune into digital performances
While the annual parade has been moved to the fall (with Pride Fest tentatively scheduled for the weekend of October 1), plenty of events are still taking place this summer. Gather with all your rainbow garb in Grant Park June 26 and 27 for Pride in the Park where headliners Chaka Khan, Gryffin, and Tiesto will be joined by supporting acts like Betty Who, Derrick Carter, Tracy Young, and loads of drag performances.
To help prepare you for the party at the end of the month, Macy's will host its first-ever drag brunch on June 12 in the iconic Walnut Room. Word is tickets are sold out, but if you're clever enough, we know you can score yourself a reservation. (And if you miss it, you can always grab your spot at the Walnut Room for the upcoming Totally '90s Drag Brunch on July 24.) This coming weekend, join Lighthouse Church for their Black Queer Pride Summer Edition. Festivities include An Evening With Lighthouse: Black Queer Performances on June 11, the Black Queer Pride Community Barbecue on June 12, and a raucous Sunday Gospel Drag Brunch to wind things down with a bang on June 13.
Gather the kiddos because on June 26 Navy Pier Pride will create a family-friendly celebration that will last well into the night. For you sporty types who like to get all rough-and-tumble and work up a sweat, Pride Bowl, the annual flag football tourney, is set for June 25 and 26 at Montrose/Margate Fields in Uptown along the lakefront. Then pop over to Andersonville for the annual Backlot Bash, "where the girls come out to play." This festival behind Cheetah Gym hosts a raging party with live music June 25 through 27. On June 27, head to Hyde Park for the South Side's biggest pride party, Chicago Urban Pride Finale Celebration, taking place at Promontory. And if you haven't yet gotten your fill, Chicago Black Pride returns July 1 through 5 with various goings-on including a rooftop pool bash and a host of heart-pumping dance parties.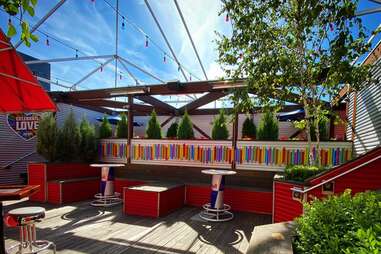 Eat, drink, and be queer-y at LGBTQ+ bars and restaurants
While last year was all about partaking at a (social) distance, card-carrying fully vaccinated revelers can finally resume their rightful spot on the dancefloor in all the gay 'nabes. The party has already started at places like Hydrate, Roscoe's, and Scarlet, so you can expect long lines and sweaty messes throughout the month. Or play it cool and grab drinks at favorite hideouts like the behemoth Sidetrack and The Closet, both in Lakeview, Replay and Marty's Martini Bar in Andersonville, and Jeffrey Pub in South Shore.
Of course, you can still enjoy al fresco drinks and bites at queer-owned and allied restaurant patios around the city. Uptown's beloved Big Chicks and Tweet have swung open the doors to both their back and front decks for your socially-distanced dining pleasure. Reserve a spot on the patio (or inside) at polished Wood Chicago on Halsted. And as bars and taprooms continue to reopen, a new wave of outposts is gearing up to make their comeback—be sure to reach out to your favorite hangouts to check their status and policies as the city moves forward.
Still feeling the quarantine vibes? Treat yourself and feel good doing so by ordering in from a queer-owned or allied joint like neighborhood darling Rogers Park Social or the always-entertaining Kit Kat Club, among others. And look out for extra enticing Pride-themed specials this month: The Goddess and Grocer in Wicker Park is bringing back their colorfully delicious six-layer Goddess Rainbow Cake and donating a portion of the sales to Center on Halsted. You can get yours complete with vanilla buttercream frosting and eye-popping sprinkles by the slice, as an eight-inch cake, or as a 10-inch cake.
Sign up here for our daily Chicago email and be the first to get all the food/drink/fun in town.