How to Support Chicago's Queer Community This Pride Month
Parade or no parade, Pride goes on.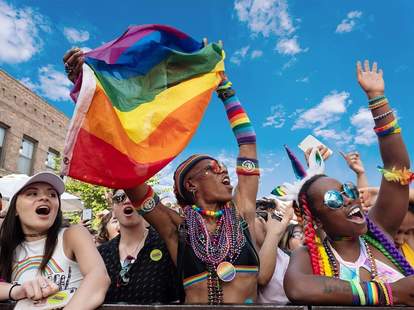 Sure, we're all super bummed that Chicago's LGBTQ+ Pride parade and all the down & dirty, fun-in-the-sun activities that surround it have been canceled this year due to concerns about spreading COVID-19. But that doesn't mean you can't celebrate in fabulous (and generous) gay style, of course. Here are all the ways to safely show up for the amazing community we all know and love this month.
Stand with BIPOC queers
As the saying goes, no one is free until we are all free. And in light of the recent uprising in response to police brutality nationwide, there's no better time to call attention to organizations and individuals committed to supporting and uplifting queer Chicagoans of color. There are plenty of ways to get involved, from simply ordering take-out or delivery from a black-owned restaurant to getting outside and spreading love at a public protest or community event. Keep an eye on Do312 and Protest Chicago for a running list of upcoming demonstrations, food drives, and other forms of collective action.
In addition to strapping on a mask and hitting the streets to join an inclusive public demonstration, consider throwing a few extra bucks or some volunteer time at one the city's many BIPOC-focused coalitions. Brave Space Alliance, the "first Black-led, trans-led LGBTQ Center located on the South Side of Chicago," is a fantastic place to start. They provide a slew of services to their clients, from health and wellness programs to career assistance, financial resources, and combating food insecurity. Over in Washington Park, Assata's Daughters is working to address anti-blackness, prison abolition, and immigration reform, among other valiant efforts, as it pertains to black women, femmes, and gender non-conforming folks. The 25-year-old Affinity Community Services, also on the South Side, aims to bridge health disparities for black women and LGBTQ+ youth as well as tackle racism with the queer community. And that's barely scratching the surface. Learn more about local BIPOC-oriented advocacy groups and other ways to show support in Chicago by browsing Queery's handy online directory.
Courtesy of Center on Halsted
Pitch in for other hard-working LGBTQ+ organizations
Whether you're currently in need of help or looking to give the community a much needed hand, Queery, mentioned above, is a great launch pad for digging into Chicagoland's vast network of LGBTQ+ resources. Here are a few standouts to get you started.
The Center on Halsted describes itself as "committed to reflecting the diversity of the LGBTQ community." They're pros at connecting Chicagoland queers and allies to just about anything they need including healthcare, social and wellness groups, educational classes, sports, and mental health facilitators. Chicago House is another key player in the LGBTQ+ non profit game here in the Windy City. It sets its sights on helping folks impacted by HIV/AIDS as well as the greater LGBTQ+ community stay healthy and secure housing and work. 
The Transformative Justice Law Project of Illinois is a prominent legal advocacy group with serious stakes in prison abolition, gender self-determination, and other crucial progressive causes that affect the LGBTQ+ population. Last but definitely not least, Howard Brown Health is a long-revered fixture in Chicago's queer and allied landscape. The multifaceted clinic and resource center covers all aspects of healthcare regardless of the patient's ability to pay.
Tune into digital performances 
The fun doesn't have to end just because the parade was canceled. Keep the party going by attending one of these virtual Pride events.
For a statewide perspective, join Equality Illinois' Can't Stop Our Pride broadcast. The one day event kicks off June 20 and features appearances from political and community leaders, entertainers, chefs, activists, and other queer movers and shakers. That same weekend, Virtual Chicago Pride Fest Official will livestream performances by megastar Leanne Rimes alongside a whole roster of LGBTQ+ and allied talent via Twitch. Integrated into the show will also be opportunities to donate to vital organizations like Black Lives Matter - Chicago, the Center on Halstead, and Howard Brown Health.
Lace up your dancing shoes and push the coffee table aside, it's time to move. The creative minds behind Reunion Chicago, Slo 'Mo, and OTV | Open Television are joining forces for #4theQultureFEST, a three-day Pride bash starting June 26th at 7pm. Flip on OTV's streaming channel to access "the blackest, intersectional and intergenerational PRIDE celebration that we deserve," including DJ sets, live music, theatrical performances, dance, games, PSAs, drag shows, and so much more.
Hurry up and RSVP for MCA Chicago's Kiki in the Commons Online, a free Facebook Live and Zoom conversation taking place on June 27th at 2pm. Watch as performers Irregular Girl, Kelly Boner, Lucy Stoole, and Pastiche take a deep dive into the art of drag and the practice's place in the art world at large. After the chat, the queens will turn up the heat and treat viewers to a decked out drag show.
Courtesy of Hamburger Mary's
Party at a distance on queer-centric patios
It might not strike the exact same note as the sweaty Boystown dance floors of yore, but you can still kick back and grab a cold one al fresco at an LGBTQ+-friendly establishment. Hamburger Mary's Clark Street patio and their legendary Drag Queen Drive-Thru is in full swing while Uptown's beloved Big Chicks and Tweet have swung open the doors to both their back and front patios for your socially distanced dining pleasure. Polished Wood Chicago on Halsted is hosting limited, first-come-first-served diners on its sunny patio starting at 5pm, weather permitting, and reserving a properly spaced sidewalk table down the block at neighborhood favorite Roscoe's is as easy as visiting their website. And as bars and taprooms begin to open for outdoor drinking this week, a new wave of outposts is gearing up to make their comeback -- be sure to reach out to your favorite queer hangouts to check their status as the city moves forward with reopening.
Soak up the sun at Navy Pier's waterfront LGBTQ+ Pride celebration on Saturday, June 27. The sprawling open-air bash features performances from the Vogue School of Chicago, DJs, and Radio Gaga as well as outdoor dining and all the people-watching you can handle.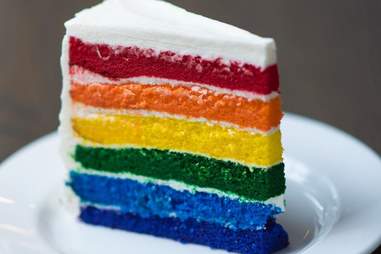 Courtesy of The Goddess and Grocer
Take your pride to-go with LGBTQ+-powered take-out and delivery
Treat yourself and feel good doing it by ordering in from a queer-owned or allied joint like neighborhood darling Rogers Park Social or the always-entertaining Kit Kat Club, among others. And look out for extra enticing Pride-themed specials this month -- The Goddess and Grocer in Wicker Park is bringing back their colorfully delicious six-layer Goddess Rainbow Cake and donating a portion of the sales to Center on Halsted. You can get yours complete with vanilla buttercream frosting and eye-popping sprinkles by the slice, as an eight-inch cake, or as a 10-inch cake. And in Noble Square, Chef Danny Espinoza is partnering with a few local brands and fellow purveyors to open the cheekily titled Nono's Deli, a food truck initiative created in response to the recent owner-fueled, homophobia- and anti-black-laden controversy and subsequent closure of Nini's Deli. The guys will be pedding empanadas, cafe con leche, and more for a limited time with proceeds going to Center on Halsted and My Block, My Hood, My City.
Courtesy of Asrai Garden
Shop online, schedule a safe visit, or stock up on gift certificates from queer-owned retailers
Whether they're open for business, still on lockdown, or somewhere in between, there are myriad ways to patronize Chicago's queer-owned shops this month. Some of our favorites include Asrai Garden, Elizabeth Cronin's dual-location boutique specializing in all things magical like flowers, fine jewelry, and endless other curiosities; Foursided for gifts and frames (check out these adorable Pride picks); Claire Tibbs' masterfully curated Humboldt House for handmade homegoods and other delights as well as her neighboring queer-inclusive children's shop, Peach Fuzz; Andersonville pup-charmer Jameson Loves Danger for all your furry friend needs; Knee Deep Vintage in Pilsen for pre-loved duds; LavenderPop Greeting Cards for lovingly illustrated BIPOC cards; kickass QPOC-centered t-shirts and other creative goods from Provoke Culture and ReformedSchool; and stimulating reads from Unabridged Bookstore in Lakeview and Andersonville stalwart Women & Children First.
Wear your support on your sleeve... literally
In honor of this year's Pride month, Peach, a Chicago-based event and lifestyle brand geared toward celebrating LGBTQIA+ women and non-binary folks, teamed up with Brave Space Alliance to design and sell limited edition pale pink-hued T-shirts that announce PRIDE IS A PROTEST in bold lettering. Proceeds benefit BSA's efforts. Head over to RAYGUN's website to nab your very own Pride is a Protest T-shirt and let the world know what you're all about.
Sign up here for our daily Chicago email and be the first to get all the food/drink/fun in town.