With it being January, you are obligated to consider whether or not you will actually work out this year (it's worth it, right?). After finally running out of private pools where my face was welcome, I needed a new way to stay fit. So like many before me, I took to the Internet in search of a cheap gym membership. Sure, I could splurge on any number of seasonal membership deals and feel like a king, but after just a couple minutes of research, I had an epiphany: why commit to a membership without doing the due diligence of shopping around? So, I compiled a list and gave myself six weeks to drop 10lbs using professional equipment, all for free -- saving about $300 with trial memberships -- all the while getting a sample platter of what Chicago's gyms offer.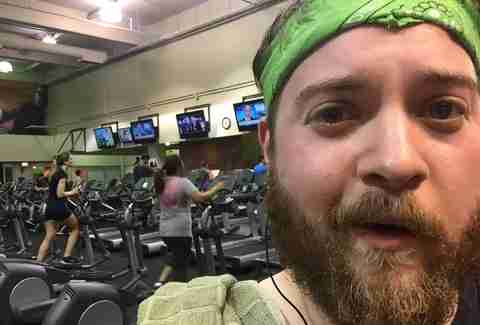 WEEK 1
LA Fitness Lakeview East
Free offer: 3 days
Money saved: ~$8.50 (2 days)
My first venture was to one of Chicago's many LA Fitnesses; I remember the Lakeview location was one of Chicago's last remaining Bally's (ah the days of half shirts). Though I had been warned of the quality under the previous regime, it had changed hands and was close to work, so I figured it a good place to start breaking a sweat.
Despite bringing my pre-registered free pass, I was immediately directed to a membership associate who signed me up again and took me on a tour of the space. It was a crowded lunch-hour rush as we fought our way upstream, around the indoor track, circling the die-hard lifters using free weights, and then back to his cubicle where he immediately started selling me a membership. Though he seemed disappointed that I merely wanted to try the free three days first, he understood and checked me in for my first workout: 45 minutes of elliptical and some weightlifting to the beats of Wreckx-n-Effect.
I expected this LA Fitness to be just as polished as the newly constructed ones in the city. Instead, the closer I looked, I found plenty of mirror streaks and carpet tears throughout the cardio area. The locker room felt like that of an '80s high school PSA, complete with a dirty Band-Aid on the floor, sweaty unclaimed tube socks strewn about, and an open, curtainless shower area.
The next day I took a chance on the pool. It had a ton of sun coming in from skylights above and a beautiful view of Chicago's west side, despite the fact that the other view was right into everyone running on treadmills. After a few laps I sunk into the double-sized coed hot tub next to a few older men and then a quick sit in the dry sauna where I noticed more chipped tile, peeling paint, and stains all over the walls. Suddenly overcome with feeling dirty, I changed quickly and headed home for fear I'd be locked inside.
Rating: For a budget-conscious gym, I'd give it a safe 2.5 out of 5 stars.
WEEK 2
CorePower Yoga Various locations
Free offer: 7 days
Money saved: $69 ($23/class)
I learned from my first week that I was no longer as nimble as I once was, so I took up CorePower Yoga on their offer of seven days of unlimited classes at any studio to open myself up. I first hit up the Uptown location for a level 1 class, figuring it'd be a nice foray back into the art of yoga. The room was surprisingly hot. There is a powerful ventilation system in place for hot yoga classes, but they must feel it's better to let the residual humidity ease out on its own free will. 
 
I was still so sore from class one that, instead, I ordered in fried rice and watched a few episodes of The Grinder.
The class was straightforward and the instructor was calming, but I could barely hear him over the selection of Mumford & Sons and Bob Marley. He only had to come and check on me twice while I strayed from the asana into child's pose. This attention felt a bit like ski patrol checking on my fallen body; it was nice to know he wouldn't leave me there like a sick, collapsed dog.
It was a few days before I returned to another class at the Lakeview studio. I was still so sore from class one that, instead, I ordered in fried rice and watched a few episodes of The Grinder. To double down on my cringe-worthy bingeing, I stepped up my game and dropped into CorePower's Hot Power Fusion class -- a beginner-friendly hour of yoga at 103℉. I was assured by the desk attendant that the class was less active and more restorative than Yoga 1, so I walked in with confidence and left a sweaty puddle of positively charged Ghostbusters Mood Slime. In fact, I enjoyed it so much that I returned to CorePower's Lincoln Square location just a day later for another round.
Rating: It'd be no stretch to give CorePower a steady 4 out of 5.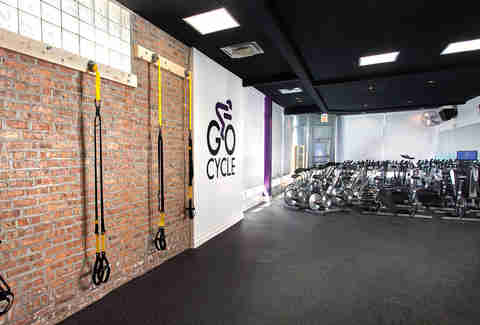 Old Town
Free offer: 1 class (spin or row)
Money saved: $23/class
In spite of feeling refreshed from all the active stretching I'd done throughout the week, I didn't feel I was truly burning the calories I needed to hit my goal, so at the end of the week I signed up for a free session at GO Cycle. It's a quaint little storefront facility with wall-to-wall purple, decorated with mini arrangements straight out of an HGTV Pinterest board.
I'd never taken a spin class before, but it's the workout du jour and I enjoy cycling around the city in the warmer months, so I strapped in and started pedaling. The instructor's voice clipped on her microphone over dance remixes, yelling instructive terms I had no definitions for as she also created a light show of pink, purple, and green lasers that reflected from the mirrored wall straight into my eye. I caught on quickly and soon found myself struggling to stay hovered above my seat as we "climbed up our next hill." I was lucky to never feel too warm as, in asking the host to place me at a bike near the back so to avoid imminent humiliation, I was assigned to a cycle situated in front of the emergency exit and next to a few fans. It was a pleasant cross breeze that countered all my body's efforts to sweat.
When I looked around at the other five to six cyclists, though a few of them mentioned excitedly before our first sprint about how much they enjoyed this teacher and gym, no one appeared to be having any fun. And then I realized I was also not having much fun. It's not that it wasn't a great, difficult workout, or that the gym itself was disappointing, it's just that biking feels natural when it's outside. Bored and disinterested, I wished I'd tried the free rowing option instead.
Rating: For me, the workout was about a 1, but if you're into spin, GO Cycle may be more like a 3. At least I worked off the burrito I ate for lunch.
WEEK 3
OrangeTheory Fitness Various locations
Free offer: 1 workout
Money saved: $19.75 (or $37 if including heart monitor purchase)
Two weeks in and 3.6lbs down, I was flying high. Feeling strong and flexible, I decided it was time to step up my game. I ran into a man on the street in an orange onesie and tutu preaching the "Orange Effect." A few phone calls later I found myself at OrangeTheory Edgewater. Apparently the heart rate color zone for prime fat loss is orange, therefore, so is this gym's paint, lighting, and equipment.
I arrived 30 minutes early as directed to learn about the system and try on my borrowed heart rate monitor, all the while being sold by the trainer and staff. I was told to be excited by the team mentality of the workout and that they were the only brand with the type of water rower they use in class, but I'm sure there are other such rower companies on the market. The "team" was about as connected to each other as a set of Jenga blocks in the back of a pickup truck.
The workout was full-bodied, consisting of half weights and rowing and half treadmill sprints. Our instructor was incredibly attentive, requesting that myself and another first-timer stay on equipment closest to her. I think she checked in on me a bit extra, too, because my heart rate monitor wasn't working properly. My first foray into circuit training, I could see why people liked it so much; there was never just a simple squat, but instead a weighted-step-up-squat-lunge, and so on. And I was continuously pushed longer and faster than I ever believed I could.
I had impressed myself by the end of class and was feeling good when the second round of sales pitches landed. Pricing was much higher than I imagined (it's not on the website) and they unveil after your workout that you need to purchase your own specific heart monitor for another exorbitant price. It's not necessary equipment, but isn't heart rate the whole point here?
Rating: I give it a 3.
Lakeview, West Loop
Free offer: 1 class
Money saved: $30 (drop-in day pass)
Still sore from OrangeTheory, I didn't want to miss out on an expiring offer to try out CrossTown Fitness' brand-new North Side location, so I sucked it up and shuffled in for a quiet-yet-intense circuit class with two others. I threw my bag into a cubby and began stretching on the carpeted gym floor as our instructor set up each of four stations. It's an odd choice to carpet a gym floor, but I guess if most people don't wipe down their equipment, it's really all the same anyway, right?
We did a few quick warm-ups before getting thrown right into the fire. Station 1: speed skaters and treadmill sprints, switching between them three times every 30 seconds. Station 2: asymmetrical push-ups on a BOSU ball and burpees, again switching between the two every 30 seconds. We did this full circuit straight through in about 20 minutes, then took a breather as the instructor set up another four circuits with free weights and kettlebells. Another 20 minutes then on to stretching and goodbyes.
The whole thing was a blur. I got so lost in the circuits, pushing myself harder to continue for every 30-second sprint that I was surprised when the end of class came. The finish line was never truly in sight until I'd already passed it, like a cab driver looking for a turn on a street he doesn't know the name of. I got my ass beat, in a good way, and hit the showers.
Rating: 4.5 stars
Andersonville, Bucktown
Free offer: 1 day
Money saved: $20/day rate
Eager to get back into my personal routine of cardio and weights after a few high-intensity classes, I trekked to Andersonville's Cheetah Gym -- a small Chicago chain of neighborhood workout spots. They seemed excited to show me some of their remodeled facilities and new equipment.
It's a trendy space; "hipster-chic," one might say, with hardwood floors and large wooden beams counter to the silver and leather weight machines. One part ski lodge, one part firehouse, and one part classic Chicago brownstone. It was warm and cozy, but not too crowded.
I beelined for a treadmill to see just how far I could actually run and watched a good 20 minutes of Food Network before tapping out and ambling through some weights, all the while a wind farm of ceiling fans overhead kept myself and all others cool.
At long last I found myself in the basement stretching area to cool down and loosen up. I felt pleased with my workout, and took a few minutes in the small sauna before walking home.
Rating:  Altogether, Cheetah Gym gets an honorable 3.5 out of 5.
Various locations
Free offer: 1 day
Money saved: $8.50
Wanting to sneak in another quick workout before my Thanksgiving feast, I dropped by Chicago Athletic Club's LVAC facility to see if I could swing a free trial day. Just my luck, a membership associate was onsite and eager to sell me on their gorgeous gym.
She interviewed me in the stairwell as we toured the multi-level facility. I told her I was "an artist" and, to my surprise, they just happened to have a special pricing option for artists like me! I'm positive -- the way she presented it -- had I told her I was a CPA or in advertising, the same deal would magically still apply.
I was delighted by the layout of the facility: four floors, each with their own dedicated use. At the top of the building lives cardio. I ran two miles watching football highlights and then took to the elliptical to catch the tail end of Holiday Baking Championship before walking down a level to use some weights. Passing the first-floor lobby, I returned down to the lower level to catch a disappointing glimpse at the pool in use for a children's class and a closed rock climbing wall.
Rating: It would've been nice to swim, but burning a few extra calories walking between flights grants LVAC 4 stars.
WEEK 4
David Barton Gym Goose Island
Free offer: 1 day
Money saved: ~$5
Finding myself in the loop for the day with my girlfriend's family, I elected to break away for a brief moment and check out the "nightclub of workout facilities," David Barton Gym. Designed to be opposite of every other health club, DBGym is a surreal environment filled with nothing but sleek, black equipment, surrounded in sexy art and furniture and coated in nothing but dim orange and pink light. Dance music blasts so loud over the speakers that it's jarring to see so much light pouring in off the river through a landscape of floor-to-ceiling windows. In spite of all that, I never felt uncomfortable. I found the motto -- "Look Better Naked" -- supportive and promising. 
 
DBGym is a surreal environment filled with nothing but sleek, black equipment, surrounded in sexy art and furniture and coated in nothing but dim orange and pink light.
The gym resides at the bottom of a very active office building in River North, so there appears to never be any true rush. Instead, executives from Groupon and the Big Ten Network take any time they can to ride the elevator down and trickle in for an hour or so.
It was difficult to drown out the house music with Eagles of Death Metal on my iPod, but my headphones got just loud enough. I still don't know which was worse for my hearing, but it didn't matter any longer. I had a great panoramic view of a Chicago Fire boat on the river as I ran as many miles as I could.
Worried I'd strayed too long from the family festivities, I cooled down for a few minutes in the dark, mentholated steam room before declining the membership sale on my way through the door.
Rating: It was a fine workout, but I think I'd rather dance the calories away at a real night club -- 3 stars.
Various locations
Free offer: 1 day
Money saved: ~$2.25
I was looking to mix things up again after a series of solo workouts, so I scheduled a boxing class with UFC Gym in Lakeview. I had read a number of bad reviews, but that didn't at all prepare me for the experience I had.
After I arrived just on time, the desk agent slapped a pair of mismatched, pre-sweated wraps across my wrists and showed me around --one big room of chaos: up front are a single treadmill and bike across from a boxing ring, then a matted floor for MMA leads to the forest of hanging heavy bags. As we reached the bags, the desk agent called across to another for the following paraphrased conversation:
Desk Agent: Hey, where's [the trainer for this class?]
Other Trainer: Isn't he out of town?
DA: Really? So who's teaching this class?
OT: Do you want to?
DA: I could. Either of us can.
OT: I'll warm them up. Then you can take over.
What kind of place doesn't let their members, or staff, know that a trainer has been switched?
The desk agent sent me to the back row as the reluctant trainer shouted warm-up commands ranging from sit-ups to push-ups and so forth. Meanwhile, several other boxers who were not part of the class continued to punch and kick the unused bags throughout the group, just kind of in the way of everyone else. It didn't seem safe for us to be on the ground for warmups as that went on, but that was of no concern to the temporary trainer. In fact, he finished up quickly and passed us on to the desk agent for the remainder of class as he lifted weights in a back room with a partner.
I'd like to say the desk agent took over and really turned the experience around, but he did not. His instructions were continuously contradictory and confusing -- for both myself and regular members of the gym. As we complained and joked with each other like children with a substitute math teacher, some even told me they'd never even seen this guy before. Was he even a trainer at all? Then some kid in jeans interrupted us to ask each person if he could borrow shoes... he was already wearing shoes.
It was definitely an experience and maybe this was an anomaly. After all, there are paying members who return and get something out of it. But I don't think it's worth a second chance. The photos on the website look like so much fun, but I could've burned more calories waving my arms at geese in the park.
Rating: No stars. Ever.
River North
Free offer: 1 class
Money saved: $27
After the regrettable experience at UFC Gym the night before, I was looking forward to a relaxing evening of stretching and poses, so I hit up Reform Pilates in River North. Gearing up for my first foray into pilates, I really had no idea what to expect. I knew there were versions with and without machines, but that's all. After a quick glance at pictures online, it just looked like yoga on a big, slide-y mat machine. How hard could that be? Signing up online was a breeze: I filled out my info, got my class credit, and picked a slot recommended for beginners at the very end of the night.
I arrived to the lower-level storefront studio 20 minutes early to scope things out. There was a class in session with nothing but an open doorway separating the lobby; I was stunned by a sea of red floors, dimmed-down lighting, and a hoarse male voice shouting commands like a drill sergeant over a killer hip-hop playlist. This was nothing like I'd imagined a pilates class to be. Google Image Search lied to me and I was scared. Nervously, I checked in with the woman at the desk who kindly welcomed me and asked me to sign into the old-fashioned guestbook. That was all.
Class started with myself and three young ladies as our trainer personally introduced himself to each of us. He had no sales pitch, but just seemed to genuinely enjoy sharing his knowledge and training of the form. He joked with us, pushed us, and encouraged each of us with a firm and steady smile, demoing each new motion with the excitement of a show dolphin.
Treating all of us equally, he also warned me as the only guy in the class most straightforwardly that when we were done, I would be sore in some very weird ways. And he didn't lie -- the workout was a tough balance of strength and endurance with a lot of focus on the groin and hips. Every exercise, a resistance challenge. Each new position and motion, a surprise: pikes and planks, reverse windmills with asymmetrical tensions, sliding rear lunges. There was a struggle, for sure, but not so much that I ever had to give up. My crotch was sore for days.
Rating: 4.5 stars
WEEK 5
Sproing Fitness Old Town
Free offer: 7 days
Money saved: $20 (1 visit)
I don't quite remember how I came across Sproing, but I knew immediately that I had to try it. Each week, I'd get more and more excited about the system by watching videos and excitedly telling friends and coworkers about this crazy thing I found. The machine, it seemed, was like the lovechild of a treadmill, a pilates reformer, and and an air mattress. I signed up for my week and planned out a schedule of classes.
My first visit came and I was early. Once I checked in with the trainer, letting her know it was my first time, she set me up with a heart rate monitor -- the same kind I had trouble with at OrangeTheory -- and she assured me it would work, but to just wrap it extra tight around my ribs. Running late out of the previous class, I could tell she was in a rush to get the next class started on time for me and the other three people, but she neglected to really show me what to do with the machine. She just pointed to a machine and had me strap in. Then it went downhill from there.
Three sprints in, she came up to me to strap me in properly. Oops. There is a velcro belt that is meant to wrap loosely around your waist to hold you into the machine as you lean forward, running in place. I had only secured half of the fasteners, as I was not shown how to get settled in, and wondered why she took so much time with the heart monitor instead.
Next, I noticed the air mat continued to pop up out of the machine as I ran. I had to continuously stop my workout to kick the mat back into place. No one else seemed to have that issue, though, and after 10 minutes or so she remembered that the machine she led me to had a tear in the mat, so she moved me over to the next one.
After a few hiccups, I was still ready give it my all. Sadly, the workout felt constricting and disjointed. It was taught in the same manner as a spin class, and the instructor rarely left her machine to correct my form. And when an incredibly large, alien piece of equipment is involved? I never knew where my footing should start or end. With all this unanswered confusion I rarely found myself in the orange heart rate zone. Finished, I unclipped my belt, grabbed a latte from Eva's Cafe and headed home.
Rating: The latte was great, but Sproing, unfortunately, was a dissatisfying 2.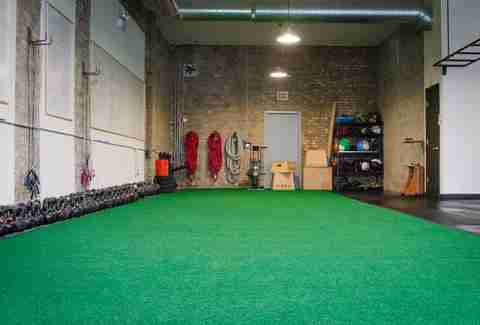 Lakeview
Free offer: 1 day
Money saved: $16.67
Running behind schedule, I broke the first rule of gym etiquette and gobbled up a shawarma at Zam Zam across the street. I hadn't eaten all day, but I really didn't give myself enough time to digest. I rolled into CPG in a hummus daze, feeling like Violet Beauregarde. Not a great start. Luckily for me, this workout was less intense than I anticipated. With Primal in the name, I expected to be lifting tires and throwing javelins. Instead, I found an inviting and warm group circuit workout of body-weight exercises and friendly chatter.
I happened to come in on a day when everyone was gearing up for a physical standards test -- something CPG encourages everyone to meet as they work towards their healthy lifestyle goals -- so I was told the night was a tad less difficult than normal. After a warmup of jump rope and burpees, we did just a few long circuits: drop sets of push-ups, pull-ups, and bear crawls across the space. In total, we did only about 45 of each, but we all still managed to build up a sweat before ultimately moving on to a rowing and mobility circuit to stretch.
I became very tense when I found out the first circuit. I've never done an unassisted pull-up and figured I'd only embarrass myself in front of my new team of strangers. CPG, however, focusses more on form and strength than imperfect function. Making my concerns known, our trainer assisted my first attempt, compensating for my lack of back strength. After I continued wiggling and floundering like a pollock on a hook, he changed my circuit to include pull-downs instead, explaining that it worked the same muscles, but would do so with better form until I had built up the strength for smoother pull-ups.
CPG was also the first team workout where the group truly felt all in this together. This weeknight class was their time to come together, joke around, and push each other. It's like a big open play room. Only instead of toys, it's filled with kettlebells and ropes. I was immediately invited into this little gang at the start of class, welcomed and encouraged to return again by different members of the group as we divided back onto the streets of Wrigleyville.
Rating: Despite all the great feels I left with, I wish my workout was more intense that night -- 3.5 stars.
WEEK 6 
XSport Fitness Various locations
Free offer: 7 days
Money saved: ~$53.50 (3 visits)
With the end in sight I finally journeyed to Piper's Alley to redeem a free seven-day pass at XSport. In less than 24 hours after I signed up online, they had already texted me a message to ask when I'd be coming in. They texted me the same grammatically incorrect message a second time after I had already visited twice, as well.
I showed up at rush hour because that's what fit in my schedule. It was a little inconvenient for everyone else, as the line to swipe through was out the door, but they still matched me up with someone from membership for a chat and a tour. The gym was well-maintained. Tons of equipment and amenities. And at 6pm on a Monday, it was full to the ceiling. Not many machines were available and while walking through with membership, I couldn't help but feel in the way. 
 
When you consider that the only way to cancel a membership to any XSport in the country is to snail mail a certified letter to its headquarters, I'm glad I stood my ground.
XSport was the hardest to get a free pass at, hands down. They started with the typical big-box gym sales pitch of knocking down the monthly price a bit. When I declined, he walked away for a minute and came back from his "regional manager" with a Card Fee Waiver (they charge $40 just to have your membership card activated!). Still declining to spend any money, he came and went another two times before offering me a month of unlimited experience for only $1. And then it became a real fight and I almost left empty handed. He explained I'd only need to cancel my membership before the first 30 days, and it was an unbelievable steal to only pay $1. But when you consider that the only way to cancel a membership to any XSport in the country is to snail mail a certified letter to its headquarters, I'm glad I stood my ground. Eventually I got my free pass and, dumbfounded, the membership associate slunk off.
Unable to get a good workout in with the rush crowd herd, I left and came back at 10:30pm. XSport is 24 hours, after all. And my membership guy said he'd be there when I got back to do a free body fat test, but he wasn't. The pack of people had gone and all that was left were a few die-hard lifters and a couple late-night runners. The locker room was now sweetened by the sticky smell of chocolate whey and damp towels. I went through my workout unobstructed. It's so large and corporate, like I was lifting weights in a Best Buy.
Seeing the pickup basketball game had finished up, I grabbed a ball from the front desk and tried shooting a few hoops of my own. This was the only gym I visited with court access, so I figured why not?
I'm terrible at basketball. It's been reinforced. I was ready to give up about four minutes in, but I realized a few girls had jumped on treadmills facing me on the court. I doubt they were watching me, but I managed to keep myself shooting more seriously for 15-20 minutes. It was a struggle of finding the perfect time to make it seem that I was done playing and not just giving up.
Rating: Overall, XSport's offering and facilities are a 4, but for as much work as it took to get my free trial and the overcrowding during ideal hours, it's more of a 2.5 in my mind.
The results
Did I meet my goal? Not exactly. I lost weight -- 4.2lbs -- but it wasn't the 10lbs I hoped for. I was still drinking beer and eating pizza, though, like any good Chicagoan. I did, however, go up in weights for just about all of the exercises. I also managed to lose 3.75in off my belly, three-quarters of an inch from my hips, and increase my chest size a fourth of an inch. I'm hoping that last one is a good sign of muscle growth. I never consulted a doctor about any of this, so who really knows? Learn from my mistakes and pick the gym that best fits you. I regretfully never made it to a tanning bed -- maybe that will be an adventure for another time.
Sign up here for our daily Chicago email and be the first to get all the food/drink/fun in town.
Zack Shornick is a Freelance Writer at Thrillist and tends to eat on the run, so he doesn't see why people give him dirty looks while he's chomping jerky on the treadmill. Follow him at @zackshornick.