The Most 'Chicago' Chicagoans of All Time
Jesse Grant/WireImage/Getty Images
Only a select few iconic Chicagoans truly embody what the city stands for: its hard-working blue-collar attitude, the skill and the talent without the LA showmanship or New York braggadocio. Only the most "Chicago" of Chicagoans can represent what makes the city great while still maintaining a grounded sense of self -- looking at you, Kanye. These folks, past and present, have truly embodied our city to earn "Chicago" Chicago status.
Scottie Pippen
Yes, Jordan is the icon, the all-time great, his name is on the steakhouse, but we can identify Scottie Pippen more closely with Chicago. A champion sans flash, Pippen was the workhorse, filling in all the holes, rebounding, and doing the dirty jobs. He was the toughest defender in the league for almost a decade while also famously running Phil Jackson's triangle offense. Even surrounded by all-time greats on the Dream Team, coach Chuck Daly claimed, "I know Michael's the best player, but Pippen was the best player on that team." Any true Bulls fan will always remember Pippen as one of the all-timers, every bit as worthy as his famous partner. The legend of the Mr. Sub pitchman lives on.
Mike Ditka
You saw this one coming from a mile away didn't you? Well that is because few people over the last half decade have so embodied the city they stood in than Mike Ditka. He is not just a symbol of Chicago's Midwestern blue-collar toughness, he was a genuine cultural phenomenon from his much-loved mustache and sweater vests to the adoration he received from the Chicago Bears superfan sketches on SNL. The great '85 Bears team had plenty of iconic players like Walter Payton or Mike Singletary, but it was Ditka's "Iron Mike" attitude and intensity on the sidelines that defines the team to this day.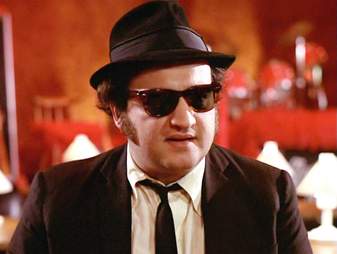 Universal Pictures
John Belushi
You could fill many many more articles with the comedy legends that have called Chicago home at one point or another, his SNL co-star Bill Murray being oh so close to this spot. None however possessed Belushi's perfect middle-American attitude as a comedian who was rough around the edges but would do anything for a laugh. The Humboldt Park-born and Wheaton-raised comedian got his start as so many did at Second City before he became the live or die sparkplug that SNL ran on (and it was frequently both). Belushi had the kind of high energy slob charisma that you rarely see coming out of the more snarky and uptight coasts. That being said, the Chicago classic Blue Brothers would be reason enough alone for him to make this list.
Richard J. Daley
The Daley name is synonymous with Chicago and our mayor of 21 years is the reason for that. One of the seemingly dozens of mayors to come out of Bridgeport, the senior Richard Daley has cast a shadow over all of post-World War II Chicago. Daley was famous for his boisterous personality, thick working-class accent, and the dictatorial control he wielded over the city. He is, for all the good and bad that comes with it, the quintessential Chicago boss mayor. He was hated and loved, almost certainly corrupt, and yet incredibly effective, helping to keep Chicago from suffering the sad fate of many American cities in the late 20th century. The city has changed a lot since he died in 1976 but for all intents and purposes we are still living with Richard J. Daley.
Oprah Winfrey
All hail our city's most famous resident (yes that includes you Barack). Oprah's success story of overcoming a tough childhood to become a world-renowned star is itself a great tale, but what makes her a Chicago Icon is her status as an all-time tycoon. She not only revolutionized the daytime talk-show format but has built an empire that made her into the "Queen of All Media," and the first ever African-American billionaire. Her genuine humanity helped build her into a star, but that one-time local Chicago talk show host now commands a following that has made her one of the most powerful women in the world and a true projection of our city's international influence.
Eliot Ness
Chicago was home to one of the most notorious criminals of the 20th century in Al Capone, but it was also home to one of the greatest crime fighters of the 20th century in Eliot Ness. He may have been immortalized in TheUntouchables, but Ness was plenty famous in his own time and deserving of all that lionization. In an era of brutal crime and widespread corruption he took on mobsters and famously turned down a bribe worth over half a million dollars a year in today's money. What is tougher to you, running a bootleg operation from the comfort of your Uptown penthouse, or risking your life to help rid your hometown city of maybe the most powerful mob boss in the nation? Plus he ended up with a damn-good beer named after him.
Bernie Mac
Southsider Bernie Mac was a prime example of the rough and tumble nature of Chicago. After being raised in the city, he got his comedy start in the Cotton Club and built a reputation as a tough but insightful comedian. Equally fearless as a performer (just watch his Def Comedy Jam breakthrough) and cutting as a social critic, he credited the city for his unique personality, one he steadfastly refused to change in order to break through into the mainstream. He was particularly gifted in dealing with his personal life in Chicago, which also became the basis for his eponymously named TV show. In it he managed to showcase his tenacious attitude while balancing it with a genuine emotional core centered on his connection with his family and the city around him.
Bobby Hull
Chicago is unique, and lucky, in that it is almost impossible to pin down its top sport. The Cubs are the iconic lovable loser, MJ made the Bulls one of the NBA's premier franchises, and football has taken over as our true national pastime even as the Bears have struggled. But when it comes to both their recent resurgence as champions, the gritty nature of the sport, and of course the cold weather, it's hard to deny that Chicago feels like a hockey town. Bobby Hull's toothless grin remains an iconic image of the Original Six franchise. Hull was famously as fast and skilled as he was tough, and his all around game and at-the-time-unprecedented level of goal scoring helped lead the Blackhawks for 14 great seasons. There are few things more Chicagoan than an immigrant (it was just Canada, but still counts) gutting it out in the Windy City and becoming a legend.
Roger Ebert
The most celebrated American film critic of the century, of course. But just as important to this list, someone who wrote reviews that were equally accessible and compelling, insightful and understandable. Ebert towed the line between the art of criticism and the art of appealing to mainstream readers perfectly in a way that reflected the city around him. He possessed a dry wit that was not showy but was plenty cutting and scoffed at films that were overly pretentious without anything at their core. He was also an independent spirit who frequently went against grain of a movie's overall critical reception. A true Chicago original.
Mike Royko
There have been writers from Chicago that were more popular on a national stage but Mike Royko was the quintessential chronicler of the city for over 40 years. Starting as a political reporter, Royko's penetrating and skeptical commentary earned him the admiration of readers and the hatred of city bosses (including Richard Daley, who Royko wrote an unauthorized biography of). Once his popularity was cemented, he was given a daily column which he used to comment on all aspects of Chicago life. Throughout his career he maintained an almost impossible work output for a writer. He also never lost touch with the culture of his hometown, helping to popularize his favorite haunt, Billy Goat Tavern, including the famous Billy Goat Curse, and frequently "conversing" with fictional blue-collar Chicagoan Slats Grobnik. Few people understood and loved Chicago like Mike Royko.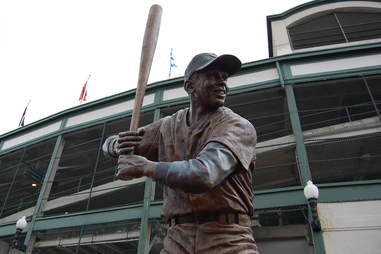 Flickr/picbot
Ernie Banks
There may not be a single person in Chicago who was as universally beloved as Ernie Banks.
Mr. Cub himself was the first African-American player for Chicago's most iconic team. Throughout losing season after losing season he carried Cubs, never expressing displeasure at his circumstances. His famously cheerful personality and love for baseball made him a fan favorite, and he returned that devotion to the city. He remained an ambassador of the franchise after his retirement while he worked to build up businesses and improve Chicago, including a failed bid for alderman. He stood up to discrimination and adversity all with a smile on his face, building an incredible life with an incredible sense of humility.
John Cusack
A born-and-bred Chicago boy, Cusack has had a long Hollywood career with plenty of big hits to his name but has always maintained his Midwestern roots. He carries an amiable but intelligent demeanor, contemptuous of all the LA trappings his stardom would normally bring. That level headedness has kept him a Chicago resident, and he can frequently be spotted around town or taking in a Cubs or Blackhawks game. It doesn't hurt that he started his career playing exactly who he was, a cute teenager from the North Shore in Sixteen Candles, or that he played one of the best Chicago characters ever in High Fidelity. There have been more famous movie stars to come out of Chicago but almost all of them have forsaken their homeland for the glamour of the coasts. Cusack has remained true to where he came from, and for that he is a true Chicagoan.
Sign up here for our daily Chicago email and be the first to get all the food/drink/fun in town.
Matt Spina embodies very little about Chicago himself but he does like it here. Follow him @MR_spina