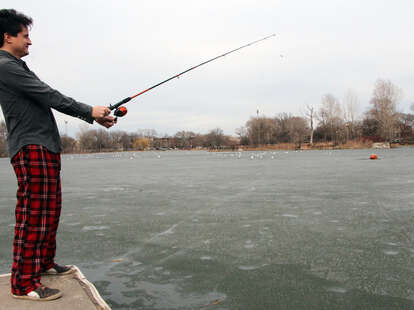 We would never, under any circumstances, support you and your boyfriend/girlfriend running afoul of Johnny Law like you're Bonnie and Clyde. BUT, on the off chance you're feeling like you want to break some rules and get a little crazy, these eight illegal Chicago dates should be enough to get your heart rate up (among other things). Again, we don't condone doing any of these illicit activities... we're just going to outline them in detail.
Go fishing in pajamas
How to pull it off: If your Tinder date doesn't bite on this one, then just throw them back. Get into your PJs or, if you don't have any, just order up some adult Garanimals. Use this date as bait for a sleepover. Everyone knows that the early bird gets the worm, so make this your chance to do that in more ways than one.
What laws you'd be breaking: A very archaic city law mandating that, well, you can't fish in pajamas. It's almost as weird as getting arrested for flying a kite in Chicago.
Go for a swim at a luxury hotel pool, uninvited
How to pull it off: If you and your date are in the mood to get wet, then we've got the skinny on how to sneak into some fancy hotel pools around Chicago. The difficulty levels range from simply taking the elevator to the pool to acquiring a key card. Brownie points for anyone who gets naked and/or hooks up in a sauna.
What laws you'd be breaking: If you're caught and clothed, you'll be unkindly escorted out of the hotel by the security department. If you're traipsing about naked, let's hope you at least got to finish your business because Chicago law states that the penalties of public nudity can include up to one year in jail and a maximum fine of $2,500. Yikes.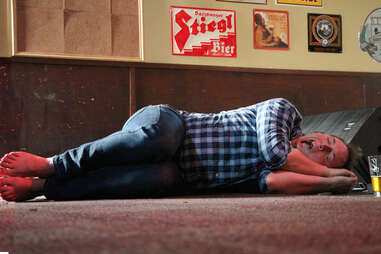 Party on the dance floor until you fall asleep
How to pull it off: Ask your date if he or she is up for a 4am bar challenge. If they're game, then plan your night so you can hit a batch of these spots and end up at Beaumont or The Hangge-Uppe and dance until you can't dance (or stay awake) anymore. Also, plan for a wicked hangover.
What laws you'd be breaking: What, you didn't know it was against the law in Chicago to take a nap on the dance floor? That's like a first-degree offense aside from killing the party vibe -- which is murder.
Get freaky in the hotel lobby bathroom
How to pull it off: There are some ultimate bragging rights in being able to say you've desecrated the restrooms at The Trump. Even the bathrooms are sexy. Walk inside the main entrance like you're a guest (use an alias), pass through the front desk area, and look for the double doors on the right. Open them up, walk through the hallway, and find the bathroom at the end. Once one of you grabs a stall and confirms the space is clear of intruders, welcome your date inside and do the dirty. Ladies -- wear a dress. Men -- wear breakaway pants, for the surprise.
What laws you'd be breaking: You'd be charged with public indecency, which could carry a jail sentence, a maximum fine of $2,500, and the need to register as a sex offender, albeit a pretty cool one.
Hit a farmers market with less than $1 on hand
How to pull it off: Easy as pie. Or, um, apple cider donuts and fruit-filled popovers and all the things you can buy from your local farmers market like those in Logan Square, Andersonville, Green City Market, etc. And next time you go, try teasing yourself and your date by having less than one dollar on you and limiting yourself to sampling like a champ. Befriend the blueberry lady, it's your only hope.
What laws you'd be breaking: You're risking the chance of getting arrested for vagrancy, which is a highfalutin word for "drifter."
Take a dip in the Buckingham Fountain
How to pull it off: If you've ever overdone it at Lollapalooza, you've at least considered what would happen if you did this. During Lolla, you're conveniently in Grant Park, it's really hot outside, and you're prone to making questionable decisions, like sitting through Mumford & Sons. Taking a dip in Buckingham Fountain might be an intriguing proposition; after all, you're already half-naked.
What laws you'd be breaking: Trespassing, reckless conduct, and "illegal swimming." Basically, you'll get arrested and thrown in jail or you'll face a hefty fine. But you'll be able lord it over your wuss friends who didn't jump in with you.
Refuse to call your man "master" while on a date
How to pull it off: This originates from another ridiculous, arcane blue law mandating that a man's female companion must call him "master" while out on a date. Maybe the lawmakers were big into role playing (and not just perpetuating gender inequality). Regardless of the reasoning, unless you're dating a male dominatrix, skip the weird formalities.
What laws you'd be breaking: Not 100% sure, but maybe a judge in an olde tyme wig would sentence you to the stockade.
Crash a wedding
How to pull it off: Watch Wedding Crashers and take notes. Find an upcoming wedding by studying the wedding announcements in the paper. After you've picked the location and date, research the couple online, sleuth on social media, or plug their names into popular wedding portals like WeddingChannel.com or TheKnot.com. Make sure the venue, and therefore the guest list, is large. On the night of the wedding, dress the part and bring a card or a small gift. When someone starts talking to you, lead in by asking them how they know the bride or groom. Then claim the opposite connection.
What laws you'd be breaking: It's not a crime to crash a wedding, but the groom or bride can call the police and have you arrested for trespassing... or they'll just commend you for professional con work.
Sign up here for our daily Chicago email and be the first to get all the food/drink/fun in town.
Amanda Cohen is a freelance writer for Thrillist Media Group. She was born and raised in St. Louis, attended Indiana University, and now resides in Downtown Chicago. Outside of work, she loves to write, eat clean, exercise, and get her Zen on through meditation and mindfulness.