By this time of winter, Chicagoans' cabin fever has turned into a full-blown epidemic. It's time for a dose of culture beyond your latest podcast obsession -- and the typical downtown museum circuit. To get you out of the house (but keep you safely ensconced in indoor heating), we scoured the area to bring you some off-the-map attractions within a two-hour drive that will leave you wondering why you don't escape the city more often.
Munster, Indiana
Why sob into your cabernet over 1989 lady-classic movie Steel Magnolias at home when you can openly weep to a live version in the company of strangers? The Theatre at the Center's rendition, running February 22 to March 25, may not feature original stars Dolly Parton, Sally Field, Julia Roberts, and Shirley MacLaine, but plenty of beauty parlor antics are guaranteed, both on and offstage.
A special March "Makeover" Madness event includes makeup applications, chair massages, a jewelry sale, and video workout demos. While the theater does offer a nightly cash bar, if you'd like a pre-show beer, the brewpub at Three Floyds, one of the Midwest's top breweries, is less than 10 minutes away. (Because this is the Midwest, they also serve cheese curds.)
Oak Park, Illinois
Thanks to some guy named Frank Lloyd Wright, this Chicago suburb is steeped in rich architectural history, and his home and studio are a hugely popular tour destination. If you like your houses a little older (think Victorian era) and your famous men steeped in a little more rum, the birthplace of Ernest Hemingway draws fewer crowds but no less intrigue.
While it isn't the most famous of his homes (that one's in Key West, Florida), Hemingway spent the first six years of his life in this Oak Park mansion, the town's first to feature electricity. And for those with a literary interest, 2018 is an especially important time to visit the home and make donations. Last October, the Ernest Hemingway Foundation of Oak Park closed its separate museum space, in the hope of building a new, multi-purpose facility on the mansion's property with the help of donors and capital funding.
Kenosha, Wisconsin
Just as Philly cheesesteaks are not actually steaks made of cheese, the Mars Cheese Castle is not, in fact, a castle constructed of cheese. Fear not: The variety of cheeses, meats, beverages, local kitsch, and general snack items found inside this roadside attraction's walls will more than make up for the initial disappointment. A 24,000-square-foot expansion, unveiled last May, included a new grand dining room with throne chairs, available to rent for any cheese or non-cheese related celebration.
Beyond the dairy delights, one Cheese Castle highlight is the attached bar and restaurant, home to an impressive collection of beer steins, as well as a delightful array of local Kenoshans just looking to enjoy an afternoon beer, thank you very much.
Milwaukee, Wisconsin
At last count, there were approximately 34,921 brewery tours on offer in Milwaukee and the surrounding area. So consider the Pabst Mansion, the family home of Pabst Brewing Company founder Captain Frederick Pabst and his wife, Maria, a palate cleanser of sorts. Completed for just over $254,000 in 1892 (or about $6.6 million today), this house that beer built is filled with almost 5,000 decorative and fine art objects, as well as the Pabst family's archives.
While most Pabst Mansion tours don't involve drinking, there are some notable event exceptions, including murder mystery dinners and a Charles Dickens-themed event around Christmas. An occasional Retro Beer Night, last held in October, invites guests to roam the halls to live polka music and other tunes while drinking Pabst, Blatz, Old Milwaukee, and Schlitz. Oh, and Captain Pabst supposedly haunts the halls.
Elkhart, Indiana
Anyone who's driven on I-90 from Chicago through Indiana has passed by the massive glass windows of the RV/MH Hall of Fame. A fair percentage of them have pointed at it and laughed. And an even smaller percentage have pulled off the interstate and headed inside to check out what's known, in technical terms, as a collection of really cool stuff.
Among the highlights is the oldest non-tent trailer in existence, built in 1913, which basically looks like a stagecoach attached to a Model T. A covered wagon trailer, built in 1929, would be a good investment for Laura Ingalls Wilder fans, and a homemade RV based on a Cadillac Eldorado looks like a space-age Wienermobile. The only downside: Visitors aren't allowed to camp out for the night.
Rockford, Illinois
You could visit the Coronado, which celebrated its 90th birthday in October, just to stand around and gape at its architecture. The lush space features imagery of dragons, castles, and villas, as well as a pipe organ, and tours are available throughout the year.
But the Coronado also plays host to a surprising variety of entertainment for a venue that's 90 miles outside of Chicago. This winter alone, the scantily-clad cast of Dancing with the Stars and the (presumably less scantily-clad) Yamato drummers of Japan have already visited the stage, with Led Zeppelin cover band Get The Led Out and the Staatskapelle Weimar Orchestra (don't make fun of their name; they've been around since 1491) among the acts to come.
Back to that pipe organ for a second: On April 7 & 28, the Land of Lincoln Theatre Organ Society offers Saturday Organ Socials, with coffee, treats, and an hourlong performance featuring music from the 1920s, '30s and '40s. Once the professional is done tickling the ivories, guests are invited to play under his or her guidance. You don't specifically need organ experience to participate, so this could be a chance to channel your inner Iron Butterfly and rock out to "In-A-Gadda-Da-Vida."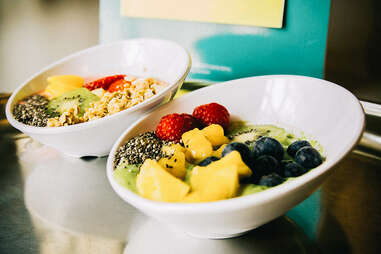 Champaign, Illinois
Surprise! Campus dining-hall food isn't just grilled cheese and heat-and-eat soup anymore. With bigger budgets at their disposal, and students' modern palates demanding more innovative meals, creative foodservice directors across the country are going all out to make their programs an actual part of the college decision-making process. Think hydroponic lettuce grown year-round in shipping containers, incorporating black currants in everything from Slick Rick's spicy barbecue sauce to burgers, and partnering with local bakeries for specialty breads.
Those choices and more are all on offer at U of I, where non-student visitors are welcome to eat at any dining hall, restaurant, or a la carte location using a credit card. So while a college campus might not seem like an obvious culinary destination, recent menu items like a build-your-own chilaquiles bar, smoked pork chops, za'atar roasted carrots, chimichurri flank steak, and a cauliflower pasta bake might make you consider pursuing another degree.
Woodstock, Illinois
As the filming site for the 1993 Bill Murray movie Groundhog Day, this small city's tourism season is brief but booming. Every year, at the beginning of February, visitors flock to Woodstock for Groundhog Days, a five-day celebration of the beloved film that includes groundhog carving, groundhog trivia, a groundhog dinner dance, a guy in a groundhog costume and, yes, a live groundhog and his shadow. (The official winter-weather-predicting 'hog, Punxsutawney Phil, can be found in Pennsylvania.)
But for those looking to enjoy its small-town charms beyond February, and without the crowds, Woodstock's Wayne's Lanes, where Murray's Phil Connors and Andie McDowell's Rita Hanson knocked down pins, is open-year round. The old-school bowling alley, established in 1941, offers eight lanes for open bowling, and runs a 40-frame tournament on Sundays through May. Or you can always just sit at the bar and debate whether your glass is half-full or half-empty.