Chicago's Diversity and Collaborative Nature Inspire Me
Why it's great to be queer in Chi-town.
Presented By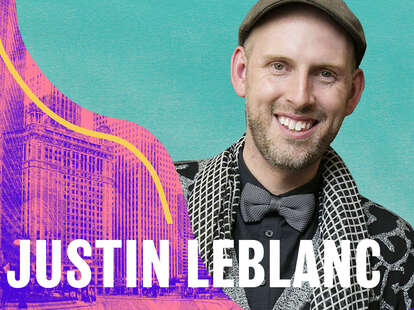 Justin LeBlanc

| Photo courtesy of Justin LeBlanc; Photo by Maitane Romagosa for Thrillist
Justin LeBlanc

| Photo courtesy of Justin LeBlanc; Photo by Maitane Romagosa for Thrillist
Justin LeBlanc
calls Chicago home. The deaf queer fashion designer and installation artist has competed on Bravo's
Project Runway
Season 12 and All Stars Season 4. Today, LeBlanc helps mold the creative skills of burgeoning fashion designers as an Associate Professor at Columbia College Chicago. As told to Ari Bendersky.
Coming from a small town in North Carolina, Chicago was a series of major wake-up calls. The city made me realize being a member of the LGBTQ+ community should be celebrated and not silenced. The queer culture in Chicago is endless and I am constantly in awe of the people I meet and the inspiring voices they bring to the community.
One of those wake up calls was the large queer deaf and hard of hearing community here. We are not as niche as you may think. As a gay deaf man, I realized how alienating it can be if you don't fit the mold. I often feel like my deafness is not considered to be of value, and I think we can do better to recognize and celebrate this part of the LGBTQ+ community. My intersectional identity is something I love about myself—I celebrate my deafness and I celebrate my queerness and the beauty of both of those communities.
I love that Chicago is a big city with several small towns within it. Every community around Chicago has its own vibe, its own important place in the symbiotic relationship to the city as a whole. Some of my favorite places to explore are those where I can absorb the spirit of the neighborhoods and appreciate the human connections.
I've lived in a number of neighborhoods over the years—Andersonville, Gold Coast, Evanston, Winnetka. I absolutely love Andersonville because it is such a family-oriented, queer-friendly community. Andersonville has this amazing inclusive atmosphere with several great places to really enjoy yourself like Marty's Martini Bar, Replay, Brown Elephant (a thrift store that supports Howard Brown Health), and Women and Children First Bookstore, which is a fantastic trans-inclusive, feminist-curated independent bookstore. If you can't tell, I love my community.

Pride is way more than just parades and parties. With Xfinity, pride is a year-round celebration — thanks to their massive collection of diverse, community-endorsed LGBTQ shows and movies. From a Transgender Awareness Collection of content, to RuPaul's Drag Race Werk Room — to an LGBTQ Kids & Family Destination of TV shows and movies, you can find the best queer content on your TV just by saying "Pride" into your Xfinity Voice Remote, or watch them on any device with the Xfinity Stream app.
I am currently in Winnetka with my husband so we can be closer to work and our family as we start our own family. We love walking over for a bite at La Taquiza and window shopping at Maison Du Prince, is Black queer-owned home goods boutique. If I could pick any area of Chicago to live in, I would pick Wicker Park, since I consider it the unspoken third queer-centric neighborhood. I am obsessed with Elizabeth Cronin and her [Wicker Park] floral business, Asrai Garden—if you haven't watched her on Full Bloom on HBO Max, you are missing out on some great LGBTQ+ TV.
I always challenge folx to try local arts. Some of the best ways to experience the heart of any city is through its arts and culture. Many of our arts organizations are non-profits that need our support to survive and keep our city vibrant. Some of my favorites are About Face Theatre, Project Onward, Chicago Botanic Garden, the local drag scene, and a musical theater company I work with, Music Theater Works.
This has been a year like no other and just looking back, I am gobsmacked by what the world, and more specifically, by what our community went through and is still going through. Working in the arts, I saw so many of my creator friends pivot their careers, lose their jobs, and struggle to pay their bills. Many people are still living with job insecurity or are having to pick up other jobs to make ends meet. I felt, as an artist, much of what we do was seen as invaluable while we dealt with the pain and resolve of protests and the pandemic. But I believe we have immense value—to have conversations, to create, and to heal. The emotional, physical, and mental strain of this pandemic, the violence against BIPOC folx and the AAPI community, will be felt for years to come. I hope we, as artists, can share resources and gain a wave of support from the community and our government. I would argue that the arts are needed to heal minds and hearts and should be seen as "essential." All these historic events have shed some light on the strength of our communities, and I hope we will see that we are stronger when we come together.
Take Pride, which in Chicago is AMAZING. You can feel the love throughout the city and it's a great opportunity to live loudly while connecting with friends and family. I'm one of the organizers for the newly established Evanston Pride and we will be launching our very first Evanston Pride Parade this year, which I am very excited about.
Chicago's diversity and collaborative nature inspires me. We are a large city but a tight community. My group of artist friends strengthens our relationships while, at the same time, my bubble grows. This allows me to hone my craft as a designer while being inspired by those around me. One of the things that inspires me most are my colleagues and students at Columbia College Chicago—their passions push me to see the industry in new ways, literally every single day.
Those who know me as a fashion designer know that I love doing heavy embellishment on garments. This often includes hundreds and thousands of elements. If I were to design an outfit for Chicago, it would be a suit of stories. A vibrant power suit with a strong, broad shoulder and long, exaggerated pant. The outfit would include several embellished patchworks and badges in greyscale—I love black, white, and anything in between—layered into the garment to reflect the amazing communities and stories here. I would love to see this garment come to LIFE! Chicago drag queens: Give me a call and we can make this happen.