Things You Didn't Know About Metro
Iconic Chicago rock club Metro is turning 35 next year, and in that time, owner/club founder Joe Shanahan has accumulated more than enough stories to fill a book. That tends to happen when your venue's next-door neighbor is Eddie Vedder. Rather than waiting for the legendary local promoter to pen his memoir, we sat down with him in his Wrigleyville digs to uncover some of the most interesting bits of local rock history you've probably never heard.
Wrigleyville used to be a shithole... well, more of a shithole
"It was this great neighborhood," recalls Shanahan, reminiscing about the area surrounding the club when Metro opened in 1982. "It's not what it is today. It was full of really funky cheap apartments. Quite honestly, that's how some of the bands ended up playing Metro because they lived in the area. The Cubs weren't playing very well then and the area was dicey. I remember most nights we didn't let any of the cash walk out without at least four guys taking it to the local bank for a nighttime deposit. There was a lot of heroin and a lot of gangs, so we got to know our alderman and the commander CPD guys real quick. They were happy we were bringing music and a kind of cultural shift into Wrigleyville at that time."
Smart Bar was once a reggae club called Cool Runnings
Metro's downstairs club Smart Bar, now known as one of the preeminent dance clubs in the nation, once elicited a very different vibe. "It was called Cool Runnings," explains Shanahan, who adds that it only became Smart Bar after the owners of Cool Runnings left to open up former Clark St reggae club Wild Hare down the street. "It was great, because we'd have these punk kids and punk shows at Metro, and then this pretty great reggae club beneath the Metro." Also, at that time, Metro wasn't Metro, it was called Stages Music Hall. "The original Smart Bar was on the fourth floor of this building," Shanahan adds. "It's where our current offices are."
The crowd once ripped apart Dave Grohl's drum set
And, according to Shanahan, the act was entirely premeditated. "[Dave Grohl] needed a new drum kit, and he basically set it up when Nirvana played here on the week that Nevermind was released. He played on this rickety old drum kit and he needed a new one." Apparently Grohl had been talking to his manager and was unable to procure one.
"That was the night he kind of pushed the drum kit into the audience and they began to take it apart. He had to get a new one after that because it was gone. Whatever else came back on stage, they could barely finish the set. Kurt was trashing [the stage]… shit was just being destroyed on stage, and Grohl in his right mind was thinking, 'I need a new drum kit, I'm gonna push this off stage.'"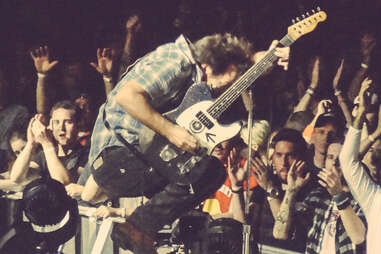 Eddie Vedder used to live above a bar next door
"When Vedder and Pearl Jam were just starting out, they had some of the best shows here," says Shanahan. "Eddie used to live next door above a little bar called the Wrigleyville Tap… He'd come back from tour and do his laundry right here on the street. I think he was crashing with a local production guy who used to work at the Vic and the Riviera and Metro." Shanahan recalls the singer coming back to town often when "he'd break from the road, break from tour" around the early '90s.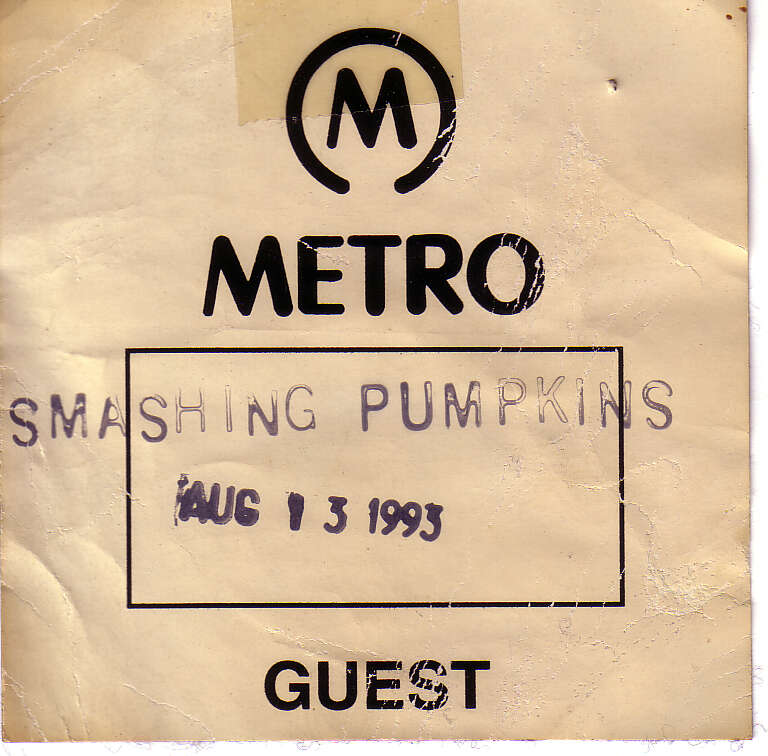 James Iha of Smashing Pumpkins would ride motocross through the hallways
There may not have been Hell's Angels terrorizing the club on motorcycles, but Metro did get some two-wheeled excitement when Smashing Pumpkins played a year-long residency at Metro in the late '80s, which helped put the band on the national map. "You can't talk about Metro without talking about the Pumpkins," Shanahan says. "So many nights, so much fun. James riding in on his motocross bicycle popping wheelies on the first floor and then going up on stage and plugging in… He would ride his bike to practice, he would ride his bike to soundcheck. Billy walked from where he lived on Southport. D'arcy would leave her waitress job down the street at the coffee shop and walk to work."
Guns N' Roses sought refuge at Metro after fleeing LA
"They rented a small theater on the fourth floor called the Top Note Theater," Shanahan says. "It was a space I rented to the band while they woodshedded [during the] the Use Your IllusionI and II era. I think the story is they were getting in a lot of trouble in LA and their manager at the time was looking to give them a different sort of environment that wasn't as corrupt… They were like, 'Look, we gotta get away from all this nonsense because we'll never write another record probably.'"
But despite what you may think, according to Shanahan, the band was remarkably well-behaved. "I met regular guys, I never saw any nonsense," he recalls. "They wanted to hang out, they wanted to drink, they'd leave Metro and walk to Leona's and have pizza. That's about as normal as you could get." The best story he recalls about Slash? The one time he asked Shanahan if he could use his fax machine so he could fax a contract back to his attorney for a house he had just bought for his mom. "I looked at him and I was like, 'You bought your mom a house?' and he's like, 'Yeah,' and I go, 'You're a good fucking guy, man.'"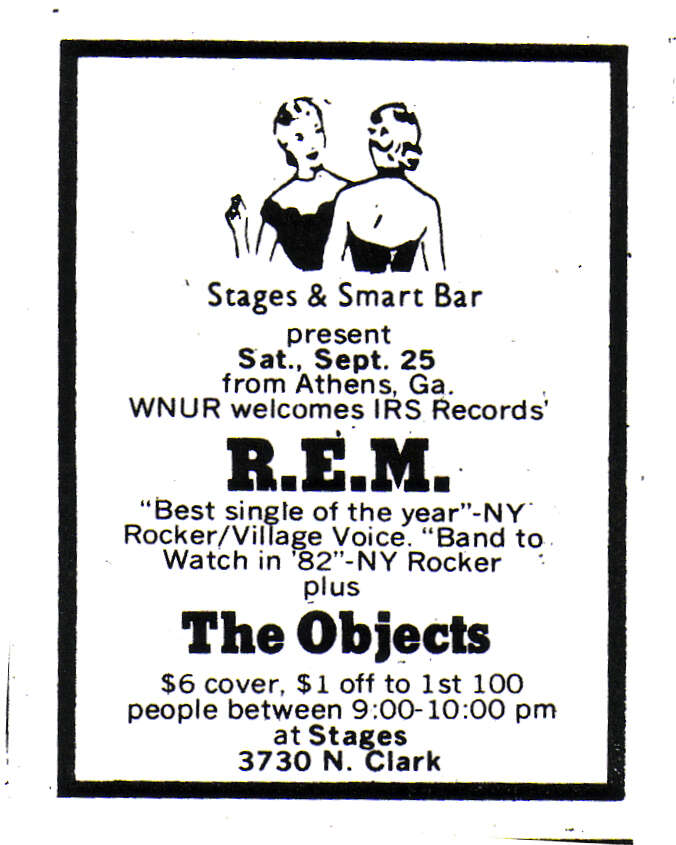 The first show at Metro was R.E.M.
Shanahan was (and still is) a huge fan of R.E.M., and he recalls seeing them open a club in New York in 1982. "I somehow finagled my way backstage and introduced myself to the band and said, 'If you ever come to Chicago, you should come play my club,'" he says. "There was a little fudge in there because I didn't quite have a club. I was kind of just renting rooms in the club [then still owned by Stages Music Hall]. But I did get that phone call because they had a promoter drop out and they were like, 'Can you put on our show tonight?' It was the first show I promoted and maybe 500 people showed up. I was able to pay all the bands, I was able to pay all the staff, and then I had money left over for pizza and beer. And I thought, 'That was it. We're a success.'"
Moby once brought a wheatgrass press backstage
While Shanahan was hesitant to reveal too many backstage stories -- saying, "I don't kiss and tell, what goes on backstage stays backstage" -- he did reveal this fairly hilarious nugget. "I remember when Moby brought in a wheatgrass press, that was a first," Shanahan says. "It smelled really good, he had like aromatherapy going… I was like, 'Hey, this is really good, this place usually smells like really stale beer.'" He also recalls when Depeche Mode played the club and David Gahan was backstage doing a yoga pose on his head against the wall in a perfect lotus. "I thought it was really impressive."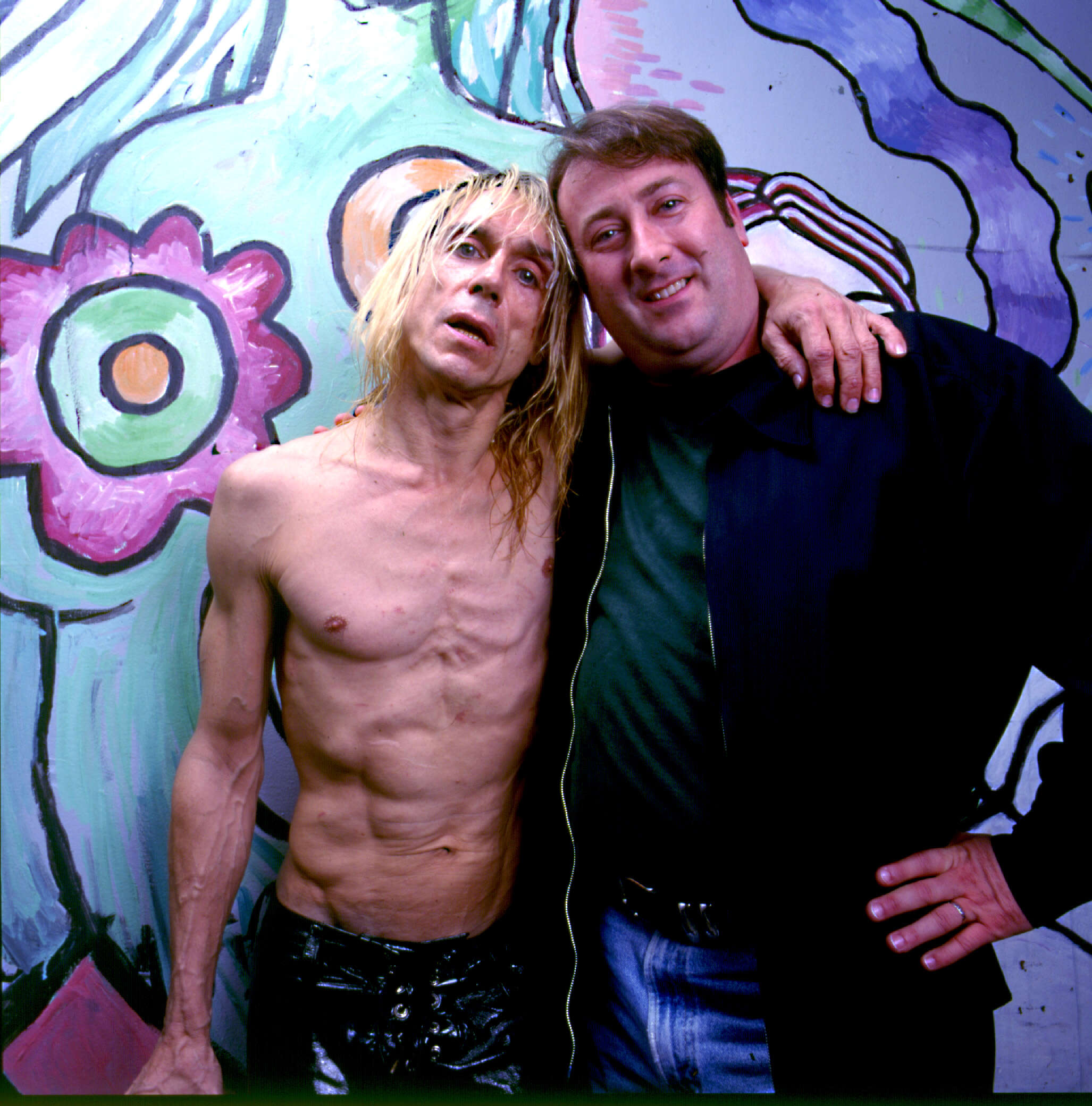 Iggy Pop once lifted the massive stage monitors so he could backflip into the audience
"It cannot be underestimated how important it was in my life when Iggy Pop played Metro," says Shanahan, a huge lifelong fan. "When Iggy picked Metro to play in 1988… I watched something that I'd never seen before. He was able to lift the stage monitors. It would usually take four men to do this. He was able to move them, then backflip himself into the audience… It made my heart stop, made my jaw drop."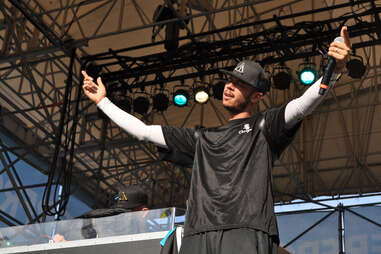 Josh Young from Flosstradamus was a member of the Metro street team
Flosstradamus is now known as one of the leading electronic acts on the dance music/festival scene today. But back in the day, Josh Young (aka J2K) was just another lowly intern at Metro. "He was an intern here at Metro," Shanahan recalls. "I remember him walking around the office and it'd be like, 'Josh is doing a DJ gig tonight at… Town Hall Pub.' We'd all go over and they'd be set up on card tables and the room was full of a couple hundred kids going bonkers to the music."
Metro convinced James Brown to play the club… by promising him a dance party
"We worked really hard to convince his manager to play a non-Park West, or a non sit-down venue," says Shanahan, recalling that at the time (in the late '80s/early '90s), Brown was attracting an older crowd that wanted to sit down during the show. "We threw the idea of a dance party on him, and he went for it. We had a blast… [It was] one of the greatest nights of my life."
Sign up here for our daily Chicago email and be the first to get all the food/drink/fun in town.
Jay Gentile is a Thrillist contributor and he is still recovering from catching the LCD Soundsystem Lollapalooza aftershow at Metro. Follow him @innerviewmag.