From Chicago's Buckingham Fountain and Cloud Gate to the vibrant and sprawling botanic garden in Glencoe, Illinois is home to some pretty spectacular sights -- especially for being a cornfield-filled Midwestern state. But there's plenty of natural and man-made beauty in this state that you probably never even knew existed, including hidden waterfalls, flooded forests, and historic structures. Here's a look at Illinois' most beautiful under-the-radar spaces.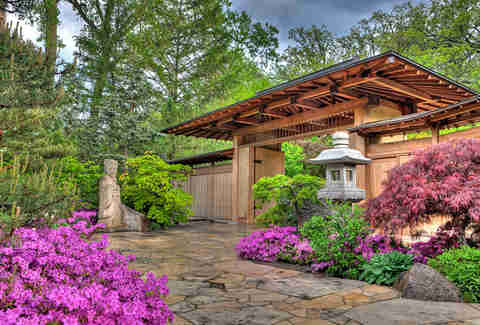 Anderson Japanese Gardens
Rockford
Regarded as one of the most authentic Japanese gardens in North America, this 12-acre sanctuary in the heart of Rockford features waterfalls, a traditional tea house, ornate bridges, rock gardens, and more. If a more serene place exists, we haven't found it yet.
The waterfalls at Starved Rock State Park
Oglesby
All 2,630 acres of Starved Rock State Park are stunning, but the waterfalls are what truly make a hike through the canyons and trails worth it. The best time to see them is after a heavy rainfall or in the spring when the snow and ice have melted.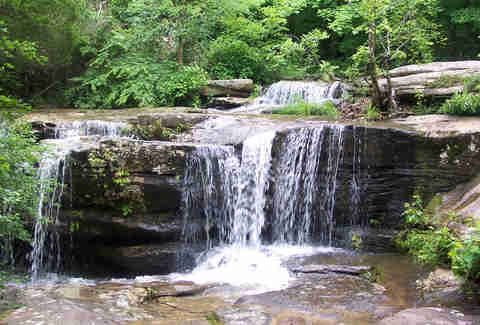 Burden Falls
Shawnee National Forest
Lauded as one of the highest waterfalls in Illinois, this impressive waterfall is a worthy hiking destination while out on the 400 miles of trails in the Shawnee National Forest, and an even more worthy spot for a seriously beautiful photo op (selfie stick optional).
Grosse Point Lighthouse
Evanston
Now considered a national landmark, this historic lighthouse was originally erected in 1873 in response to frequent shipping disasters just off Evanston's coast. Stop by to tour the space and climb the 141 steps to the top of the tower. Pro tip: treat yourself to a post-climb burger at Edzo's because, you know, all that stair-stepping is hard work.
Great River Road
Virtually the opposite of Chicago's rush-hour insanity, this peaceful scenic drive follows the flow of the Mississippi River for more than 550 miles along the Western edge of the state. The meandering road is home to unobstructed views of the river and the woodlands, and even passes through small Midwestern towns like Galena, Alton, and Grafton.
Fabyan Windmill at Fabyan Forest Preserve
Geneva
This 68ft, five-story windmill was built in the mid-19th century, and is considered one of the best examples of an authentic Dutch windmill in the United States. It underwent a major and necessary restoration, as the structure had fallen into disrepair, and has been operating as a seasonal tourism site since 2005.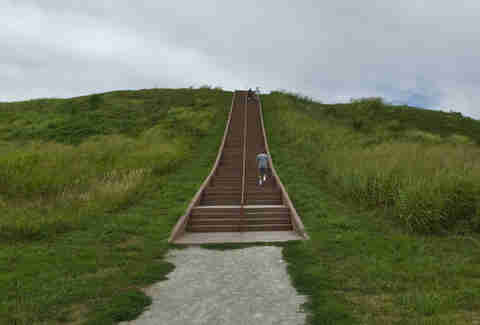 Cahokia Mounds
Collinsville
This sweeping 2,200-acre site is Illinois' one and only United Nations World Heritage site, and contains the remnants of a massive portion of the largest prehistoric Native American civilization in the United States. Climb Monk's Mound, check out the Woodhenge calendar, and learn about what life in this early city was like at its peak from A.D. 1050 to 1200.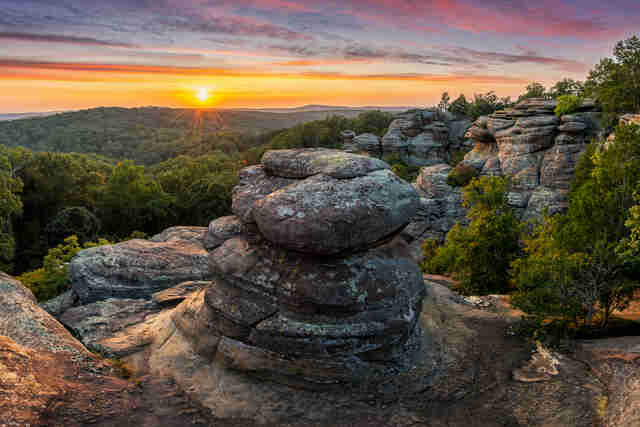 Garden of the Gods
Shawnee National Forest
Equally can't-miss in the Shawnee National Forest is the Garden of the Gods, a jaw-dropping collection of rock formations that Mother Nature's been working on perfecting for millions of years. The most prominent formations include Camel Rock, Anvil Rock, and Devil's Smoke Stack.
Nicholas Conservatory & Gardens
Rockford
Between its green house-like architectural beauty, lush indoor and outdoor gardens, and proximity to the Rock River, Illinois' third-largest conservatory makes for an easy day trip from Chicago all year round. Explore the Sinnissippi rose gardens outdoors during the warmer months, and enjoy the tropical plant-life indoors and play hockey on the Eclipse Lagoon in the cooler months.

Spoon River Valley Scenic Drive
Canton
There's no better time to cruise along this scenic, largely tree-lined road than in autumn when the leaves change colors. Gas up the car and enjoy over 100 miles of natural beauty, as well as manmade beauty like the dam on the Spoon River at Bernadotte, the public boat dock at London Mills, and the historic Ellisville Opera House.
Buffalo Rock State Park
Ottawa
The coolest part about this charming park on a bluff of the Illinois River is undoubtedly the Effigy Tumuli, five earthen sculptures molded to look like a snake, a turtle, a catfish, a frog, and a water strider -- all of which are native to the Illinois River area. The second-coolest part? Two furry American bison who call Buffalo Rock home.
Grand View Drive
Peoria
Don't let the fact that it's only 2.52 miles long fool you: this glorified driveway packs killer panoramic views of the Illinois River Valley, and was even called "the world's most beautiful drive" by President Teddy Roosevelt during his visit in 1910.
Mississippi Palisades State Park
Savanna
This state park is located near the confluence of the Mississippi and Apple Rivers, and with 15 miles of varied and rugged trails, is a favorite among hiking aficionados. Take in the dramatic cliffs, limestone caves, and wooded ravines, and if you're feeling ballsy, bring your own rock-climbing equipment and have a go at Twin Sister and Indian Head, two of the most popular rock formations open for climbing.
Volo Bog
Ingleside
Not far from the Wisconsin border lies one of northeast Illinois' best-kept secrets: the state's only quaking bog, complete with floating sphagnum moss, cattails, and sedges. Follow the winding boardwalk paths through the thriving marshes and prairies, hike the scenic trails, and even enjoy a picnic in one of the designated areas.
Cache River Wetlands
Cypress
Travel to the southern tip of the state to canoe through the waters of this perpetually flooded forest. Sky-scraping cypress trees jut out from the algae-speckled water, many of which are over a thousand years old and have flared bases some 40ft in circumference.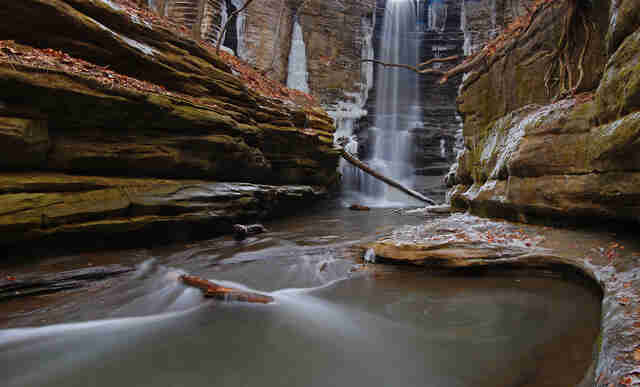 Lake Falls at Matthiessen State Park
Utica
Cascading from the uppermost part of Matthiessen State Park's Upper Dells down into the canyon below, this magnificent waterfall is every bit as impressive as nearby Starved Rock's natural water features, except less traveled.
Sign up here for our daily Chicago email and be the first to get all the food/drink/fun in town.