Like an inmate crossing days off the wall with a thinning stick of chalk, you've been lustfully eying that Sierra Club calendar all year long, waiting… and waiting... and waiting for summertime in Chicago. There's nothing like it on Earth, and these 17 things prove it.
Recommended Video
Meat Flowers Are Here to Give You The Best Valentine's Day
We pack a year's worth of partying into three months
We've EARNED this. Unlike your buddies in Phoenix who are used to year-round sunshine, Chicagoans go all out for the three months of the year when the weather isn't total crap. Hopefully you caught up on your sleep this winter.
Everyone is overall more pleasant, and everyone is outside
Fact: sunshine makes you happier. And no one is happier than a Chicagoan who just survived another Chicago winter. Just look at the lakefront. Or the sidewalks. People (and dogs), all of a sudden, are everywhere.
We are the world's epicenter for awesome summer music festivals
Lollapalooza, Pitchfork Music Festival, Riot Fest, Spring Awakening, Mamby on the Beach, North Coast, Chicago Open Air, etc etc. This caliber of music festivals just doesn't happen in any other city.
Speaking of festivals, there are only about a BILLION of those
We've got one for every neighborhood, every ethnicity, every type of food, and every type of booze. We've even got one for margaritas; that's how hardcore we are.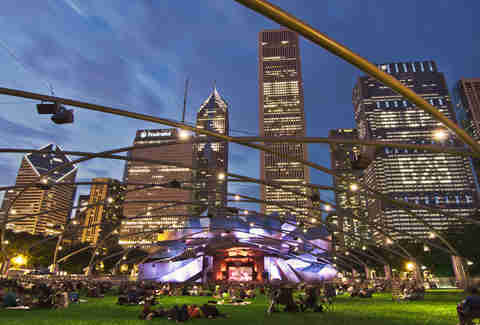 Our outdoor venues > ordinary outdoor venues
I mean, have you ever seen a show in Millennium Park? No? How about Ravinia? Oh, and did we mention we have the world's largest free blues festival? Because we have that, too.
You can boat the waterfront like a total boss
Oh, that? That's just the Chicago River. That? It's only Lake Michigan. That? It's you are your crew getting totally blotto on both. Just don't jump in the river, unless you consider a complimentary trip to boat jail another summer perk.
Our public park system is the envy of America
The Chicago Park District is the largest municipal park manager in the nation, with over 8,000 acres of green space. An acre is about the size of a football field, so, yeah, it's kind of a lot. We also have an amazing boulevard system linking our public parks (which you have foolishly been neglecting). Also, you can watch movies in them during summer.
We've got Wrigley Field
Even Sox fans have to admit, it's one of the best places in the world to spend a day. Grab a beer. Also, World Series favorites. Just sayin'.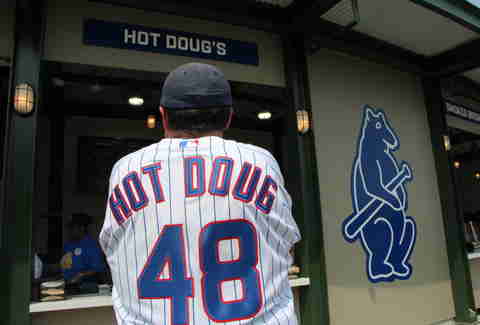 And Wrigley's given a second life to Hot Doug's
Opening Day means baseball and hot dogs, so summer is when Doug Sohn is once again able to bless us with his glorious Hot Doug's creations. There's also the once-a-year Dog Dayz of Summer at Goose Island, where all of the old menu items make an appearance. Duck fat fries = summer done right.
We've got so many beer fests, there's even one at the zoo
Not only do we have a world-class free zoo IN A PARK, we've got a world-class free zoo IN A PARK, with beer. It's called Brew to Be Wild. It exists. Look it up people.
No one does outdoor drinking like us
Chicagoans never need an excuse to drink outside, whether it's on a patio, rooftop, or at some random street fest. Once the summer solstice arrives, we instinctively wander outside with Old Style in hand. It's written in our DNA.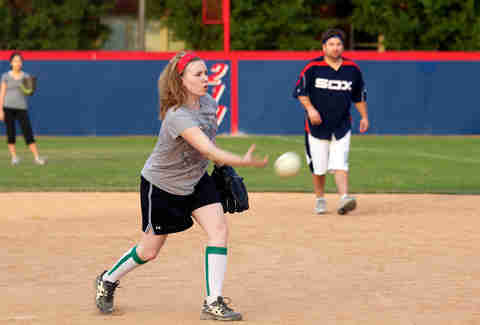 We've got 16in softball
Oh, this? It's just something we invented.
Our summers (usually) come with a Stanley Cup parade
OK, maybe not this year. But you get the point.
Your weekly drinking calendar just got extended from three days to seven
Why join your buddies for cocktails on a Tuesday? Everyone knows it'll all be over soon. Some call it carpe diem. We call it Chicago summer.
There's Italian ice aplenty
Sure, we've got kick-ass ice cream (like, bucket list-worthy ice cream), but summer is also a special time of the year when the old-school Italian ice stands are rockin' and rollin'. Mario's, anyone?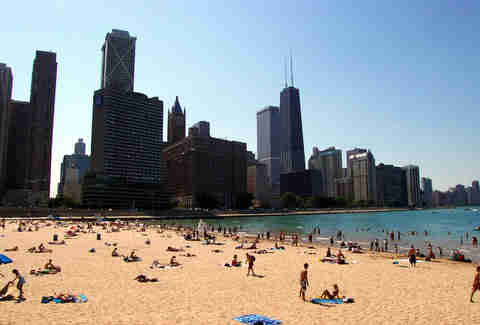 We've got kick-ass beaches, right in the middle of the city
Yeah, you could drive an hour in traffic to go to the beach. Or you could just walk RIGHT HERE.
Castaways is open for business
We make fun of you, yes, but we love you, not so much for what you are, but for what you represent: Chicago in sunny times.
Sign up here for our daily Chicago email and be the first to get all the food/drink/fun in town.