You've been on some dates in your day (quite possibly too many) and you think you've done it all -- dinner and a movie, free museum days, wine-fueled paint nights, that time you pretended to have a dog at the dog beach. If you feel like adding a little ingenuity to your romantic dalliances, these atypical date nights just might turn your love life on its head -- assuming you're into that. Discover some shared interests that you didn't know you had or, at the very least, get some aggression out while channeling your inner Katniss.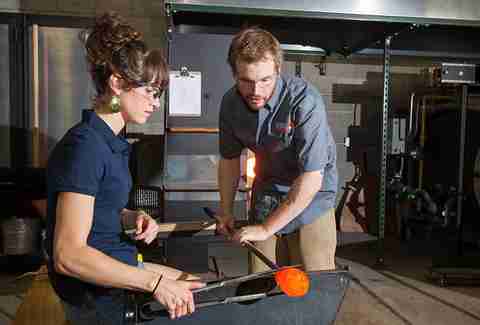 Blow a glass slipper (or something more functional) at Ignite Glass Studios
West Town
Love is primal. So is playing with fire, melting down glass materials into a lava-like substance, then blowing it into shapes in the name of love! Set up a private session for you and your significant other to create something truly hot and then maybe catch your breath over a drink at G & O.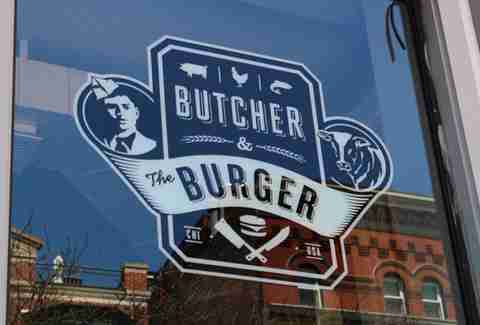 Break down meats and build up the love at Butcher & the Burger
Lincoln Park
Chicago was built on two things: pork and corruption. Avoid the latter by staying honest with your love and showing them your knife skills as you learn to butcher a variety of meats first-hand. You'll get close and dirty -- the perfect setting for romance. You can even bring a bottle of wine to share as you eat your spoils of victory prepared with the chef.
Logan Square
A wise man once said, "To love with Cupid's heart, one must shoot Cupid's dart." That man, my friends, was me. I said it, just now out loud. But if you think about it, it makes some real sense, right? Think of how many times you've gone bowling and you're still pretty bad, why not aim for something new? Spend just an hour or a whole day on the range and when you've worked up an appetite you can fly over to any number of Logan Square's up-trending restaurants like Sink | Swim or the veggie-friendly Ground Control.
Forego a James Bond flick and test drive some fancy Bond cars instead
Loop/West Town
Chances are you don't have a five-year plan (really, why would you?). Instead of stressing out about where you two will be in the future, grab your license, dress to impress, and pretend you've already struck it rich behind the wheel of some Maybachs, Bentleys, or Teslas you can't actually afford (yet!). Put together a crazy backstory about your trust-fund parents or cool new startup and take your role-playing to the max.
West Town
You're at about that age where all your friends are getting married, so why not have some fun and save a few bucks together by printing cards for your friends? Or maybe you just need some cool art for your new apartment together. Drop into a class and get your Johannes Gutenberg on. While the night is young, stroll over to Cobra Lounge for classic Chicago eats and a microbrew from All Rise Brewing.
Make beer together like Bob and Doug McKenzie at Brew Camp, ya hoser!
Ravenswood
So you've found yourself an equally snobby beer fan. Why break bread together when you can better spend that yeast on something much more fun? Get your hands dirty learning the ins and outs of custom brewing and with an afternoon in camp and an investment in equipment you'll have the knowhow to turn out your very own batch of beer. Sharing a six-pack made from scratch may be the peak of agape love.
Get a true taste of city foraging for wild produce with Odd Produce
Various locations
If you're the kind of adventurous urban explorers who can't get enough of the hidden sites Chicago has to offer, it's time to take that daring spirit up a notch and test your taste buds on the world's original street food. We're talking about food found literally growing in the street. Follow Dave Odd on a private tour of your very own neighborhood and uncover a symphony of flavors right in your own backyard. Finish off the trip with a meal in the field or at one of Dave's many client restaurants.
Take your date to the edge with a sword-making class at Fire Arts
Roscoe Village
Maybe you need a good way to commemorate that cosplay kiss you shared during your first C2E2 together. There's no better option than taking a stab at replicating an elf infantry sword yourselves! Head into class at Fire Arts, keep your love sharp, and learn all there is about knife- and sword-making.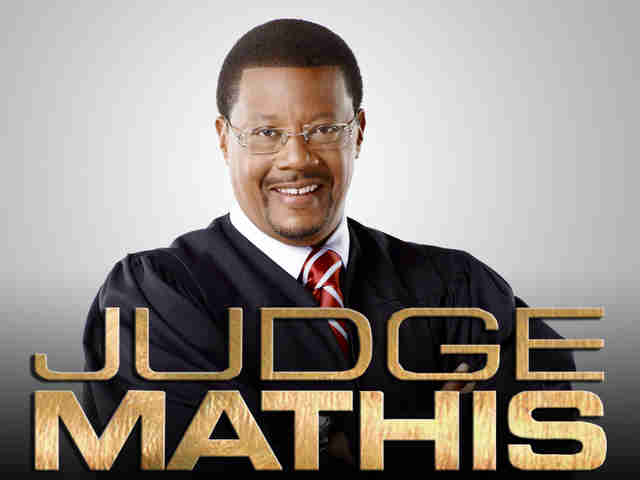 West Loop
There is no better way to gauge your own romantic successes than by collectively judging those other couples who wind up in TV courtrooms fighting over tax-refund money. That's a true fact. So take a day off together and get yourself some free tickets to a taping of Chicago's Judge Mathis. Not only will you share a day of wholesome family daytime entertainment, but you'll feel so much better about that dumb fight you had last week when the Sriracha was left out overnight for the cat to mess with.
Sign up here for our daily Chicago email and be the first to get all the food/drink/fun in town.
Zack Shornick is a freelance writer at Thrillist who somehow managed to weasel his way into a five-year relationship with brilliant date ideas like these. Follow him at @zackshornick.