Remembering Zero Gravity: The Suburban Teen Dance Club Nobody Wants to Remember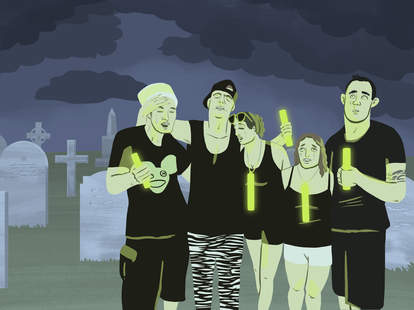 When we first got word that Zero Gravity, Chicagoland's sophisticated young adult dance club of choice, was passing on, quite frankly I was shocked. Shocked not because it was passing on, but, well... shocked that it was actually still alive all this time.
In its 21 years on earth, Zero Gravity managed to touch all of us in various ways, much like the creepy older men that somehow managed to sneak into the club every weekend. Whether you were someone who visited often in your best "Italia" wifebeater along with your girlfriend Magdalina -- who dressed to impress in her best Victoria's Secret corset, furry boots, and body glitter -- or whether you avoided the club after hearing that rumor about the infected hypodermic needle, which was most likely made up by a suburban mom to deter her kids from visiting, one thing is clear: each and every one of us suburbanite kids was impacted by the existence of Zero Gravity.
Born in 1995, Zero Gravity quickly brandished the title of "Chicago's No. 1 Dance Club" -- quite the feat considering, first, the club is located a considerable distance outside of Chicago and, second, there's no way there's an award for that. By the late nineties, ZG became the toast of Naperville, frequently spotted with local celebrities such as The Killer Bee from B96.
However, Zero Gravity fell into the wrong crowd during its body spray-soaked teen years (like so many of us did). It seemed as if ZG was hanging out with a different MTV reality star every weekend, constantly surrounded by scantily clad Jersey Shore clones. One clubber recalled these days fondly, saying, "We seen... some bitches from The Hills, that bitch that got kicked off Jersey Shore. People were shitting themselves."
Even more legendary than the steady stream of D-List celebrities that passed through Zero Gravity were its stripper poles, dance cages, and foam parties -- some of which, bizarrely, featured a mechanical bull. However, when mechanical bulls weren't readily available, ZG's big-time celebrity hosts were ready and willing to improvise, coming up with creative ways for bikini-clad teenage girls to simulate riding a bull. That's just the kind of club this was.
"I think one person had fun."
A longtime friend of Zero Gravity -- who wishes to remain anonymous -- shared this heartwarming memory of his very first foam party:

"Ah, fond memories of Zero Gravity. I tried my first cigarette in the parking lot and threw up on the girl that gave it to me. My best friend swore that some girl from Conant High School let him stick his hand up her skirt on the dance floor during one of their foam parties, but I think he was lying."
Yet another friend -- who strangely also wanted to remain anonymous -- shared this:
"The first and only time I ever went to Zero Gravity was for a foam party. It was also the first time that I saw people doing finger stuff in public. Me and the eight lifeguards I worked with got hopped up on Red Bull and No Doz then crammed into my mom's Volvo and drove up from Plainfield. I think one person had fun."
In its waning years, many of us became quite concerned about Zero Gravity's well-being. It quickly became clear to us that the daunting prospect of turning 21 paired with the effects of years of bass, screaming teenage girls, and rave enhancers had taken their toll on the club. The shine began to fade from the club's steel stripper poles, and not even ZG's blinding strobe lights were enough to obscure the genetic material left behind on booth seats by generations of young suburbanites.
Like a heavily medicated aging sex symbol desperately clinging to its youth, the promoters began making delusional statements such as, "Zero Gravity is known to be the upper class dance club!" and acting erratically, hosing willing patrons down with fluorescent paint. When Zero Gravity began charging patrons $20 admission and referring to itself as "The #1 Club in the Midwest," friends knew the non-stop party was going to stop.
Of course, many friends of ZG remained loyal 'til the end, like Cluber T. from Crown Point, IN:
"you didnt have a good time at zero gravity because no one wanted to dance with your ugly ass so please dont hate on the establishment just because your a loser an no wants to party with losers ,, stay outa dance clubs if your not made for one,,,,o and music wise they have the most talented djs such as magix, markski , etc ,, p.s. the age limit is 23 so no 46 year old creepers... zero gravity is amazing better then 80% of downtown clubs so dont hate!"
Ultimately, Zero Gravity sacrificed it's base of operation so that its legacy could live on in the form of a brand-new retirement home. We can only assume the retirement home will house some ZG's original patrons, offering up weekly foam parties in lieu of sponge baths, and a revolving rec room where all residents may gather to copulate under the cover of a fog machine. Resident DJ Markski will be mixing it up (Euro style) every Sunday night all the way 'til 4am because there's no school on Monday!
Zero Gravity is survived by owners Paul and Mario, who shared the following sentiment via Facebook: "We want to thank all for the great support. ZG Where the true clubheadz originated."
Whether you were someone like one-time friend Becky who never actually made it inside because her friend drank too much and puked in the parking lot, or whether you were more like lifelong friend Stanislav, who spent so much time at the club that his only response was, "Aren't we all ashamed of what the things we did over a decade ago?", Zero Gravity touched each and every one of our lives. And those of us that visited before the dawn of social media are eternally grateful that our horrid club photos will never surface on Reddit or The Dirty.
In closing, we'd like to dedicate this poem written by Zero Gravity's longtime friend, Basshunter:
Now you're gone
There's an empty place in my heart
Without my Zero Gravity it will break apart
It won't heal it never fades away
I will think about you everyday
RIP Zero Gravity, 1995 - 2016. Your foam parties, movable dance floor, and orange patrons will live on in our hearts forever.
Mourners are welcome to share their ZG thoughts and memories in the comments.
Sign up here for our daily Chicago email and be the first to get all the food/drink/fun in town.
Lisa Chatroop is editor of Chicago-based lifestyle blog DailyUrbanista.com. Although she preferred Nitro over Zero Gravity in her teen years, she's always ready to mix it up Euro style. Say hi to her on Twitter: @Chicagoista.