Chicago has many secrets, whether it's underground tunnels, hidden bars, or the paper trails of crooked politicians. Many of them have been right in front of your eyes the entire time and you might have just overlooked them because you were too focused on tacos or not getting run over in traffic. Curious? Then take a look at these 14 Chicago secrets hiding in plain sight.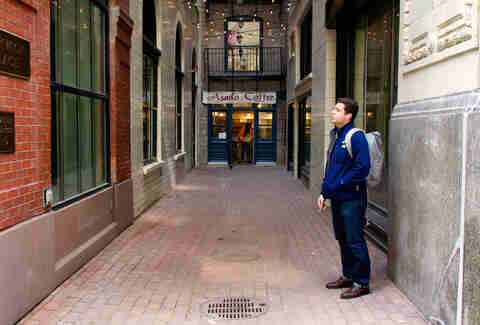 A secluded alleyway cafe
The Loop
Located in the Pickwick Place alley at 22 E Jackson Blvd, this Asado Coffee boasts the most-storied digs in town. The building actually has a long history, and in the past has served as an inn, café, Prohibition speakeasy, and steakhouse, among other things. In early 2012, the two-story, 1,440sqft building was on the market for a cool $360,000, but today you can visit it and grab a great cup of coffee.
The lawn cannon
Wicker Park
Since 1934, a friggin' cannon has watched over the property at 1558 N Hoyne Ave. The property was at one point an outpost of the American Legion (from 1927 to 1972), and the current owners inherited it when they bought the building. According to the Chicago Reader, the gun stood at Navy Pier during WWI, and was at its current location when President Truman visited the Legion in 1973. The current owners bought the property in 1977. No, they will not let you borrow their cannon. 
A Shit Fountain
Ukrainian Village
Located at 1001 N Wolcott Ave, Shit Fountain is a sculpture of a big, finely coiled turd that rests on a 3ft-high sandstone column. It was crafted by internationally known religious-sculpture artist Jerzy Kenar as an ode to the neighborhood dogwalkers who'd allowed their pooches to crap in his flowerbeds. One hundred percent serious.
The secret Chinese Table Tennis Club
Chinatown
Of course Chinatown has an underground pong circuit, why wouldn't it? In the back alley at 215 W 23rd St, the private Chinese Table Tennis Club is the premier spot for serious players in Chicago. Members get 24-hour access to the cozy space, where weathered vets hang out, endlessly honing their game. How do you get a membership? Let's just say that if you're good enough, someone will eventually notice you around town and extend an invite. We suggest bringing the heat at Chi-Slam Table Tennis Club, a West Town club located in the back of a flower shop. Yes, that's also a thing.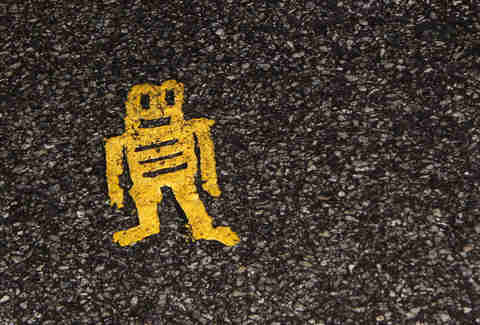 Crosswalk robot graffiti
Multiple locations
If you tend to cross streets without staring at your phone the entire time, you may have noticed that some crosswalks also feature a little graffiti robot. These are actually street-art works by a NYC-based artist known as Stikman. According to his site, Stikman's work represents "the absence of personality in art," as well as the "disconnect that most viewers of street art feel with the perpetrators of the artwork."  He's pretty prolific too, with robots spotted in Boston, Philadelphia, Washington DC, Pittsburgh, and Indianapolis, among other locales. One more fun tidbit: "Usually where you find a Stikman you will find some other object or image nearby that I have attached to something." So, next time you spot one, be on the lookout for a nearby piece.
The Family Matters house
Lincoln Park
While Steve Urkel's house has long since been knocked down, the original Winslow crib is still standing today at 1516 W Wrightwood Ave. It may not be as iconic as its Full House counterpart (although equally not filmed in the city the show's set in) but you should probably still visit and crank up Jesse Frederick's "As Days Go By." 
Tribune Tower's worldly bricks
Streeterville
The Tribune Tower is often noted for its immaculate neo-Gothic design, but look closer and you'll find a collection of treasures that rivals even the most ambitious supervillain's stash. Attached to the facade of the building are nearly 150 different fragments of famous monuments and rare finds. Some highlights include pieces of the World Trade Center, the Great Pyramid of Giza, the Great Wall of China, the Parthenon, Wawel Castle, and the Taj Mahal.
A ticket booth from the world's fair
Oak Park
1893 was a long time ago and while many of the buildings and monuments from the World's Columbian Exposition have been wiped out, there are still a handful of relics left over if you know where to look. One of them is a ticket booth that currently stands at 313 N Forest Ave in Oak Park, on the lawn of a landmark home that was designed by a little-known architect who you've probably never heard of by the name of Frank Lloyd Wright. According to the Chicago Tribune, the booth has since been used as "a garden toolshed, a rabbit hut and now a garden decoration."
 
Mysterious payphone art
Logan Square
Over at 2161 N Richmond St, there's a curious payphone that's either a street-art piece or a magic portal that lets you reach out across the abyss to the Other Side and call forth a demon army that will unleash a bottomless well of evil and despair upon our puny, meaningless world. Either or.
Hand-painted Downtown ads
Multiple locations
Before Google knew more about you than your own mother, people often made their purchasing decisions based on advertisements that they would see outside, in the real world. Crazy, we know. Several of these vintage, hand-painted ads still remain on the sides of Downtown buildings, though nearly all are hidden away in the alleys. Pick a sunny day, check out one at 17 E Randolph St, and branch out from there to find a few others.
A ghost church
Pilsen
Over in Pilsen, on the corner of 19th and Peoria, stands a handsome Zion Evangelical Lutheran Church. But look closer and you'll notice there's nothing behind the facade. The front end of the building is buttressed by steel beams, but in the back there's just a lawn area and remnants of the stone foundation. According to the Chicago Reader, the church was built in 1880, but was destroyed by a fire in 1979. John Podmajersky Jr., a real-estate developer who owned huge chunks of East Pilsen, bought the property and eventually restored it when descendants of the original congregation convinced him to do so.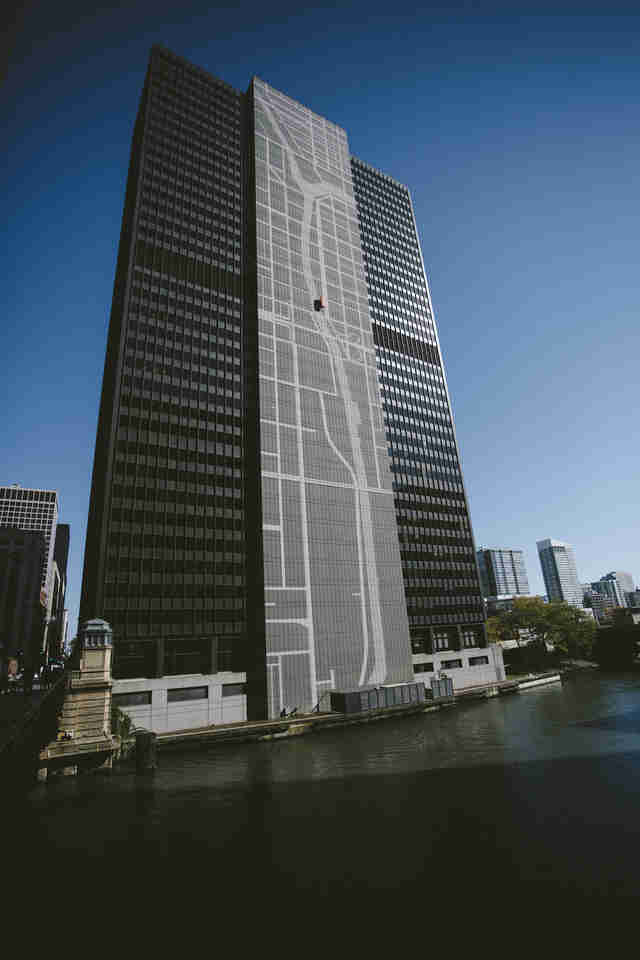 A skyscraper-sized map
The Loop
You wouldn't notice it from the street that it stands on, but the building at 300 S Wacker Dr has a huge, skyscraper-sized map that's nearly 40 stories tall. In order to catch a glimpse of the giant "you are here" map, you'll have to do so from the side that the river's on.
Chicago's star trail
Multiple locations
Scattered around the city, including the Pilsen and Near North neighborhoods, is a trail of directional Chicago star symbols that lead cyclists/runners/drivers on some sort of course through the city. We've followed them for miles before, but always seem to lose the trail eventually. Who put it there? What riches rest at its end? Perhaps this is one mystery we can solve in the comments section.
Sign up here for our daily Chicago email and be the first to get all the food/drink/fun in town.
Raf still knows a few more Chicago secrets that he's keeping close to his vest. Catch him in the Twitterverse: @RafFoSho.