On August 21, a total solar eclipse will black out the sun in the middle of the afternoon as the moon locks into perfect positioning between the Earth and the sun for the first time in 26 years. What makes this eclipse particularly unusual is that it will pass through the heart of America, with the 70-mile-wide "path of totality" (in which the sun is completely obscured by the moon) stretching across the middle of the country from Oregon to South Carolina. While the eclipse will be partially visible from most of the country -- including Chicago where the Adler Planetarium will be going all out with its own "Eclipse Fest" -- the real action is going down in Southern Illinois, where the path tears through that portion of the state between St. Louis and Paducah.
While Carbondale is Ground Zero for eclipse viewing in Illinois (and one of the country's major 2017 eclipse centers of activity), plenty of small towns in the area are throwing their own extravaganzas for the once-in-a-generation event. With camping weekends at wineries, viewing parties at local baseball parks, Comic-Con-style dress-up parties, and a full-scale music festival featuring Ozzy Osbourne barking at the moon, here are the 10 best places in Illinois to view the total solar eclipse. (Standard disclaimer: You need to wear special glasses to view the eclipse, which are provided at most events.)
Partial eclipse start time: 11:50am
Totality start time: 1:17pm
Where to watch: Monroe County Fairgrounds
This southwestern Illinois town, located about 30 minutes south of St. Louis (caution: Cardinals fans alert), is hosting a free "Solarbration" with live music, an art fair, and local food vendors designed to maximize your eclipse-viewing experience, leaving you fully satisfied before the next one rolls through Illinois in 2024.
Partial eclipse start time: 11:51am
Totality start time: 1:18pm
Where to watch: Various locations
The little Mississippi River town of Chester will enjoy one of the longest periods of totality in America and is taking full advantage with a variety of events popping up around town throughout the weekend, including a "portable planetarium" at the Chester Public Library with a mobile HD dome theater and a screening of the movie Dragonslayer; live music until midnight at the Fraternal Order of Eagles; a "Mississippi Moon Fest" at First Baptist Church with a car show and water slides; a free concert in Cole Park; an ice cream social at Cohen Memorial Home; and a "solar-fried chicken dinner" at K.C. Hall with themed items such as "baked spudniks" and "force field fries."
Partial eclipse start time: 11:52am
Totality start time: 1:20pm
Where to watch: Blue Sky Vineyard
NASA's longest point of duration for viewing the 2017 eclipse lands in Illinois near this peaceful winery located about 10 miles south of Carbondale, where you can pull up your RV and camp for four days, surrounded by the picturesque Giant City State Park. There will be live music daily in addition to food and limited-release wines.
Partial eclipse start time: 11:52am
Totality start time: 1:19pm
Where to watch: Big Muddy Brewing
Just because the Adler Planetarium isn't in the path of totality doesn't mean Chicago isn't involved in the heart of the action, with the venue dispensing scientists and astronomers to the downstate epicenter at places like Murphysboro's Big Muddy Brewing. Adler's "Galaxy Ride" team will be putting on an eclipse-focused science presentation with telescope viewing on the Saturday night before Monday's eclipse. And yes, there will be beer. You're also 5 minutes away from one of the finest BBQ joints in the nation.
Partial eclipse start time: 11:52am
Totality start time: 1:20pm
Where to watch: Southern Illinois University Saluki Stadium (and locations around town)
As the premier eclipse destination in the state, Carbondale is going all out with a packed four-day slate of events from August 18-21, anchored by a massive viewing event at SIU's Saluki Stadium, with NASA broadcasting live in addition to a balloon launch, marching band/cheerleader performances, high-resolution video screenings of the sun, and a "solar lab" of telescopes. There will also be a "Crossroads Festival" south of the arena with live bands and carnival rides; a "Shadowfest" concert with Green Day and U2 cover bands downtown; an "Eclipse Marketplace" with bands playing alongside food vendors in a bank parking lot; and an "Eclipse Comic-Con" event with comic book creators and Star Wars fanatics in the SIU Student Center.
Partial eclipse start time: 11:52am
Totality start time: 1:20pm
Where to watch: Moonstock Music Festival
Apparently, the eclipse is a big enough deal to build an entire four-day music festival around it, complete with a Monday headlining performance from none other than Ozzy Osbourne himself, who'll kick off his set with "Bark at the Moon." There will be three full days of music with onsite camping leading up to the main event from acts including Papa Roach and Five Finger Death Punch, plus eclipse-day side stage performances and bottles of "Ozzy Osbourne Solar Red Wine" available for purchase on the sprawling grounds of the beautiful Walker's Bluff winery.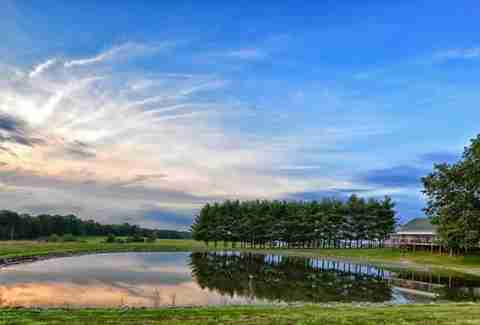 Partial eclipse start time: 11:52am
Totality start time: 1:20pm
Where to watch: StarView Vineyards
When the first solar eclipse in decades rolls through the heart of wine country for a complete blackout, the locals take full advantage with events like this four-day Total Solar Eclipse weekend party, with live local bands, an artisans market with handmade art and jewelry, and an eclipse-themed "Splash and Dash" guided painting party. Bring your own lawn chair and order food and wine from the menu, or go for the special fair-style offerings like kettle corn, pork rinds, and funnel-cake fries.
Partial eclipse start time: 11:52am
Totality start time: 1:20pm
Where to watch: Alto Vineyards
This award-winning vineyard is rolling out the red carpet for eclipse seekers for a weekend party with live music daily in addition to BBQ plates, lawn games, special label wines, and placid views of the surrounding forest. Watch the eclipse from the patio or spring for VIP that gets you seating on the upstairs deck with catered appetizers and meals.
Partial eclipse start time: 11:53am
Totality start time: 1:21pm
Where to watch: Tanglefoot Ranch
This 950-acre ranch will showcase one of the longest periods of totality in America on a working farm with cattle, peach orchards, and a "Total Solar Eclipse Luncheon" on August 21. Bring your own wine and chairs to the state's first prawn farm for a locally sourced sit-down dinner after the blackout, featuring the ranch's freshwater shrimp and produce.
Partial eclipse start time: 11:55am
Totality start time: 1:20pm
Where to watch: Rent One Park
Part of the independent professional baseball Frontier League, the Southern Illinois Miners are throwing the doors open to their 7,000-capacity ballpark for a party in partnership with 4-H that will include laser tag, mini golf, virtual reality demos, a computer science lab, telescopic viewing, and an astrologist.