The 2016 Cubs have entered the season as the leading World Series favorite according to just about anyone who pays attention to baseball.
If you've bothered reading this article I likely don't need to explain to you why this is a big deal.
The players and coaching staff and front office will all have their (highly important) roles to play, but the fans have theirs, too. As anyone who's been to Wrigley Field a few times can tell you, your experience can vary wildly depending on the other fans in your general vicinity. To hopefully make those experiences not suck, I've devised this fan pledge to make the Friendly Confines live up to their name during this momentous season. Repeat after me:

I will not speak of curses Curses are for campfire stories and horrendous Dan Shaughnessy books. The Cubs unparalleled championship drought has nothing to do with goats or any other mystical forces. It has everything to do with a LOT of bad management and a little -- albeit rather high profile -- bad luck.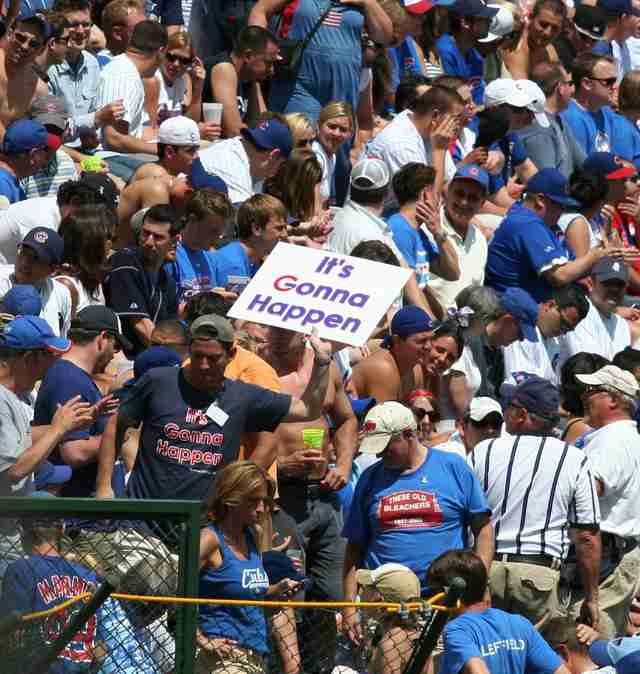 I will be relentlessly positive
Curses may not exist, but the collective psyche of a stadium full of people who believe the worst is bound to happen can certainly impact a team at crucial moments. So follow the lead of Joe Maddon and be steadfastly optimistic. The past is in the past. At no point should we Chicken Little over a missed start or a slumping offseason acquisition.
 
I will understand how many drinks I am capable of having
Throwing back a few beers in the sunlight and enjoying yourself? Well played! Getting up every half inning because the vendors "aren't coming around enough" until you end up fighting with a security guard because you don't understand why beer sales stop in the eighth inning? Less well played. Look, there is a time and a place for sloppy, embarrassing Cubs-related shenanigans. It is Clark St, after the game.
I will pay an appropriate amount of attention
Look, Wrigley's reputation as a big beer garden where there just happens to be baseball happening is somewhat overblown, but it isn't wholly unearned either. It's frustrating to encounter people (often in prime seats) paying zero attention to the game. Baseball moves at a leisurely pace. No one's asking you to shut down your smartphone and spend the whole game keeping score by hand. No one's saying you can't talk to your friends. But if you're completely oblivious to what's transpiring in the game and constantly at risk of being smacked in the face by a foul ball (like this kid!), it's a problem.
 
I will think of the children
Nobody except Lee Elia should use a baseball game as an excuse to turn into a profanity spouting lunatic, granted this isn't church, either. The appropriate thing to do is quickly scan the area when you sit down to see how many youngsters are within earshot, and then tailor the tenor of your conversation accordingly.
Also, if you catch a foul ball, giving it to a kid isn't required, but it is the classier move. Catching it is the cool part anyway. Snap a quick photo if you must and pass it along to someone who'll be way more excited. This only applies to legitimately caught foul balls -- if you're running over kids to try to snag one you're a monster and forking the thing over is the LEAST you can do.
 
I will update my wardrobe
It's a big season, and your attire should reflect that. What's that? You have a vintage and meticulously cared for 1984 Ryne Sandberg-tee? No worries, that's fantastic. If you're stepping out in a Nomar Garciaparra shirsey, however, it might be time for new threads.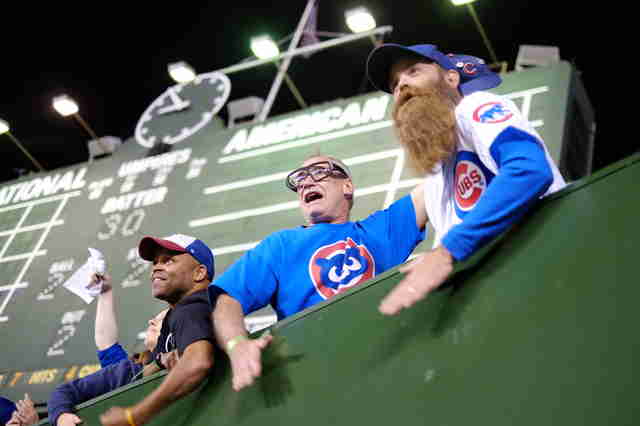 I will abide by the home run policy
On a related note, if you catch an opposing team's home run ball, it is customary to cast it back upon the field from whence it came. Do not force the denizens of the bleachers to goad you into following this custom. This must be reflexive, do so with pride and gusto.
 
I will treat opposing fans as I'd like to be treated
Be a good host. Even if Sox fans generally don't know how to reciprocate. Note: Cardinals fans are best left simply ignored.
 
I will keep my damn hands away from balls in play
Or that have any remote chance of being in play. Explanation hopefully unnecessary.
Sign up here for our daily Chicago email and be the first to get all the food/drink/fun in town.
Cubs fan and Thrillist Executive Editor Matt Lynch tries to abide by most of his own rules. Keep him in check @MLynchChi