Some careers are definitely cooler than others. While your job is probably better than that of the poor soul who mops up the byproduct of Four Loko shots in bathroom stalls at the Beaumont, we doubt it is as badass as these 11 cool jobs in Chicago. We'd suggest beefing up your LinkedIn profile, but these positions aren't hiring (and LinkedIn is all robots anyway).
Darryl Wilson, Wrigley Field scoreboard operator
Wrigleyville
How he got the job: Wilson started out in 1987 as a groundskeeper working the field during rain delays, but always knew his true calling was behind the scoreboard. When one of the previous operators retired after a long career, Wilson was promoted to scoreboard where he has remained since 1991. While the heat, noise, and stress of constantly monitoring games requires his relentless attention and focus, Wilson loves his job -- especially looking out at the fans from behind the famous hand-operated scoreboard when the wind's blowing out. He has no plans of going anywhere, "got at least 15 years left in me."
What he does: Wilson is one of four scoreboard operators whose job entails posting large numbered metal plates that keep track of runs, pitching changes, and scores from other games around the league at every home game. The operating crew is spread over three floors, with Wilson occupying the second floor, posting scores from other MLB games. Wilson is part of just the third generation of scoreboard operators to work this job since 1938, and he recalls the Sammy Sosa home-run race and 2015 season amongst his favorites. It's not all fun and games, however, as he says it gets hot back there with the operators constantly yelling numbers at each other as they navigate a tight space about 4ft wide and 6ft high "like a catwalk" posting numbers. And if they take too long, they get phone calls.
Kasumi Kato, Champagne chandelier aerialist/acrobat at Redmoon Theater
Pilsen
How she got the job: "I began performing with Redmoon in 2010 as a variety performer with my acrobatic partner. The company and I soon discovered our congruent needs and skill sets. The Champagne chandelier was unveiled at the 2011 Lunatique, Redmoon's yearly fundraising gala and spectacle theater show. Since then, the Champagne chandelier has been a popular addition to events and shows we host."
What she does: "Essentially, I am an aerial bartender when performing on this apparatus: the Champagne chandelier. Concealed among the plastic bottles (for decoration) are four chilled bottles of quality Champagne. I pluck the Champagne like ripe apples from a height of up to 30ft, descend towards the ground with them, and pour -- like manna -- the Champagne into the flutes of guests. The Champagne chandelier is one of dozens of props designed and built by Redmoon's intensely talented pool of builders and performed on/with/amongst so many actors, acrobats, and weirdos.
"Besides getting to do what I love to do -- aerial dance -- I get to travel and perform with interesting people from all over the creative community in Chicago. The apparatus itself draws so much attention that I could be doing very little acrobatically and it's still quite aesthetically pleasing."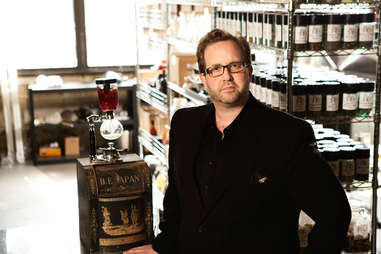 Rodrick J. Markus, rare-tea hunter at Rare Tea Cellar Inc.
Ravenswood
How he got the job: After receiving degrees in psychology and hypnotherapy, he found that tea had similar aspects to wine and if one could translate those aspects to people through tea, it would be epically powerful. Twelve years ago, chefs started requesting single ingredients in his tea blends and it blew up into a current portfolio of 1,400 teas and over 4,000 additional ingredients.
What he does: Markus sources rare tea and ingredients direct from tea estates, farms, and foragers in 160 countries that push the daily limits of all things botanical, beverage, blending, and spirits. Privy to uber-confidential workings of some of the most esteemed kitchens on Earth, he also works with top culinary minds across the globe on everything from tea and truffles down to rare, never-seen-before nectars. His portfolio of teas ranges from $20/per pound to over $100,000/per pound, with many of his teas and blends being next to impossible to procure even in the country of origin. His obscure findings are gobbled up in kitchens everywhere from Grant Achatz's Michelin-starred Alinea to Billy Corgan's Highland Park teahouse Madame ZuZu's.
Ashley Egly, festivals manager at React Presents
West Town
How she got the job: "I could never decide what I wanted to be when I grew up, but found out quickly in college I was good at organizing events. By my senior year I was booking shows at Columbia College and throwing large-scale events. Immediately after graduation I had a job with NBC Sports working on the Dew Tour as their event coordinator. My friend Zach called me one day and said his new company was starting a music festival at Soldier Field and needed someone to run Artist Relations. I was lucky enough to be a part of the inaugural Spring Awakening Music Festival at Soldier Field and ran the Artist Relations department for a few years. Apparently I did OK, because three years later the partners of React invited me to join the team full time, launching three new festivals in 2015."
What she does: "I am the festival director for all React music festivals including Spring Awakening Music Festival, Mamby on the Beach, Summer Set Music & Camping Festival, Chicago's Mad Decent Block Party, Freaky Deaky, and Reaction NYE. I also get to work on special events like the Snake Pit, an EDM concert that takes place in the center of the Indy 500. Who doesn't love a good DJ set at 7am? I am the 'wrangler' of all things that happen on site -- from securing the venue or event permits, to making sure doors open on time, to executing the site décor and making sure everyone has a great experience at each of our festivals. Problem-solving is a must in this role. From trying to get a famous DJ from O'Hare to Soldier Field in an hour when 90/94 is closed due to construction (put him on the Blue Line!) or stepping in when someone is trying to serve papers to one of our hip-hop artists before they play their set, this is definitely not a dull job."
Barbara Scharres, director of programming at the Gene Siskel Film Center
Loop
How she got the job: "Just out of grad school and hoping to start a career in production in Chicago, I was earning a living patching together many part-time jobs -- some film-related, some not. Working as a projectionist for monthly evening film programs at the Museum of Contemporary Art, I encountered Camille Cook, the woman who was in the process of founding the Film Center. About two years later, she hired me part time as a projectionist. As a result of a government grant, the job became full time a few months later... In time, I became the Film Center's first technical director, but eventually moved into programming. During the time I've worked here, I've done just about every job in our organization at one time or another."
What she does: "I function as artistic director for one of the largest cultural exhibition programs of world cinema in the US. My programming colleague Marty Rubin and I select the films that the Film Center presents in more than 1,500 public screenings annually. Programs range from surveys of national cinemas, thematic programs, week-long runs of new films, and festival events including the European Union Film Festival, the Black Harvest Film Festival, and the Festival of Films from Iran. Personal contact with independent filmmakers in the US and throughout the world is one of the most gratifying parts of the job. I feel like we really make a difference when we succeed in connecting a relatively unknown director with an audience. Everybody wins when our patrons discover something new and the filmmaker experiences the validation of theatrical screenings with professional presentation and promotion."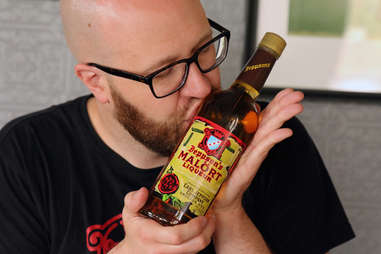 Sam Mechling, director of marketing for Jeppson's Malört (Carl Jeppson Company)
Lakeview
How he got the job: "Back in 2007, in what can only be described as 'assertive stupidity,' I created parody-based Malört Facebook and Twitter pages without their permission, as they didn't have pages of their own. Long story short, the pages gained a sizeable following and eventually came to the attention of the ownership. Seeing as I was using a trademarked brand as an outlet for my bizarre sense of humor, they hired a lawyer and drafted a cease and desist. Shortly after, they came into Paddy Long's where I was tending bar to deliver the order. After talking with them, I think they realized that I wasn't a con man. Rather, I was just an enthusiastic geek with too much time on my hands. They decided it would be cheaper to hire me than it would be to sue me."
What he does: "First and most importantly, I was a gigantic fan of Malört for years before I worked here. Basically, it's like seeing Radiohead in concert and they ask you to come up and play keyboards. As marketing director, I have complete creative freedom to shape the direction of one of Chicago's most iconic brands. Essentially it's the perfect mix of an established brand, but one with a complete openness to some truly audacious ideas. For example, we had an essay contest where the winner received a Malört tattoo as a prize. We also collaborated with Chicago band Archie Powell & The Exports to write and record 'The Malört Song' that features the word 'f*cking' in its last line. I'm deeply honored to be a part of a company that bold and that crazy."
Amanda Hunkler, regional vice commander of characteristic zymurgicological analysis through space, time, and dimension at Lagunitas Brewing Company
Pilsen
How she got the job: "I wish I could say that beer has been a passion my whole life, but I found out about this job when I was babysitting for someone that worked for Lagunitas. They knew I was a recent chemistry graduate from Purdue University looking for a full-time job, so they forwarded on my resume, I received an interview, and then got the job. Being a chemist I figured my life would be the lab and being isolated from anyone else, but that is not the case. I work with the best people, in one of the best industries, which makes this job more than just a job. It is a family, or a tribe, as we like to call it here at Lagunitas.
"Even though working at a brewery is a pretty cool job, it is also a very dirty and labor-intensive job. I cannot even begin to say the number of times one of our fermentors, which has been clogged with hops, decided to release those hops all over me when I tried to get a sample from it. I then get to enjoy the rest of the day covered in hops from my hair to my steel-toe boots, but it is so worth it."
What she does: "My job at Lagunitas is to make sure that our beer is the best quality, from the fermentors full of wort and yeast, all the way to the last pallet of cases being shipped out to our amazing customers. My job is cool in that I participate in all facets of quality: brewing, packaging, and sensory. The brewing side of quality collects and profiles all of the data for each beer that brewing produces. Then, during packaging, our quality team makes sure every bottle being packaged has the correct label, case, six-pack, crown, etc. before it is shipped. In sensory we taste every batch of beer that comes out of this facility, and we also do blind comparison tastings, called triangles, to beer made at our mothership Petaluma."
Katy Lynch, CEO at Techweek
River North
How she got the job: "I've been involved with the Chicago tech community since I moved here from the UK eight years ago. In 2010, I started a full-service social media marketing agency called SocialKaty that catered to startups and small businesses. Last year, I sold the company to Manifest and decided that I wanted to run another company. I was an Executive Advisory Board member of Techweek before I came on as the CEO in May."
What she does: "Techweek is a week-long traveling tech festival that celebrates all things entrepreneurship and innovative technology, I run the company. Techweek subscribes to the 'rise of the rest' mentality, we believe great companies can be built anywhere, not just in Silicon Valley. We shine a national spotlight and celebrate what is happening in local tech communities across the nation. I get to work with the most inspirational people and tech companies every single day. Plus, I have a kick-ass team."
Michelle L'amour, international burlesque star at Studio L'amour
North Center
How she got the job: "I graduated from college with a degree in finance and ended up with a profession in fine-ass. Truly though, finance bored me to tears and I always wanted to dance and was always interested in the sexy arts. I was offered a chance to do a burlesque show and the rest is history! A quick story... Gerard Butler recognized me in a small shop in New Orleans. I saw him come in and got nervous and was about to leave. Then he saw me and said, 'Hey, don't you dance?' Gulp. 'I saw you the other night. You were great.' Gulp. 'Hi. I'm Michelle.' 'Yes, I'm Gerry.' Then he shouted, 'THIS IS SPARTA!'... nah, not really. But we did chat for a bit and I didn't pass out!"
What she does: "My money maker is actually my money maker. I get paid to take my clothes off and I get paid to teach others to do the same. I am currently touring Italy for my exceptional skills in the art of the tease and am extremely grateful for this super-cool job! Fact: it takes a lot of baggage to get naked. Fact: it costs a lot of money for costumes that you only wear for five minutes. Fact: dressing rooms rarely look like they do in the movies."
Danny Marks, bar arcade/cannabis dispensary owner at Emporium Arcade Bar and MOCA [Modern Cannabis] Dispensary
Wicker Park/Logan Square
How he got the job: "I got into the bar business through the music business. I played in, then booked and managed, small independent bands. Touring in small bar venues across the US allowed me to literally see the behind the scenes of hundreds of bars in pretty much every state. I lived in New Orleans for several years where I eventually opened a small restaurant. After that I went to business school in NY and got a job managing an arcade bar there. I took the idea home to my native Chicago where my family had been in the entertainment business for a few generations (movie theaters). We grew the arcade-bar concept into a full-on event venue. The cannabis dispensary thing was basically just a dream that is about to come true after two years of application craziness."
What he does: "My job is basically to build fun places and to try to think of fun things for people to do when they get there. I oversee all aspects of bar/entertainment venues. I make most of the creative decisions and try to make the things I envision become a reality. The coolest thing about my job is the wide assortment of fun people that email me every day asking to do fun things at our spots -- everyone from our awesome staff, to brewery people, to video game people, to rock bands, to graffiti artists, and to our extremely diverse customer base. What else is cool is that I have 100% freedom to pretty much try anything that seems like it would be a fun thing to do. Opening one of the first cannabis dispensaries in Chicago is a new interesting wrinkle in my life."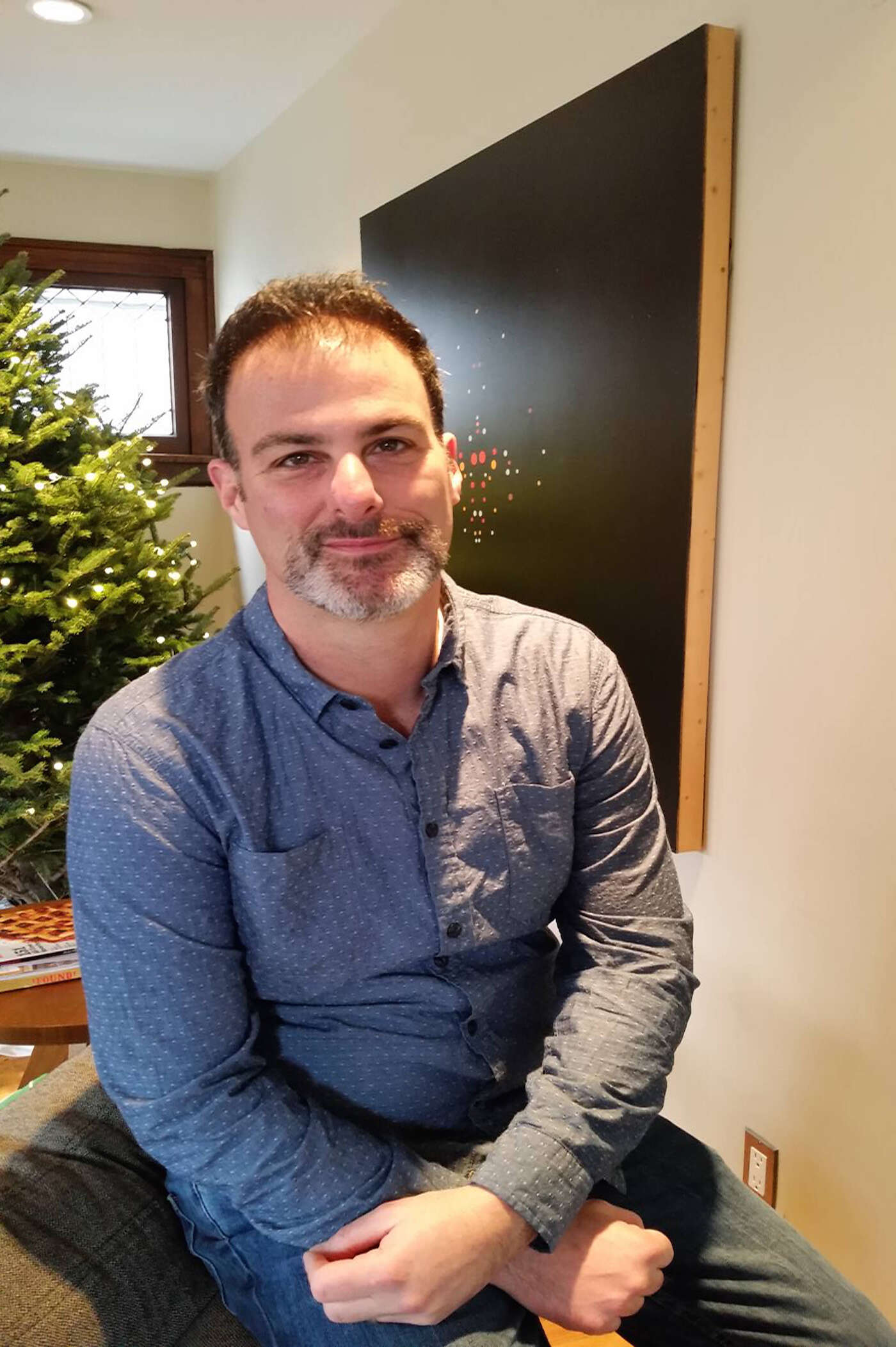 Bruce Finkelman, owner/partner/manager/facilitator/toilet cleaner, etc.
All over Chicago
How he got the job: "I have always been a big fan of music, but in in college my love affair bloomed. Columbia, Missouri had a really great music scene. Not only did it have a great college radio station (for which I did the 5am slot), but it had one of the best rock clubs in the country. The Blue Note, nestled on I-70, saw every great band passing through going coast to coast... I did everything I could to become part of that scene, and after months of lobbying I finally got a job doing door at the club. I just fell in love with it, and with a degree in hospitality management in hand, I knew exactly what I wanted to do when I grew up. In 1992 I opened the first Empty Bottle with $935. Our 25th anniversary is coming up quick."
What he does: "I am a partner/manager of a small restaurant and entertainment group called 16 on Center. Each day I get to taste great food and listen to live music (which is pretty cool). I get to work with some of the most talented people in the hospitality industry, and get to see a lot of really amazing artists perform. Our business model is to create places that we like to go to, with the hope that there are a few other folks out there that feel the same. I decided a long time ago to make my vocation my vacation, and every day I thank my lucky stars. We currently have four restaurants (Bite Café, Longman & Eagle, Dusek's Board & Beer, and Promontory) and four music venues (Empty Bottle, Thalia Hall, Promontory, Beauty Bar). Two new projects are in the pipeline for winter 2016 and spring 2016."
Sign up here for our daily Chicago email and be the first to get all the food/drink/fun in town.
Jay Gentile is a Thrillist contributor and, while his job is pretty cool, he wouldn't mind a shot at the gig behind the Wrigley scoreboard. Easier than getting playoffs tickets. Follow him: @innerviewmag.