The Weirdest Chicago Roommate Ads on Craigslist
While there's no shortage of normal people looking for roommates online, braving Craigslist to find the right match can be daunting. Searching through the myriad ads in a room or roommate search can be terrifying when the outcome is a total toss-up. Chicagoans not fortunate enough to dwell in solitude -- or those who just like playing Russian roulette for company -- have their fair share of crazy to contend with, and Craigslist is a hotbed for outright weird ads like the ones we found posted over the course of the past month. If you've already got great roommates, be sure to give them a hug today... and never let go.
SCREENSHOT VIA CRAIGSLIST
Share an apartment with a floating head and no-eyed cat
Alex is an artist looking for his own "little piece of space separate from the outside world." Aren't we all just looking for our place in the universe? If you're cool with his 420-friendly ways and two cats (one of which has no eyes), and want to chill out to some Gramatik while surrounded by laser beams and fog from a machine, he's your guy. Just be sure to include "Monkey Cheese" in the subject line if you're serious.
SCREENSHOT VIA CRAIGSLIST
Live-in girlfriend experience
Would you like to be this man's live-in girlfriend? He's prepping for your arrival by getting hard... wood floors! His "rent will be paid by section 8 so all you will be responsible for is cleaning and your food and gas or Internet," and the honor of sleeping in the same bed as your insta-beau. We can't imagine doing this and drinking lightly though, so... pass.
SCREENSHOT VIA CRAIGSLIST
"We live in a clothing optional home"
Everything seemed legit until the big reveal. But, hey, you won't have to worry so much about the closet space or putting on pants.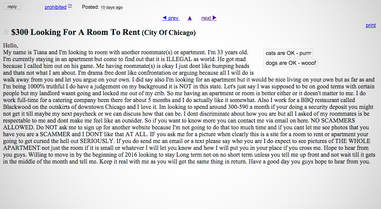 SCREENSHOT VIA CRAIGSLIST
"I'm drama free [...] I will put you in your place if you cross me"
Are you looking to rent a room to someone without excessive emotional baggage? Occasionally, Craigslist ads read crazily similar to diary entries. You should use this to your advantage, and Tiana should probably keep her venting locked away if she wants to find another home.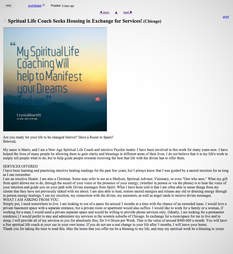 SCREENSHOT VIA CRAIGSLIST
Let a spiritual life coach into your home, change your life forever
This is a win-win scenario, right? You put a roof over her head, and she can help you see the positive in the inevitable shitstorm you've had to deal with since you willingly let Tiana into your sacred space.
Screenshot via Craigslist
".Thank u kiss n hugs lov.uu."
This dude has nothing but love for his Craigslist ad viewers, almost as much as his adoration for the mostly white female roommates (drama-free!) his ads have attracted. Based on this particular ad, he seems to be seeking a single "romie," but we don't think he'd be opposed to sharing the bed with a couple more interested parties. Just "b real" and maybe blond... 
SCREENSHOT VIA CRAIGSLIST
Couple open to unique arrangements
If we played matchmaker, we'd say this young couple should look into shacking up with the guy who's got the threesome bedspread and a room to spare.
SCREENSHOT VIA CRAIGSLIST
Professional white guy wants to get it on with his "friends" during the week at your place
Just no videotaping, joining in, watching, or "anything weird" allowed. It's comforting to know nothing terribly weird is permitted, "unless you have a friend who's into that." 
SCREENSHOT VIA CRAIGSLIST
Well-known Tasker on TaskRabbit will work for your extra room
There are plenty of people on Craigslist who are willing to perform just about any menial task (mow your lawn, whip up meals, serve eviction notices to other building tenants, drive you to/from work, rub your feet, lick your butt, etc.) in exchange for a room. But not all of them are reputable Taskers for TaskRabbit.com. Tackle your to-dos to someone who's "successfully performed hundreds of tasks," and been openly rated for it. Satisfaction guaranteed.
SCREENSHOT VIA CRAIGSLIST
Couch-surfing strongly encouraged
No couples allowed, but we're guessing this good-looking, Instagram-filtered couch has welcomed a wild roster of renters for just $25/night. On the other hand, there are no explicit rules about letting crashers simply binge-watch Making a Murderer for 12 hours straight. Does this couch offer Netflix or cable for an uninterrupted stretch on the weekends? That's a serious question.
SCREENSHOT VIA CRAIGSLIST
You've been warned
What would we do without noble Craigslist vigilantes helping us in our quest to find the perfect roommate? 
Sign up here for our daily Chicago email and be the first to get all the food/drink/fun in town.
    
Nicole Bruce is a contributing writer for Thrillist. She's currently scouring Craigslist for a new apartment... thankfully, one without roommates. Find her on Twitter at @nicoleabruce.