"Damn, you drop ash from your dick when you slide through your old ass boxers? You be up there smoking cigarettes in your bed, motherfucker?"
This is how Roberta "Poochie" Jackson, a longtime employee of the Chicago hot dog stand Wiener's Circle, talks to a young man in a black Patagonia jacket and Sperry boots at 1am on a Saturday.
It's not the typical greeting you'd find in a customer service manual, but this Lincoln Park joint isn't your typical restaurant. People don't just come for the food -- they come, and stay, for the entertainment: a staff of kitchen workers who hurl profane insults at every customer with the guts to eat there.
"You be up there smoking in bed, you motherfucker," Poochie sasses, after the guy meekly responds with a "shut up!" "It don't be cigarettes," says another employee, line cook JB, standing in the swinging doorway to the kitchen. "It be fucking blunts."
"Blunts, cigarettes, they all still got ashes. Ashes still stink, motherfucker," Poochie yells. The customer just smiles and waits for his food among the throng of late-night customers.
"Next!" yells Poochie, or the "Queen of Wiener's Circle backtalk," as one manager puts it. To get roasted by her and the other employees of this legendary spot, which stays open till 5am on weekends, is somewhat of an honor. If they deem you worthy of their time -- and sense that you can take a verbal beating -- you'll get a tapestry of profanity and insults with your hot dog order. These are some of the best insult comics you'll find in the Second City.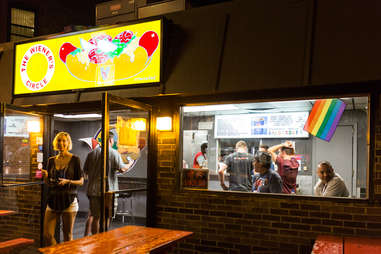 At about half the height of the other single-story buildings on the block, the brown brick Weiner's Circle is the runt of this stretch on North Clark. The bright red picnic tables outside are always packed late at night with loud patrons gobbling down food served on red and white paper trays. Inside, the aging tiles and wood paneling suggest that the place hasn't changed much since opening in the '80s.
Neither has the food. The Vienna beef chardogs are grilled until the casing can't hold up any longer and splits open at the ends. The charburgers are done until they're black and crispy on both sides. And you can't talk about the Circle without mentioning the cheese fries -- thick-cut potatoes fried until crunchy and topped with heaps of Merkts' Cheddar spread.
The food hasn't changed much, but the service has. When the Circle opened in 1983 it was all "please" and "thank you." That changed a couple of years in -- some accounts say the late '80s, some say the early '90s -- when one of the owners called a customer "asshole" to get his attention. The insults flew, and a new tradition was born. For a few years, the filthy talk flew all day, but customers complained, so the employees decided to save it for the night shift. Then the Circle's vulgar reputation grew to the point where people expected more. "They're requesting it, all the time, day and night," says longtime manager Evelyn Morris. "We try to do it with a little love -- rude with a smile. I don't want to be rude with a frown."
Morris has worked there for 28 years and knows Circle potential when she sees it, which is why she hired Poochie, who formerly babysat her kids, in 1998. Evelyn knew Poochie had the temperament and work ethic to hold court. "I didn't even know it was a restaurant where they would curse you out," Poochie says, laughing. When she started working nights, she hit her stride. "This is me. It's not an act. I curse like a sailor, for real." She's since become the star of the show, throwing insults at the likes of Ira Glass, former Bears receiver Alshon Jeffery, and 30 Rock's Jack McBrayer, who went there for a bit on Conan with Triumph the Insult Comic Dog. "I've never been able to even get near her, to top her in being rude. I can't," says Morris.
They're doing comedy routines all day, and if a joke kills, they use it again in their next set.
After talking to JB, who jokingly asks a group of girls if they "have asses," I'm face-to-face with Poochie herself, ready for her hazing. Luckily, I'd called ahead to talk to her, so when I introduce myself, she greets me warmly and brings me behind the counter.
As soon as I step behind the counter into the kitchen, a woman with long braids, a white V-neck, and neon pink socks in slip-on sandals yells, "What the fuck do you want?" glaring at me. This is Chanel, the princess of insults to Poochie's queen, who assumes I'm an over-bold customer stumbling into the kitchen to get some fries. Shouts and laughter flow in through the order windows where Poochie stands, insulting the next customer. Chanel mans the grill. JB is on fries. A guy named Dion is in charge of assembly. If the night goes well, they'll split the tip jar and take home around $40 each.
The insults continue from Poochie, Chanel, JB, and the rest of the crew:
"Little bitches in the back, let's go! Step the fuck up and order! Chronic flat chest that she's suffering from. Itty bitty titty committee. I mean it's not my fault you can't get titty fucked."
"That dress, what is it? It looks more like a curtain to me."
"Uh oh, someone has heavy scrotum syndrome."
"Want me to buy you a drink from 7-11? Motherfucker, it's comin'."
"Look out for your purse! Black people alert! All those bitches steal. Especially that little bitch with that mohawk on her head."
All night, that's the way it goes. No one's offended. Few even really talk back. They just laugh at Poochie and laugh at themselves. Most guests are wise enough to know they can't compete with Poochie and her colleagues when it comes to trading barbs. "A professional comedian at Second City came in," says owner Tim Wan, "and he tried to go toe to toe with the staff. He left almost in tears."
Beneath all the "fuck yous," "step the fuck ups," and "you better have my fucking tips," what sticks out is Morris' "rude with a smile" ethos. Sure, Poochie ribs the customers with some pretty pointed profanity, but it's never overly mean and always damn funny. She, JB, and Chanel are like Chicago versions of the late, great Don Rickles, only they also serve burgers and dogs -- everything and everyone, with the exception of kids, is fair game.
When to insult someone and when to back off is a skill the employees learned the hard way back when the Circle was still new to Lincoln Park. People came in expecting a normal hot dog stand and, when met with the atypical customer service, shit could hit the fan. Like the time in the '90s, when one of the co-owners, Larry, said to a woman, "Bitch, what do you want on your burger?" The woman's husband demanded an apology, to which Larry responded, "Fuck you." The man picked up a Heinz ketchup can, hurled it over the counter, and sent Larry to the hospital. Larry left the Circle a couple years later. This, Morris says, is when the crew realized being rude all day wasn't good for business and safety.
"I don't rib kids. Unless their parents give me permission to. Then, I pretty much rip them a little asshole."
Now, the staffers are pros at feeling out the clientele, changing responses to match who's in the restaurant. Believe it or not, many families bring children here. With the younger crowd, Poochie turns from a bad-mouthed sass master to an inspirational mentor: "Stay in school. Don't let anybody bully you. You're beautiful. Respect your parents." With the young ones, she has a code: "I don't rib kids. Unless their parents give me permission to. Then, I pretty much rip them a little asshole."
On one Sunday afternoon, there are a couple father-daughter duos dining at the Circle. Pablo Devera and his teenage daughter, Cameron, come here every other Saturday to grab a dog. "I've been coming here all my life," Pablo says, laughing beneath his flat-brimmed Cubs hat. "It's a crazy scene. I've only seen tourists get offended because they don't know the whole thing."
In the end, all the vulgar repartee is about pleasing the customer -- even if that means talking shit about their looks, smells, and demeanor, or telling them to shut the fuck up and pay. If you can't take their heat, don't come near their kitchen, but if you can -- and need a little mental pick-me-up to go along with your late-night dog -- this is the place for you.
"When you come in, I'm taking whatever you're going through that's hurting you or bothering you or that pisses you the fuck off. I'm the person that's gonna make you laugh, and get the other shit out of your mind," says Poochie. "As long as you're here, my job is to keep you smiling, talk a little shit to you, give you good food -- and give you a good fucking laugh."
Sign up here for our daily Chicago email and be the first to get all the food/drink/fun in town.
Eliza Helm is a freelance contributor to Thrillist, actor, and improviser based in Chicago. She is currently working on her shit talk. Track her progress @elizahelm.