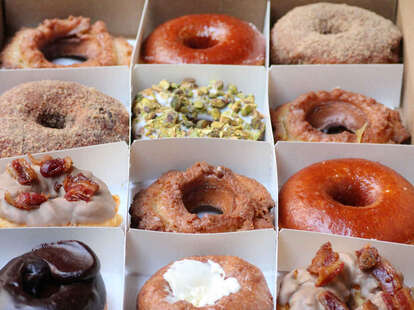 We know Chicago as the only city where something called "The Bean" is a tourism cash cow, putting ketchup on your hot dog is a capital crime, and ordering thin-crust pizza is referred to as "dieting." On top of those well-tread tropes, there's yet another layer of odd city quirks that don't exist in other parts of the universe. These things can only happen in Chicago.
A billboard remains up for Aloha... which hasn't been in theaters for more than six months
Chicagoans are both proud of their neighborhoods and interested in local oddities, and these two interests currently converge in Logan Square where a poster for the movie Aloha still sits above a number of other blank billboards (a hot button issue with the local Landmarks Commission)... even though the movie hasn't been in theaters since last summer. No one knows why it remains. Maybe Columbia Pictures is hoping it will spur on-demand purchases of the box-office flop? Either way, the poster's got its own Tumblr. No word yet on when it's getting an agent.
Dibs parking triggers city-wide disputes and a quest for civic decency
Chicago may have invented winter "dibs" parking, but the widespread shoveling tactic has garnered plenty of backlash and efforts to end it over the years. There have been crews from Streets and Sanitation tossing out dibs junk. There has been talk of vigilante "dibs patrols" crawling the streets to bust would-be dibs parkers. There was even one report of a woman's brakes being cut in a dibs dispute. The best way to combat the angry winter scourge that is dibs? With a positive-minded neighborhood "digout party." Way to show us how it's done, Avondale.

Multiple Tamale Guys battle in munchie turf wars
If you've frequented late nights dives around the city, you are no doubt familiar with The Tamale Guy (who you can also track/beg for on Twitter.) What you might not realize is that there are several tamale guys battling for turf and your booze-soaked dollars. Claudio, seen by many as the true Tamale Guy - toting his red cooler filled with tamales cooked by his wife Maria in Pilsen -- but there is also Julio who sports a blue cooler and there's also been a guy with a torta cooler who makes the rounds on rare occasions. Apparently, Chicago's appetite is way too big for only one Tamale Guy.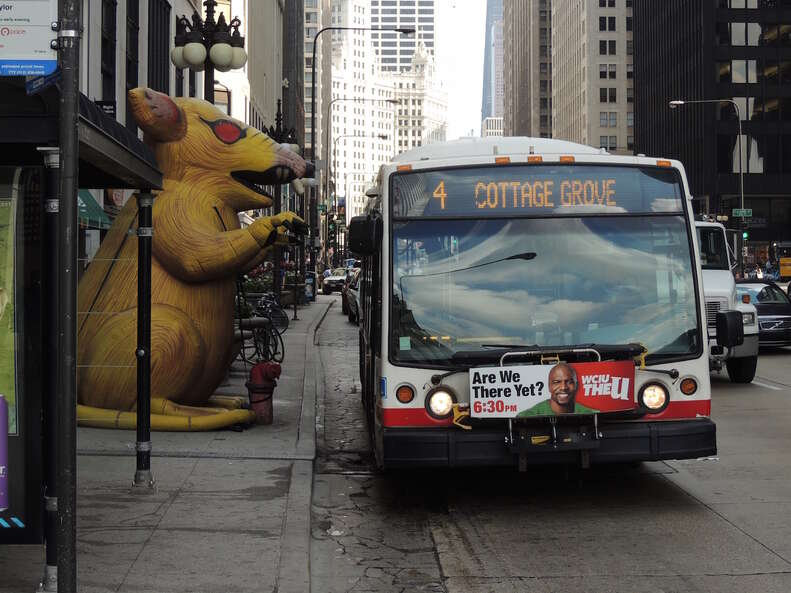 Donut expansions occur at an alarming rate
Yes, donuts are popular in many places. Nowhere are they currently more in demand than Chicago, where new donut stores are popping up at an alarming frequency, nearly more than vapor shops. Since opening in 2012 with one location in the West Loop, Glazed and Infused now boasts five city locations. Firecakes has just added a second location in Lincoln Park. Stan's is in the midst of opening its fourth and fifth locations less than two years after opening its first storefront in Wicker Park. We don't know when the donut boom will reach critical mass but we do know where it will happen.
A NYE tradition is watching our TV anchors making out
There are many ways one can celebrate New Year's Eve including, apparently, face licking. Such was the case when viewers tuned into the annual Mark Giangreco-Janet Davies NYE make out fest this year only to see Giangreco lick Davies's face in an apparent homage to the Chinese "Year of the Dog." This isn't the first time that the kissing sessions between the local news duo, who are not dating, have raised eyebrows. It dates back to 2012, and it's a hell of a way to start the year.

You can win an award for shoveling your sidewalk
If the prior reference to dibs is any indication, you known Chicagoans hate shoveling snow. So hated is the backbreaking act that the city has sought to boost snow shoveling by encouraging residents to nominate their neighbors for a "Winter Wonder" Award. Winners receive an award signed by the co-chairs (not dibs chairs) of the Mayor's Pedestrian Advisory Council (yes, a real thing.)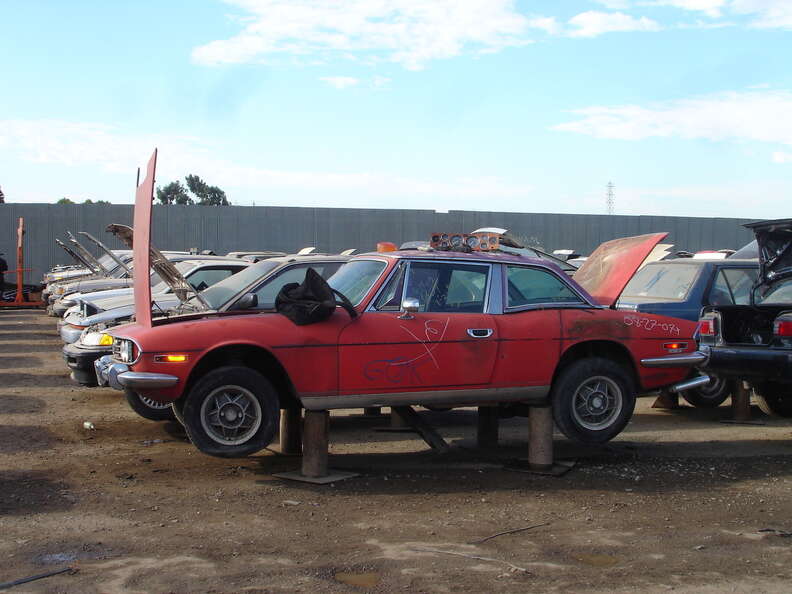 You can pull parts off cars at a junkyard, then pay for it
At Chicago's U-Pull-It junkyard, stripping cars is not only allowed, it's encouraged. That's because ripping parts off cars is the central business model of this unique auto enterprise, where you can grab and remove anything you see from a fleet of 1,600 discarded automobiles resembling a dystopian landscape after an action film atomic bomb scene.
You can get condoms (and porn) with your fried chicken
Don't you hate it when you're leaving KFC with your bucket of legs and thighs but you've forgot your condom? No longer is that a worry thanks to Ukrainian Village's Leghorn Chicken, whose condom and chicken business aesthetic is so popular it has spawned a second location downtown. This is in addition to the long-running weekly Porn & Chicken banger at Evil Olive. So yeah, apparently Chicago has some kind of weird chicken fetish. Not that we're judging or anything.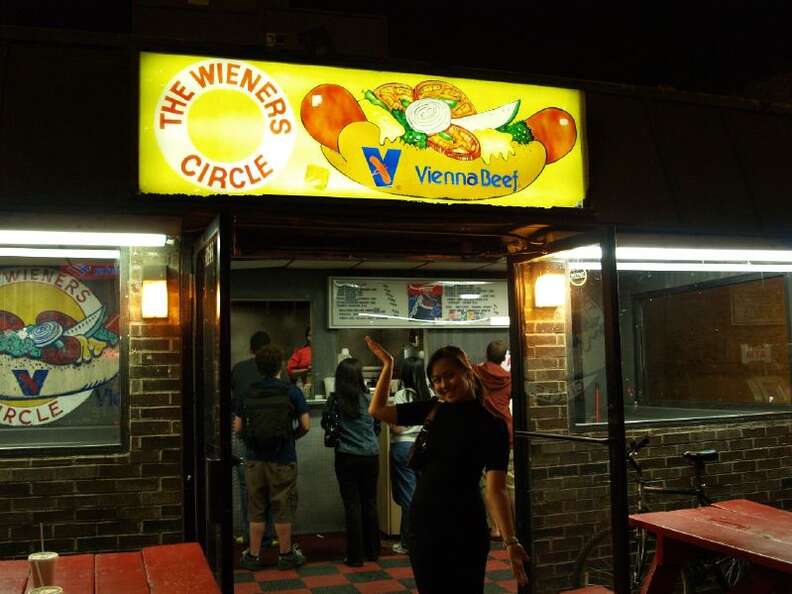 You get boobies when you order from a hot dog joint
OK yes, this doesn't happen all over the city. Only at one spot, to be exact: the notorious Wieners Circle, where not only is asking for a chocolate shake one of the worst decisions you can make it in the city, it's also probably the only place in the world where that phrase will make the workers lift up their shirts for tips.

A giant inflatable rat was born
While pizza rat has gone totally mainstream, Scabby the Rat was here keeping it real on the indie scene way before rats were cool. The rat was born in Chicago in 1990 to protest anti-union activities and has since expanded to other cities. But his true claim to fame came in 2011, when he was stabbed with a box cutter by a man involved a union dispute who then ran over the deflated rat with his car.
Sign up here for our daily Chicago email and be the first to get all the food/drink/fun in town.
Jay Gentile is a Thrillist contributor and he feels that chocolate shakes are best left up to the experts at DQ. Follow @innerviewmag