Let's try a little experiment. Think about a place where video games are made. Got one in mind?
Terrific. We'll bet good money that you either picked Los Angeles, a city in Japan, or somewhere in Silicon Valley. Are we right? If so, it's completely understandable -- the West Coast and Japan have been titans in the field since the medium's birth. But they're not the only players.
Yes, dear Chicagoans, your humble hometown, the Second City, the City of Broad Shoulders, the Many-Nicknamed City That Is Barely Habitable Eight Months Out of the Year, deserves some recognition when it comes to gaming. It doesn't get as much credit as the tech havens on both sides of the Pacific Ocean, it really is at the forefront of video game development -- and has been for years.
Think back to the last time you were at Emporium, RePlay, Headquarters, or another of Chicago's wonderful establishments with rows of classic arcade consoles and the relentless sound of clinking quarters. It's likely that the majority of the cabinets you played had a big red "M" logo stamped on them.
That "M" stands for Midway Games, and though you might only know them because of NBA Jam and the early Mortal Kombat titles, the company is hugely responsible for the proliferation of arcades in America. They've either developed or licensed the ones that started it all -- the original Space Invaders, Tapper, Galaga, Tron, Spy Hunter, Ms. Pac-Man, and countless other classics. And that all happened right here in Chicago.
Midway got its big break with Space Invaders, buying the rights to distribute it nationwide to pizza shops, bowling alleys, and anywhere else a video game cabinet might call home. They repeated this process with other titles (like Galaga, for instance) that had been created elsewhere, licensing them for Midway's own use, and this is all in addition to the pinball tables they had been cranking out under their Bally and Williams brands. Soon, they started making video games of their own as well. Spy Hunter, Tron, and other classics helped build Midway's brand, so that by the time the late '90s rolled around, Midway was the unquestioned king of of the arcade. By that point, they had released the Cruis'n series, NFL Blitz, multiple Mortal Kombat entries, NBA Jam, and even a weird shooter called Revolution X where you fire CDs at ninjas to rescue Aerosmith.
It's not much of a spoiler to remind fans what happened to arcades in the early-to-mid aughts. As consoles like the Wii brought gaming to a more mainstream audience, arcades themselves were dying and Midway struggled mightily to adapt to the changing environment.The proliferation of home consoles like the Wii (and the Nintendo 64, PlayStation, Sega Genesis, and NES before it) were the death knell of arcades. After all, why would you pile into your mom's minivan and bug her for $20 worth of quarters so you can play Pac-Man or Street Fighter II for a few hours when you can get the game to play at home? When Nintendo almost single-handedly saved the industry following the video game crash of 1983 by popularizing home consoles, time began to run out on arcades. Though they continued to be somewhat popular through the '90s, The Verge reports that by 2005, only about 25 arcades remained in the New York area, down from hundreds in 1995. This spelled disaster for Midway, who relied on the arcade market to bolster its business through cabinet and pinball table sales.
Fast forward a few years and it was deep in debt, eventually liquidating its assets in 2010. Because the company was such a dominant force in Chicago, its slow descent into failure meant that people started to forget about the city as a hotbed of gaming innovation. There were fewer and fewer notable titles coming from here, and in a "what have you done for me lately?" industry, that meant that the town was no longer a destination for up-and-coming developers, many of whom ended up on the West Coast.
But the story didn't end there. Dave Lang, the founder of Chicago's Iron Galaxy, the studio behind Killer Instinct and countless other excellent titles, says Midway's dissolution actually gave rise to his company and multiple others. For many of the people involved, leaving Chicago just didn't feel right. "A lot of the original crew came from Midway just across town," he says referring to their old headquarters in Irving Park. (Iron Galaxy is located just off of Clybourn, near the Armitage brown line stop.) "I tend to think of us as part of Midway's legacy, and framed like that, not being in Chicago would feel super weird. This is home."
Rob Lach, one of the co-founders of Bit Bash, a series of events that showcases games from smaller and independent studios, notes that an added bonus of rebuilding this community was the massive number of local universities that offer courses in the field. DePaul, Columbia, and Elmhurst all have game-design and development programs, with DePaul also offering a Masters course. Thanks to the veterans sticking around, recent graduates have the opportunity to easily meet with trailblazers in the field.
The result of all of this was that Chicago's game-making scene became heavily community-oriented. Instead of being dominated by one or two gigantic studios like in its heyday, Chicago is now home to dozens of teams, from huge ones like NetherRealm, WB Studios, and Iron Galaxy, to well-known indies like Jackbox Games and Trinket Studios. Nipping at their heels are a bunch of smaller, independent collectives that are pushing the envelope.
That kind of competition could have led to tension, but Bit Bash community manager Jamie Sanchez says it created healthy rivalries and new mentor-like relationships. Both NetherRealm and Iron Galaxy have been involved with Bit Bash to try to scout and foster fresh talent, and there are several meet-ups where people newer to game design can learn from more experienced workers what it's like to actually make this dream job a reality. Emporium Arcade Bar hosts events where local creators can show off their works on a bonafide stand-up arcade machine. Indie City Co-op, meanwhile, gives teams the space -- and sometimes tools and personnel -- to create these digital works of art.
Tom Eastman knows about this support intimately. His company, Trinket Studios, is currently working on a project called Battle Chef Brigade, which is basically what would happen if they put Castlevania and Tetris in a blender with a couple of old Iron Chef VHS tapes. In another metro area, that crazy idea might not have come to fruition. "[Chicago developers] have some amount of support from colleges and the remaining mid-size studios, but we're missing a lot of the broader supports that other cities have," he says. "The result is a fascinating blend of pragmatism and innovation, which is reflected across all of the games here."
It's a sentiment that's echoed among the heads of local outfits. Rob Lach describes it as "where the grit meets the art," similar to Chicago's architectural identity. Think of the Hancock Building. Its signature criss-crossing steel beams aren't just there for show -- they literally hold the building up. The beauty of the structure comes both from its aesthetics and the very real purpose the beams serve. Similarly, video games ride the line between creative vision and real-world engineering, and when it comes to Chicago, Lach says there's a "practicality to ambition" unlike anywhere else.
It's all thanks to the city's unique DNA. Iron Galaxy CEO Adam Boyes points to Chicago's friendly-yet-determined Midwestern nature, resilient history, and genuine working-class nature as reasons that studios here have continued to thrive. He also argues that it benefits from the fact that it's not the first place you think of when you consider where your favorite titles are made.
"In big cities that have a robust community flush with opportunity, positions within it become commoditized. Pride for your workplace and love of the task becomes a secondary or tertiary career aspect. Instead, plotting the next move you can make to increase your salary or climb to the next rung on the ladder sadly becomes the focus. Personally, it feels good to get away from that. Here in Chicago, I am able to focus on the work at hand and enjoy a career-life balance surrounded by top-notch talent who feel the same."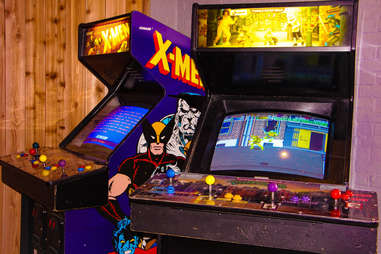 People here tend to start in the business for a simple reason -- they love the play and the work. Unfortunately, it can't be forgotten that passion alone doesn't pay the bills. Eastman, in particular, harbors fears about what Chicago's development community will look like in a few years if it's still forced to support itself from the inside. As rent increases all over, it will become harder for emerging and established independent developers to afford their apartments in, say, Lakeview, Logan Square, Lincoln Park, Pilsen, and Avondale. The city has very few grants available for the industry's workers, so they're forced to compete with each other in order to get the financial backing of larger studios and colleges.
Boyes and Lach, on the other hand, have a more optimistic view. Lach is very excited for what the next few years will bring, pointing to the fact that the Chicago arts scene at large is now beginning to get more and more involved with game-making. People with backgrounds in theatre, visual art, music, and animation are now joining up with established studios to bring new perspectives and expertise to the table, thanks to the pipeline that exists from colleges, smaller studios, and events like Bit Bash.
It's a cycle that feeds itself, with those who have "made it" advising newcomers how best to move forward, and the younger crew later doing the same. The community here is so prolific and varied, if there's another industry bust, game-makers can come together to prevent the kind of fall that happened in the early 2000s. "When you focus on the roots," Lach says, "they last generations."
Mortal Kombat, Gauntlet, NFL Blitz, and Rampage came to life thanks to attempts to innovate and bring something new to the table, with a careful eye towards what worked in the past. It's likely the Second City will never truly rival San Francisco, Los Angeles, or Japan in terms of gaming dominance, but through sheer grit, determination, creativity, and teamwork, Chicago has established itself as a home for some of the best releases in recent years: Cardboard Computer's Kentucky Route Zero, for instance, was Rock, Paper, Shotgun's Game of the Year back in 2013, and Season 3 of Iron Galaxy's Killer Instinct was chosen as a nominee for Best Fighting Game at 2016's The Game Awards.
Luckily, if you want to break into the field, you don't have to rack up tens of thousands of dollars in student loans or move out west. For starters, there's Bit Bash's February 22 event, "Filthy Pixels," at Bottom Lounge. There will be booze, pop punk bands, playable adventures like Lesbian Spider-Queen of Mars, and the opportunity to truly see what makes the Chicago video game development scene so special -- its ragtag group of industry veterans, ambitious rookies, and everybody in between.
Sign up here for our daily Chicago email and be the first to get all the food/drink/fun in town.
Sam Greszes is a writer who contributes to Thrillist and Yardbarker -- just as soon as he finishes this one last level. You can follow him on Twitter @SamGreszeseses on Twitch at RobotsFightingDinosaurs, or at Bit Bash's February event, where he will be giggling like a child while hunched over an arcade machine.