What the Hell Are These Giant Construction Projects Around Chicago?
Courtesy of M&R Development
For any Chicagoan stepping foot outside their apartment recently, it's obvious that we're pretty far removed for our Big Short recession slump as major construction is booming again. Cranes are as familiar a sight in River North as designer pooches and $14 cocktails. With so many major developments going on all over the city it's clear some parts of our beloved Chicago are going to look very different in just a few years. Here's a preview of some of the biggest changes coming to the Windy City set to take place by the year 2020.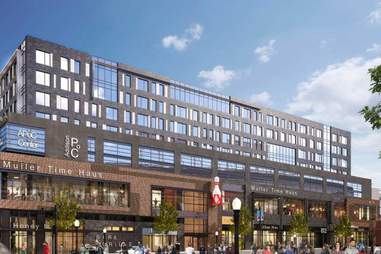 Courtesy of M&R Development
Lakeview gets a new Wrigley, high-rises, and a Lathrop Homes overhaul
Wrigleyville Construction
Clark & Addison
What's there now: Wrigley Field, some older single-floor storefronts, the rubble of a McDonald's
What's going in:The new plaza, a hotel, a huge mixed-used apartment building on Addison
While the renovation of the historic stadium rightfully took center stage for years, for most Lakeview residents the biggest impact is coming in across the street. A boutique hotel is taking the place of the Wrigley McDonald's -- a new one is planned to open up in the hotel for your late-night McNugget needs -- and the assorted gravel lots around it. Which is fantastic news for neighborhood residents who wanted Cubs fans to spend even more time packing the Red Line and running into them on the sidewalk. 
An even more prominent structure will take up the entire block on Addison between Clark St and Sheffield Ave, with almost 150 apartments and plenty of street-level retail. Neither building is replacing anything too beloved by the neighborhood, and the extra parking will hopefully ease some game-day pressure in the area, but both are sure to contribute to the madhouse that is Cubs games.
Courtesy of Forman Realty
2950 North Sheridan
Sheriden between Wellington Ave and Oakdale Ave
What's there now: Construction on the site of a former fenced off parking lot and garden
What's going in: 19-story apartment building
The boom of recent high-rise construction in Chicago hasn't veered into Lakeview until now with a highly visible project currently underway on Sheridan Rd. At 19 stories and with a modern curving glass form, this 82-unit building is sure to stand out among the older brick buildings surrounding it. Just as noticeable are the astronomical rents, expected to start at $2,900 a month, and the buildings success could mean more luxury developments like this one for the neighborhood.
Courtesy of bKL Architecture
Lathrop Homes
Diversey, Clybourn & Damen
What's there now: 925 units of public housing
What's going in: 1,200 rental apartments and 50,000ft of commercial space
After a drawn out battle, it seems the long-awaited development of Lathrop homes will be moving forward. While public housing advocates have been fighting the proposed development, claiming the city reneged on a promise to build replacement structures elsewhere, the Chicago Plan commissioner approved the redevelopment in February. The project will erect several new mixed-use buildings along Clybourn and Diversey, which will bring some much needed pedestrian-friendly retail space the corner, and restore 14 of the historic '30s era structures for new apartment use. The plan also calls for restoring acres of green space along the river.
Courtesy Of Magellan
The Loop will raise its third tallest skyscraper along the Chicago River
Wanda Vista Tower
375 E Wacker
What's there now: An empty lot between Wacker and Lake Shore East Park
What's going in: Three towers with the tallest topping out at 1,186ft with over 400 condos and a five-star Wanda Vista hotel
While mid- and high-rise projects have been dotting the city over the last few years, Chicago hasn't gone BIG big since the Trump Building and Aqua were finished in the wake of the housing collapse. That ends with Wanda Vista, which will cast an imposing shadow over the east end of the Chicago River with three skyscrapers designed by Jeanne Gang. The tallest building will surpass the Aon Center as the third largest in the city and set a new standard for the Lakeshore East neighborhood. With Wanda Vista and 113 East Roosevelt, Chicago has finally gotten back in the business of building world-class architecture.
Courtesy of Terraco
Logan Square will plant apartments along Milwaukee Avenue
Logan Mega Mall Redevelopment
Milwaukee between Sacramento Blvd and Logan Square Boulevard
What's there now: A closed down massive indoor flea market and parking
What's going in: A series of connected mixed-use apartment buildings with over 100,000ft of retail space
Approved by the Plan Commission back in December, the biggest project currently underway in Logan will completely reshape the 2500 block of Milwaukee Ave. The planned development will replace the abandoned Mega Mall with an entire block of apartments and storefronts. After local residents protested the initial projects' scale and generic design, developers responded with shorter buildings and a new brick and glass industrial design that is much more in tune with the neighborhood. While there are still concerns about a lack of affordable housing, the project should further cement Logan Square's status as one of Chicago's fastest developing and most desirable hoods.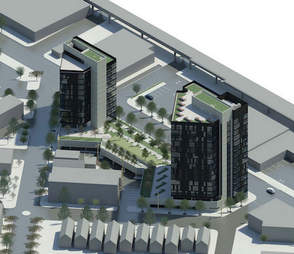 Courtesy of Wheeler Kearns Architects
Milwaukee Dual Towers
2289 N Milwaukee Ave.
What's there now: The skeleton of the two new towers (previously an empty lot)
What's going in: 11- and 12-story mid-rise towers separated by green space
One of the biggest projects taking advantage of the city's transit-oriented development bill, the Dual Towers are currently going in right around the corner from the California Blue Line stop. Like the Mega Mall development down the street, it will bring a big swath of what was previously dead space on Milwaukee Ave back to life. Unlike the Mega Mall, both the modern design and the tower's height will really stand apart from surrounding buildings, impacting the feel and character of the California area. Whether developments like this guarantee Wicker Park-like gentrification or help alleviate price pressure on Logan's low density housing stock remains to be seen.
Courtesy Of Northerly Island Planning
South Loop will see a new park, arena, and Chi's tallest apartments
Northerly Island Park 
Northerly Island
What's there now: Mostly bare patches of grass and dirt with the beginnings of the new park on the south end
What's going in: A completely regrown prairie-inspired park
No list of Chicago developments would be complete without a little old-school political power play. Northerly Island was the sight of Meigs Field airport until 2003 when Mayor Daley -- who had wanted to turn the island into a park since 1996 -- sent out bulldozers in the middle of the night to plow huge "X's" in the runway. He claimed eliminating the airport in any other way would have been "needlessly contentious."
In its place we will get Northerly Island park, which opened its first 40-acre section last year. Several more phases will be opened to the public in the coming years, with a central lagoon (replacing the larger one in the renderings) and eco-conscious design featuring native Illinois plants meant to encourage wildlife to settle there. While the full growth won't be complete for decades, the full park should be accessible soon and will bring another tract of green space to Chicago's lakefront.
Courtesy Of Metropolitan Pier and Exposition Authority
McCormick Place Entertainment District
Cermak & Prairie Ave
What's there now: Lots being cleared for the construction
What's going in: The new DePaul arena and a 40-floor Marriott Marquis hotel
The behemoth that is McCormick place will get two new big buildings right next door in Chicago's ongoing attempt to revitalize one of the fastest-growing sections of the city. The centerpiece is the new multipurpose arena, which will host concerts, conventions, and the Big East powerhouse of mediocrity known as the DePaul basketball team (who only dropped $70 million on the new stadium when they could have had the United Center host all 400 diehard fans for free). Across the street from the arena will be a boutique-style Marriott Marquis hotel which is betting big on continual convention traffic. Seeing as several other developments are already looking to circle this one, the Entertainment District looks like the beginnings of another major transformation for the East Cermak area.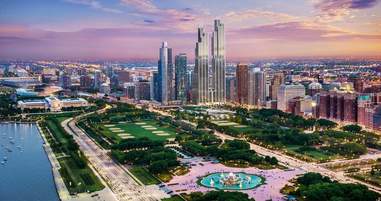 Courtesy Of Crescent Heights
113 East Roosevelt Rd
Corner of Roosevelt and Michigan Ave on the south end of Grant Park
What's there now: An open lot
What's going in: A 76-story tower with almost 800 apartments
Standing over 800ft tall, the newly approved development at the corner of Michigan and Roosevelt is meant to be a memorable statement piece that will anchor Grant Park. Once completed it will be the tallest building in the South Loop and the tallest all-residential structure in the city. It will be a symbolic structure, not just for its size and Willis Tower-inspired design, but for what it means for the South Loop, which has seen massive projects coming back online after the 2008 crisis cut off its nascent explosion.
Courtesy Of McCaffery
Lincoln Park will clear the old hospital to make room for apartments
Lincoln Common
Halsted, Fullerton, & Lincoln
What's there now: The remains of the out-of-use Children's Hospital buildings
What's going in: Two 19-floor towers, new retail space along Lincoln Ave
Sitting at a major intersection in the heart of Lincoln Park a new set of buildings will take finally be going up to replace the long abandoned Children's Memorial site. Standing out in an area mostly characterized by its historic row homes and smaller apartment buildings, the Lincoln Common development will raise two new glass facade apartment buildings and 60 condos on N. Orchard St. The old hospital high-rise will be demolished and the plans incorporate brick and terracotta buildings into a new stretch of store space, which should bring a host of new shopping and dining options along Lincoln Ave.
Courtesy Of SCB
Elevate Lincoln Park
2518-2549 N Lincoln Ave
What's there now: The Lincoln Center building
What's going in: A much larger apartment building with nearly 200-units and more retail space
The Lincoln Center, known to anyone riding the Red Line as "that building with the Tennis courts," occupies a location too prime for its measly four floors, and a design too ugly to be worth saving; therefore, it will be coming down. Along with the Lincoln Common site just a few blocks away Elevate Lincoln Park, as it has been dubbed, will add to the growing collection of luxury rentals along the spine of neighborhood. Retail space looks to be pretty similar to the current situation, but the building will tower over its neighbors and eliminate what was one of the most recognizable buildings along many a Chicagoans' commute.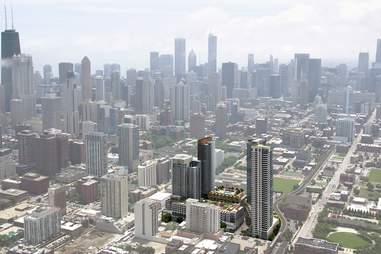 Courtesy Of FitzGerald Associates Architects
River North and Gold Coast will add to the high-rise condo collection
Atrium Village Redevelopment
Division & Wells
What's there now: The old Atrium Village collection of apartments
What's going in: A total overhaul which will replace the nine-story building with multiple high-rises and over 1,500 housing units
Atrium Village as it stood was an interesting experiment, meant to bring a mixed-income community to the area, but the apartments large fenced-off green space and location set back from the street isolated it from its more urban surroundings. The overhaul of the Village will change all of that, turning an entire block of low density development into modern high-rises, connected to the street with 40,000ft of commercial space. There are plenty of apartment buildings going up all over the neighborhood but none will be as transformational as Atrium Village. 
 
Courtesy of Pelli Clarke Pelli
Wolf Point Towers
Franklin St and the Chicago River
What's there now: The nearly complete Wolf Point West
What's going in: Two more larger skyscrapers, with the central one expected to top out around 1,000ft
There aren't two many places in Chicago as prominent as Wolf Point, the confluence of the north branch and main stem of the Chicago River, and its getting a big facelift with the new Wolf Point Towers development. Formerly dominated by the dated Chicago Sun-Times building, the riverside site will get three sparkling new apartment high-rises sitting across the street from Merchandise Mart and visible far down the river. With the first phase nearly complete and phase two breaking ground River North is about to get a big influx to its already booming luxury market.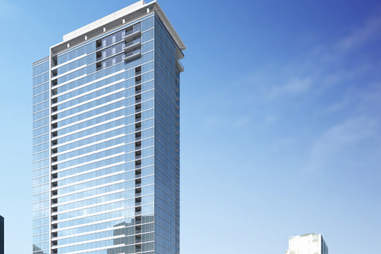 Courtesy Of Fifieldco
The Sinclair
Clark & Division
What's there now: Construction cranes on the site of the old Jewel-Osco
What's going in: One of the largest transit oriented projects in the city, a 35 floor tower with a brand new Jewel
At long last the Gold Coast will wave goodbye to its blight of a supermarket at the corner of Clark and Division. With its big street-level parking lot and run-down interior the old Jewel had been long holding back one of Chicago's most desirable properties. In its place will be the Sinclair, a luxury residential high-rise with a brand new Jewel in the base to serve the neighborhood. The building will be a commanding presence among the brick and stone, but there is little denying the beautification this block needed, and it's not as though the Gold Coast was particularly welcome to the mid range renter crowd before this anyway.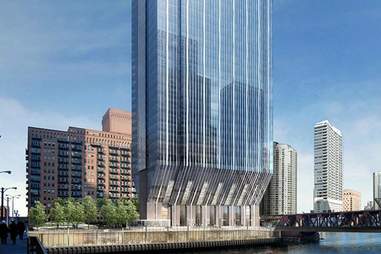 Courtesy Of Clark Construction
The West Loop developes with more high-rises and boutique hotels
150 North Riverside
Randolph St & Chicago River
What's there now: The final tower, half built
What's going in: The largest office building under construction in Chicago, a 54-story structure overlooking the river
Sitting astride the Chicago River and the Lake St 'L' bridge 150 North Riverside will be a prominent new tentpole structure welcoming people to the West Loop. Unlike many of the other high-rises going up in the city Riverside is 100% office space, and is emblematic of the growing commercial push into West Loop area that rapidly developing the few unused or underutilized lots in the area. Resident and workers in this section of the neighborhood can be assured it is only a matter of time before the whole area is a tall and dense as the Loop itself.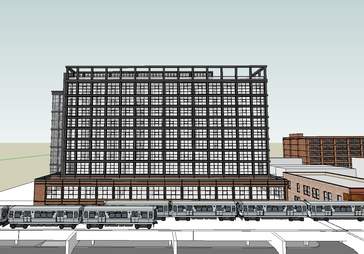 Courtesy Of Shapack Partners
200 North Green
Lake & Green
What's there now: Several older one and two story warehouses
What's going in: A boutique hotel with 170 rooms, office space, and street-level retail
With the success of the Soho House Hotel and the neighborhood's rep for destination dining the West Loop is seeing a not unexpected boom in hotel development. But while other parts of the city have been betting on towering 400-room lodging, developers in the West Loop have been more sensitive to both the areas ascetic characteristics and increasingly high-end clients by sticking to boutique hotel designs. Thus we get 200 N Green by the same firm, Shapack Partners, that did Soho House. Featuring an industrial steel and glass design, the expected development with not only bring more tourists and travelers to the area, but will add two floors of office space for the neighborhood's growing creative professional presence.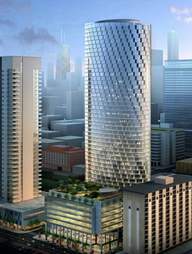 Courtesy Of FitzGerald Associates
One South Halsted
Halsted & Madison
What's there now: A surface-level parking lot
What's going in: A 50-story luxury residential building
The long-in-limbo One South Halsted building looks like it is finally moving forward as developers must make some kind of progress by June to avoid losing their zoning amendment. While the whole Greektown area has seen plenty of development One South Halsted would be a defining structure in a prominent location that will further transform the old industrial corridor into the modern urban landscape it seems destined to be.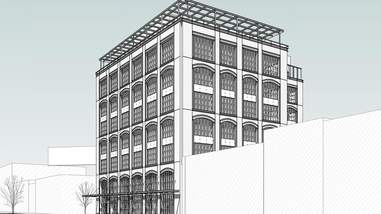 Courtesy Of Booth Hanson
Nobu Hotel
854 W Randolph 
What's there now: Vacant lot
What's going in: An eight-story hotel
Joining 200 N Green in the category of boutique hotel hopefuls is the Nobu, which will occupy a central space at Randolph St and Peoria. While other development in the area have circled around the hood's main drag on Randolph the planned hotel will bring some height and flair to the restaurant corridor itself, although the chopped down-size of the building won't change the streetscape too drastically. And while the 76-room hotel won't be a overwhelming presence it's sure to increase the foot traffic of wealthy urbanites seeking out small plates and $8 craft beers.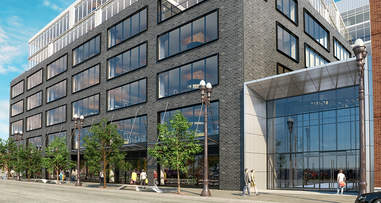 Courtesy Of RM Design Studio
Fulton West
1330 West Fulton
What's there now: The skeleton of an unfinished previous development
What's going in: 290,000sqft of office space
The West Loop isn't going to be all boutique hotels and luxury condos. With the arrival of Google and the opening of other progressive minded business spaces like WeWork it is also becoming one of Chicago's hottest spots for commercial development. Taking over a previously unfinished construction, Fulton West is set to be one of the biggest new structures in the area bringing nine floors of state-of-the-art commercial development with the hopes of attracting even more techie and creative workers to the West Loop. While the area west of Halsted has yet to see office high-rises projects like this are adding an entire new dimension to the population of the West Loop.
Sign up here for our daily Chicago email and be the first to get all the food/drink/fun in town.
Matt Spina is a writer living in Chicago who hopes he doesn't get priced out of his fourth straight neighborhood. Follow his struggles @MR_spina.