Why Every City Should Be Jealous of Chicago
There's a famous commandment that says, "Thou shalt not covet thy neighbor's city..." or something like that. For those non-Chicagoans spending any considerable amount of time in the Jewel of the Midwest, it inevitable that you'd grow envious, probably turning as green as our (probably toxic) river on St. Patrick's Day. This is why.
Kailley Lindman/Thrillist
1. Our food
Italian beef. Chicago-style hot dog. Deep-dish pizza. All Chicago inventions. All of which put other regional local delicacies/abominations to mankind like the Philly cheesesteak to shame. We even have The Mother-In-Law, a tamale on a hot dog bun. Covered in chili. Which is actually way better than it sounds. Oh, and our restaurant scene is tops in the country, especially better than New York's. 
 
2. Our festivals
From Lollapalooza and Riot Fest to Pitchfork and North Coast Music Fest to Spring Awakening and (new this year) Chicago Open Air, Chicago has turned into ground zero for the summer music festival circuit. And that doesn't include free shows in Millennium Park and about a billion other summer street festivals. 
 
3. Our cost of living
Noodling around on Numbeo's cost of living tracker to find that Chicago's is comfortably lower than NYC's, which comes along with more purchasing power than the Big Apple. Our rent is also lower than DC's, LA's and, of course, San Francisco's.
4. Our glorious flag
The Chicago flag is a thing of beauty. We hang it outside our house, we have it sown on our backpacks, we have it tattooed on our forearms. San Francisco's flag, by comparison, is this abomination [shutter]. 
 
5. Lake Michigan
Our beaches are so close to downtown it's crazy. They're like, right there. And in summer, anyone who prefers Lake Havasu to Lake Michigan belongs in Lake Havasu. 
 
6. Wrigley Field
As if the Friendly Confines weren't enough enticement, we're throwing in Joe Maddon, the NL Rookie of the Year, the NL Cy Young winner, and a new crop of talent including Jason Heyward and Ben Zobrist. We ain't afraid of no curse. 
 
7. Our beer scene
Did you know we pretty much invented craft brewing? And if that's not enough, our craft scene is currently overflowing with talent from established heavy hitters like Half Acre and Revolution to up-and-coming newbies like Alarmist and Marz. Trying to keep up with all the new breweries is half the fun.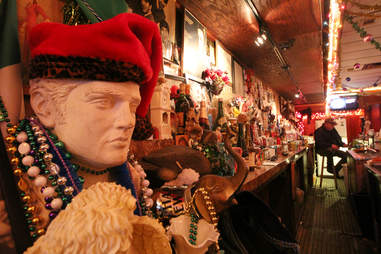 Sean Cooley/Thrillist
8. We party LATE
Till 5am, kids. Just stay away from these places. 
 
9. Our corrupt politicians
Our corrupt pols are more fun than your corrupt pols. Our array of old mob run bars should give you an indication of that. Does your city have a bar where one of Capone's henchmen sliced a singer's tongue off because he threatened to go sing in another club? Didn't think so.
10. Day drinking
Yes, other cities enjoy day drinking. But when winter finally turns to spring and the outdoor patios start popping up around town just as the shirts turn short-sleeve (or as soon as March 1st rolls around), there's no place like it in the world.
 
11. We invented house music
Chicago may be famous for the blues, but we also invented house music (not to mention the skyscraper, the cellphone, and Playboy.) You're welcome, world. 
 
12. Our architecture
Time to face facts: we have the best skyline in the world. Despite what "others" may think.
13. Our green river
Fact: our St Patrick's Day is more fun than your St. Patrick's Day. We have a green river to prove it. 
 
14. Our comedy scene
Not only do we have the greatest live comedy theatre in the history of mankind, we can also claim Bill Murray. Who happens to be a person you should DEFINITELY not heckle on stage. 
 
15. Kanye West
OK, maybe we botched this one.
Sign up here for our daily Chicago email and be the first to get all the food/drink/fun in town.
Jay Gentile is a Thrillist contributor and he knows better than to fuck with Bill Murray on stage. Follow @innerviewmag