Why Google, Amazon, and Other Tech Companies Are Setting Up Shop in Chicago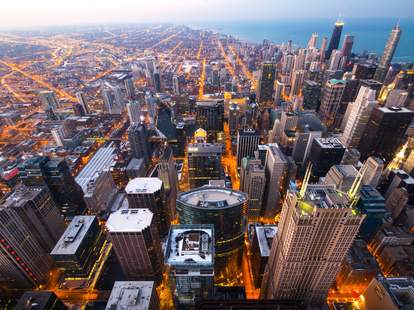 <a href="http://www.shutterstock.com/gallery-689047p1.html?cr=00&amp;pl=edit-00">Busara</a> / <a href="http://www.shutterstock.com/editorial?cr=00&amp;pl=edit-00">Shutterstock.com</a>
Even your flip phone-equipped hippie friends must have noticed by now that big name tech companies like Google and Amazon are expanding their presence in Chicago. The city's tech scene is breaking out as investment in local companies now routinely exceeds over a billion dollars each year, and recent billion dollar exits have come from local companies like Cars.com, Grubhub and Orbitz. While Chicago still has a long way to go to catch up with Silicon Valley, here's why Silicon Prairie continues to grow.
 
Groupon and others proved tech companies can grow here
Sure, Groupon isn't flying as high as when it turned down a $6 billion buyout offer from Google in 2010 (whoops). But early tech-era successes like Groupon, GrubHub, and Braintree showed it's possible to build a global business based in Chicago. 
 
Investors are looking beyond the coasts
The cash to build a company is usually from the deep pockets of venture capital (VC) investors looking for a piece of the action. Unfortunately, many of them are based in the Bay Area or New York, and they tend to focus their investments there. Still, Chicago startup companies had their best year ever in 2015, bringing in $1.7 billion in funding headed by tech companies like Avant, kCura and ArgonCredit. So it's evident investors are taking Chicago more seriously and a growing number of Chicago-based VCs are betting on homegrown businesses as well. 
<strong>Google Chicago | </strong><a href="https://www.flickr.com/photos/opacity/12225453134/" target="_blank">Flickr/Anne Petersen</a>
Chicago companies are seen as safer bets
Most Chicago tech organizations focus on serving businesses instead of building the "Next Big Thing" for consumers. It isn't sexy or disruptive, but investors see this practical Midwestern mentality as more reliable. However, this risk-averse approach means most of the dollars coming into the city are going towards bigger, safer bets like Expedia's $1.3bn acquisition of Orbitz, instead of new startups, says Emile Cambry, Founder and CEO of incubator BLUE1647.
"It takes an investor to say 'alright, we're not going to make money for three to four years,' and you don't tend to see those types of investments in Chicago," Cambry said.
 
It's much cheaper to live here
The low cost of living in Chicago makes it a better option for would-be entrepreneurs than many major cities. For instance, the average overall rent for apartments in San Francisco is $3,770 and in New York it's $3,519, compared to $1,989 in Chicago, according to Rent Jungle. So employees can do more with lower wages. Additionally, WalletHub ranks Chicago in the middle nationally when it comes to the cost of running a business. Taken together, these lower costs are appealing to new startups and big operations alike. 
Nearby universities bring in top tech talent
A growing pool of workers in Chicago's tech scene attracts companies thirsty for talent. Commercial real estate company CBRE ranked Chicago fifth in the country for tech talent, with around 133,000 people working in the area in 2013. Perhaps most appealing among those workers are top-tier engineers who choose to stay after studying at nearby universities like Northwestern, University of Chicago, and University of Illinois. A growing number of bootcamp training programs like The Starter League also train new tech workers each day. And CPS is also the first public school system to require computer science training. This could translate to an even deeper, more diverse pool of workers in the future. 
 
There's an increasing amount of assistance for new businesses 
Chicago is now home to dozens of accelerators, incubators, and co-working spaces. They offer assistance like office space, mentorship, and even investment to new companies. Among them is Cambry's Blue 1647, which provides training and support to help people on the South and West sides become entrepreneurs. 
"It's a place where people can connect and we can bring in the tools they need so they can maximize their opportunities, whether they're filmmakers or musicians or developers," Cambry says.
Local politicians show love for tech
Officials from Mayor Emanuel up to Governor Rauner see growing the tech scene in Chicago and Illinois as a top priority. One way they're helping is by funneling tax dollars into business-friendly infrastructure projects. This includes the recently-opened UI Labs, a digital manufacturing hub built on Goose Island thanks to $70 million dollars from the Defense Department. The "Innovation Island" will bring together companies like Boeing along with universities and entrepreneurs to try and revolutionize manufacturing. Despite this pro-tech mentality, the city is also facing scrutiny for a "cloud tax" on streaming media companies operating here. 
 
Let's just hope they stay in Chicago
Some Chicago companies are doing so well that huge corporations are scooping them up. Nearly 100 Chicago-area companies in tech and telecom were sold in 2015, according to Crain's. Coyote Logistics, Cleversafe, and Orbitz all went for over $1 billion. While it's a promising indicator, sometimes jobs are lost to other cities in the inevitable reorganizations that follow, that is until Chicago stake a claim as a top tech destination.
Sign up here for our daily Chicago email and be the first to get all the food/drink/fun in town.
Mike Ewing is a freelance journalist and tech enthusiast who is full of million-dollar ideas. For more rants/investment opportunities follow at @miketewing.