Finally, a Payoff to the Heart-Wrenching, Anxious, Glorious Life of Being a Cleveland Sports Fan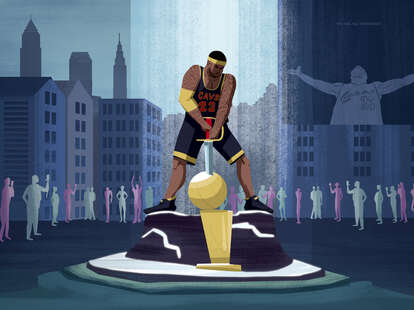 After the Cleveland Cavaliers won Game 6, the plan was to write an article reflecting on Game 7 as a displaced East Coast Cleveland fan.
I wrote an entire draft assuming they'd lose -- waxing poetic about the values of Cleveland, and how we keep loving despite our continued losing.
And then they won it all.
The loyal masochism of Cleveland
I grew up in a suburb of Cleveland, Ohio about 40 minutes outside of the city. My parents were born and raised here, and they led by example in their Cleveland sports fanhood. My favorite example: in 1987, while seven months pregnant with my older brother, my mom insisted on going to the Browns AFC Championship game despite the advice of her doctor. She was there to witness The Drive. When you start your life like that, you have no choice but to be a fan too.
That fandom came at a cost, of course. One of my earliest memories was when Art Modell moved the Browns to Baltimore, which was akin to a death in the family. The rise of the 1995 and 1997 Indians brought so much joy and energy to the city, only to crash in heartache. The laundry list of other misfortunes, all given their own monikers densely packed with the reminders of Cleveland's chokes and failures, has been passed down generation to generation for 52 years. But few consider changing fandoms, because that's not how we do things here.
You suffer. You enjoy the little victories. But above all you stay loyal. It unites us.
Few consider changing fandoms, because that's not how we do things here.
And then came LeBron James. He went to my rival high school and played against us on national TV; a grown-ass man against almost comically scrawny white boys, cowering under the dominance of this unicorn athlete. The Cavs drafted him, and I watched in awe as he made NBA players look almost as inept as those high schoolers. The league had rarely ever seen anything like this, and he was ours.
Until suddenly, he wasn't. After years of hope, "The Decision," an hour-long special that would unveil LeBron's plans as a free agent, felt like a particularly twisted stab in the back from one of our own. It seems that we like to forget that people were burning "23" jerseys in the street after it aired.
Little did we know he would rectify all of it and more in the most dramatic way possible.
The second chapter
Plenty of people grow up in Ohio and are eager to leave, but I was never that girl. Still, like so many others, I took the lessons Cleveland gave me and left to pursue my dream career. Four years later, I watched Game 7 in my apartment 555 miles from home.
I watched with one other person, my fiancé, a tall blonde from Boston who has celebrated more sports titles in the last 15 years than I arguably will ever see. His bachelor party was Game 7 weekend, and I told him, "I understand if you can't make it back in time, but this could be the greatest moment of my life, and I want to share that with you."
He bristled only slightly at the insinuation that I love Cleveland more than him; he understands me by now.
I had seen this movie before.
The game itself was a blur. There was never a moment I thought they'd actually win. The Cavs were on the road against a Warriors team that just broke a previously untouchable record for most regular season wins -- they only lost twice at home in that time. Throw in that they were up 3-1 in the series, they beat the Cavs last year in the Finals, and of course, good things don't happen to Cleveland. But despite that knowledge, it's still Game 7 -- anything could happen, though I knew better than to expect a victory.
I texted furiously with my family and friends back home as the game ebbed and flowed.
Then, in the final 10 seconds with Cleveland up by three, LeBron took a hard fall on his wrist and a bolt of dread filled my stomach as he writhed on the ground. This was where the heartbreak should hit. This is where LeBron should hobble off the court and watch helplessly as Steph Curry cemented his place in history. I had seen this movie before.
But he got up. He made a free throw. The clock hit zero.
What the hell do we do now?
The world turned upside down
At 4am, fiancé long asleep, I stayed glued to the TV. I pored over every replay, every interview, every shot of Downtown Cleveland celebrating. My favorite thing was how they did so in a complete daze, wandering the streets like giddy zombies. There were no fires, no flipped cars, no riots erupting from 52 years of angst. Cleveland police said they only arrested five people the whole night. This fanbase had no remote idea how to even react to success.
That continued at the parade. I drove eight hours overnight to celebrate with my family at home. Objectively, the entire thing was a mess, but what can you expect when you throw a party with 1.3 million people on two days notice? No one really cared, anyway. We were just happy to finally have something to celebrate together.
There were no barricades on the parade route, so the crowds poured into the streets hours in advance. Once the streets were full, some climbed on whatever they could to get a view: trees, lampposts, porta-potties, you name it. People lifted up a disabled boy so he could see over the crowds, and J.R. Smith Simba'd him. It was getting downright biblical, that's hardly considering the guy dressed up as Jesus with a "Cleveland won, There is a God" sign.
At the end of the day, my brother was flipping through his phone and reliving it all on social media. His face crinkled into a smile.
It's exhilarating and strange, like your first burning sip of alcohol.
"I'm going to have to change my Facebook bio, my Twitter bio," he said. "They're all about the struggles of being a Cleveland fan. It's not true anymore."
It's a superficial example, but the loveable loser culture of Cleveland permeated deeper than we ever understood. Part of our identities have changed overnight, and we're tasting what we always longed for. It's exhilarating and strange, like your first burning sip of alcohol.
Here's to what is hopefully the first taste of many.
Sign up here for our daily Cleveland email and be the first to get all the food/drink/fun in town.
Krista D'Amore works in sports TV and just blew a month's rent on championship gear. Follow her on Twitter: @kcdamore