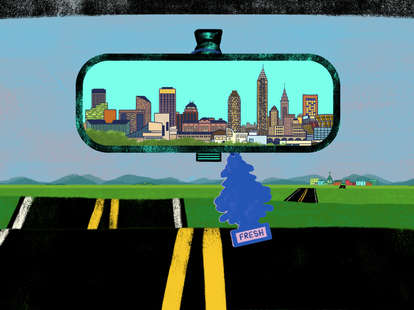 To the rest of the world, Ohio looks like the heart of small-town provinciality. Pop culture set in the Buckeye State mostly depicts its towns as places from which to escape. But you can forget about Sweet Apple, Ohio. Venture out of the major cities and you'll find food, culture, and outdoor adventuring you may never have expected. This summer, hit the road to take in the architecture, the charm, and the surprisingly great microbreweries of Ohio's best small towns.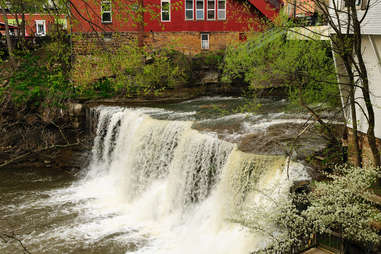 Chagrin Falls
If you want to see the most famous rendering of Chagrin Falls, turn to the back cover of your copy of The Essential Calvin and Hobbes, where a giant-sized Calvin is about to overrun a quaint town square. The cartoon is creator Bill Watterson's tribute to his hometown, a postcard of a burg situated 30 miles southeast of Cleveland (and one we recently named Ohio's best small town). The town's eponymous falls are situated in the heart of downtown Chagrin, and several scenic bridges and benches offer spots from which to take it in.
Like most of the region, the town was originally settled as part of Connecticut's Western Reserve, and that history is reflected in the town's New England-by-way-of-Northeast Ohio look. Among the Gothic Revival and Italianate architecture, you'll encounter boutique clothing and antique stores, the famous Popcorn Shop (which has merited a presidential visit), and the charming Fireside Books (its Calvin and Hobbes selection is huge, naturally).
Must-eat foods: The brat burger and chicken chorizo at Crumb and Spigot; in-house ground maple sausage at North Main Diner.
Geneva on the Lake
A vacation haven for the Rust Belters of Youngstown and Pittsburgh, Geneva on the Lake has been providing a respite from city heat and smoke for over 100 years. Situated on Lake Erie's coast about 40 miles east of Cleveland, GotL eschews lakefront quaintness for a heavy dose of nostalgia and kitsch. The rockiness of the coast doesn't make for a great beach destination, but it's heavy on boardwalk charm -- even without the boardwalk. Walk down Lake Road for old-school arcades, burger & fry stands, and open-air bars, all under carnivalesque lighting that looks unchanged since the '50s. For lodging, there are campgrounds near town, and way-retro cottages and motels along the lake. For the athletically inclined, neighboring Geneva (GotL's less tourist-grabby cousin) plays host to the SPIRE Institute, a national Olympic training center.
Must-eat foods: Cinnamon rolls at Mary's Kitchen, a great breakfast spot run out of a house overlooking the lake; loaded fries at Times Square; lemonade and a corn dog at Bob's Food Court.
Oberlin
The site Why the Fuck Should I Choose Oberlin? provides a long list of reasons to love this small town's eponymous college (Ed Helms, Lena Dunham, and pretty much the host of every podcast you've ever loved are among its alums). Even if you're way past college age, there are still plenty of reasons to go the f*ck to Oberlin. For one, there's the culture: The Allen Memorial Art Museum is a neoclassical wonder of a building that ranks among the top five college museums in the US, and the galleries in town (like the African-centered Ade's Place) transcend small-town expectations. History is another: Oberlin played host to a stop on the Underground Railroad (it's known to some as The Town That Started the Civil War) and was the birthplace of the Anti-Saloon League, the organization most responsible for enacting Prohibition. Lastly, the town's surprising diversity and damn-near cosmopolitan atmosphere will make just about anyone walking down its brick-lined streets feel welcome.
Must-eat foods: Sit down at The Feve (no relation to covfefe), the town's go-to pub, for creative apps like Habanero Rangoon, and just about any item featuring the in-house pickles; Lorenzo's Pizzeria has some of the best crust in northeast Ohio -- try the chicken pesto topping.
Delaware
If there's anything Ohioans love more than stealing the names of other places (we see you, Lebanon, Versailles, Lima, et al.), it's having historic small towns with excellent restaurant options -- and Delaware, Ohio, accomplishes both. It's a town best known as the birthplace of so-so president Rutherford B. Hayes, as well as being the host town of the Little Brown Jug, one-third of the Triple Crown of Pacing horse racing series.
Visit any other weekend but race weekend, however, and you'll find a treasure trove of city-style dining in a small-town package; restaurants like Veritas are frequently ranked in Columbus' best-of roundups, even though the state capital is 30 miles away. First Fridays downtown are a jumping affair for an arts scene bolstered by Ohio Wesleyan, the local college -- and speaking of OWU, the Perkins Observatory is an excellent date spot that's open to the public.
Must-eat foods: Filet medallions at 1808 American Bistro, one of the classiest (and priciest) spots in town; chorizo burger and sweet potato fries at 12 West; ice cream from Ollie's, which is served out of the owner's house (basically the most small-town Ohio thing ever).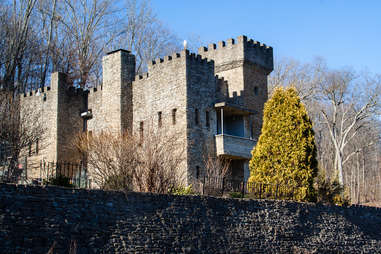 Loveland
All you have to do to fit in here is bring your bike; situated in the Little Miami River Watershed, Loveland is a town that has successfully sold itself as Ohio's premier cycling destination. Seriously: cyclists of all ages nearly outnumber the cars. There are 16 scenic parks to cycle through -- the C. Roger Nisbet is closest to downtown -- or you can take it to one of the town's surprisingly cosmopolitan destinations. Plaid Room Records has a great new release section and plays home to Colemine Records, a funk- and soul-centered company with a song recently featured in a Google commercial. Cappy's Wine and Spirits is one of the top-five beer retailers in the state, and you can enjoy your purchase with a view of the river on the liquor store's porch. We'd be remiss not to mention the Loveland Castle as well: yes, it's somewhat tiny, but a visit only costs $5 so you may as well check the thing out -- it's a castle, after all.
Must-eat foods: Wood fired pizza and local Ohio beer at The Works; "bumped" (double meat) burgers at Paxton's Grill.
Bolivar/Zoar
In Tuscarawas County, just south of Canton, lies the historic village of Zoar. Founded as a separatist German settlement, Zoar's experiment with communal living lasted much longer than most of its 19th-century peers. What we're left with is a historic village with well-preserved homes -- many of them serving, of course, as B&Bs -- and beautiful gardens to walk through. For less historic small-town attractions, we'll refer you the neighboring town of Bolivar. A closely-packed canal town, Bolivar rests near the end of the Ohio and Erie Canal Towpath Trail, which means there are plenty of biking and hiking opportunities along a lushly green trail. Kickin' Kountry is the town's line dancing bar -- if you haven't experienced one before, grab a pair of cowboy boots and take in this essential slice of 'Muricana.
Must-eat foods: Brunch at The Canal Tavern of Zoar; BBQ burritos at Sublime Smoke; Taco Tuesday at Kickin' Kountry, with surprises like bison on the menu. Oh, and Lockport Brewery has a small but hard-hitting collection of beers alongside its fun vinyl motif.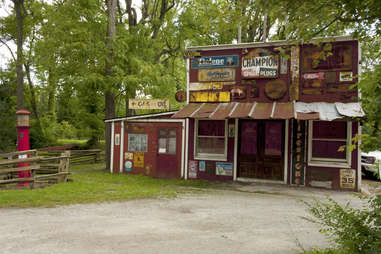 Yellow Springs
Founded as an experiment in communal living, Yellow Springs has maintained a free-spirit feel throughout the years. Previously honored by Thrillist as Ohio's Best Hippie Town, it's a place with the vibe of a street festival that lasts the whole year. It's also home to Antioch College, an extremely non-traditional university with a history of repeated closings and reopenings. Regardless of whether school is in session, though, Yellow Springs is a town that loves learning (we counted at least three bookstores in a two-block radius) and coffee houses (we counted four). You'll find street murals galore, counterculture clothing stores, and a sign that sums up the local business aesthetic: "Friends Don't Let Friends Shop Chain Stores." There's also a street fair in June that draws a huge crowd, and there's always a chance you'll spot Dave Chappelle, who currently resides (and spent part of his childhood) there.
Must-eat foods: The coffee shops, with names like Underdog Bakery and Spirited Goat, are a lot of fun. Ha Ha Pizza is a popular spot. And if all this vaguely free-love atmosphere finds you craving a burger and a beer, Peach's Grill is a surprisingly bro-friendly bar right on the main drag.
Vermilion
Have you ever been halfway on the drive between Cleveland and Cedar Point and thought, "I'd love to check out a lagoon right about now?" Or maybe you've been seized with a hankering for fine French fare after your long day of riding Valravn over and over again. Either way, Vermilion is the stop for you. The only town on the list that will give you a view of both the lake and a river, Vermilion is pretty much the best spot in the state for waterfront dining. And what dining it has: Chez Francois, a gorgeous French restaurant celebrating its 30th anniversary this year, has been consistently ranked as one of the top restaurants in Ohio. Yes, the views are beautiful enough that you could eat at the local BDubs and have a great experience, but seriously: eat at Chez Francois. It's worth saving up for.
Must-eat foods: French cuisine and cocktails in a more casual setting (with more casual prices) at Touche Bistro, located upstairs from Chez Francois; burgers and milkshakes at the retro Main Street Soda Grill; truffle wings at Rudy's, a family sports bar owned by two Chez alums.
Granville
If someone picked up a quaint New England college town and plopped it in the middle of Central Ohio's cornfields, it would probably look a lot like Granville. The town is home to Denison University, a liberal arts school that claims Jennifer Garner and Steve Carrell as alums. Buckeye football fans will want to visit the college where famed coach Woody Hayes cut his teeth coaching before moving to Ohio State. Granville's quite proud of its Greek Revival-style architecture, and they show it off with historic buildings like the Granville Inn. History and nature buffs alike will enjoy the awesomely-named Alligator Effigy Mound, a prehistoric monument from the Fort Ancient culture. Connoisseurs of weird kitsch will have to check out Taco Dan's, which serves its Tex-Mex cuisine out of an antique shop.
Must-eat foods: Pulled pork and trivia on Tuesdays at Moe's (watch out for those college kids, though); bagel and coffee at River Road, an adorably friendly coffee shop.
Sign up here for our daily Cleveland email and be the first to get all the food/drink/fun in town.
Billy Hallal dreams of leaving the city behind and renting a cottage in Bolivar. He'd still be on Twitter @HillyBallal.