Here's the thing about Clevelanders: We secretly love winter. Sure, we complain about it year-round, but we know it gives us character and grit -- it makes us earn those "Cleveland: You've Got To Be Tough!" bumper stickers. Whether it's hiking through the snow-capped trees of the Metroparks, catching a show at one of our nationally renowned venues, or eating extra hearty in our fabulous food scene, we cherish the things that bring us out of our houses in the cold months ahead. Let us be your guide to the long nights of CLE winter.
Through December 30
Porco, The Spotted Owl
Cocktails for a good cause? Enticing enough. But add a holiday theme (flavor- and decor-wise) to the mix? I'm there. Porco and The Spotted Owl both join the international coalition of bars turning Xmas-themed for charity. Runs till December 30.
Cost: Cocktails are around $15 at each
December 4
The Agora
Touring in support of their new album Thank You For Today, the 2000s alt-pop act heads to the newly remodeled Agora at the start of the month. You know the 17-year-old in you really wants to go.
Cost: $45
December 6
Capitol Theatre
Filmed entirely in Cleveland with an all-Cleveland crew, Powerbomb is a thriller about wrestling fandom gone wrong. Catch the world premiere at Gordon Square's charming Capitol Theatre.
Cost: $12
December 6
The Q
Arguably never quite given his due, Detroit rocker Bob Seger and his Silver Bullet Band are embarking on a final tour across the US. The Q will play host for his "Travelin' Man: The Final Tour" stop.
Cost: Tickets start at $75
December 8
Hard Rock Rocksino
The dashing host of The Daily Show takes his Loud & Clear tour (and dope accent) to the Rocksino for a night of politically informed stand-up.
Cost: $65 and up
December 9
House of Blues
Cleveland bartenders from Thrillist favorites such as The Black Pig, Parnell's, and Soho take the stage at HOB to try their luck at singing with the house band. All proceeds benefit Toys for Tots.
Cost: TBD
December 14
Twist Social Club
Come to perhaps the best gay bar in Cleveland for a night of dance featuring music from The Princess of Pop and her Sagittarius sisters, Xtina and TSwift.
Cost: No cover!
December 15
Cleveland Exotic Dance
A few things worth noting: 1) yes, there is an exotic dance studio in Cleveland, and 2) they are a seemingly inclusive bunch looking to showcase student talents at their annual winter soiree. And 3) there's a hot cocoa bar!
Cost: And it's free!
December 15
Cleveland Animal Protective League
Lotus pose and cats. What's this? The "mewest trend" in yoga! Get the double dopamine rush of centering yoga and cute cats with this event raising funds for the APL.
Cost: $15
December 15
KeyBank State Theatre
In its most ambitious season yet, investigative podcast Serial did a deep dive into Cuyahoga County's justice system, and producers Sarah Koenig and Emmanuel Dzotsi are returning to The Comeback City to give us a behind-the-scenes look.
Cost: Tickets are $35 and up
Advertisement
Between the holidays and finishing out the year at work, your calendar can fill up fast in the colder months. But whether your winter plans involve heading out to a new bar opening, onto the open road, or to the office, Wrangler has new styles and comfortable fits made for wherever life takes you -- so you won't have to think twice about what to wear.
December 16
Quicken Loans Arena
The Cavs might not be off to a great start this year, but they still need our support -- especially when tickets are raising money for local children's cancer organization Prayers From Maria.
Cost: Tickets start at $40
December 18
Great Lakes Brewing Company
Drinking a GLBC Christmas Ale while watching Bruce Willis kick through 35 floors of ass in Die Hard? That's what the holidays mean to me. Your first pint is free with your ticket.
Cost: $15
December 21
Bookhouse Brewing
Newcomer Bookhouse Brewing hosts a Cleveland take on this traditional Icelandic festival of books and chocolate to raise money for local nonprofit The Reading Room CLE and literacy in the city. They had us at "books and chocolate." And beer.
Cost: $25
January 12
Cleveland Play House
This innovative play retells the story of the fall of Troy… with just one woman playing all of the roles. Yep, we want to see how it works out, too.  
Cost: Tickets start at $25 and up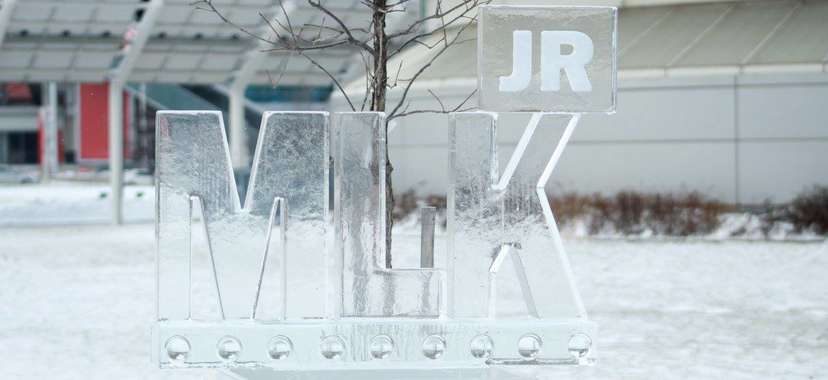 January 21
Downtown
Once you've done your service for Martin Luther King Day, treat yourself to the Rock Hall, the Science Center, or both -- they have free admission all day -- and don't forget to check out the frozen sculptures of the North Coast Harbor Ice Fest as you walk from one to the other.
Cost: Free
January 30
Quicken Loans Arena
Greet the return of the exclamation point in the name as theatrical pop group Panic! at the Disco plays the Q with (we had to) a sense of poise and rationality.
Cost: Tickets start at $31
February 6
Quicken Loans Arena
The Goddess of Pop brings her considerable, decades-spanning hits to the Q for what is sure to be a theatrical performance. She really does think you're strong enough.
Cost: Tickets start at $38
February 11
HOB
Lady-fronted synth rockers Metric are kicking off their US tour right here in Cleveland, in support of their new release, Art of Doubt.
Cost: Tickets start at $38
February 16
Southside
Get in your undies (or not, it's optional) for a good cause! Take a mile-ish run through Tremont that ends in a party at Southside. Proceeds benefit research for neurofibromatosis.
Cost: TBD
February 16
Butcher and the Brewer
Oysters and stouts from local breweries abound at the Stout It Out Loud celebration from Butcher and the Brewer. It's a daytime festival that, last year, offered 20 drink tickets and some culinary concoctions to go with that dark beer.
Cost: TBD
February 23
Cleveland Public Auditorium
Last year, the WAGS 4 Kids Mac 'n' Cheese Throwdown raised $70,000 to train service dogs for children. They'll try to recreate the magic this year with cheesy goodness from 30 local restaurants and $5 alcoholic beverages for the grown-ups.
Cost: Tickets start at $30
February 23
Going into its 10th year, Brite Winter Fest is the kind of creative celebration of Cleveland's West Bank emblematic of the city's resurgence. Bands are TBD, but take the excuse to get out in the snow and enjoy the city view.
Cost: Free!
February 23
Playhouse Square
This year's Jump Back Ball, Playhouse Square's black-tie fundraiser for its community outreach events, is a celebration of all things British (that Americans love). Expect a lot of bobbies, TARDISes, and fake accents.  
Cost: Tickets start at $75
March 1
The Agora
Now that hyperbole and ranting have become the default mode of American discourse, we need Demetri Martin's witty, deadpan delivery more than ever. Catch him at the Agora on his Wandering Mind tour.
Cost: Tickets start at $40
March 2
Slovenian National Home
We all know by now about the wonders of Dyngus Day, so let's give celebrating another Eastern European community a try! Hosted at the 100-plus-year-old Slovenian National Home, Kurentovanje will feature a parade, music, and food. Could be the start of a new CLE tradition!
Cost: Free & open to the public
March 9
Lago Custom Events
At the second annual chocolate festival, you get a bag, a champagne flute, and a room filled with samples from local chocolate makers. Try to control yourself.
Cost: Tickets start at $35
March 9
Quicken Loans Arena
The sensitive boys from London bring their folk-inspired tunes to the Q on their Delta Tour. Perhaps they'll perform that Ariana Grande cover!
Cost: $42 and up
March 9
Windows on the River
For 13 years, Ohio Craft Beer has brought a bright, boozy spot to winter with the Winter Warmer Fest. This year will feature 50 Ohio breweries offering seasonal and limited edition brews in the scenic Windows on the River complex.
Cost: Tickets start at $45
March 17
The Q
Winning the contest for No One's First Guess for Playing a Cleveland St. Patrick's Day Show, face-painting rockers Kiss bring their still-kicking DRC sounds to the Q on their End of the Road World Tour.
Cost: $65 and up
March 21
Quicken Loans Arena
A lot of people might have won on that show, but Kelly is still our American Idol. She'll bring her powerful vocal cords to the Q on her Meaning of Life Tour.
Cost: Tickets start at $22
March 28
The Q
After officially ushering in the era of early 2000s nostalgia, Ariana Grande will bring her hip-hop-informed pop to The Land on her Sweetener World Tour. Fans will presumably not be saying, "Thank u, next."
Cost: $65 and up
Sign up here for our daily Cleveland email and be the first to get all the food/drink/fun in town.