Boot up your AC units, slather on your sunscreen, don your Indians caps (sans Wahoo, please): it's summer in The Land. We've made it through another long, lake-effect winter, and our spring allergies are finally dying down. It's time to celebrate summer as we always have: strolling around Wade Lagoon, hitting Edgewater Beach, drinking on porches overlooking the lake, and concerts, concerts, and more concerts. But there's plenty to do in Cleveland beyond the obvious, and we've rounded up the best of the best this summer right here.
June 1
Tremont
Start the summer off right with more than 42 Ohio breweries on tap and bites from local restaurants in one of Tremont's most picturesque spaces, Lincoln Park. Proceeds go to the Hunger Network of Greater Cleveland.
Cost: $45 and up
June 1
Public Square
This year's Pride in the CLE will celebrate its fourth year with DJs, beers from Great Lakes Brewing Company, and Alex Newell of Glee fame. Be sure to head to Twist Social Club to dance the night away afterward.
Cost: Free
June 2
The Agora
Protect ya neck as one of hip-hop's most influential groups of all time takes the stage at the world-famous Agora.
Cost: $80 and up.
June 6
Edgewater Park
Every Thursday till August 1, local bands take the stage at Edgewater to give free concerts to the beachgoers of CLE. And for the first time this year, East Side counterpart Euclid Beach Live will take place with the shiny new Euclid Beach Pier.
Cost: Free
June 7
The Van Aken District
This year, the Cleveland Flea moves to its new home in Shaker Heights' revitalized Van Aken district and switches from day to night. It remains your destination for the vintage, the home-made, and the local-brewed.
Cost: Free
June 7
The Agora
The boys from St. Clair are back home for the first time since their CMA performance last summer. June is a great month for hip-hop legends in CLE!  
Cost: $30 and up
June 8
Laurel School
Greater Cleveland's best (and now, only) multi-stage outdoor music festival is held in a place you might not expect: Novelty, Ohio, on the campus of a prestigious all-girls school. But with Hozier and Sheryl Crow headlining this year, the fest continues to draw big names and big crowds.
Cost: Single-day tickets start at $85.
June 8
Rock and Roll Hall of Fame
Yes, you are that old: the Warped Tour, which has been going on 25 years, kicks off its opening night here in CLE with bands from across the tour's history. Tickets also get you Rock Hall admission.
Cost: $35 and up
June 11 - 30    
Playhouse Square
Playhouse Square's Broadway series rings in its annual blockbuster with Dear Evan Hansen, a musical about The Tough Stuff in high school. It won All The Tonys when it debuted, so check this one out.
Cost: $40
June 14
Jacobs Pavilion
It was a long time coming, and not quite as genius as the completely essential Modern Vampires of the City, but Vampire Weekend's next album is out. Boogie to their African-inspired sounds as they take the stage at Jacobs Pavilion.
Cost: $55 and up
June 15
Nautica
The Beerfest guys are really stepping it up.They're now offering two sessions, a day and a night one, and a "Brews Cruise" the night before. We'll take it all!
Cost: $35 and up
June 15
House of Blues
Billed as an "experiential dance party," Electric Feels will take over the House of Blues to spin hits from acts like Tame Impala, Phoenix, and of course, MGMT.
Cost: $10 and up
June 15
Happy Dog
One of our favorite Cleveland venues, the Happy Dog, is solving its no-patio problem in a novel way this summer: blocking off the streets and having a Hot Dog Fest! Featuring Rhinegeist beer, hip music, and a dance party in the basement.
Cost: $10
June 21 - June 22
Whiskey Island
All the proceeds of Great Lakes Brewing Company's annual (and affordable) outdoor bash go to maintaining Cleveland's freshwater resources, which is pretty cool! Sample exclusive GLBC beers and enjoy performances from headliners Cloud Nothings and Arlie. Just in time for Visit Me in CLE Weekend!
Cost: $15 each day
June 21
Asiatown
After a conspicuous absence for most of last summer, Night Market is back. One of Cleveland's most popular summer events, Night Market brings thousands of Clevelanders to the streets of St. Clair Superior's Asiatown district for food, music, and a whole host of Asian culture. Check the site for this year's monthly dates.
Cost: Free and open to the public (but bring money to feast)
June 22
Cleveland Museum of Art
Described as "a night where art and music come together," Solstice is CMA's biggest party of the year. Musical acts from around the world, including RJD2, will perform, and the galleries will stay open late into the night.
Cost: $90
July 2
Jacobs Pavilion
We don't know about Summer Gods, but yeah, the bands on this double bill have a special place in our '90s kid hearts.
Cost: $40 and up
Light up the Lake
July 4
Downtown & various
Partake in the July 4th tradition of struggling to find parking, then struggling to find a waterfront spot for Cleveland's annual fireworks show. Or maybe just throw a lot of lighter fluid on your grill and see what happens?
Cost: Free
July 6
Playhouse Square
Described by "Weird Al" Yankovic as "his most elaborate and extravagant tour ever," The Strings Attached Tour will see the polka parody man backed by a full symphony and choir as he draws from his considerable catalogue of fan favorites.
Cost: $35 and up
July 9
Progressive Field
For its 90th year, the MLB All-Star Game returns to The Land! Here's hoping Ramirez & co can once again secure major slots for the Indians on this year's American League roster.
Cost: TBD (but probably pretty pricey)
July 11
Downtown Lakefront
If you've ever dreamed of sailing on a pirate-looking ship without obnoxious Disney reenactors, boy, have we got an event for you. Cleveland's Tall Ships Festival happens only once every three years, and it gives attendees the chance to see and even sail in "traditionally rigged sailing vessels."
Cost: $15 per day
July 13  
Playhouse Square
Sardonically covering pop culture, politics, and the human experience, Patton Oswalt is a sane comic for insane times. Support the guy after the too-soon cancellation of A.P. Bio.
Cost: $35 and up
July 14
Playhouse Square
If you don't know by now, Welcome to Night Vale is one of the most successful podcasts ever, effortlessly mixing humor and horror in its titular "friendly desert community." Opening for the Night Vale crew is Dane Terry's podcast Dreamboy, which is set in lightly fictionalized Cleveland Heights -- download that ASAP.
Cost: $35
July 16
Blossom
No, we didn't accidentally combine two separate concerts. Yes, Blink and Weezy are playing together. No, we didn't see it coming either. Yes, we definitely might see it.
Cost: $38 and up
July 21
Tremont
Now entering its 16th year, this street festival on Professor Avenue gives hungry attendees the best of Tremont's considerable contributions to the city's food and arts scene.
Cost: Free and open to the public (bring money, though)
July 26
Blossom
Can we really combine the earnest roots rock of Hootie & The Blowfish with the wordplay smartassery of Barenaked Ladies in concert? The bear said, the bear said we can.
Cost: $33 and up
July 27
Tremont
Because it's summer, and because the folks at Scene are fighting the good fight when it comes to local news, let's highlight one last beer festival, this one also in Lincoln Park. It's not just ales: stouts and other beers will make an appearance, as will pizza.
Cost: $40 and up
August 2
Cleveland Metroparks Zoo
Like animals, but annoyed by all screaming children at the zoo? Like beer and live music at the zoo after dark? Sick of rhetorical questions? Come to Twilight at the Zoo.
Cost: $75 and up
August 3
Edgewater Park
Competitive sand castle building is a thing, because why wouldn't it be, but you don't have to compete to enjoy the volleyball tournament and (we hope) impressive sand structures at this year's Sand Festival!
Cost: Free admission
August 6
The Agora
Embrace the trippy dream-pop sounds of Maryland duo Beach House in an indoor show with a chill, outdoor vibe.
Cost: $30 and up
August 7 - September 1
Playhouse Square
Just in time to get you excited for the "live action" reboot starring Donald Glover and Beyoncé, The Lion King's impressive live show takes the stage for a month at Playhouse Square.
Cost: $50 and up
August 14
Blossom
Remember all those cheesy, high-school car singalongs you did to "Drops of Jupiter" and "Slide"? Now you can reenact them at Blossom! Allen Stone opens.
Cost: $23 and up
August 15
Blossom
If there's a lineup at Blossom this summer guaranteed to keep people on their feet, it's the one-two 90s/00s punch of TLC and Nelly. Flo Rida should offer some strong dancing support as well.
Cost: $25 and up
August 21
If you like exploring zoos after hours (see above) and taking selfies with animals, have we got an event for you. There will be prizes for the winning teams and, of course, brews.
Cost: $70 for a team of two, $70 more for each two added
Choose sides in the Battle of the Food Festivals
August 24
Various
Garlic or pickles? Stinky or briny? You must decide August 24, as the Cleveland Garlic Festival in Shaker Square faces off against the Cleveland Pickle Fest on the East 9th Pier. (You don't actually have to choose, since Garlic Fest is two days, but we thought it'd be more fun to think of it this way.)
Cost: Pickle Fest is free, Garlic Fest is $9 a day
August 30
Blossom
The Cleveland Orchestra follows up last year's immensely popular screening/play-along of A New Hope with its darker sequel. The Cleveland Orchestra and pure movie magic -- it doesn't get much better than this, my friends.
Cost: $26 and up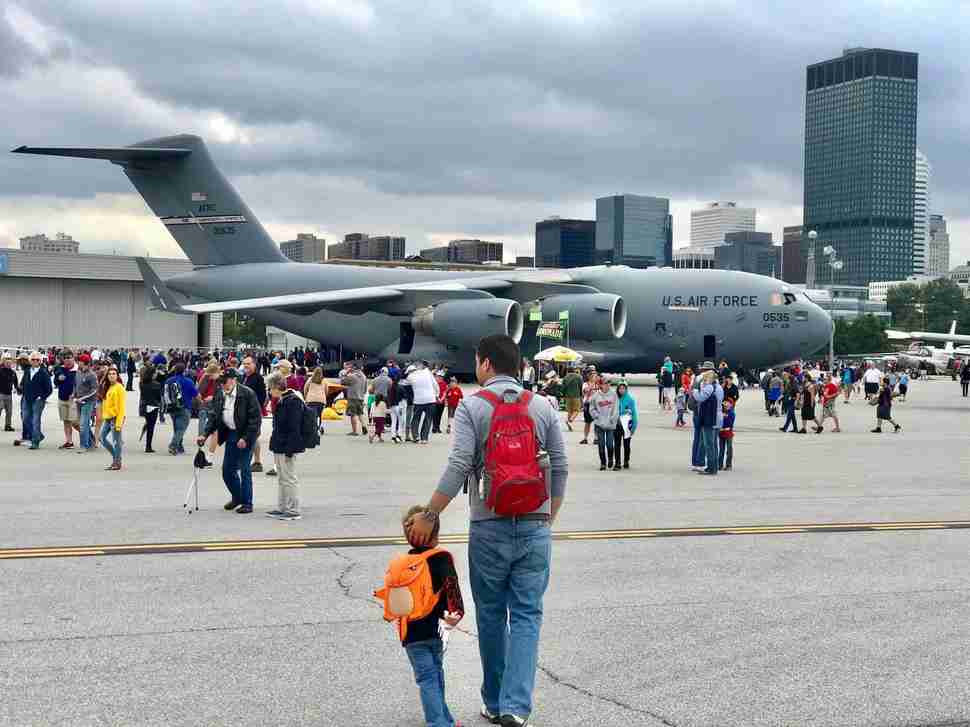 August 31
Downtown
It's a Cleveland tradition to park downtown and camp out for hours to see the jets fly by. It's also Cleveland tradition to look up while you're on the highway and go, "Oh yeah, it's the air show this weekend!"
Cost: Free
September 6
Jacobs Pavilion
Kacey Musgraves is the kind of country artist Clevelanders can get behind: thoughtful, reflective, a little stoner-ish. She'll play one of the season's last shows at Jacobs Pavilion.
Cost: $35 and up
September 8
Wolstein Center
Don't worry, you won't get murdered in the city. But you might get to see these nice guys of folk rock trot out hits like "I and Love and You" and "Kick Drum Heart."
Cost: $45 and up
September 10
Blossom
We're not sure what The Who is moving on from -- that mediocre Super Bowl performance a few years back? -- but they are rock legends, and Cleveland may never play host to them again.
Cost: $51 and up
September 13
MGM Northfield Park
Was Ken Jeong the best part of The Hangover? Was he the worst part of Community? We'll probably never know. But you can enjoy his charismatic standup at Northfield Park as a nice way to close out the summer.
Cost: $39 and up.
Sign up here for our daily Cleveland email and be the first to get all the food/drink/fun in town.