Boot up your AC units, slather on your sunscreen, don your Indians caps (sans Wahoo, please): it's summer in The Land. We've made it through another long, lake-effect winter, and our spring allergies are finally dying down. It's time to celebrate summer as we always have: strolling around Wade Lagoon, hitting Edgewater Beach, drinking on porches overlooking the lake, and concerts, concerts, and more concerts. But there's plenty to do in Cleveland beyond the obvious, and we've rounded up the best of the best this summer right here.
Recommended Video
Timothy DeLaGhetto & David So Take Over LA's Premier Foodie Event
August 2
Cleveland Metroparks Zoo
Like animals, but annoyed by all screaming children at the zoo? Like beer and live music at the zoo after dark? Sick of rhetorical questions? Come to Twilight at the Zoo.
Cost: $75 and up
August 3
Edgewater Park
Competitive sand castle building is a thing, because why wouldn't it be, but you don't have to compete to enjoy the volleyball tournament and (we hope) impressive sand structures at this year's Sand Festival!
Cost: Free admission
August 6
The Agora
Embrace the trippy dream-pop sounds of Maryland duo Beach House in an indoor show with a chill, outdoor vibe.
Cost: $30 and up
August 7 - September 1
Playhouse Square
Just in time to get you excited for the "live action" reboot starring Donald Glover and Beyoncé, The Lion King's impressive live show takes the stage for a month at Playhouse Square.
Cost: $50 and up
August 14
Blossom
Remember all those cheesy, high-school car singalongs you did to "Drops of Jupiter" and "Slide"? Now you can reenact them at Blossom! Allen Stone opens.
Cost: $23 and up
August 15
Blossom
If there's a lineup at Blossom this summer guaranteed to keep people on their feet, it's the one-two 90s/00s punch of TLC and Nelly. Flo Rida should offer some strong dancing support as well.
Cost: $25 and up
August 21
If you like exploring zoos after hours (see above) and taking selfies with animals, have we got an event for you. There will be prizes for the winning teams and, of course, brews.
Cost: $70 for a team of two, $70 more for each two added
Choose sides in the Battle of the Food Festivals
August 24
Various
Garlic or pickles? Stinky or briny? You must decide August 24, as the Cleveland Garlic Festival in Shaker Square faces off against the Cleveland Pickle Fest on the East 9th Pier. (You don't actually have to choose, since Garlic Fest is two days, but we thought it'd be more fun to think of it this way.)
Cost: Pickle Fest is free, Garlic Fest is $9 a day
August 30
Blossom
The Cleveland Orchestra follows up last year's immensely popular screening/play-along of A New Hope with its darker sequel. The Cleveland Orchestra and pure movie magic -- it doesn't get much better than this, my friends.
Cost: $26 and up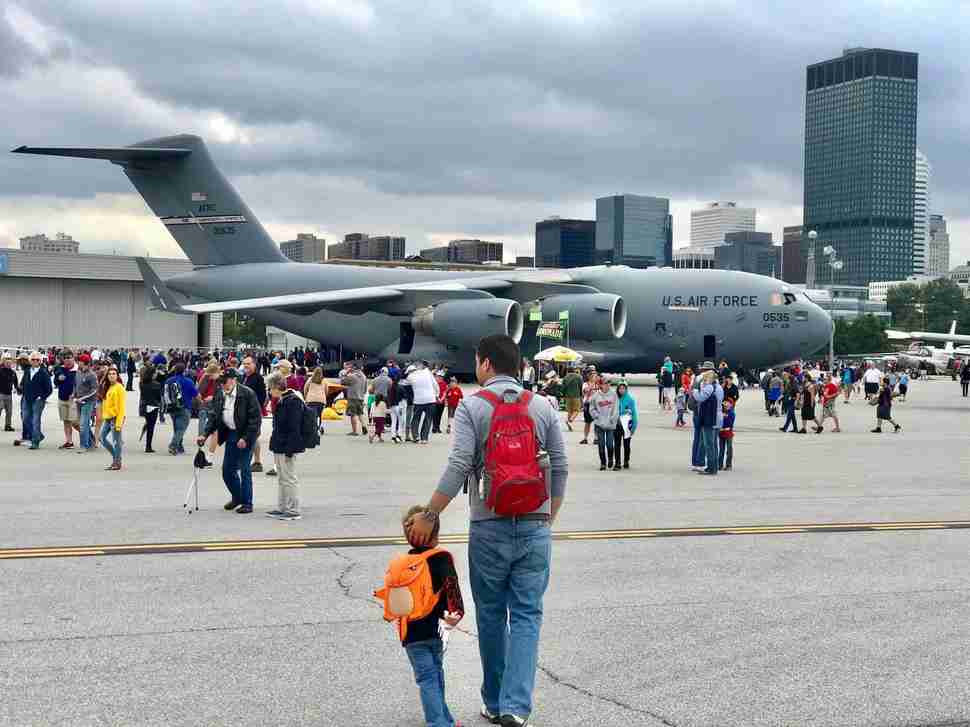 August 31
Downtown
It's a Cleveland tradition to park downtown and camp out for hours to see the jets fly by. It's also Cleveland tradition to look up while you're on the highway and go, "Oh yeah, it's the air show this weekend!"
Cost: Free
September 6
Jacobs Pavilion
Kacey Musgraves is the kind of country artist Clevelanders can get behind: thoughtful, reflective, a little stoner-ish. She'll play one of the season's last shows at Jacobs Pavilion.
Cost: $35 and up
September 8
Wolstein Center
Don't worry, you won't get murdered in the city. But you might get to see these nice guys of folk rock trot out hits like "I and Love and You" and "Kick Drum Heart."
Cost: $45 and up
September 10
Blossom
We're not sure what The Who is moving on from -- that mediocre Super Bowl performance a few years back? -- but they are rock legends, and Cleveland may never play host to them again.
Cost: $51 and up
September 13
MGM Northfield Park
Was Ken Jeong the best part of The Hangover? Was he the worst part of Community? We'll probably never know. But you can enjoy his charismatic standup at Northfield Park as a nice way to close out the summer.
Cost: $39 and up.
Sign up here for our daily Cleveland email and be the first to get all the food/drink/fun in town.