If you've seen Game of Thrones, then you know two things: 1) there is no way Jon Snow is dead (seriously, HBO. There. Is. No. Way!), and 2) winter is coming, which is all the more reason to get out and enjoy the vibrantly colored leaves and crisp autumn air that -- along with Ohio State football, obviously -- make this time of year so spectacular. We suggest you do it by hitting (at least) one of the 10 best places to drive to from Cleveland this fall...
Geneva, OH
Distance from Cleveland: 49 miles, one-hour drive
Why it made our list: After many years of offering the same old stuff, Geneva has welcomed a refreshing new crop of quality dining and drinking establishments to the area in recent years, giving Cleveland's food and booze enthusiasts plenty of reason to plan a trip out to Northeast Ohio's scenic wine country this fall.
Pro tip: Make sure you check out M Cellars, where you can get sophisticated Euro-style wines and take in the picture-perfect view from the back patio; Red Eagle Distillery and its small batches of respectable rye, bourbon, and brandy in a 19th-century barn; and, when all that drinking whets your appetite, Crosswinds Grille for high-quality farm-to-table fare.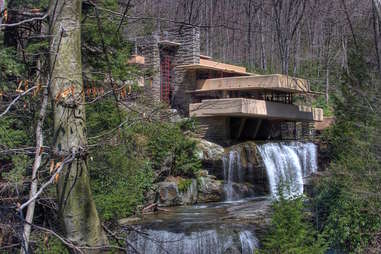 Mill Run, PA (Fallingwater)
Distance from Cleveland: 191 miles, three-hour drive
Why it made our list: Sure, most properties designed by architect Frank Lloyd Wright are worth a visit whatever the time of year, but the changing leaves of fall make the iconic Fallingwater's wooded estate shine in a truly special way. A variety of lodging options, including B&Bs, cabins, and hotels, are located within 40 miles of Fallingwater, so visitors can easily spend a few days and enjoy more of the area's attractions, including Kentuck Knob and Fort Necessity.
Pro tip: Fallingwater is a multi-storied house with more than 100 steps from the first level to the guest house on top of the hill. Book your guided tour in advance, and you can totally consider it your workout for the day.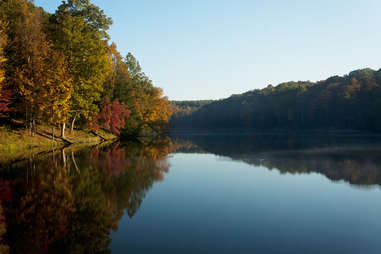 Logan, OH (Hocking Hills)
Distance from Cleveland: 197 miles, three-hour drive
Why it made our list: Sure, it was recently named the most romantic weekend getaway in Ohio, but you don't have to be paired up to enjoy the natural splendor of Hocking Hills. This state park offers six major trails, and they're all breathtaking, especially while the leaves are bursting with the reds, oranges, and yellows of autumn. Thrill seekers won't want to miss the multitude of adventure activities in the area, including rock climbing, zip lining, canoeing, and ATV rentals.
Pro tip: Hocking Hills Regional Welcome Center also houses the Paul A. Johnson Pencil Sharpener Museum. This quirky collection of more than 3,400 pencil sharpeners is reputed to be the largest collection in America, which is approximately 3,398 more than you thought the largest collection would be.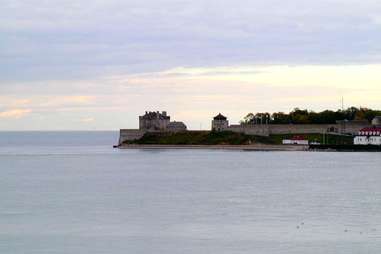 Niagara-on-the-Lake, ON
Distance from Cleveland: 228 miles, four-hour drive
Why it made our list: One of the perks of living in Cleveland is that adventurous road trippers can literally cross into a whole new country by driving just a few short hours. Niagara-on-the-Lake's generous selection of unique wineries, creative restaurants, and quaint accommodations make it a worthwhile cross-border destination. Plus, who wouldn't want to visit our friendly neighbors to the north?
Pro tip: When you need a break from all that wine (do you really, though?), be sure to check out NOTL's Shaw Festival, a major Canadian theatre festival that runs through November 1.
Cooksburg, PA (Cook Forest)
Distance from Cleveland: 159 miles, three-hour drive
Why it made our list: This 8,500-acre park's "Forest Cathedral" of gigantic trees is a National Natural Landmark, and is a place left virtually unchanged for... um, a really long time, presumably. From hiking to canoeing and everything in between, there's no better time than fall to camp out and enjoy the steadfast magnificence of this Pennsylvania state park.
Pro tip: Get ready to climb an 80ft haul up Old #9 Fire Tower which gives visitors a stunning view of the entire area. On a clear day those who make it to the top can see up to 15 to 20 miles away.
Finger Lakes, NY
Distance from Cleveland: 306 miles, five-hour drive
Why it made our list: Boasting 11 long, narrow lakes in Central New York, the Finger Lakes district is the state's largest wine-producing region, featuring over 100 wineries & vineyards and a number of craft breweries & hard cider producers, so there's something for everyone, no matter what you're swilling. Watkins Glen State Park is also a must-see while in the area, featuring spectacular gorges and waterfalls that are definitely worth the hike.
Pro tip: What's great wine without something to eat? Notable Finger Lakes restaurants include Dano's Heuriger for superb Viennese-inspired cooking, Stonecat Cafe for regional organic cuisine, including some kick-ass catfish, and Hazelnut Kitchen for farm-to-table dining in an oh-so-adorable setting.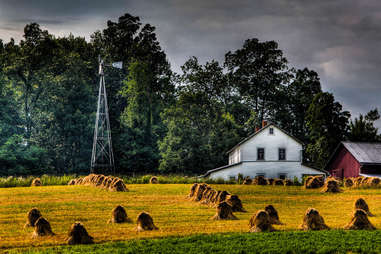 Holmes County, OH
Distance from Cleveland: 81 miles, 1.5-hour drive
Why it made our list: The writers at National Geographic certainly know their stuff, so when Holmes County made Nat Geo's list of "Top 10 Places to See Autumn Leaves" last year, we paid attention. In addition to its ultra-scenic back roads, the area is also home to the world's largest Amish community, giving visitors the perfect occasion to ditch their technology, slow down, and enjoy the good old days... for a few days.
Pro tip: Why don't the Amish sport mustaches? How can you tell if they're married? For answers to these burning questions and more, the knowledgeable guides at Amish Heartland Tours will lead visitors through the area's back roads while explaining the ever-elusive Amish way of life.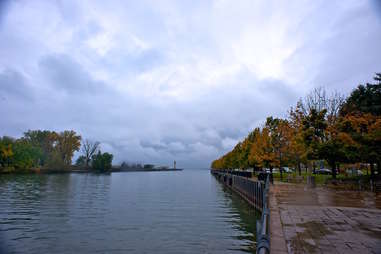 Buffalo, NY
Distance from Cleveland: 189 miles, three-hour drive
Why it made our list: Similar to our fair city, Buffalo often finds itself on the wrong end of way too many jokes. Sure their winters suck even more than ours, but with eye-catching architecture, sweet bars, and quirky neighborhoods, Buffalo is certainly worthy of a fall trip. Area attractions include the Albright-Knox Art Gallery, Forest Lawn Cemetery, and Frank Lloyd Wright's stunning Darwin D. Martin House Complex.
Pro tip: Buffalo is indeed home to the original Buffalo wing. Check out local favorites such as Anchor Bar and Gabriel's Gate for wings so good you'll be driving back for more in January... maybe.

Ann Arbor, MI
Distance from Cleveland: 167 miles, three-hour drive
Why it made our list: It's not just the hordes of enthusiastic students that make Ann Arbor a great place to visit each fall. It's also the town's mix of delicious restaurants, lively bars, world-class art museums, and funky boutiques. The city's contagious energy and wealth of cultural opportunities make Ann Arbor a truly top-notch college town... even if that college is, ugh, Michigan.
Pro tip: When you get hungry, try one (or more) of Ann Arbor's essential restaurants.
University Circle, OH
Distance from Cleveland: Eight miles, 15-minute drive
Why it made our list: Sometimes, it's just not possible to get out of town. Fret not: there are plenty of worthwhile staycations in Cleveland that'll keep your time away to a minimum. Plant yourself in University Circle for a few nights and enjoy a relaxing stay at the historic Glidden House. From there, you'll have easy walking access to area attractions such as Severance Hall and the Cleveland Museum of Art. You can also check out some of the many delicious dining options in the area, including L'Albatros and Trentina.
Pro tip: Live-music lovers should swing by University Circle's Barking Spider Tavern, a longstanding casual watering hole that puts on nightly concerts, free of charge.
Sign up here for our daily Cleveland email and be the first to get all the food/drink/fun in town.
Beth Phillips is a Cleveland-based writer who likes it so much she apparently spends most of her weekends driving to places like... eww... Michigan. You can find her on Twitter: @CraveableCLE.