You can't call a place "The Heart of It All" and expect it not to have a dark side. Sure, states like Michigan, Pennsylvania, and Texas have plenty of spookiness in their past, but Ohio can hang with the creepiest of them when it comes to the most haunted places in America. Is there a good chance there's no such thing as ghosts? Sure. Does that make the tales of Ohio's past any less creepy? Absolutely not, which is why we've gathered together our favorite macabre places from all across the state. Ohio's new motto is right: There really is "So Much to Discover." Or maybe, as Haunted Ohio author Chris Woodyard puts it, "So Much to Disinter... "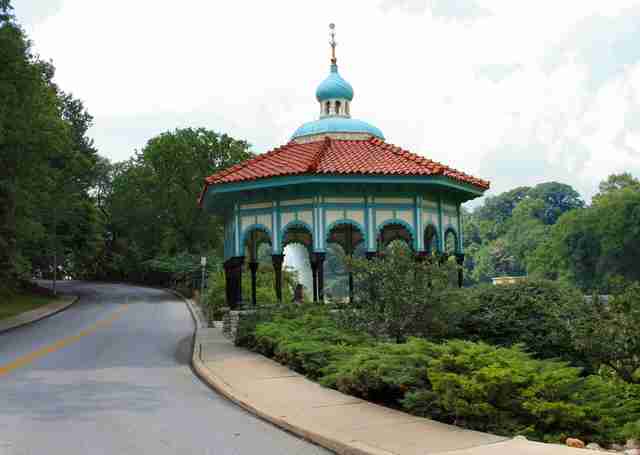 Eden Park Gazebo
Cincinnati
This haunting stems from a Jazz Age marriage-turned bad romance. On October 6, 1927, Imogene Holmes was on the last day of divorce proceedings against husband her husband, George Remus. Remus, a bootlegger recently out of jail, chased down her carriage in Eden Park and shot her to death. Imogene had worn black that day to "mourn the loss of her marriage." Some say she still wears it to this day: the Lady in Black can reportedly sometimes be seen near the gazebo where she was gunned down, quietly taking in the view at twilight.
Malabar Farm
Lima
Ceely Rose was an awkward farmer's daughter in love with the neighbor's boy. She believed her family was keeping the two of them apart, so she fed them pie laced with rat poison. Since the 1896 Rose Family killings, the farmhouse has seen a stint as a Hollywood hangout -- Humphrey Bogart and Lauren Bacall were married there -- but its stint as a haunted house has run a bit longer. Visitors have reported ghostly voices in the hallways, and some have seen the silhouette of a young woman sitting near the window of Ceely's room, watching timidly from above.
Fairport Harbor Lighthouse
Fairport Harbor
Known as "The Light That Shone for a Hundred Years," the Fairport Harbor Lighthouse is now home to a maritime museum and Sentinel the Ghost Cat. For over 100 years, inhabitants and visitors have reported sightings of a gray cat briefly skittering through the lighthouse. One museum curator even felt it curl up in bed with her. Local historians traced Sentinel back to the late 19th century, when lighthouse keeper Joseph Babcock took in a host of cats to bring comfort to his bedridden wife. The local legend gained credibility in 2001, when workers installing air conditioning in the basement found the mummified remains of a gray cat.
Helltown
Peninsula
It's our sad duty to inform you that Helltown -- a cluster of abandoned homes in Summit County -- no longer exists. The area has been the source of an amazing amount of local lore, including satanic rituals, a chemically enhanced giant python, and a school bus full of dead children, but there's nothing technically "supernatural" about this place. Instead, the real horror of Helltown was bureaucratic incompetence: In the '70s, the federal government used eminent domain to seize houses in Boston Township for the Cuyahoga Valley National Park, uprooting dozens of family homes that sat vacant for decades afterward. Today, the trees and grass of a clearing in CVNP are all that remains of Ohio's own private hell. If that doesn't qualify as haunted, nothing does.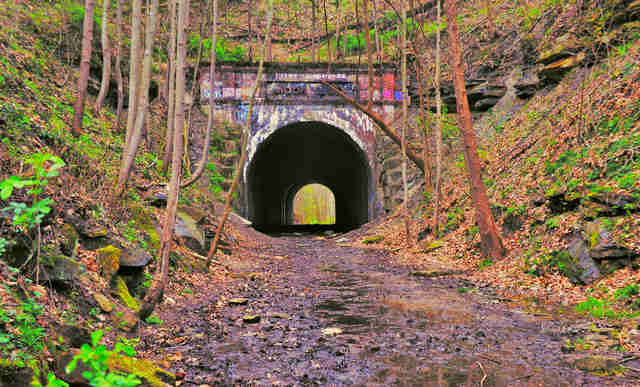 Moonville Tunnel
McArthur
An isolated mining town on the Marietta & Cincinnati Railroad, Moonville sprang up in the 1850s and dried up before the mine did. What's left of it is the creepy concrete tunnel in what's now Zaleski State Park. Trains could be dangerous -- as many as 26 people died, two of them in a head-on train collision -- in or near the Moonville Tunnel. Several of the dead were lantern-carrying brakemen responsible for safely stopping the trains, and to this day some visitors report seeing a swinging light in the tunnel, with others claiming to have seen a dark figure carrying it.
Franklin Castle
Ohio City (Cleveland)
German banker Hannes Tiedemann had Franklin Castle, a 30-room structure complete with turrets, gargoyles, and secret passageways, built for him and his family in the 1880s. The Tiedemanns moved in and promptly started dying -- five of them in the house, and Hannes himself not long after he sold the place. Generally considered cursed, the property has belonged to many owners since then, mostly not for very long. The horrors described therein include cold spots, ghost children, inexplicable organ music, and a heating bill you wouldn't believe.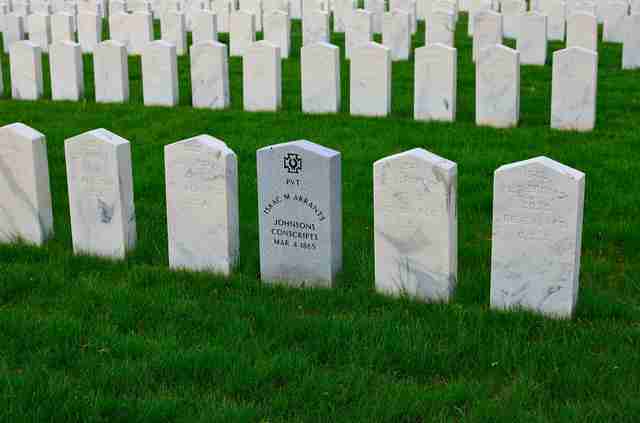 Camp Chase Cemetery
Columbus
This graveyard in western Columbus is all that remains of a Civil War Union base turned Confederate prisoner-of-war camp. Overcrowding, malnutrition, and smallpox outbreaks killed many POWs: 2,260 men are buried there, and it's said that double that number died. Visitors have reported seeing a young woman in a grey period dress and a veil walking among the tombstones. The Lady in Gray -- whom some identify as Southern expat Louisiana Ransburgh Briggs -- is said to stop at the tomb of soldier Benjamin Allen, weeping quietly. Visitors to Allen's grave will often find recently placed fresh flowers.
House of Wills
Cleveland
An opulent, 34-room manor complete with columned "Egyptian Rooms" and Mad Men-style lounges, The House of Wills was once the largest African-American-owned funeral parlor in Ohio. Owner J. Walter Wills, an entrepreneur and civil rights leader, died in the house in 1971, and sometime after that it fell into disrepair. Visitors have reported strange mists, energy vortexes, and a dapperly dressed man who could be Wills himself. Oh, and did we mention the building is now owned by a member of the Church of Satan? He plans to run a homeless outreach program, though, so hey.
Loveland Castle
Loveland
In 1929, a WWI vet named Harry Andrews began to build a castle by hand. Andrews, a castle obsessive with no architectural experience, built his castle from homemade bricks and rocks he picked from the side of the Little Miami River. With minimal outside help, Andrews worked on and lived in the structure he'd christened Chateau Laroche for over 50 years. In 1981, he died from complications from a fire he'd started on the castle roof. Some say he's the source of the slamming doors, footsteps, and unexplained knocking reported by castle volunteers. Or maybe it's something older -- Andrews himself reported having the same experiences.
Gore Orphanage
Vermillion
The ruins on this creepily named road are said to be from an orphanage that burned down in the early 1900s, killing all the children inside. The truth is that, while there was indeed an orphanage on the road around that time, it never burned down. However, in a Shyamalan-worthy twist, the burned-out ruins are those of a mansion owned by the Wilbers, a family big into the Spiritualist movement and rumored to host multiple seances. The Wilber grandchildren all died in a diphtheria outbreak in nearby Berlin Heights, and their grandmother's ritual for keeping their memories alive was somewhat chilling.
Ohio State Reformatory
Mansfield
Made (at least locally) famous by its turn in The Shawshank Redemption, Mansfield's Ohio State Reformatory started its existence as an idealistic experiment: It would house nonviolent offenders and, as its name suggested, reform them. But overcrowding -- eventually as many as four men per cell -- turned even the most docile prisoners violent, with suicides, escape attempts turned murderous, a riot, and the accidental shooting death of the warden's wife all making their mark on the building's bloody history. Now a popular ghost tour destination, the Reformatory has countless stories of visitors experiencing strange noises, shadows, and feelings of rage and despair.
Athens Lunatic Asylum
Athens
Founded in 1867, the Athens Lunatic Asylum was designed to be a cutting-edge facility to rehabilitate the mentally ill. As funding for similar programs dried up over the years, the asylum eventually had to take in three times its patient capacity -- which could account for how patient Margaret Schilling wandered off inside the building and was found dead on the floor of a closed-off room a month later. A white stain in the shape of Schilling remains on the floor where her body lay. Ohio University now owns the mostly empty building, a creepy campus landmark where students can look up at the bay windows and sometimes see a woman waving back.
The Victoria Theatre
Dayton
A stately Italianate building with a history going back 150 years, Dayton's Victoria Theater has played host to larger-than-life figures like Mark Twain and Harry Houdini. Stories tell of an early 1900s actress who went to her dressing room to change between scenes and never came out. No body was ever found. Since then, it's not unheard of to smell perfume or hear the rustling of a dress in an otherwise empty theater. Performers using the dressing room have claimed to look in the mirror and see an unknown woman's face staring back at them.