There's a problem with the current discourse on progress in different areas of Greater Cleveland: you can't describe a neighborhood as "on-the-rise" when it's already risen. Some neighborhoods and districts have been established for decades. Everyone knows about Coventry's hippie/hipster vibe and Little Italy's old-world charm. Some have seen their star rise rapidly in the past decade or so: your in-the-know friends have had an apartment in Ohio City or Gordon Square for years, and even your grandparents know that Tremont is the cool place for dining out.
Yet despite the renaissance of cool Cleveland neighborhoods, there are some that aren't getting quite the press they deserve. Hang out in them now before the high-rise condos and spinning studios show up.
Waterloo
Some call Waterloo Arts District the East Side's answer to Tremont, but we think that's a little silly. Part of the old-school North Collinwood neighborhood, Waterloo looks like no other place in Cleveland. Walk down the street that gives the neighborhood its name sometime. To one side is the I-90 freeway barrier wall. To the other, a funky and eclectic mix of bars, art venues, and the coolest street art -- we're talking building-wide murals on every corner -- in Greater Cleveland. All of those businesses, by the way, are locally owned -- Waterloo is the only district in the city that can make this claim.
With its three record shops on the same block, it is a spot for vinyl collecting unparalleled in Northeast Ohio. Beachland Ballroom has already cemented its reputation as one of the best music and brunch venues in Cleveland. Six Shooter has some of the best coffee in the city; Citizen Pie has the best pizza. The bar scene is unparalleled in its unexpectedness: take Packy O'Malley's, an honest-to-goodness Jamaican-Irish bar whose stage hosts acts from both countries. There's the Millard Fillmore Presidential Library, a bar whose name alone demands it be checked out. And then there's the Jamaican-themed Callaloo Cafe and Bar, whose name comes from a Trinidadian dish slang for "a mixture of things." It's hard to think of a more appropriate bar for this wonderfully weird corner of Cleveland.
Kamm's Corners
Take the main drag of a mid-size college town. Remove the college. Keep the supreme ease of walkability, keep the variety of ethnic restaurants and shops, but make half the bars Irish. That will give you a pretty good picture of Kamm's Corners, the most bustling part of Cleveland's West Park neighborhood. In 1923, West Park, just south of Lakewood, became the last suburb annexed into Cleveland proper. It retains a somewhat suburban feel to this day, but don't go to Kamm's Corners expecting any strip malls or chain restaurants.
Grab a coffee in Common Grounds, an unpretentious, '90s-looking establishment that's the only 24-hour coffee shop between here and Columbus. Browse local businesses like Carol and John's Comic Shop, the friendliest comic book store we've ever patronized, or Starship Earth, a great little costume shop that's open year-round. Grab a beer-absorbing meal at West Park Station, whose offerings of Irish and Italian cuisine make for a not-bad representation of two of Cleveland's largest ethnic groups. And when it comes to drinking, there's no shortage of taverns and pubs in which you can down a Guinness or some Jameson. The best part? You're in a neighborhood that stands with West 25th and East 4th as the one of the most walkable food and drink districts in the city.
Clark-Fulton
Clark-Fulton is the neighborhood between the neighborhoods you know about. Just south of Ohio City and just west of Tremont, Clark-Fulton is an old Italian enclave now home to Ohio's densest Latino population. Look past the fast-food chains and storage lockers and you'll find a place that challenges the middle-class, European-ethnic notion of the "typical Cleveland neighborhood."
You can have a drink at Johnny's, a classic Italian-American watering hole, then stroll down to the Caribe Bake Shop, a great place to try Puerto Rican dishes like fried plantains or blood sausage (frankly, you'll probably like it). Clark-Fulton is home to the Hildebrandt Building, a former sausage factory that's turned into one of the coolest workspaces for artists and food entrepreneurs (including Rising Star Coffee Roasters) in the city. Platform Brewery, a growing presence in the local brewery scene, has built their production facility in Clark-Fulton, and they have plans to turn the building into a "destination brewery" (think Great Lakes as it is now) with a rooftop view of the city. Plus, it's one of the only Cleveland neighborhoods where you can walk down any residential street and buy food straight from residents' homes, which is a pretty intimate way to do lunch. Or, if that sketches you out (it shouldn't), you can wait until the La Placita festival the second Saturday of every month to try the neighborhood eats in a more formalized venue.
Larchmere
There's an essay about Larchmere in Rust Belt Publishing's new Cleveland Neighborhood Guidebook called "On the Cusp." In it, Harriet Logan (proprietor of neighborhood staple Loganberry Books) writes that Larchmere is a neighborhood that's been just about to get "hot" for pretty much the past three decades without ever quite making it.
Larchmere is pretty but unassuming, a quaint stretch of shops and restaurants that starts just a block north of its far more bustling neighbor, Shaker Square. All of them are locally owned, and though there's no brewery -- the key, perhaps, to becoming hot in Cleveland -- there's a charming and eclectic assortment of vintage and craft stores, salons, and art galleries.
Yuppie restaurants in converted Victorian homes like Felice and Batuqui (a winner in last year's Best of Cleveland awards) punch arms with old-time establishments like The Academy Tavern, a nearly 80-year-old watering hole with a lauded dinner menu. And it's easy to miss, but don't pass Big Al's, a lightning-fast greasy spoon that local food hero Michael Symon named as a breakfast favorite. Maybe Larchmere will attain hotness someday, but if not, that's OK -- the parking will stay really easy.
Slavic Village
Named for the Eastern European factory workers that settled it years ago, Slavic Village is poised at the unexpected intersection of urban renewal, outdoor fitness, and pierogis. Once declared (somewhat arbitrarily) the poster child for the 2008 foreclosure crisis, the neighborhood has reinvented itself in ways that are both practical and innovative.
There's the Cleveland Velodrome, Ohio's only closed bicycle racing track, and Fleet Ave, with its side gardens and full bike lane, can lay claim to be Cleveland's only street that's "complete and green." Outdoorsy types will also find Mill Creek Falls, the tallest waterfall in Cuyahoga County (sorry, Chagrin Falls). There isn't a vibrant bar scene here yet -- a hard sell, we know -- but The Nash on East 80th, the old Slovenian National Home, has become a local comedy hotspot, with some Accidental Comedy shows popping in and, recently, to rising-star comic Hannibal Buress. Dining-wise there's Seven Roses, an old-world Polish buffet that dives headfirst into the ethnic dishes (duck blood soup, anyone?).
There's some grimy and glorious pre-WWI architecture for history buffs as well -- the Key Bank at 55th and Broadway, with its Ionic columns, still looks classy as hell. What you're left with is a racially diverse, hard-working neighborhood that pays tribute to its past while looking square-on at its future. Slavic Village isn't shiny and new or trendy, but take stock of all the things making Cleveland great in the 21st century and you will find them here.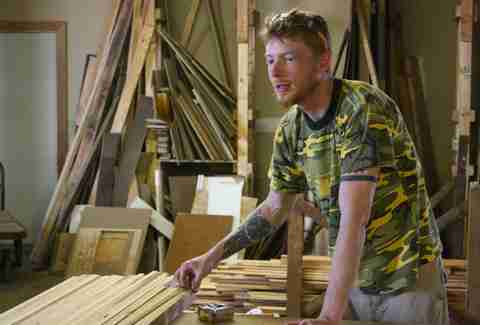 St Clair Superior
You have probably been to St Clair Superior (named for its border streets -- really, Cleveland, let's get a little more inventive here), though you may not have realized it at the time. At first blush, it resembles many freeway-passable, East Side neighborhoods between Downtown and University Circle: mostly pre-war homes, churches, and auto body shops. If you're having a cool festival in the city, though, St Claire Superior is the place to hold it. The worthy Saturday diversion Cleveland Flea sets up here in the warmer months, as does Asia Town's Night Market Cleveland. Cleveland's annual IngenuityFest moved there this year as well.
Go on a non-festival day to appreciate the neighborhood's variety of culinary delights. Slyman's, our most famous sandwich joint, is here, and Byte Cafe, an up-and-comer in the Cleveland sandwich game, makes its home here too. And the AsiaTown district has an absurdly high concentration of quality eateries from all sides of the eponymous continent -- Sezchuan Gourmet is a good place to start.
Goldhorn Brewery is a fantastically strong entrant to Cleveland's beer scene that could become the number one alternative to drinking at an overcrowded East 4th bar before a game (take an Uber, obviously). Tyler Village is a grandly repurposed old factory that's become one of the coolest work spaces in the city. Take a walk through the neighborhood sometime to see what you've been missing by taking the freeway all these years.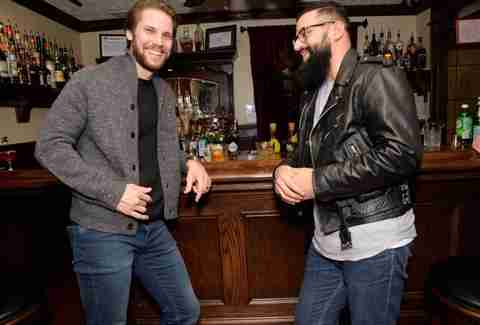 Cedar Taylor
Cleveland Heights, with its liberal politics, beautiful houses, and complete disregard for the street grid system, is home to some well-established neighborhoods: Cedar Fairmount is known as a classy, grown-up spot to spend an evening; Coventry is a hippie haven gone mainstream that's still ideal for people-watching; Cedar Lee has the theater, the library, and a few solid bars and restaurants.
It can be easy to forget Cedar Taylor, a spot just east of Cedar Lee that, like just about every other Heights neighborhood, is named after its cross-streets. But don't underestimate this humble little intersection: it gave the East Side its first Melt (sorry Lakewood, but we were spending a lot of money on gas). It's home to Mr. Brisket, Michael Symon's favorite Cleveland butchery. It's the spot for Quintana's, Cleveland's (the Midwest's? America's?) only barbershop-by-day/speakeasy-by-night, serving some of the city's best cocktails and whiskey. You can get traditional Indian at longtime establishment Cafe Tandoor or street-style Indian at newcomer Greedy Girl. And if you're a Heights native, you know Bremec on the Heights is the only place outside the box stores to get pumpkins, Christmas trees, or any other planter needs year-round. A great place to stop before a night at Cain Park or Cedar Lee, Cedar Taylor is fast becoming a district you could dedicate an entire night to.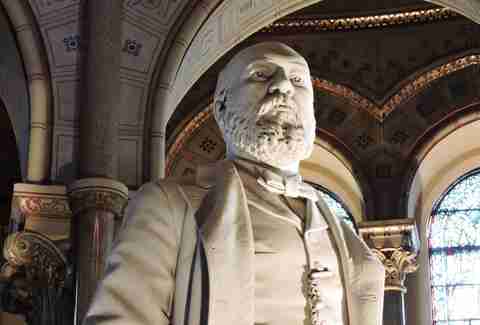 Stockyard/Brooklyn Centre
You can live in Cleveland for most of your life and never have heard about Stockyard or Brooklyn Centre, and that's truly a shame. These are two diverse, solidly middle-class neighborhoods with affordable, historic homes and easy freeway access. But if you're looking for a night on the town, you won't be disappointed either. Brooklyn Centre, just north of Old Brooklyn and the zoo, is home to Moncho's Bar and Grill, which has shown up on our underrated restaurants list already, but it's still possible to get seated quickly on a Friday night, so maybe you all didn't get the memo. Hear us now: go for a soccer game, order one of their globe-sized margaritas, and order some Latin-themed food that will blow your favorite Mexican restaurant out of the water.
Stockyards, just west of Brooklyn Centre, has Sachsenheim Hall, a German (of course) social club where outsiders like you and me are free to come in and order a hearty meal and a beer. At Riverside Cemetery, you'll find ornate tombstones and mausoleums that have drawn comparison to the East Side's famous Lakeview Cemetery. Stop by its annual Jazz Festival (an idea as brilliant as it is creepy) for an excuse to walk the grounds. Most bars and restaurants haven't accrued many Yelp reviews, but it's getting harder to find their brand of hole-in-the-wall charm in the city proper. Recommended: Mom's Family Restaurant, Gino's, and, of course, The Ugly Broad Tavern.
Sign up here for our daily Cleveland email and be the first to get all the food/drink/fun in town.